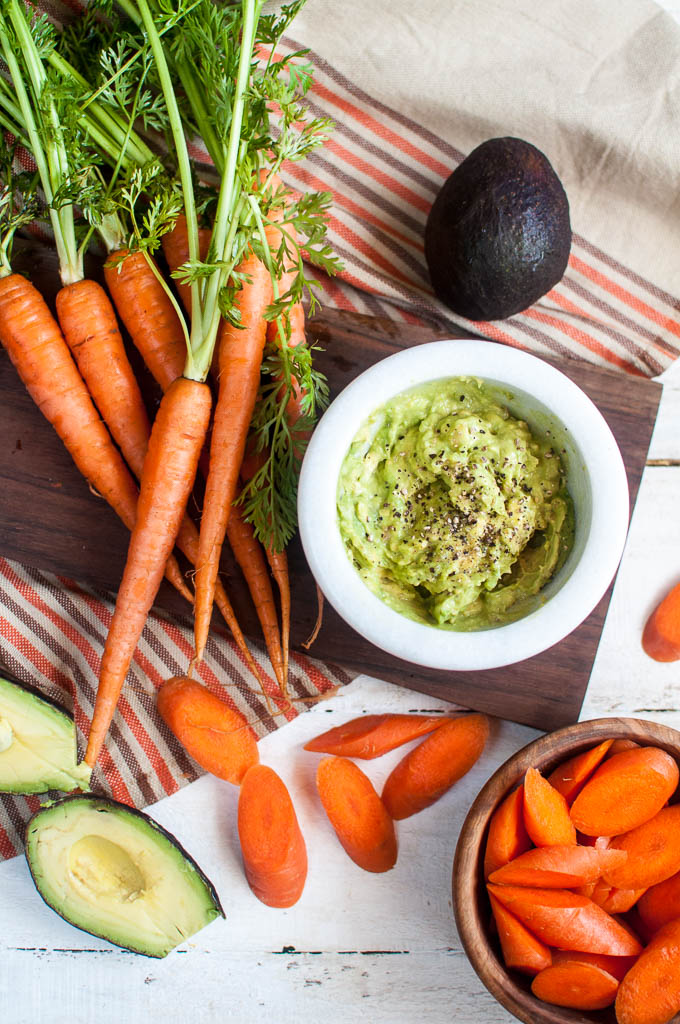 I LOVE guacamole (who doesn't?) and the best news is that avocados are one of highest fiber fruits you can eat. Compare 10 grams of fiber in an avocado with a mere 4 grams of fiber in an apple. Remember what they say about an apple a day??? Well why not an avocado a day? Eating more avocados is a great way to increase your fiber intake and this guac with carrots snack is easy to make, healthy to eat, and deliciously fun to snack on……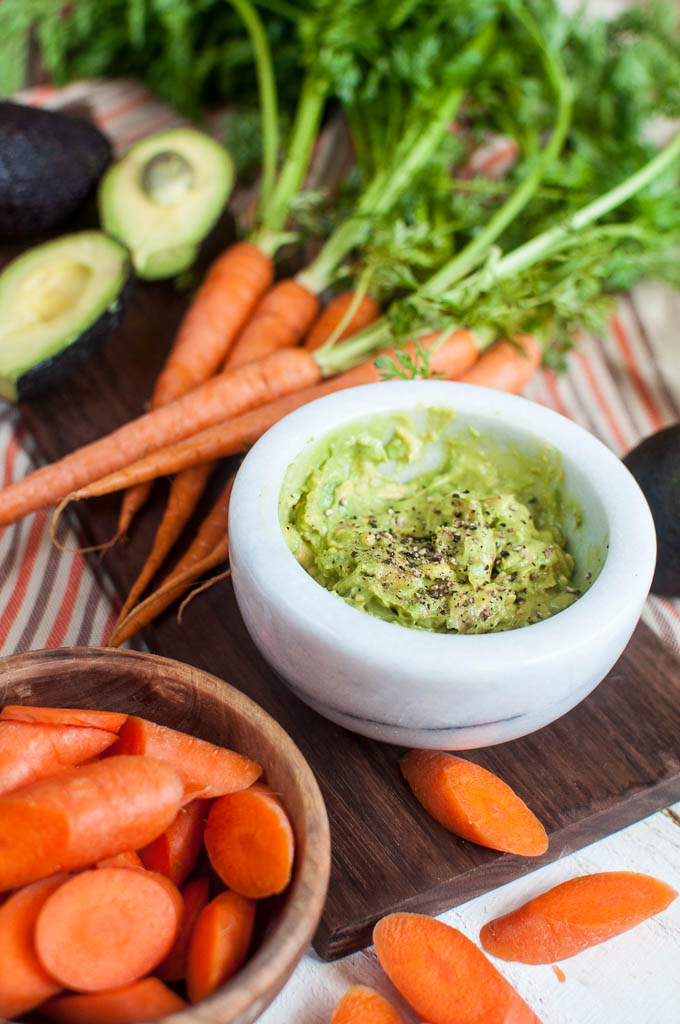 When I lived in Mexico, avocados were piled high in all the grocery stores. These local avocados were the creamiest, most delicious avocados I'd ever eaten. They were also CHEAP — none of this $299 each!!!  So, eating avocados everyday, became my norm. The downside, was that I scooped up the guac with bowls of unhealthy chips or loaves of toasted bread. (A local baker made amazing vegan bread). Yum, this still sounds good….
Well, I wanted to stop the daily chip/bread habit so I needed a new approach.
Carrots!!!!……. Carrots are crunchy, healthy, sweet and delicious and when sliced diagonally, they become the perfect "spoon" for scooping up guacamole.
So, guac with carrots became my "go to" snack.

Guac with Carrots 
Let's talk about guac….. This simple guacamole recipe comes from a Chilango who was born and raised in Mexico City. I think it's the BEST guac out there and only requires 3 ingredients: avocado, salt and pepper…that's it!!! He explained that adding tomatoes, cilantro, jalapeno, onion and lime to guacamole is not traditionally Mexican. In Mexico, those ingredients make up Salsa Fresca (Pico de Gallo) which is served separately.
Making this quac requires 2 things:
A little elbow grease to mix the avocado until it releases its oils and turns smooth and creamy.
A high quality salt.
I no longer live in Mexico, but I still eat this snack all the time. It's great for kids and quick to whip up. Make it a staple in your kitchen to get more fiber and less carbs, but also because it's a delicious combination.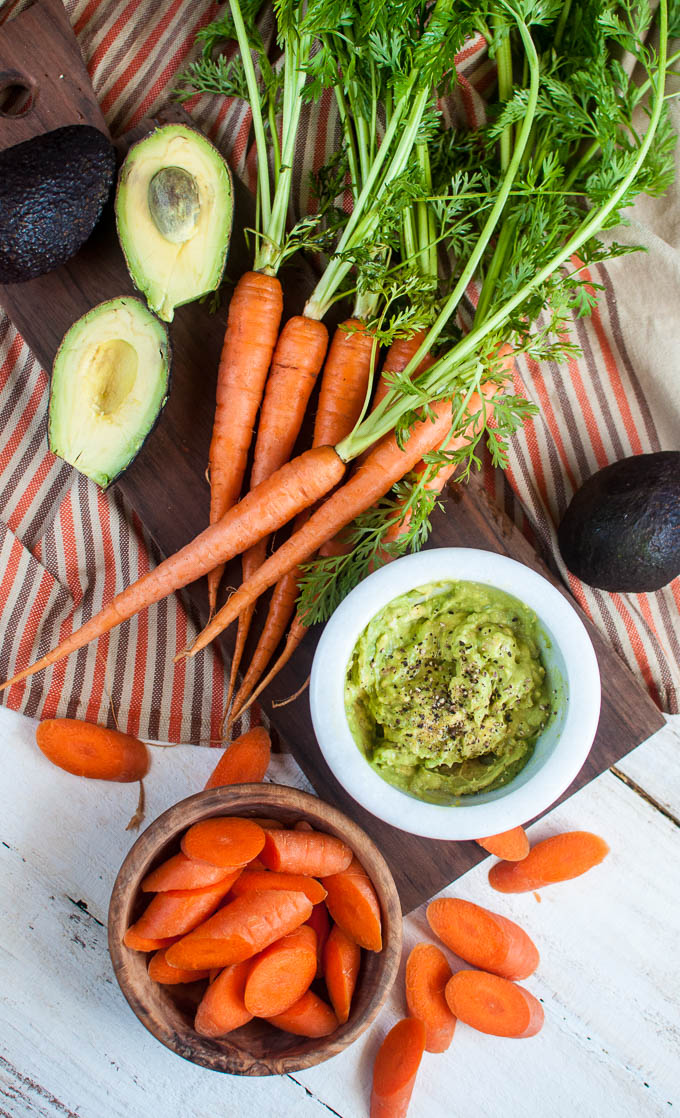 How to Prepare
I eat avocados regularly and always have them in the house. Lately I've been buying the teeny tiny avocados from Trader Joes. I find they ripe more evenly and the pits are smaller so you still get a good amount. If they are hard, set them on a counter for a few days until they soften before putting them in the refrigerator.
This recipe serves 1 but you can increase the amount and make however much you want.
Ingredients:
1 soft avocado
4/5 med carrots washed and sliced on a diagonal to make mini scoops
Himalayan Pink Sea Salt (or other high quality salt)
Freshly ground black pepper
Directions: 
Cut the avocado in half, remove the pit and add to a small/med bowl. With a spoon, mash and blend the avocado until there are no lumps left. This requires elbow grease and patience (5 minutes or so depending on the avocado). Mix in several cracks of freshly ground salt and pepper (using a good quality salt is KEY to this guacamole).
Wash and diagonally slice your carrots to serve on the side.
Notes: You can use baby carrots but I find they don't scoop as well as the sliced ones. In addition, according to Dr. Mercola, "baby carrots have less iron, phosphorus and magnesium…. and carry less vitamin A and vitamin C, but significantly more folate than the larger variety." 
For more delicious, fast vegetable recipes, you might like Steamed Asparagus, One man Burnt Broccoli, or this 5 Minute Smoky Chipotle Salsa.