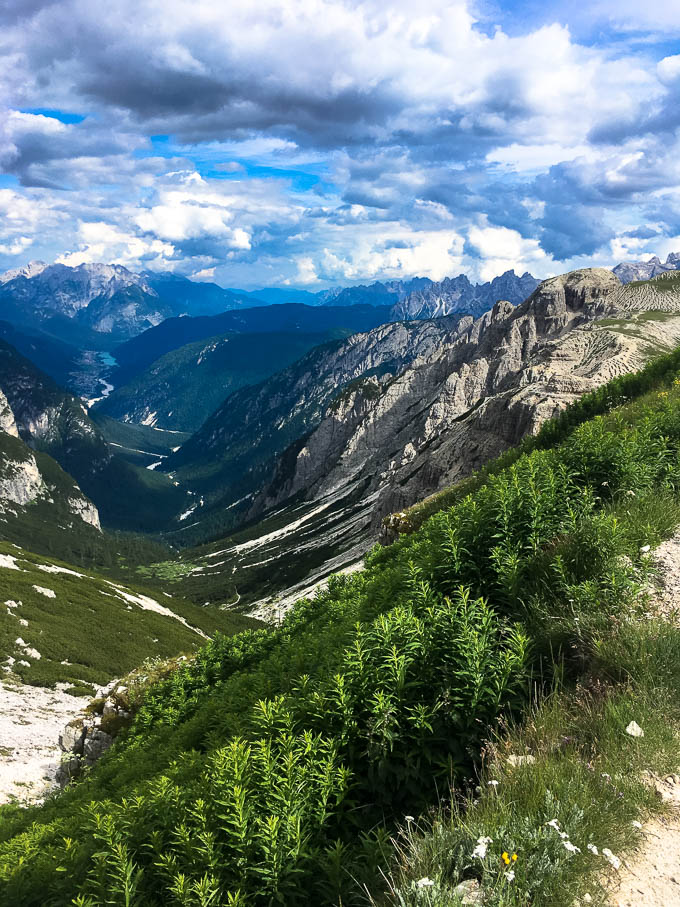 The Dolomites, situated in Northwest corner of Italy on the Austrian border, are considered one of the most a beautiful mountain landscapes in the world.  Once known as the "Pale Mountains", this natural paradise was declared a Unesco World Heritage Site in 2009. In early July, my husband and I treated ourselves to a week hiking the Dolomites with REI (outdoor adventure company) and are still giddy from the experience. Sipping cocktails poolside sounds relaxing but active trips can be life-changing. When my heart was racing after 2 hours of vertical climbing, I felt completely present and at peace. The alpenglow colors illuminating the rocks at sunset, the emerald pastures, greenish-blue lakes, flowering meadows, vertical walls, and cragged peaks make this one of the most remarkable mountain ranges to explore. If you aren't convinced yet, keep scrolling…..
Hiking with REI
This is my third trip with REI, and I didn't think it could get better than Tour de Mont Blanc, or Peru's Salkantay trail. But our 8 day trip in the Italian Dolomites could be my favorite. We spend 4 nights in 2 picturesque alpine towns, and 3 nights in  mountain lodges. We hike 5/6 hours per day through jaw dropping scenery. REI hires experienced local guides who know the mountains intimately and get the best rooms at the Rifugios. Their trips are extremely well organized and an exciting way to see another country.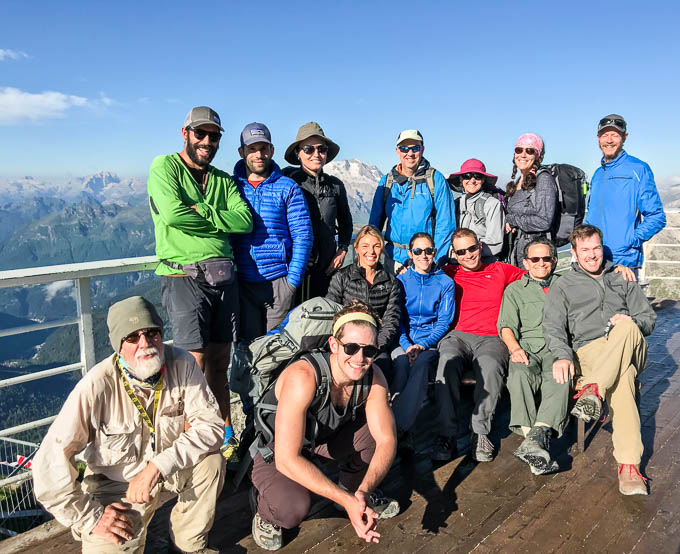 How Hard is The Hiking? 
This trip is rated a 3-4 difficulty level (on a scale of 1-5) but some people consider it closer to "4" for its steep and rocky terrain. Given that I have a fear of "slipping", this made me nervous. There were several short sections that scared me, but I was anticipating much worse. In fact, the hard packed rocky trails were good for sure footing. A few times the trail narrowed to a short, exposed section but the guides were there to help. None of the other hikers were as frightened as I. Expect a lot of vertical with the highest altitude reaching 9,000 feet.
Weather in the Dolomites
Our early July departure gifted us with dry, sunny days but weather in the mountains is hard to predict. The group before us had chilly temperatures and snow. We experienced three bursts of rain which went from a drop to a deluge in seconds. It even hailed. I usually hike with an umbrella but it ended up being too hard to hold with my hiking poles. I got a little wet.
"Will Hike for Beer": The Culinary Experience 
Imagine passing the Tre Cime di Lavaredo in the Italian Alps, then stopping for and hot chocolate. Hike further to another skyline Rifugio and enjoy a freshly made to order lunch on a sun drenched deck overlooking the jagged peaks. Italians don't mess around when it comes to food and despite being away from the local markets, the food  serrved in the Rifugios was very impressive. There was always a vegetarian option (usually vegan) of fresh vegetable soup, pasta pomodoro or a mixed green salad. And being so close to Austria ensures the incredibly satisfying crisp Austrian ale. My fellow hikers ended their meals with a towering slice of Apple Strudel or Kaiserschmarren (a typical Tyrolean dessert that I couldn't pronounce so I called it, "Kaiser sosay").
What to Expect in a Rifugio
I'm a person who likes my own room and bathroom (not that I didn't pitch a tent throughout Africa for a 7 week journey) but now that I'm older, I prefer ending a hike with a hot shower, glass of wine, homemade meal and comfortable bed. Is that wrong?? The Italian Refugio's have it dialed in and this elevates the entire experience. REI also snags the best rooms so you don't have to sleep in a dorm.
Our Amazing REI Guides
Italy is cultured around family and community and Marco and Dennis joined our group in a way I haven't experienced on prior REI trips. We went from strangers to a close knit family in a few days.  By the second night, we were sharing food, wine and grappa. By the third night we added, "dessert parties" – where we each ordered a separate dessert and passed it around the table. Laughter and food kept us resilient.
The Dolomites in a Nutshell
Hiking the Dolomites with REI is a trip I'd highly recommend to anyone who wants travel to be transformative.  Go alone, with a spouse, friend, or family member to enjoy Italy's fine food, wine, beauty and hospitable spirit.  This is a very special trip!
(REI complete itinerary)