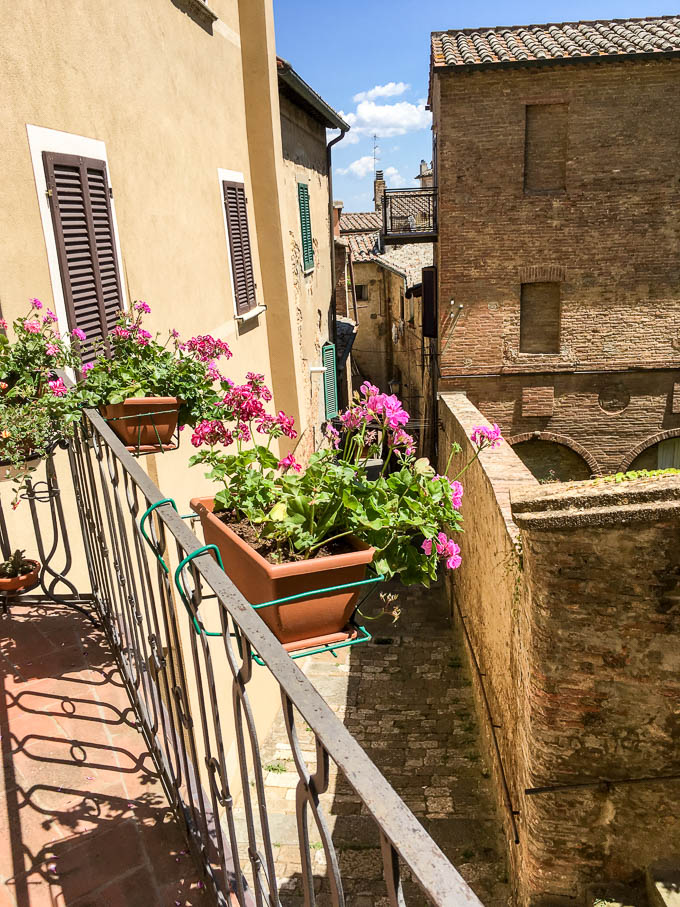 It's difficult to say what captures your heart when you visit a place, but you might just fall in love with Cortona. Cortona is an artsy hill town on the Tuscan/Umbrian border. Many hill towns have been overrun by tourism, but Cortona's  year round residents maintain it's authenticity. Francis Mayes put Cortona on the map with her book, Under the Tuscan Sun.  The story of a recently divorced woman whose spontaneous purchase of a crumbling villa in Italy, restores and revives her own broken heart. Cortona is also a favorite destination of Jordan Schlansky, Conan O'Brian's quirky producer and Italianfile. I spent 4 days in Cortona and it left a strong, loving impression.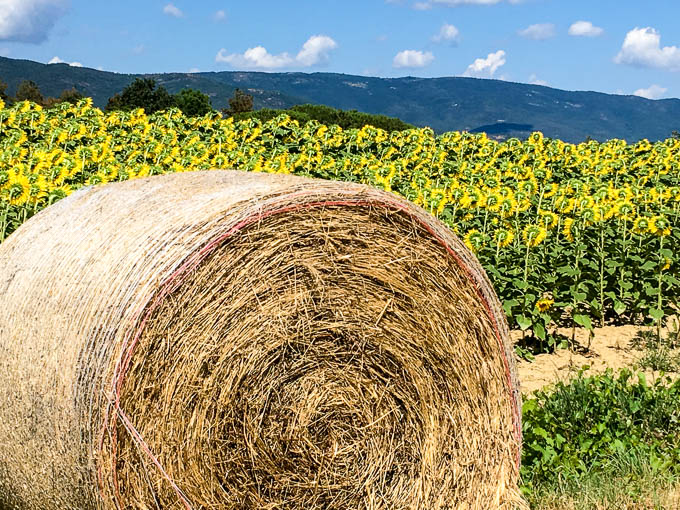 Our Apartment in Cortona
After an incredible trek in the Dolomites, my husband and I drove from Venice to Cortona where we rented the prettiest airbnb 2 blocks from the main piazza.  I instantly fell in love with this adorable top floor flat. It's old world charm, elegant furnishings and dazzling view (plus handy washing machine). Free parking is available outside the walls of Cortona (and a good reason to pack lightly). Luckily, we always found a space. (**More on parking below).
What To Do in Cortona
One of my favorite rituals in Itay is Aperitivo! Each day, the locals gather in the piazza for a pre-dinner drink and snack. I loved sitting at a sun filled table sipping an Aperol spritz with nibbles of potato chips and watching the town come alive. This evening ritual made me appreciate Cortona's strong sense of community.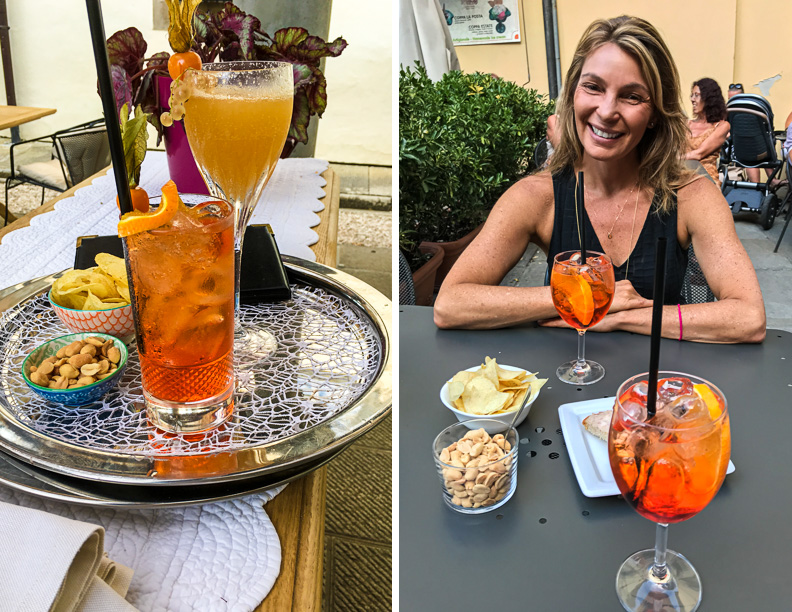 Exploring Cortona 
I also loved exploring Cortona!! It's one of the steepest hill towns so walking up and up the cobblestone streets was my morning ritual. The great views, pretty homes, friendly felines, and large church and fortress at the very top. But, beyond the walled city, there is more: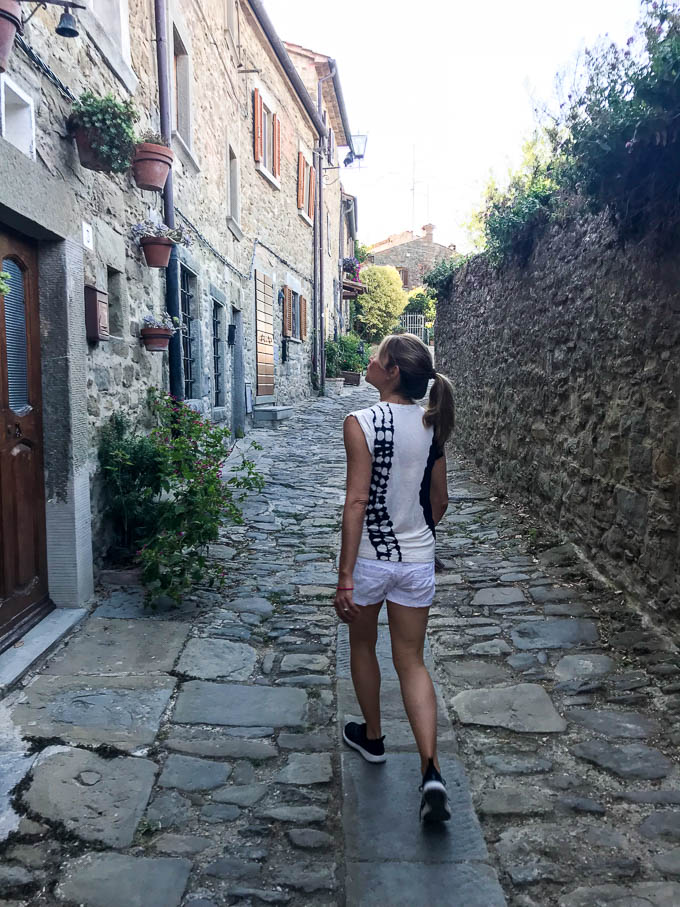 1. Hike up to a Torreone Café – At the highest corner of Cortona sits a fortress and a church (Basilica di Santa Margherita). It's a 15 minute walk up and both are fun to check out but if you keep going (outside the walls of Cortona), you'll arrive at Caffe del Torreone, a lovely place to stop for coffee or a bite to eat.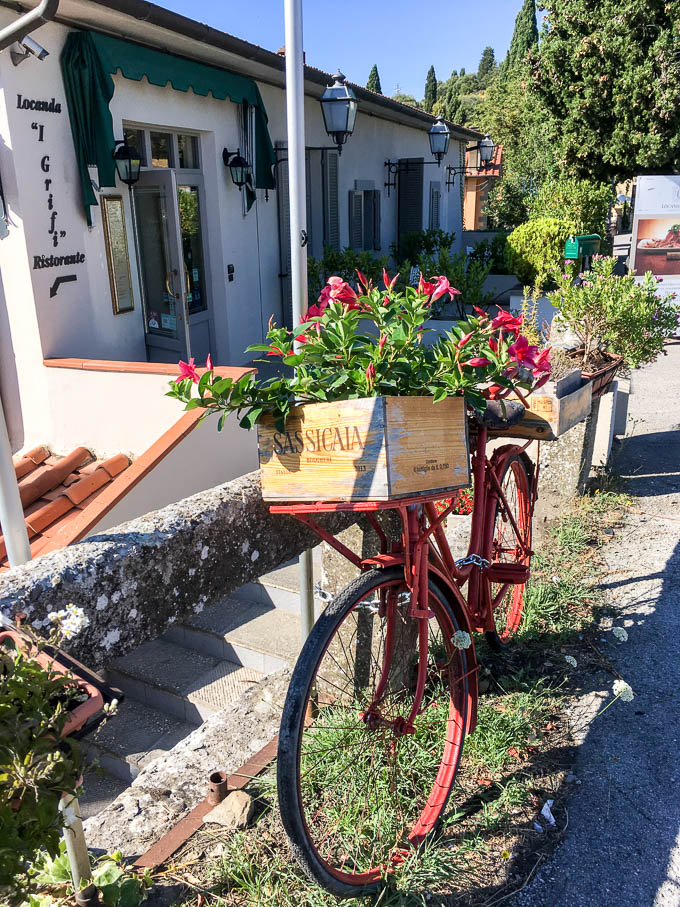 2. Hike to Eremo Le Celle – if you continue past the Café and bear left at the fork, you will be on quiet road towards the beautiful monastery Eremo Le Celle. It's a 30 min walk and well worth the effort.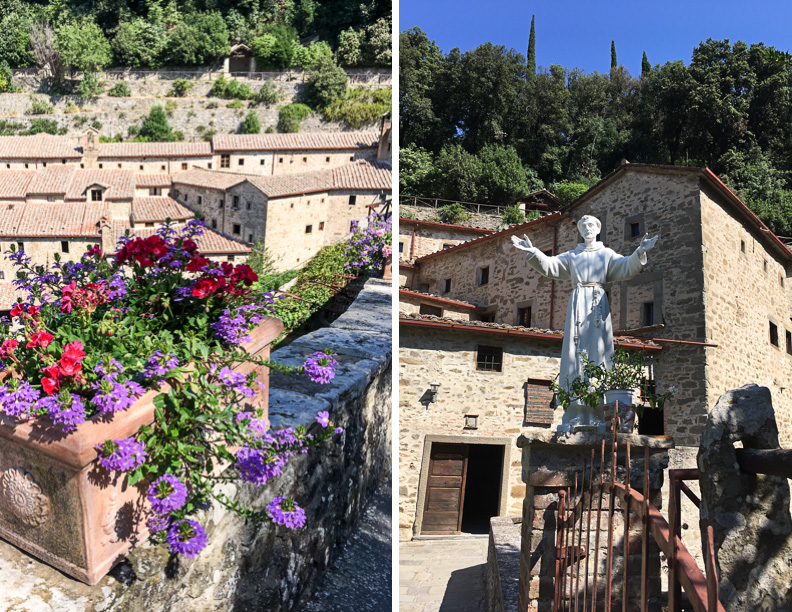 3. Walk by Bramasole – I stumbled upon this lovely villa walking down from Caffé del Torreone (go around the cafe and head back down). I stopped to photograph some butterflies fluttering above the prettiest lavender when I noticed this beautiful home. As I looked closer, I realized it was Bramasole, the famous villa restored by Frances Mayes in Under the Tuscan Sun!! Perfect for our walk back to town!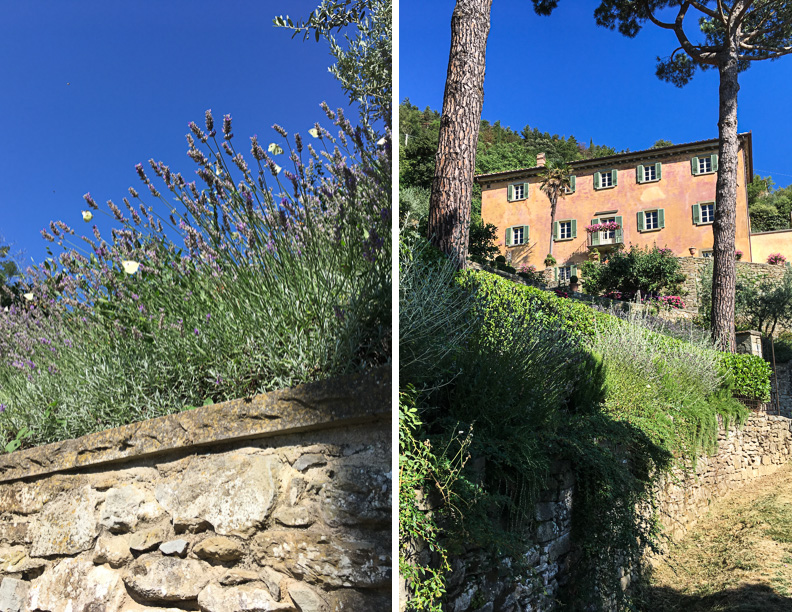 4. Find all the friendly cats in Cortona (and one resident pig named Kelly).
Dining in and Around Cortona (Vegan Options)
Champion Barista. Down the hill from Cortona in Camucia is Pasticceria Vanelli, home to an award winning barista whose coffee art is worth seeing. Unfortunetly, it was closed the few times we went so we ended up at The Extrabar Café, a local café that served the richest soy milk hot chocolate EVER!
Enjoy a romantic lunch at Gattavecchi Winery in Montepulciano.
Trattoria La Grotta in Cortona. Lovely place for lunch or dinner.
La Fett 'Unta, is a local wine bar with hearty vegan salads.
Drive to Arezzo for a special vegan meal at La Dispensa di Amelia. Arezzo is a small city with lots of shopping and art. We saw a dramatic art installation housed in the main fortress and churches throughout the city. Following a glass of wine in the piazza, we enjoyed a magnificent vegan lunch here. It's rare to find 100% vegan restaurants in Italy so this was a special treat.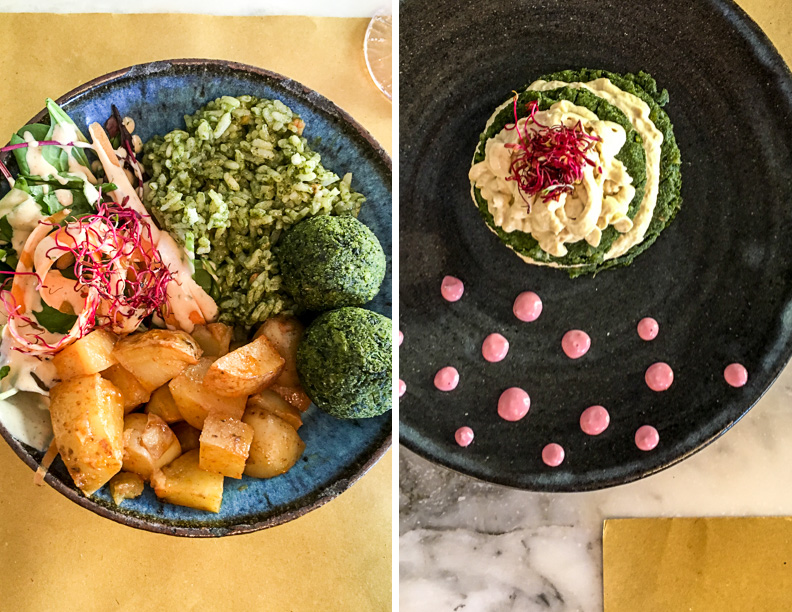 Cortona lights up at night so be sure to watch the sunset, take in a concert, hang out in the piazza and absorb the evening warmth and energy.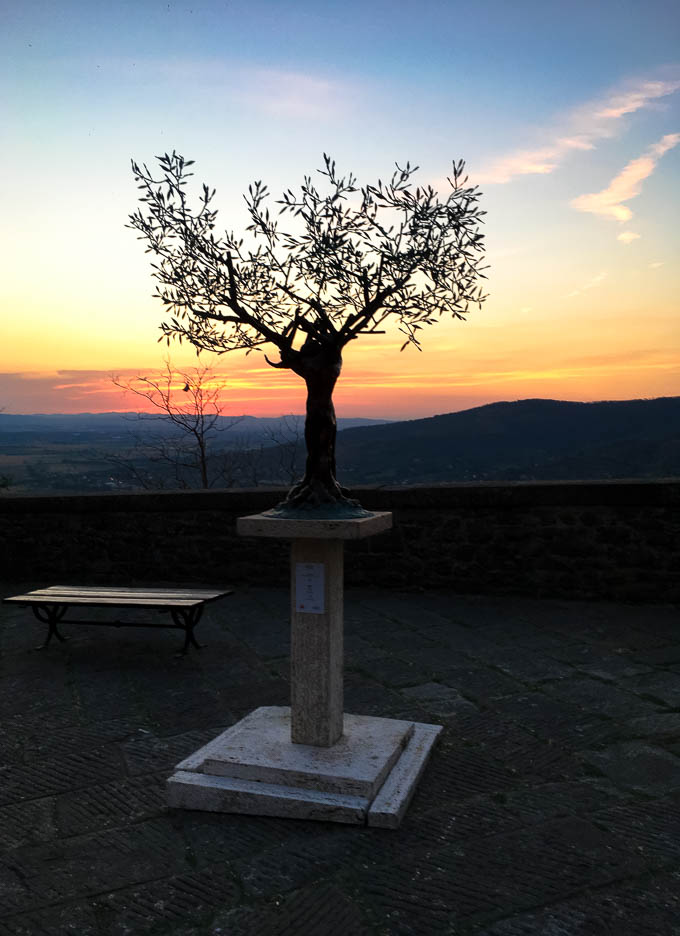 Parking "Parcheggio" in Cortona
Cortona is a steep hill town surrounded by narrow roads and tight parking spots. Most rental cars in Europe are stick shift and thankfully, we opted for a small car. There are free and paid parking lots outside of the city walls. Free parking lots are gravel with white lines. Paid lots have blue lines. Google maps is a pretty good resource for taking you to the parking lots. Yellow lines are for permits only and they are very strict. (for more, read here).