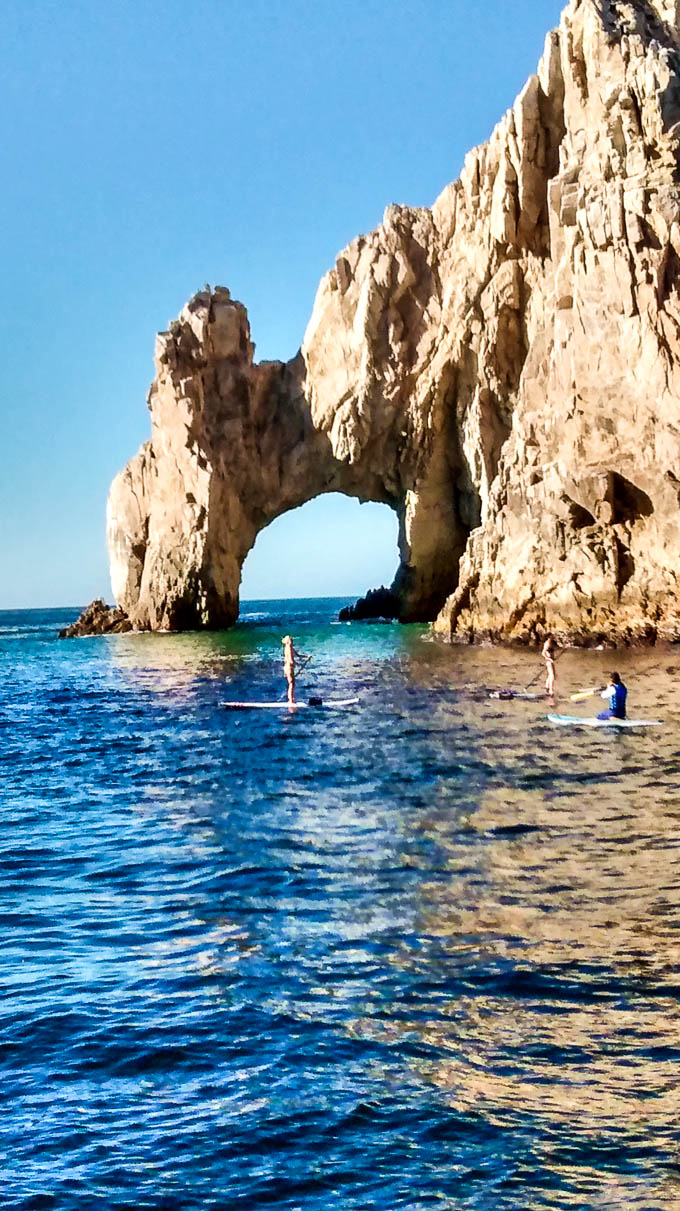 When my husband and I first began dating, he treated me on a trip to Cabo San Lucas. I'd never been to Mexico and was instantly charmed by it's perfect (dry) weather, gorgeous beaches,  warm people, and vibrant colors. Mexicans have a way of making you feel "at home", as well as making the best margaritas! We stayed at the original Sol y Mar, a simple hotel on the Pacific tucked against the terracotta rocks. I drank my first strawberry margarita at the swim-up bar which overlooked the beautiful beach. This is where I fell in love with Cabo!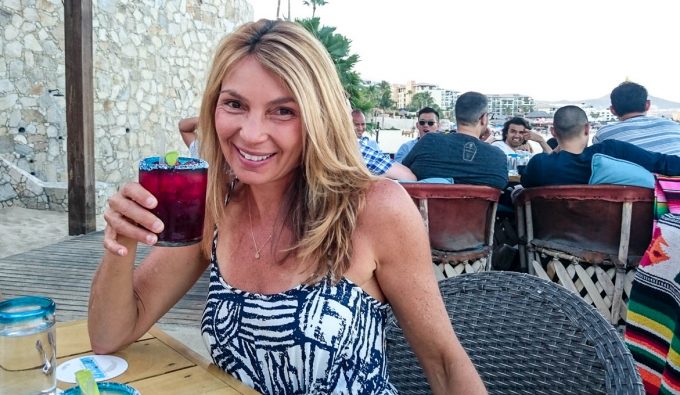 Los Cabos (the Cape) consists of two towns: Cabo San Lucas – with it's raukus beach bars, lively marina and party nightclubs and San Jose Del Cabo – with it's artwalk, galleries, chic restaurants and cutting edge mixologists.
Over the years, I've seen Cabo grow and grow and grow. No longer is it the quaint fishing village we visited in the 90's but it's become an International vacation destination for fishing, golf, drinking, dining, and 2 x 1 Pacificos! Bulky hotels line the coast, smooth toll roads disperse tourists to their desired destinations, and big box stores such as Costco, Walmart and Home Depot, leave you wondering if you've actually left the States.
Cabo's Magic:
Nonetheless, Cabo still has it's charms. When I'm there, I always experience unexpected surprises. Maybe it's cool chairs outside a gallery, or a fireworks display on a random Thursday night, or feeding friendly donkeys who like pretzels as much as me. This is the magic!
I was so charmed with Cabo, that I owned a home there and ran a small business for several years. Our house sold last year, but we still go down to visit with friends, eat tacos, and enjoy ourselves. Here are my insider tips:
Where to Stay:
Cabo is no longer "cheap" so I opted for a "budget friendly" hotel in San Jose. I chose Hyatt Place for it's location, price, cleanliness, free parking, and upper floor ocean view rooms. The hotel is not on the beach (you can walk to it) but it exceeded my expectations. The room was large and clean with a great view, the staff were helpful and accommodating. A surprisingly good breakfast was included. Best of all, you can walk a few minutes to Starbucks, El Wine Shop (amazing coffee), Green Goddess grocery (green juice, vegan smoothies, quinoa salads to go), Lugareño Cocina – an upscale restaurant next door, and 2 large grocery stores. I even walked to dinner in downtown San Jose (40 min each way). And my favorite 2 hour beach loop starts right here (see below).
If budget isn't an issue, here are my other hotel recommendations in San Jose:
Palmilla: This gorgeous hotel is outside of San Jose so you can't walk but there are a few shops and restaurants in a plaza nearby. It has its own beach and if you are lucky, catch Modu teaching his impossible beach boot camp (MWF 6am).
Cabo Surf Hotel: Here, you pay for being on Acapulquito, one of the best surf breaks in Cabo. The restaurant has an amazing view of the surf and the food is decent (although over-priced). For a special treat, check out their full moon jazz concerts.
San Jose has many all inclusive resorts although I don't recommend staying at one. There are too many good places to eat and getting out is fun.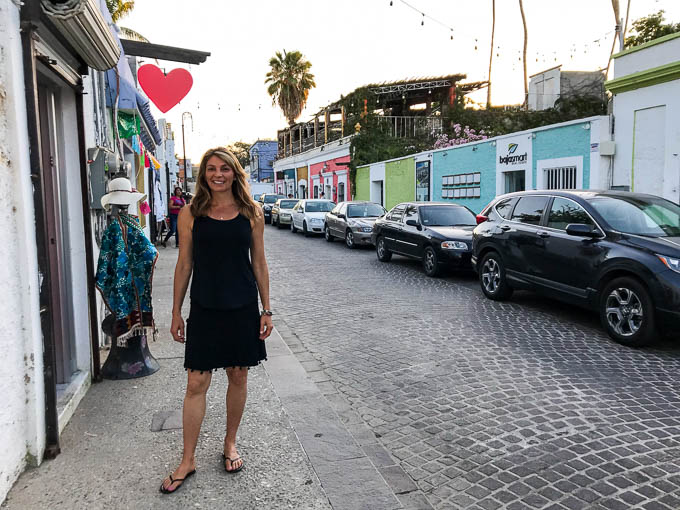 Where to Eat:
Being a vegan in Cabo has always been tricky. It's gotten easier over the years but I still live on guacamole, corn tortillas, and mixed green salads. Chula, a vegan lunch spot recently opened in San Jose, but I didn't get there on this trip.
Best Fish Tacos (this is from my husband since I don't eat fish) but his favorite taco places are:
Blue Fish: Poncho started as a cart in San Jose del Cabo until one of his diners bought him a restaurant. Now, he's located in the Palmilla plaza. Hands down he's an amazing chef. Just look at his salsa cruda, have you ever seen tomatoes chopped so finely? His salsas are divine and his guacamole the best. You can also ask him to prepare a bowl of steamed vegetables (vegetales al vapor) or get a mixed salad. His chili lime tortilla chips are addictive (I have to stop myself or it's a sodium extravaganza). My husband gets their mixed seafood ceviche and a shrimp quesadilla. ***Ask for the spicy soy sauce. Lunch and dinner.
Los Claros Jr. Tacos: Los Claros is a local taco restaurant that is clean and festive. It's a great option for lunch. In the center of the restaurant, a salsa bar houses all types of toppings including: rojo y verde salsas, sliced cucumber, slaws, and relishes. I ordered my standard guacamole with corn tortillas to make guac tacos I top with tasty salsas. The serving size was ginormous but I managed to eat it all. My husband had grilled fish tacos and a large lemonade. The atmosphere is casual and the staff is likely glued to a soccer game on the T.V.
Another option is Hangman's. It appeals to tourists and locals with it's kitschy vibe, one man musician, excellent tacos and strong drinks. Try the mushroom or nopal taco (for vegans).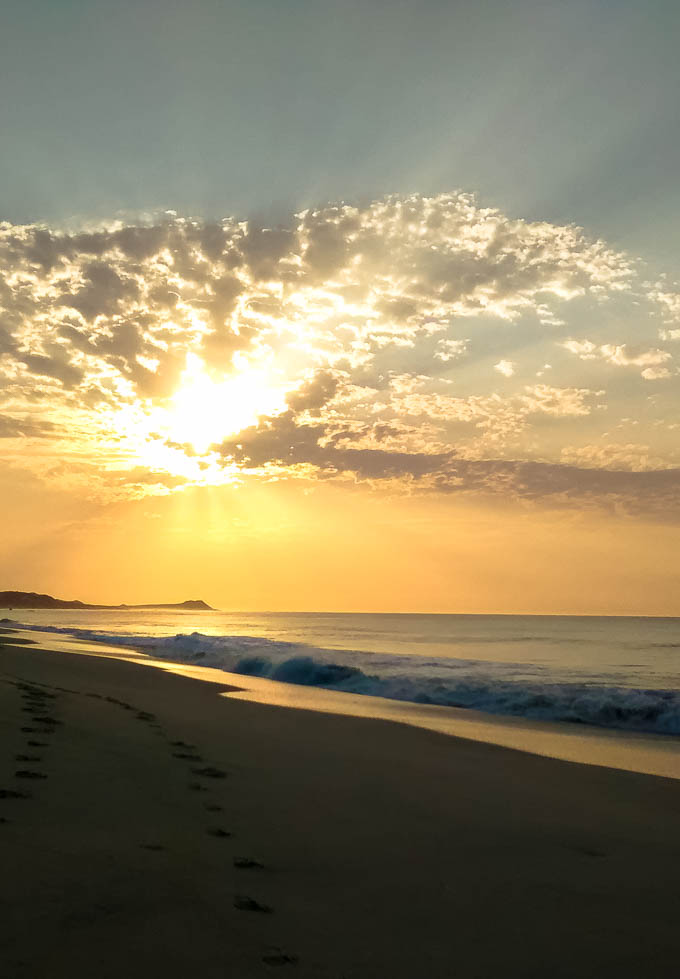 Best Coffee/Breakfast:
I won't put Starbucks on here, but my husband likes it because its the only place open early enough for surfers.
Lolitas: A quaint cafe off a side street in downtown San Jose. Grab a table out on the patio and enjoy their spin on Mexican breakfast. My favorite is the homemade bread with sliced avocado (I ask for it) and fresh juice.
Cream Cafe: Located in the Palmilla plaza, this is the prettiest cafe, but they can be hit or miss with their lattes — often arriving lukewarm.
El Wine Shop: I have been informed they make the Best coffee in San Jose.
Where to Drink in San Jose: 
La Revolucion: A local friend suggested we try this "hot" new restaurant in downtown San Jose. Across the street from La Osteria (made famous when members from U2 played an impromtu set there), La Revolucion boasts an award winning mixologist and rooftop bar (which wasn't open). The interior has great style and I fully enjoyed their signature cocktail — a concoction of mexcal, poblano, citrus, sesame oil and crushed pepitas. Imagine!
La Lupitas: This extremely popular bar/restaurant has a great menu, drinks and live music (some nights) in their interior courtyard. The only downside is that it's gotten so busy, you need a reservation.
Lugareno Cocina: This "fancy" restaurant is in the courtyard of Villa Valentina (where Cynthia Fresh used to be) and conveniently located next door to our hotel. The courtyard is beautiful and the restaurant has a fancy menu. I'd suggest going for a drink and maybe an appetizer. as I found the food was salty and the music wiry and unrelaxing.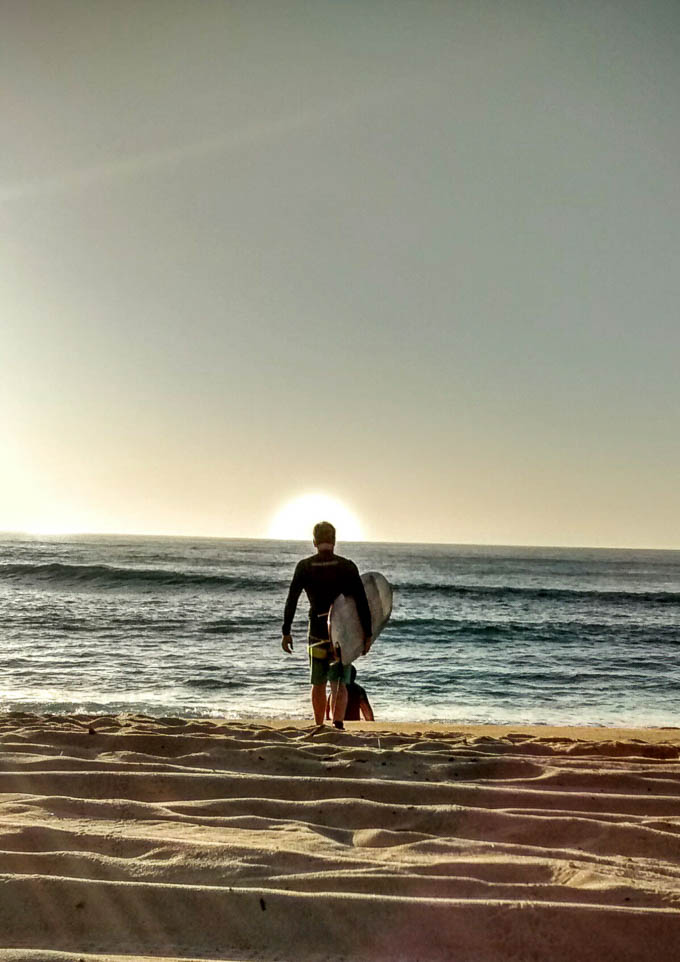 Where to Surf:
The best time to surf in Cabo is from May – October. During the Winter months, you get surf on the Pacific side which means driving to Pescadero or Cerritos.
Acapuquito Beach: The most popular break in Los Cabos is "Old Man's" or Acapuquito Beach in front of the Cabo Surf Hotel. Zippers and "the Rock" are nearby. These breaks are beautiful and can have excellent surf, but they are also crowded with locals and tourists. Parking is limited.
The East Cape: If you are adventurous, have a decent car and understand the wind conditions, a drive to Nine Palms on the East Cape is rewarding. There are no signs and a stretch of unpaved, bumpy roads but the beach is stunning and has fun surf under the right conditions. There are hardly any people.
Best Beaches:
Few of the beaches in Cabo are actually swim-able and some are outright dangerous with steep drop-offs and rogue waves. Here are my favorite beaches:
For swimming: Chileano Bay, Santa Maria Bay, and 9 palms on the East Cape.
Prettiest Beach: So many beaches are stunning in Los Cabos but my favorites are: The beach in front of the Sheraton, Chileano Bay, Nine Palms and Acapuquito.
My Favorite Walk
Last but not least, is my favorite loop walk in San Jose. This 2 hour walk is on sidewalks, sand, and sometimes busy roads. It starts at The Hyatt Place:
Walk along the hotel zone (Paseo Malecon de San Jose) until it ends at The Holiday Inn.
Turn Right and head out onto the beach alongside the estuary. Walk towards Puerto Los Cabos Marina. Occasionally, the estuary overflows the beach and you may need to cross a water. ****Be extremely careful crossing- the water is often deeper than it looks.
When the beach dead ends at the mouth of the harbor turn Left. You will pass the Dolphin Discovery Center (yes you can see the dolphins from the path) and continue out to the main road. (There are restrooms near dolphin discovery).
At the main road, turn left around a rotary and stay right until you see a long bridge heading towards San Jose (East Cape Road).
 Cross the long bridge (cars whiz by) and down the off ramp into San Jose. Go straight until you see another rotary.
At the rotary, go left (calle Boulevard Antonio Mijares). Walk back towards the hotel zone and beach.
When it dead-ends, turn right onto the hotel zone (Paseo Malecon de San Jose) where you were before.
Keep walking until you return to The Hyatt Place.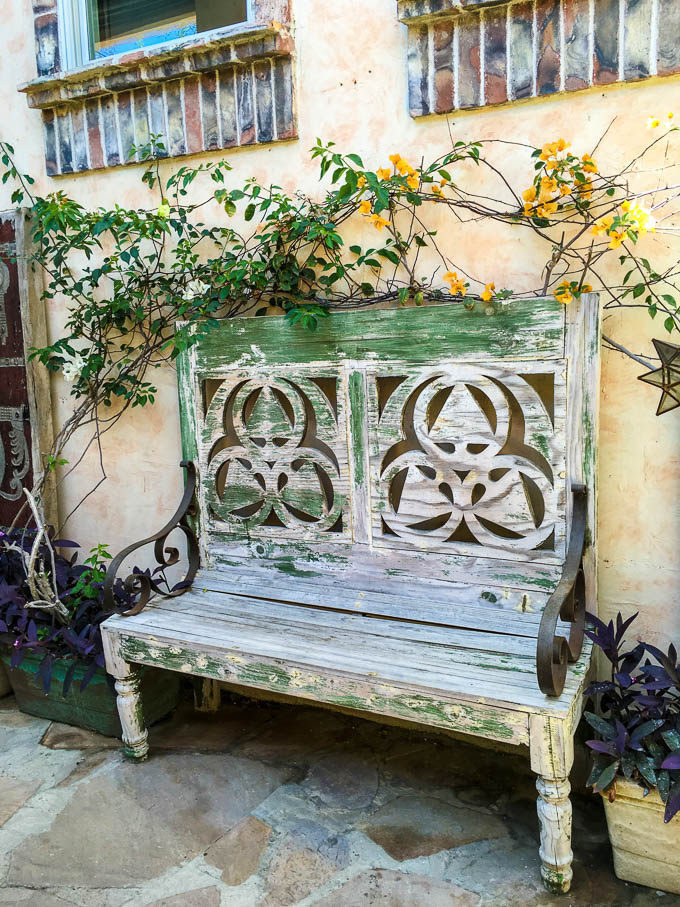 You might also enjoy Two Days in Oaxaca, Mexico.