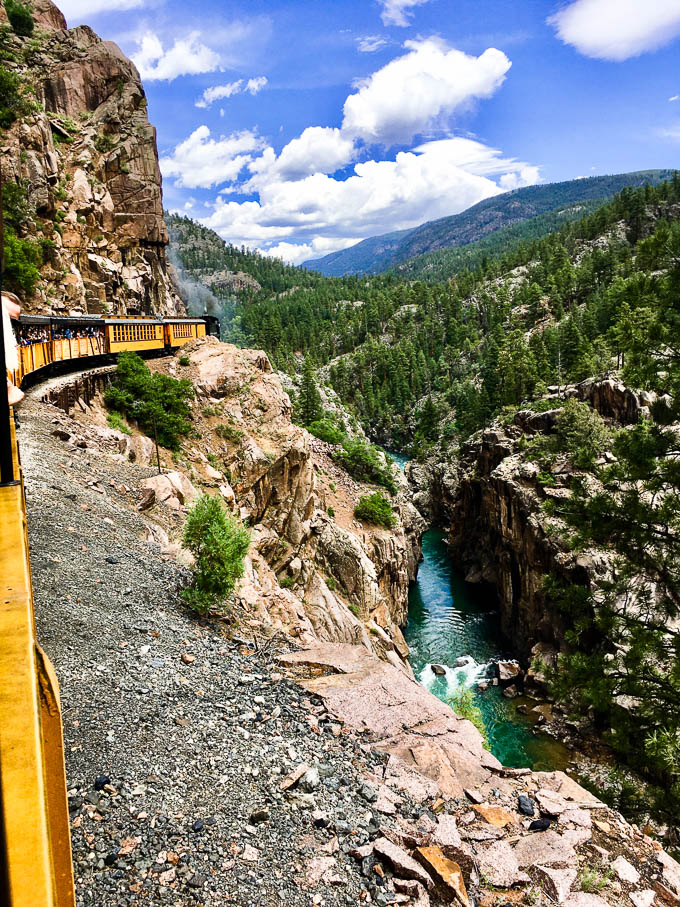 Due to the Covid pandemic, we had to cancel 2 major trips to Europe this summer. With limited international travel options, we opted for a road trip to Durango, Colorado.
Durango is a small mountain town nestled in the San Juan Mountains in the Southwest corner of Colorado. It attracts outdoor enthusiasts like bikers, hikers and skiers as well as retirees. It's home to the iconic Durango/Silverton coal train and Fort Lewis college. You can hike in the mountains, walk along the Animas river or sip beer at craft breweries. Several parks and hikes were closed due to the Corona virus but there are still fun things to do.
Our trip took 7 hours to Flagstaff and 5 more to Durango. To prepare for the long hours ahead, my husband downloaded Shoe Dog by Phil Knight, the creator of Nike and I packed a cooler of healthy treats. Soon, we were off!!
Here are the highlights: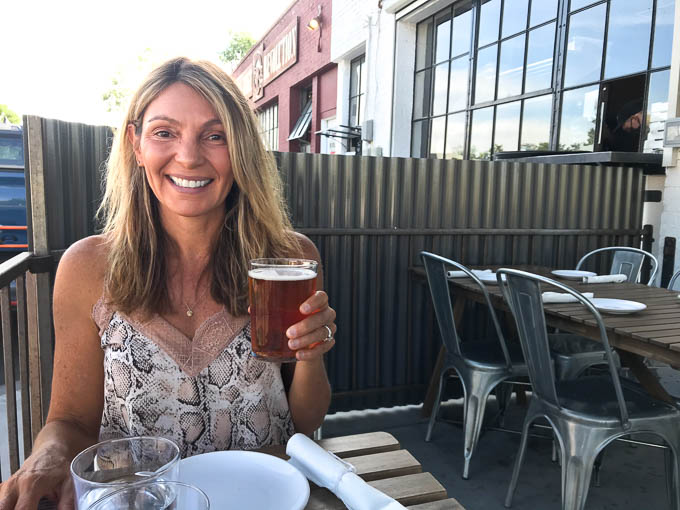 Ready to stretch our legs and freshen up, we arrived at The Country Inn and Suites, Flagstaff, a newly remodeled hotel near downtown. After a hot shower, we headed down the the street to Pizzicleta, an intimate wood fired pizza restaurant with homemade food and vegan options. The temperature was perfect and we got a table on the quaint patio. The craft beer and fresh baked bread were amazing. So good in fact, I ordered a second round.  We shared a salad, and pizza with arugula and my husband got their homemade gelato for dessert. Our dinner was so enjoyable, we ate here again on our way home. It was even better the second time!!
Pizzicleta Wood Fired Pizza
203 W Phoenix Ave, Flagstaff, AZ 86001
(928) 774-3242
(vegan options – I highly recommend the bread, if you eat dairy, save room for their homemade gelato).
Highlight #2 Animas Mountain Trail Durango, Colorado
The next day we arrived in Durango too late to hike but I planned to do the Animas Mountain Trail first thing in the morning. This basic 2.5 hour loop is 10 minutes from town and offers grand views of Durango. It's a steady up but never gets steep. Several trails make it a little confusing but we stuck to the outer trail.
After the hike, we grabbed coffee at a local shop nearby 81301 Coffee Roasters,
Animas Mountain East Trail
East trail head directions from Double Tree Animas River: Turn left onto Camino Del Rio (turns into Main Ave), Left on W 32nd, Right on West 4th Ave to small parking lot at trail head.  Traditionalists go counterclockwise and keep right at the forks. 
For a more challenging hike (near town), try Perins Peak.  It was closed so we repeated the Animas Mountain trail.
Stop for coffee at 81301 Coffee Roasters.
Highlight #3 The Durango/Steam Train
Anyone who likes trains and scenery will appreciate this ride that glides through a steep canyon with stunning views of the San Juan Mountains and Animas river. The open-air cars have the best views and the temperature was perfect. Unfortunately, our 2-hour ride took an additional 45 minutes when the train broke down. With a growling belly and no concessions on board (Covid),, I was happy to have gone but antsy to return.
I recommend the open air cars if the weather is nice.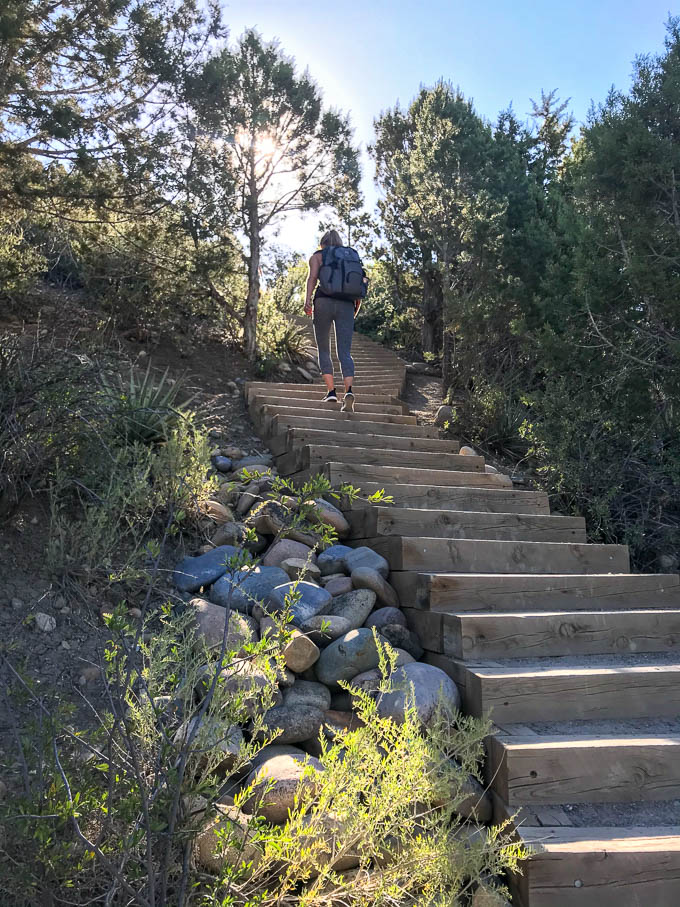 Highlight #4 Durango Sky Steps
Everyone knows I love to run stairs so when I heard about the 500+ sky steps I felt a burst of excitement gush in my chest.  Built in 2017, the sky steps connect Fort Lewis college, which sits on a mesa 250 ft above, with downtown Durango below. These wooden stairs attract exercise nuts like me, as well as students who want quick access to town. The ascent was so much fun, I ran it twice. (This was my favorite activity in Durango aside from hanging out with our friends).
The sky steps were part of a long loop walk which culminated at 11th street station a culinary collective with independent food trucks and eateries like Taste Coffee.
Sky Steps
The Sky Steps begin at the Nature Trail on the corner of 6th Avenue and 10th Street (955 E 6th Ave, Durango, CO 81301). Expansive city view from the top.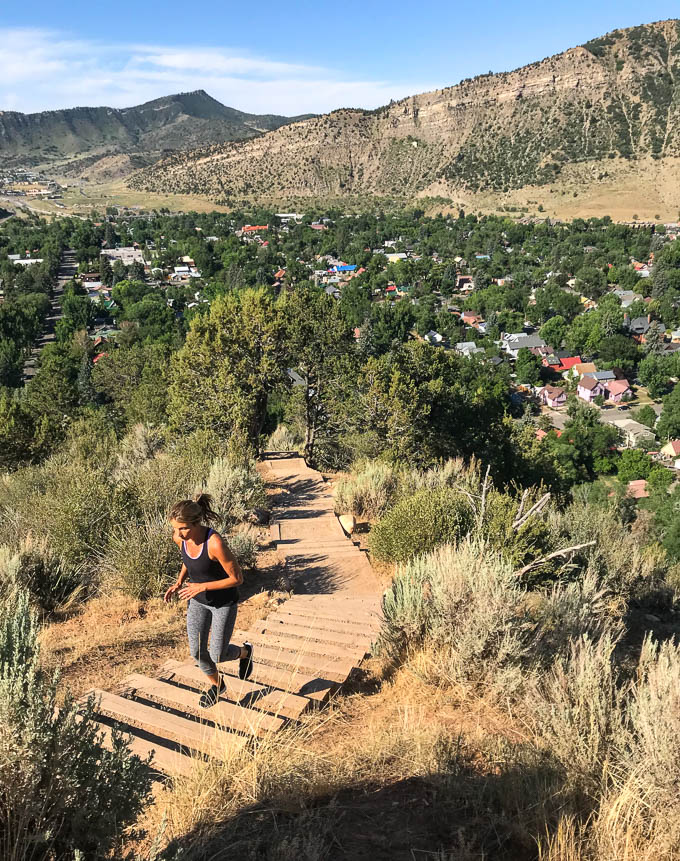 What to Expect When Traveling During the Pandemic
Overall, our trip was easy but each state and county have their own pandemic restrictions so it's hard to predict how your experience might be affected. Several hikes and parks were closed and restaurant service varied. For example, some breweries didn't have flights only plastic ups and with contactless service, you may miss the banter of a skilled waiter.  The biggest disappointment was that The Double Tree Hilton Animas River had no amenities and only cleaned rooms upon request. I was surprised given this is one of the nicest hotels in town.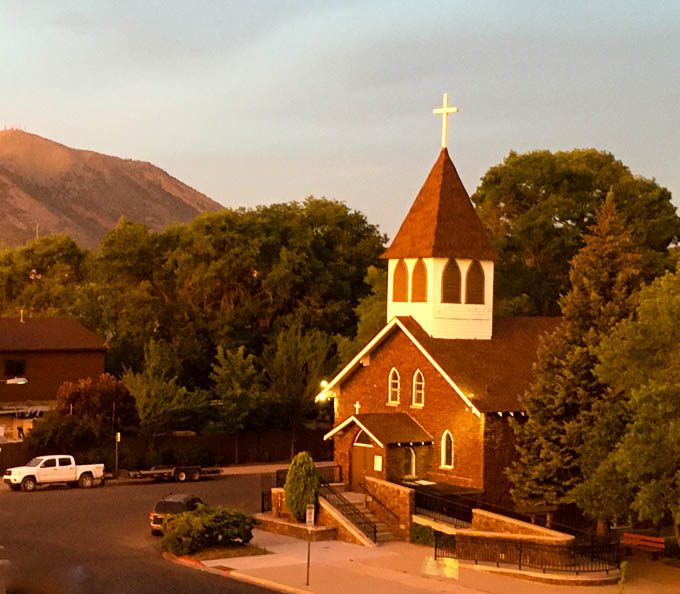 Vegan Dining Options
Being vegan in Durango was a little tricky but Flagstaff had plenty of options. Durango has a few health food stores and all cafes offer non-dairy milk. For dessert try Cream Bean Berry – they have vegan ice cream.
Flagstaff:
Pizzicleta – vegan pizza, salad, bread, great beer. If Vegetarian – they make their own gelato.
Red Curry Vegan Kitchen – would have loved to try this place.
FLG Terrior – wine bar with vegan appetizer and lentil salad (no feta unless you are cheegan).
Durango:
Steamworks Brewing Company – I was told the Indonesian peanut salad is vegan without chicken (no fish sauce in peanut dressing). They also have Japanese noodles which looks vegan but make sure to check the sauce.
Dandelion Café (formerly Cyprus Café) serves Mediterranean food which can often be adapted for vegans (hummus, baba ganoush, Avocado Quinoa salad (check dressing for no dairy), Salads w/o cheese.
El Moro Tavern – they replied to an email stating they can do the Fattoush vegan.