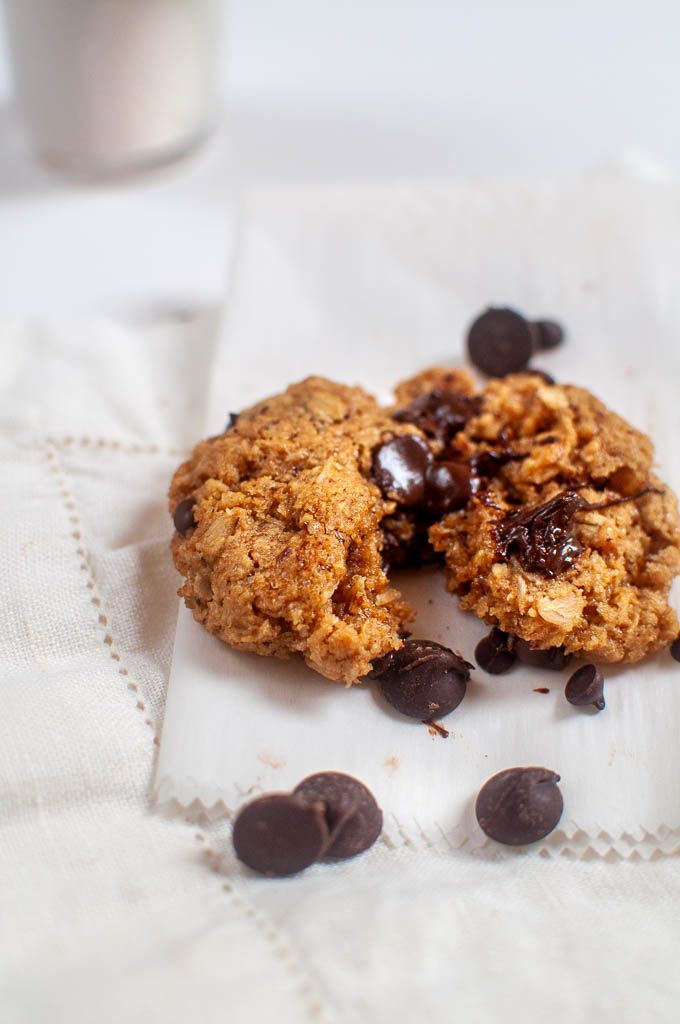 I'm eating two of these small batch flourless (GF) vegan chocolate chip peanut butter cookies as I write this and appreciating how rich and chewy they are. It's impossible to eat just one (trust me….I've tried).  My husband says the are decadent like a "brownie-cookie". Sounds good no?
Unlike some vegan, GF cookies, which are crumbly or taste like cardboard, these delicious treats TASTE sinful but secretly use healthier ingredients like GF oats, unsweetened dried coconut, and peanut only – peanut butter while omitting oil, flour, eggs, and dairy altogether. They also avoid highly processed ingredients like soy lecithin, palm oil, etc.

Taking Risks and Trying New Recipes
When I first saw this recipe by Angela Liddon at Oh She Glows, my favorite blog for healthy vegan food, my negative thoughts tried to talk me out of trying it. "Will I waste expensive ingredients? Will they taste overwhelmingly of coconut and peanut butter (not my favorite ingredients)?  Will I screw up the dessert for our dinner guests?… yada yada yada…..
Sometimes, I have to force myself to, "go for it". Especially now, with all the COVID fear swirling around, it seems even harder to take risks. However, if we don't push our boundaries, we won't grow and can end miss out on powerful experiences.
In this case, my fear was unwarranted and I was rewarded with a new favorite cookie recipe.
The Hidden Joys of Baking Your Own Treats
I have a policy! I don't buy sweets for the house! (OK- sometimes I buy ice cream for my husband) but mostly, I eat what I've created.
Baking was something I avoided for many years. Then, one year a friends' wife baked my husband a birthday cake from scratch. On the one hand, her gesture was so sweet and heartfelt and on the other……She totally showed me up!!! I was so impressed by her baking skills but I also felt silly that I couldn't provide him with something so basic and nurturing.
I tried to bake without much success until the explosion of vegan baking blogs. I found a ton of delicious looking healthier desserts to try. And, to my surprise, it was easy!!!
I still don't consider myself a "baker" (I don't even have a mixer after all) but I find baking relaxing and pleasurable. I bake in the morning when the oven warms my chilly house. And I sneak a pinch (ok a few pinches) of batter (honestly my favorite part). But here's what no one tells you: When you cook – you infuse your creations with love and that love goes into anyone who eats it. 
Easy, Small Batch Recipe
One advantage of this recipe is that it doesn't require fancy equipment. Just a little elbow grease when mixing the dough. And, since cookies taste best fresh (literally right out of the oven) the small batch (~ 10 cookies) means you will eat them at their peak. You don't need a ton of ingredients and there is only one round of baking which is perfect if you make them for guests.
Recipe: Small Batch Flourless Vegan Chocolate Chip Peanut Butter Cookies (GF, Vegan)
This is one of my favorite cookie recipes from Angela Liddon (along with these irresistible trail mix cookies). These cookies are soft and chewy with a deep caramel flavor from the brown sugar and oozing with chocolate chips. I love that they are quick and easy to make and require nothing fancier than elbow grease to blend the dough. I follow the recipe to a tee so here is the original:
Recipe HERE (from Oh She Glows by Angela Liddon)
I buy peanut butter from a health food store that grinds their own which seems to keep the cookies from spreading out too much. However, I've also used Trader Joes unsalted creamy peanut butter with good results (a little more spreading). Enjoy Life Mini Chocolate Chips are 100% vegan. But, if you are ok with dairy, try Trader Joes semi-sweet chocolate chips which are delicious but NOT VEGAN. Or a mixture of the two.