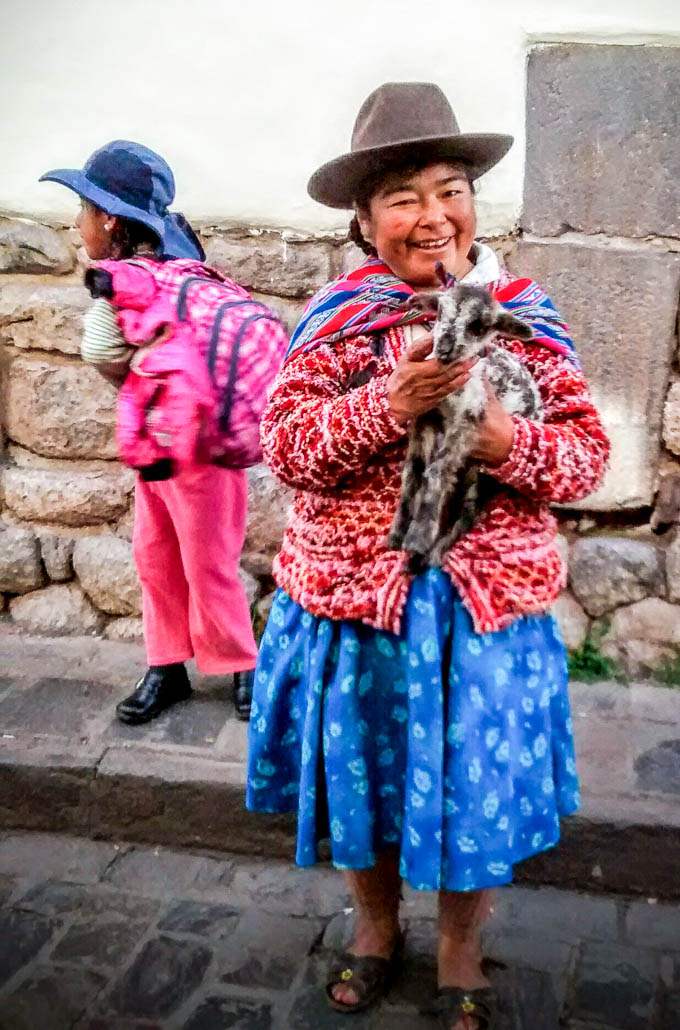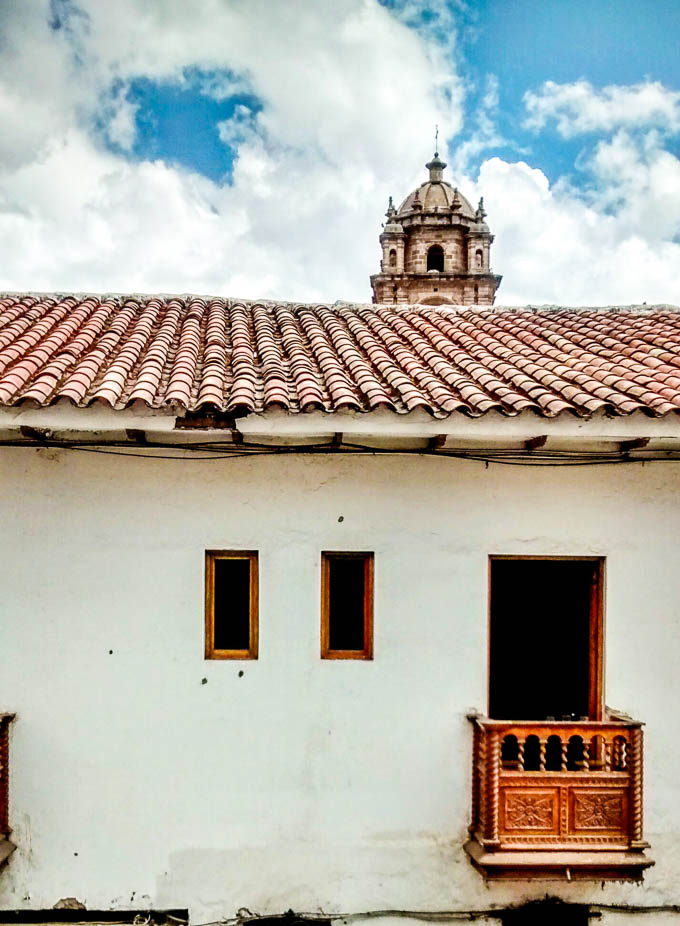 Cusco is a fun, energetic city that sits 11,200 ft. in the Peruvian Andes. It's old world charm, hospitable locals, and delicious restaurants attract a variety of visitors. Budget conscious backpackers stay at inexpensive youth hostels while older folk opt for boutique hotels and fine restaurants. Even though meat dishes such as lomo saltado (beef stir fry) or guinea pig (cuy) are traditional cuisine, Cusco has great vegan friendly restaurants and is one of the most vegan friendly cities I've ever been to.
Traveling as a vegan is not always easy but I was excited to find so many restaurants with vegan friendly options labeled clearly on their menu. My Green Point Vegan Restaurant is 100% vegan and has excellent, organic cuisine. I found the food in Cusco to be light and healthy with a variety of beautiful produce.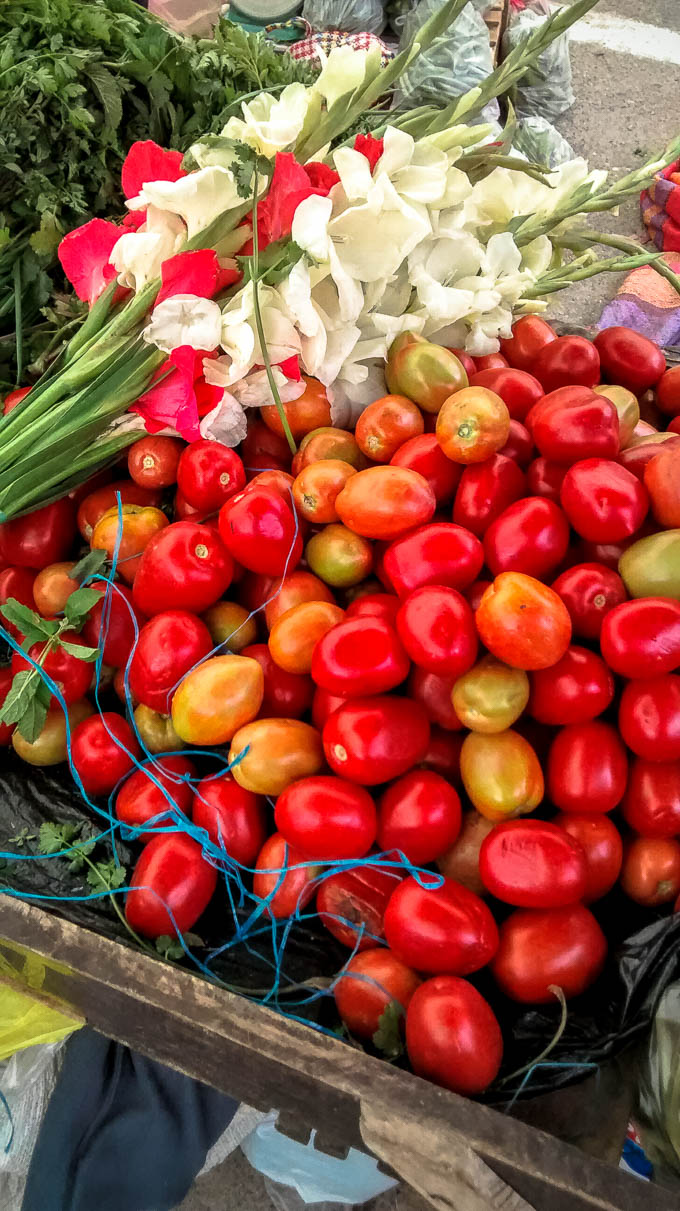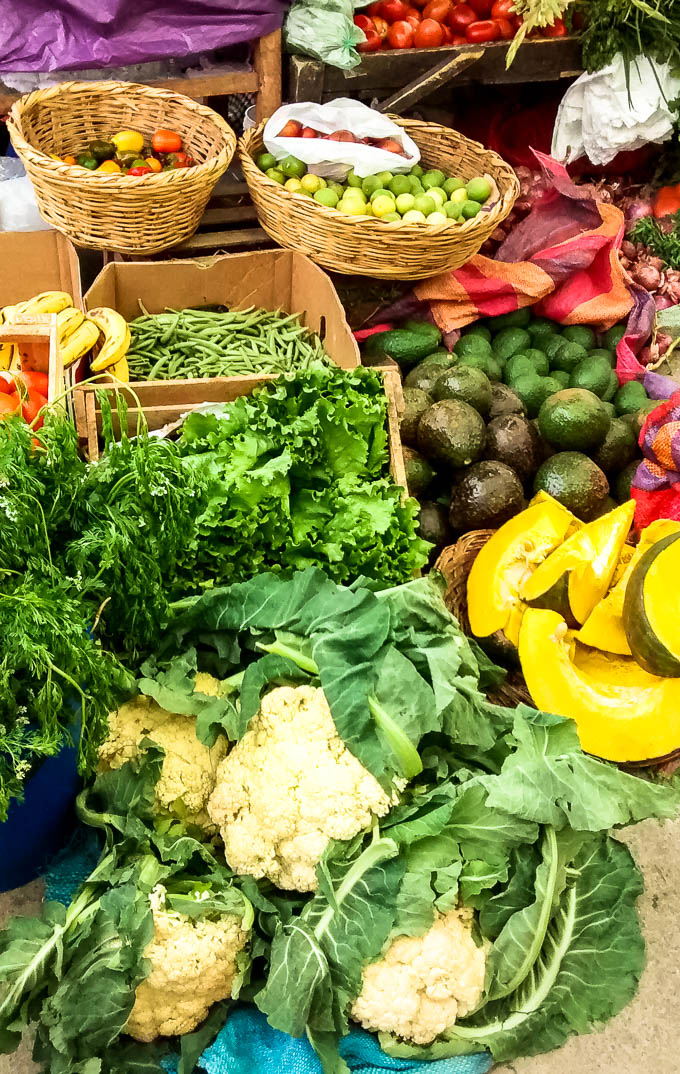 Having only 3 days made it difficult to narrow down the field of exciting options, but my husband and I chose places that accommodated us both (he is not vegan). Vegan friendly restaurants made dining together fun and effortless. Aside from the Indian restaurant Korma Sutra that was closed when we arrived, here is a list of my favorite vegan options in Cusco:
GREAT VEGAN EATS IN CUSCO 
Green Point Vegan Restaurant.  It is very rare to find an ALL vegan restaurant so I was very excited to try this place. It's 100% vegan and offers a variety of delicious fresh juices and smoothies, healthy appetizers, hearty soups and salads, creative entrees, and tempting desserts. The downstairs seating is small and cozy but there are no windows. Upstairs has communal tables but lots of windows. The service is swift and friendly.
Everything is prepared in house with simple, fresh ingredients. The number of tempting options made it difficult to chose one. I settled on the bruschetta which had a terrific combination of sweet tomatoes, fresh toasted bread and almond based mozzarella. But I also loved the hummus plate. The lemony chick pea dip was served with fresh baked bread. The portions are huge but that didn't keep me from eating the whole thing. My husband enjoyed the lentil soup plate. He said it was nice to see a vegan restaurant so busy and serving such a diverse crowd.
Mr. Soup. This tiny soup joint was my favorite despite that it was not all vegan. The atmosphere and food were great. We discovered it on our last night and only wished we'd found it sooner. It was cold outside (our August is their Winter) and this cozy place felt like a beacon in the darkness. The menu is all soups ranging from local to international – everything from simple spinach or vegetable to curry udon and pac pow.
The steaming hot soup is served in giant bowls with a side of rice or bread. I had a vegan vegetable soup which hit the spot. My husband got the Thai chicken coconut soup. We loved the soups so much that we went on a soup kick when we got home. His Thai soup inspired me to make this vegan adaptation.  A glass of hot spiced wine was the icing on the cake.
***This teeny restaurant gets crowded so make a reservation or be prepared to wait. 
Greens Organic Near the main square in Cusco, this modern loft-like restaurants sits on the second floor. It's light and airy with a nice assortment of vegan and non-vegan dishes. I loved sitting by the window that overlooks the white washed buildings and bustling tourists below.  I had a delicious quinoa soup one time and returned for their yummy salad. The vegan options are marked on the menu so it's easy to chose. They also have fresh juices and smoothies. The relaxed atmosphere and easy menu makes this place special.
Morena Peruvian Kitchen. This restaurant is highly rated on Trip Advisor – for a good reason. Morena's main dining area is below street level so there are no windows but exposed stone walls give it a "winery" feel and it has a bright, upbeat vibe. The decor is ethnic chic and the food is innovative spins on classic Peruvian dishes. (See menu here)
I couldn't resist the Sacred Valley Salad, a satisfying mix of lettuce, with towering potatoes, fresh avocado and edible flowers. I hydrated with fresh pineapple juice beautifully presented with flowers and twine. The non-vegans cooed over the Causa Crocante – a shrimp ceviche with towering potatoes,  Llomo Saltado – Peru's famous stir fry, and Chicken Wonton Soup. This restaurant is perfect for a celebratory occasion and easily accommodates larger parties. It was a very special night.
Shaman Raw Vegan. I ran out of time so I didn't get to eat a proper meal here but I purchased a bag of organic Maca and grabbed a fresh juice to combat a cold I felt coming on. Heavy on the ginger and citrus, I think it worked.
El Convento  (the JW Marriot hotel) is a nice place for a cocktail. They have a beautiful bar which serves traditional Pisco Sours. While Chilean Pisco Sours are vegan, Peru's version is not. They top the drink with egg whites to make it foamy. Upon learning this, I opted for a passion fruit cocktail instead.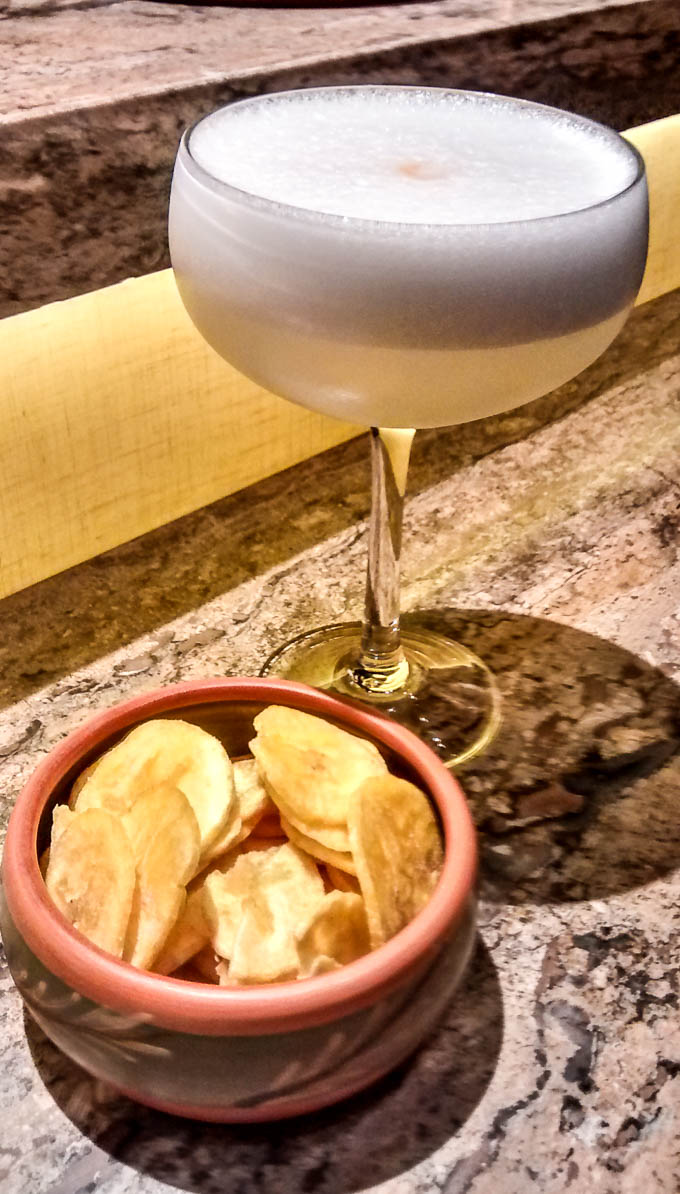 Cusco is a beautiful and I loved staying in the funky San Blas area. This neighborhood above the main square has narrow cobblestone streets, art galleries, and a white washed buildings with clay tiled roof tops. Here, we were a short walk from a friendly yoga studio (The Yoga Room), Green Point my favorite vegan restaurant and market (try the chia bread), and the cutest coffee houses such as Eusebio & Manolo or L'atelier by Grid.
Cusco has: 
Magical courtyards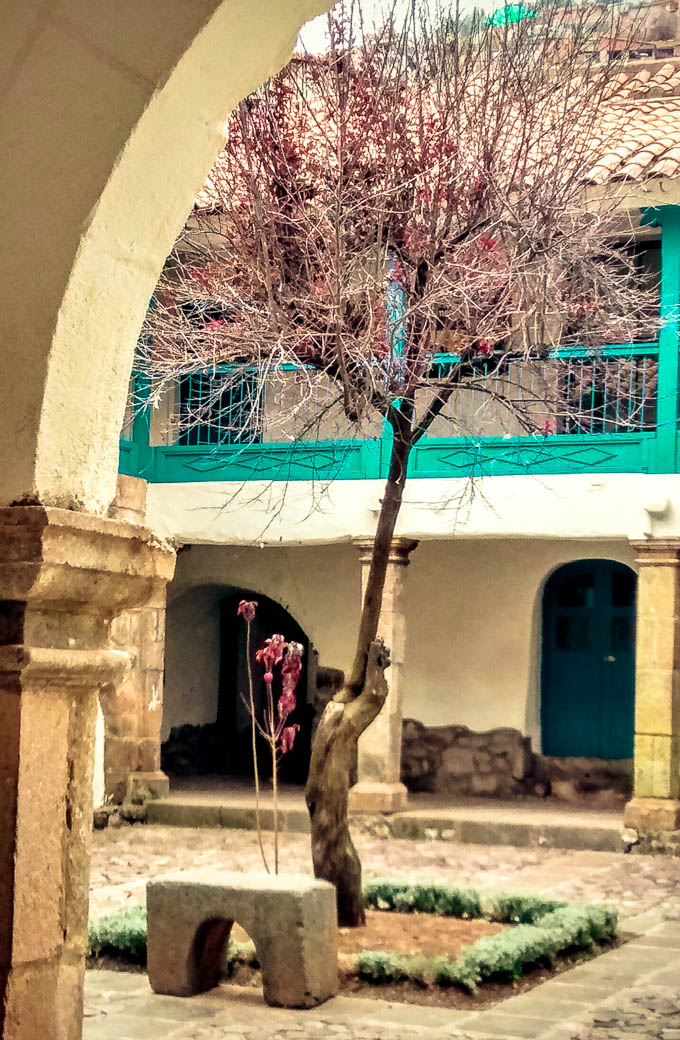 Colorful outdoor markets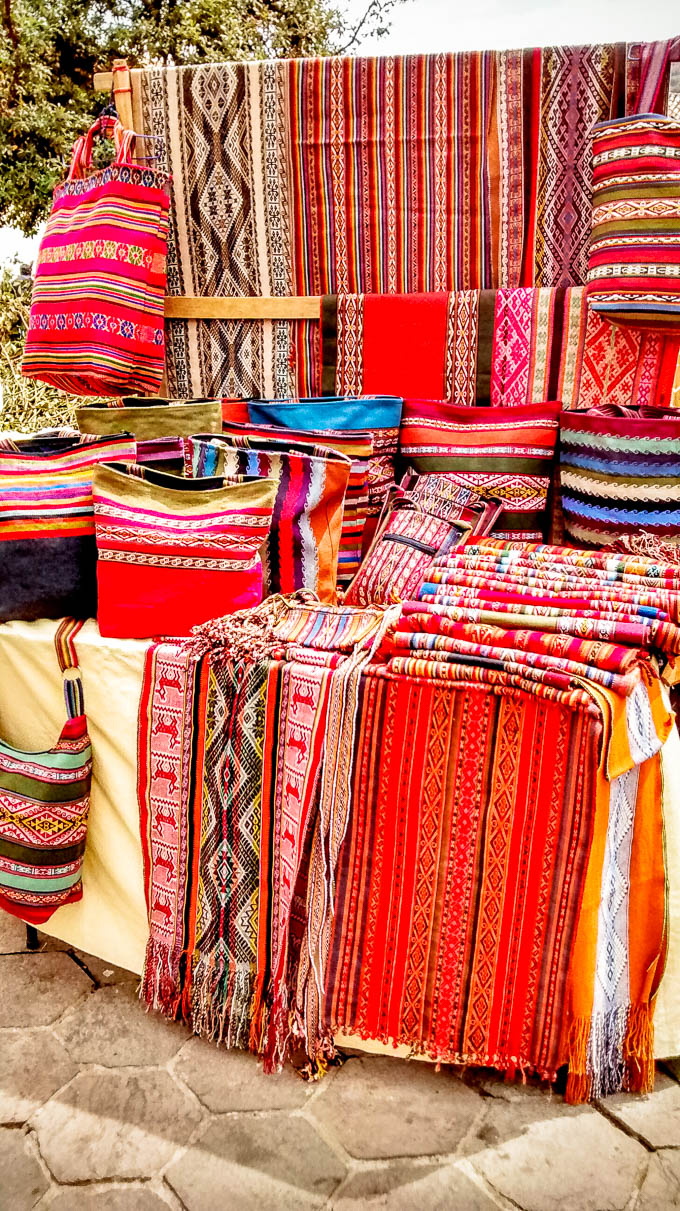 Vegan hot chocolate with a view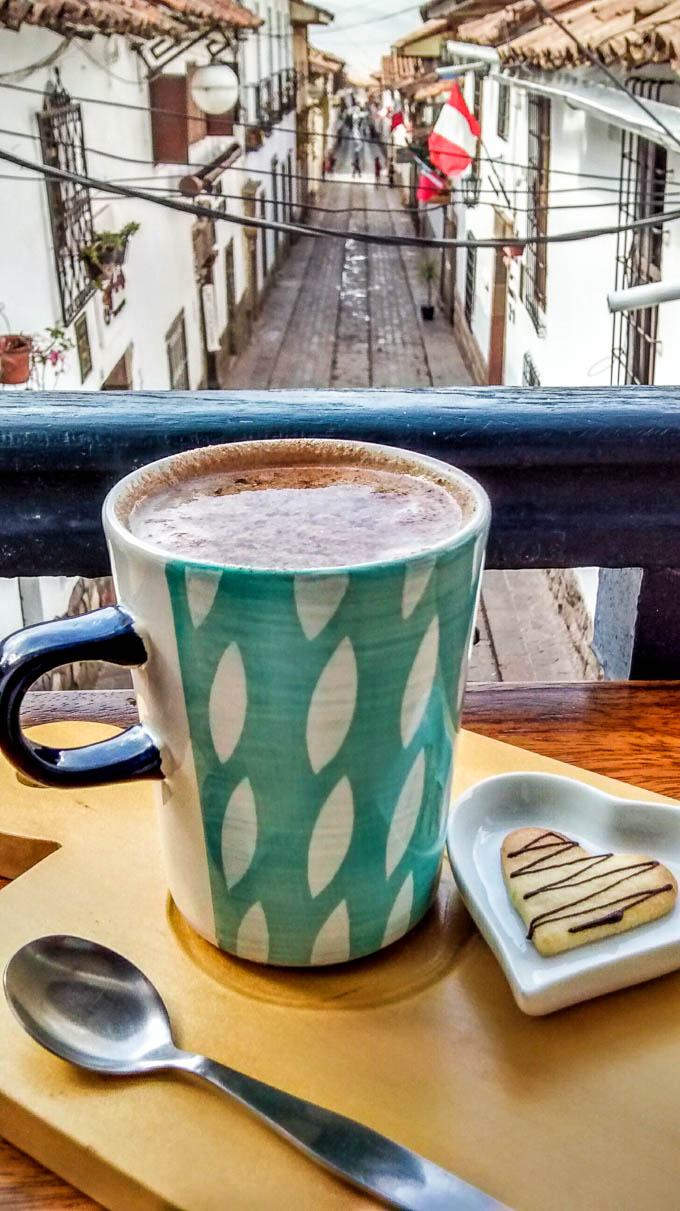 Dogs everywhere (sad but true)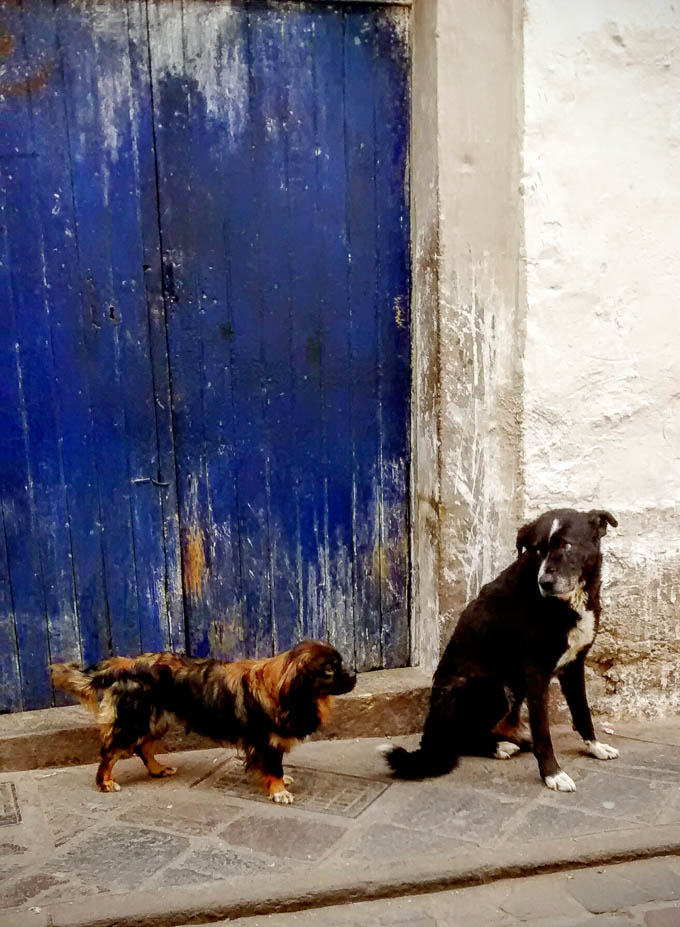 Friendly alpacas (these are the cutest animals)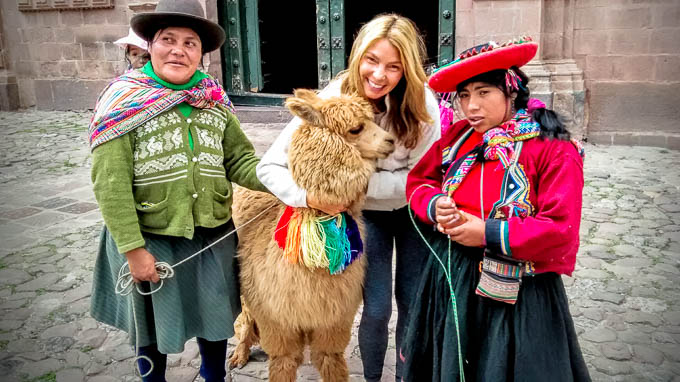 Delicious vegan dining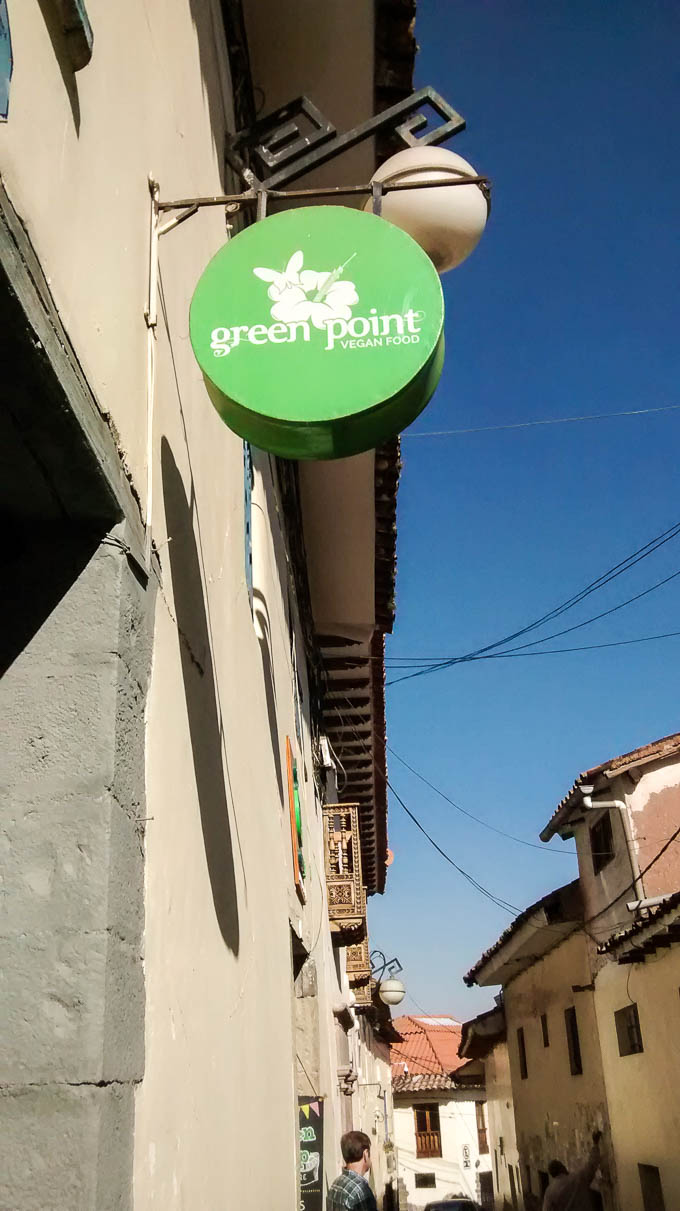 Narrow cobblestone streets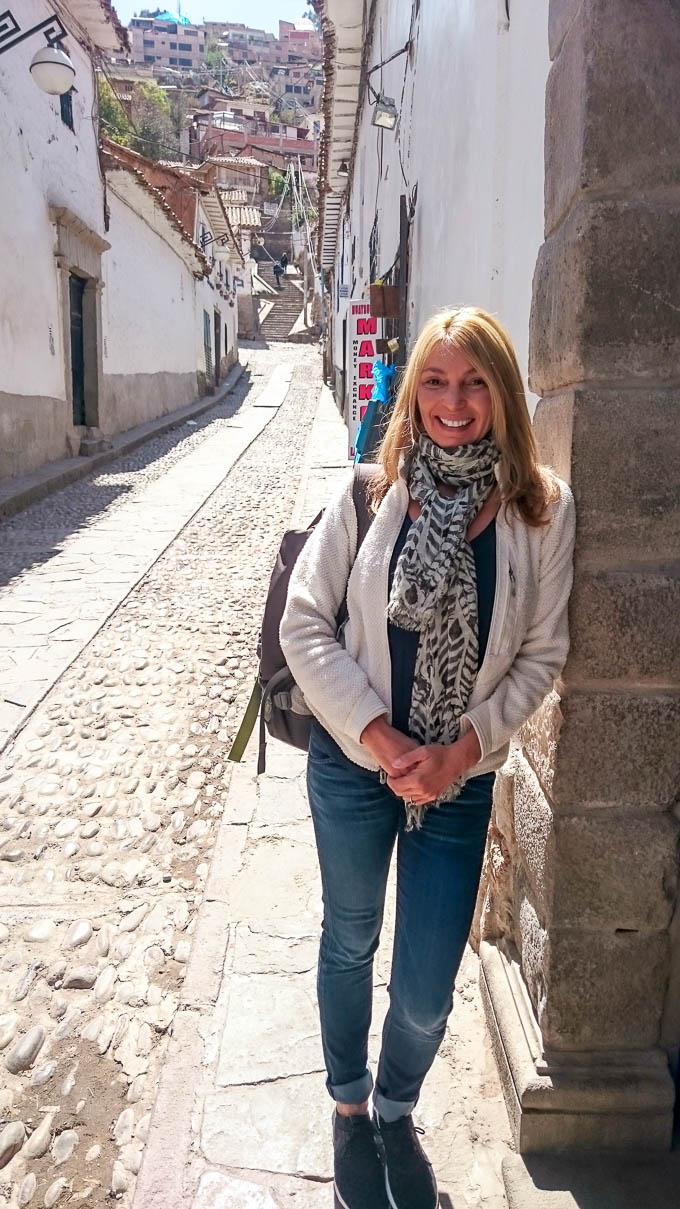 and cool tile floors….