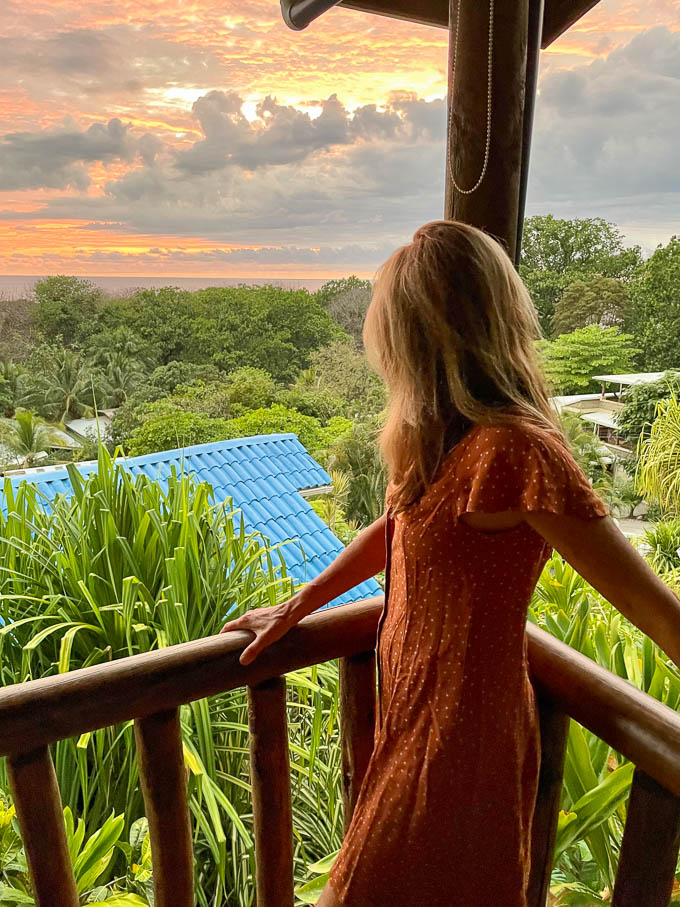 Santa Teresa is a small surf town on the southern tip of the Nicoya Peninsula in Costa Rica. It's year-round surf, warm water, and boho-beachy vibe, draws tourists from around the world.  Many visitors fall in love with this seaside town and it's "pura vida" way of life, but, before you pack your bags, consider these quirks and perks of this Instragramable beach town.
Santa Teresa's waves attract all kinds of surfers. But you will also find great yoga, wonderful restaurants, a long stretch of beach and hipster style that has made it popular with celebrities like Tom Brady and Gisele Bündchen! During the pandemic, it became a hotspot for young, digital nomads looking for a fun, economical place to live. Foreigners from around the world moved here and the population swelled dramatically. I knew it was a charming area, but I wasn't expecting it to be the bustling town it is now!
This was my fourth trip to Costa Rica and my first time during the peak, dry season. Perhaps this made it harder to find the laid-back, relaxed lifestyle I expect to find in Costa Rica. I'm used to it being quiet and uncrowded but Santa Teresa's main street was a tangle of trucks, buses, cars, quads, ATV's, bicycles and people and forget going to coffee at primetime! I also struggled to find the local "Tico" culture which is getting pinched out by developers and foreigners.
It used to be that Santa Teresa was a hidden gem because it was so hard to get to!!! Driving, plus a ferry, took 6-8 hours. However, now, 2 domestic airlines fly from San Jose to Tambor (the nearest airport) and rumor has it a closer airport is being built.
Since my husband was renting a surfboard (not bringing one), we opted for the flight. (Surfboards and heavy luggage are not allowed on the small plane).  When you first see the 12-seater plane, you might laugh and think it's a joke. Especially when they weigh you at the airport!!! (Did I really eat a whole bag of pretzels?). But, if you are not afraid of flying, then I recommend this easy, casual and scenic flight! Plus free beer- whoot!! (I went for it at 10am)!!  Tip: Green Air and Sansa fly from San Jose to Tambor airport and the domestic terminal is a quick 5 min walk from the International one.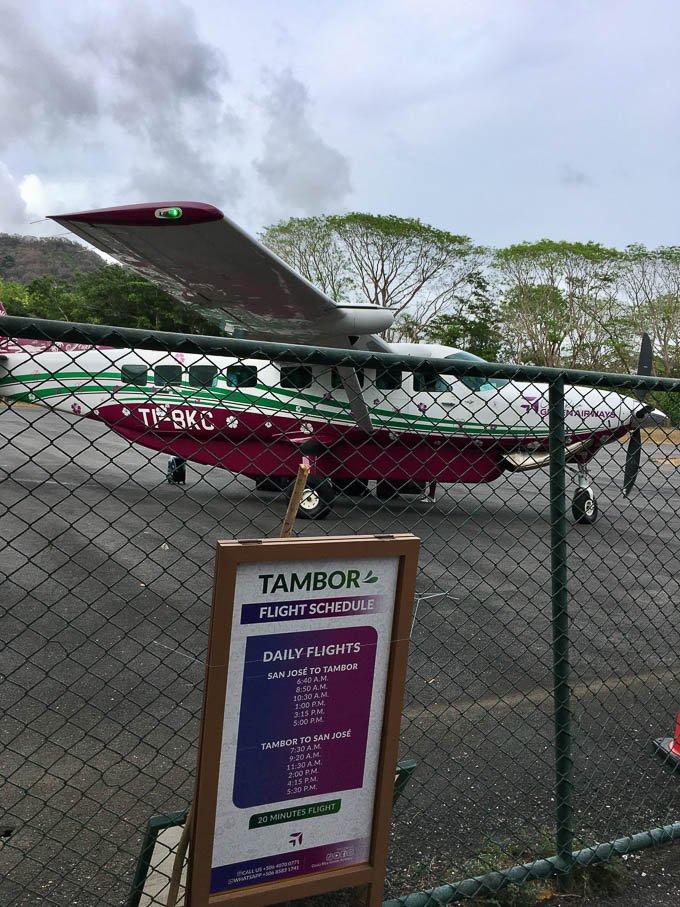 Quickly into the trip, I realized my expectations were a bit off! There were some things I had not expected so I want to share the quirks and perks I experienced in Santa Teresa which would have helped me plan better!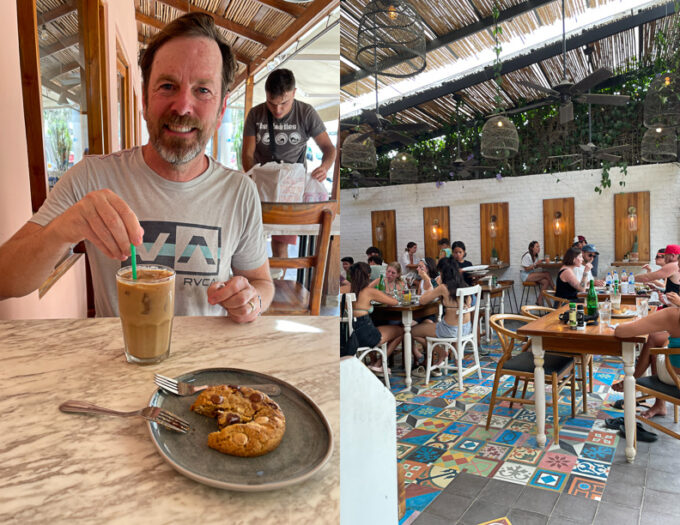 The Bakery! Our favorite!
The Quirks of Santa Teresa 
These unexpected quirks surprised me the most about Santa Teresa!!
1. California Prices!  On my first trip to Costa Rica (granted it was in 1992) a Pipa (coconut) cost .25 cents and a delicious Gallo Pinto lunch was only a few bucks. Today's prices are comparable to those in Southern California!!!  True I was there at peak season and travel prices have soared since the Pandemic, but I wasn't expecting to pay $8 for celery juice or $150 for dinner. The taxis, board rentals, massages, and boutiques all seemed rather pricey to me! Luckily, our hotel and yoga classes were very reasonable.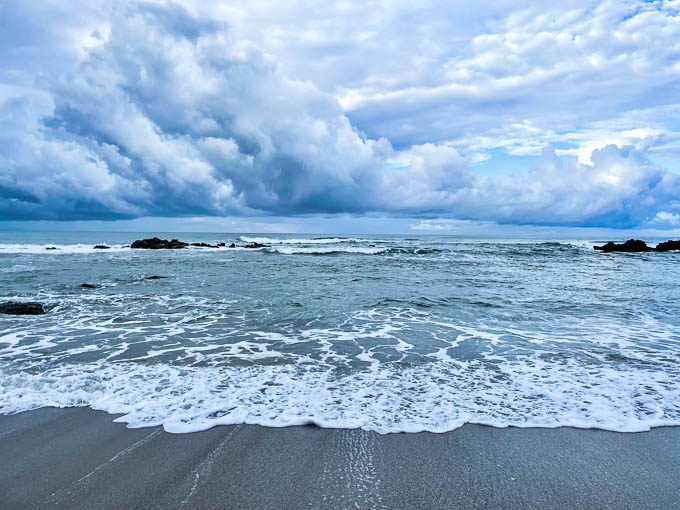 2. It's Humid – Even During the Dry Season!!!  – I knew it would be hot during the dry season but I assumed it would be DRY too! To my surprise, it was humid!!! We ran the AC several nights (and I always avoid AC!).  Then it rained like a beast one night (unheard of in the "dry season")!! The water came down in sheets and we were stuck in our room!
3. NO Beach Towels Provided!!! – This really surprised me!!  It never occurred to me that a hotel (across the road from the beach), wouldn't provide beach towels!! So, I recommend checking with your hotel! Sure, you could purchase towels in town but they were oddly overpriced. Even crappy towels cost $30 and up!  Had I known this, I would have bought old towels from home that I could use at the beach and leave behind.
4. Not Easy to Walk Places!! – On prior trips, I walked everywhere along unpaved, quiet and empty roads. However, Santa Teresa is different. The main road is a constant tangle of traffic and it lacks sidewalks. Therefore, you walk single file along the pocked and puddled edges being careful not to get hit. When the water truck wets the road, you avoid getting sprayed with mud by each passing vehicle.  Tip: Don't wear white!!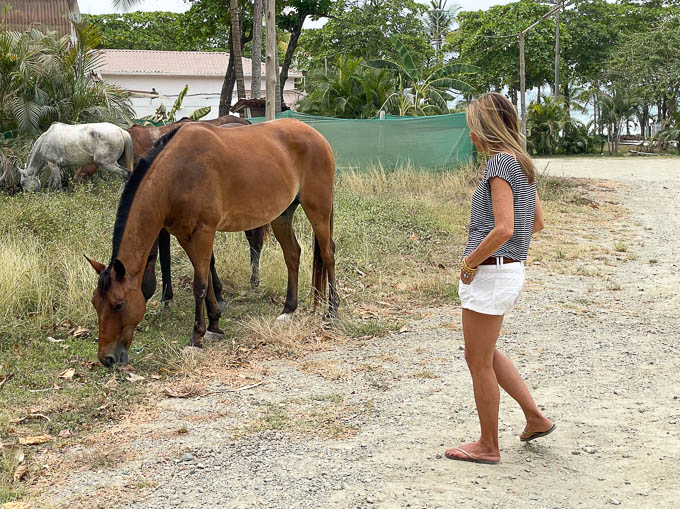 5. Theft is Common!! Be Vigilant!! – Sadly, theft is a real problem in Costa Rica. It happened to our good friend and a few people we met. Guard EVERYTHING!!! Even your flip flops and beach towels (this is probably why the hotels don't lend beach towels).  One Expat we met who just finished his house there, had all 10 surfboards stolen right out of his locked garage!
6. Hard to Find an Ocean View – Given how much coastline there is, it's surprisingly difficult to find hotels and restaurants with ocean views. This is because the government owns the beaches so most restaurants and hotels are set back along the main road.  This means no ocean view!! Unless the businesses are built on the hillside, like the Horizon Hotel and Las Brukas, you have a great view but steep walk up.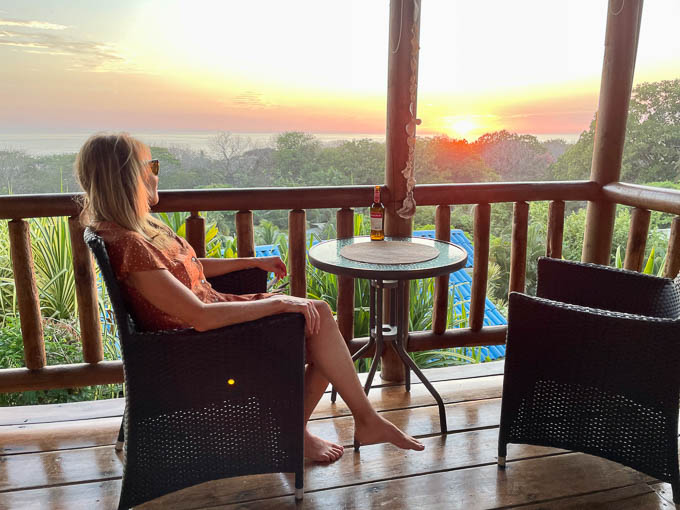 7. It's a Schlep to Get There! — As stated earlier, Santa Teresa is not easy to get to. I suggest taking the short flight but these small planes are often canceled due to weather and poor visibility! When it happened to us, last minute, we took a 6 hour (white knuckle) taxi ride to San Jose and almost missed our flight!! Playing it safe this time, we flew to San Jose the night before and allowed for plenty of wiggle room. Plus, we ate at a delicious Indian Restaurant.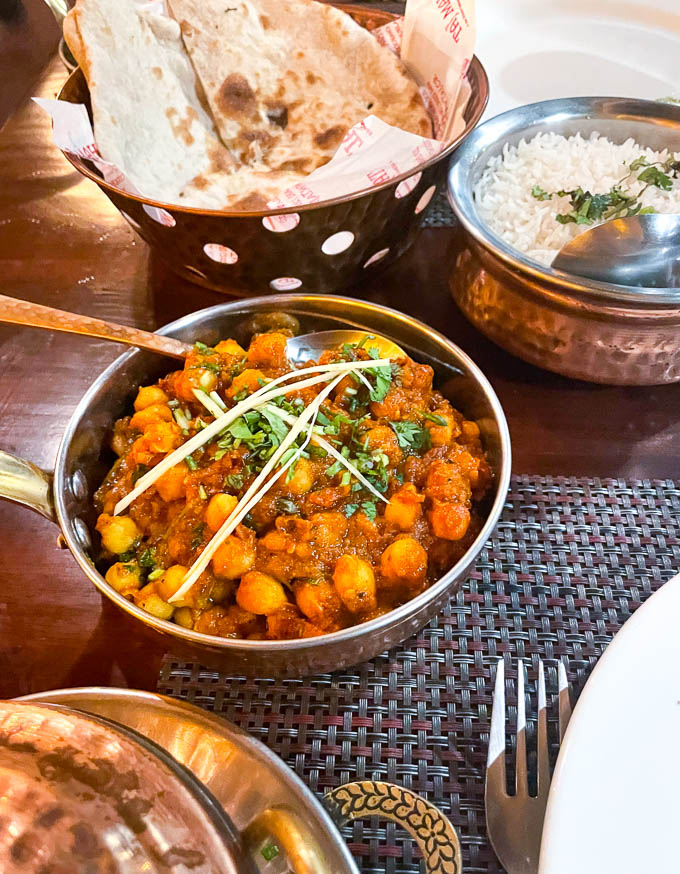 8. Bugs –  I realize that any tropical rainforest is going to have BUGS!! I just don't like them – the giant ants who are in endless supply and the teeny ones that infiltrated my clothes – yuck!! Tip: I recommend Picaridin or Deet!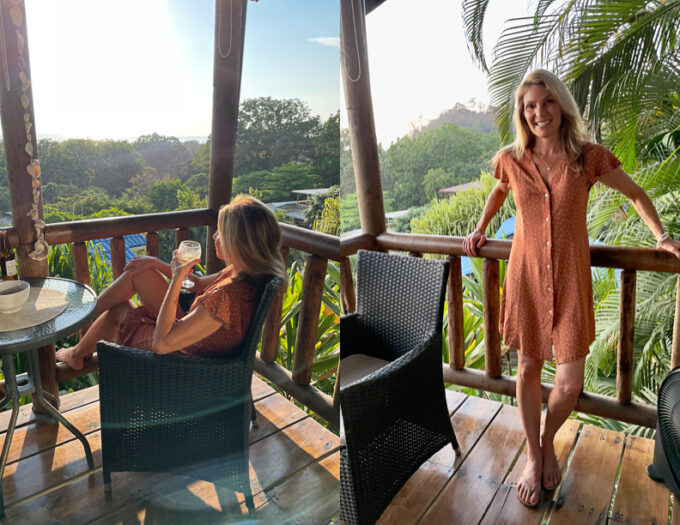 The Perks of Santa Teresa:  
All blogs tout the many charms of Santa Teresa and of course, its a fun beachy place! The area is appealing especially to surfers! (My husband is ready to buy land there!) So, here are some reasons that people fall in love with Santa Teresa:
1. Excellent Surf – The waves of Santa Teresa, Malpais, Playa Carmen and Playa Hermosa are a surfer's dream!! The many breaks, warm water conditions and year round surfing make this a perfect area for surfing. Whether you are experienced or ready to learn, there is a wave here for you! You can rent a board, take a lesson, or attend  a surf camp. Then, sit at a hip coffee shop and blog about your experience.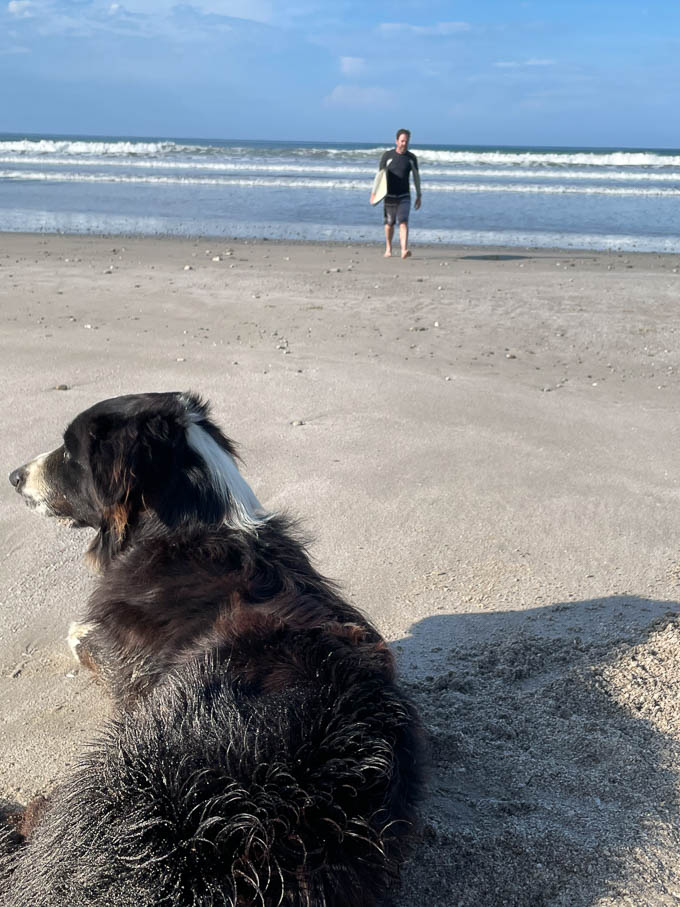 2. Good Yoga – I love taking yoga classes when I travel and here hotels like Florblanca, The Horizon Hotel and Believe and Nautilus Villas offer a variety of yoga classes which are open to the public. I found the teachers are experienced and can accommodate different levels. The daily vinyasa class at the Horizon Hotel was excellent and I liked the teachers there.  What elevates the practice are the open-air yoga studios surrounded by birds and lush greenery! It's like taking classes in the garden of Eden.
The Horizon Hotel – The owners are yogis who moved here when Santa Teresa was nothing. They built their dream hotel with a beautiful ocean view shala and have a full following. For a special treat, try Yoav's (the owner) Hatha fusion class on Wednesday mornings. I bought a package of 8 classes for $80. Tip: Arrive early or reserve your class ahead of time.
Florblanca has their own yoga guru – Stefano Allegri who teaches 90 minute and 2-hour classes for a drop-in fee of $17. (Packages are also available). The resort is at the very far end of Santa Teresa (15 min drive from Horizon Hotel) so I did not try his class but I have a friend who swears he is, "the best!!".
Believe and Nautilus Villas have two yoga studios and a full schedule of classes which can be found on their Instagram stories (@believeyoga.st). I met a yoga teacher on our flight to San Jose who told me about their many classes, so I will have to try it next time.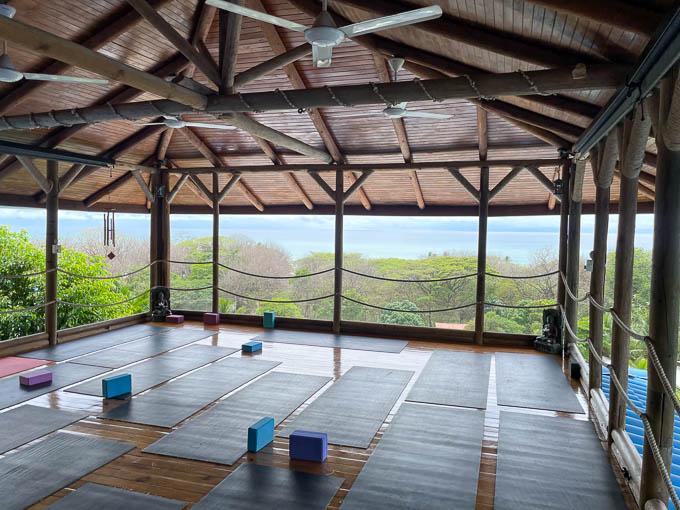 (Horizon Hotel Ocean View Studio)
3. Ideal for Vegans! – Despite being a small town, the food scene is very progressive! Almost every menu has vegan, vegetarian and gluten-free options clearly labeled!!! This removes any stress hoping your waiter/waitress understands what vegan is!
There is also a wide variety of dining options! Every cuisine from Argentinian to Israeli! I found exciting salads (The Shuk at The Bakery), smoothies (The Tahini Smoothie at The Horizon Hotel) and fresh pressed Juices without a problem! (See restaurant list below). Not to mention delicious vegan appetizers and desserts (hello vegan brownie at Drift)!! You will not go hungry!!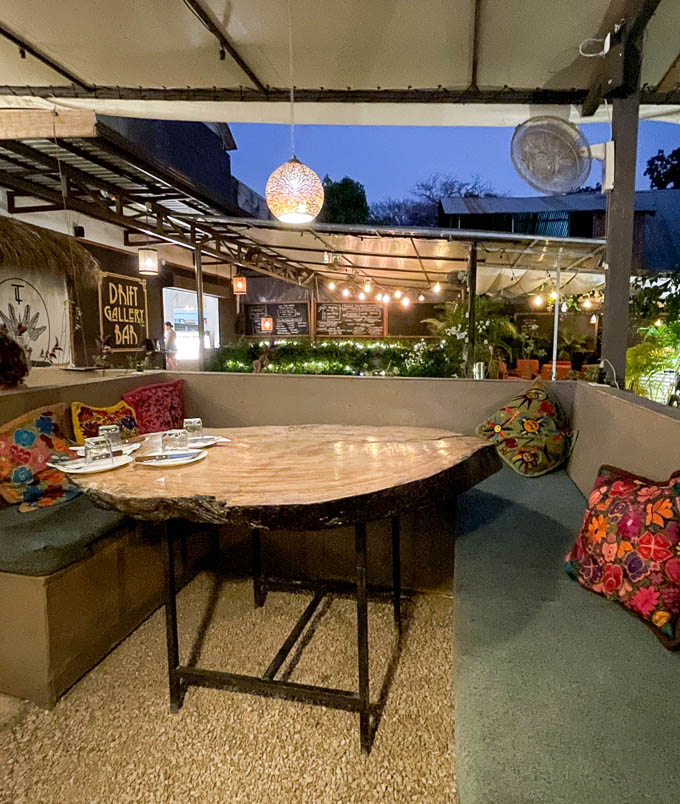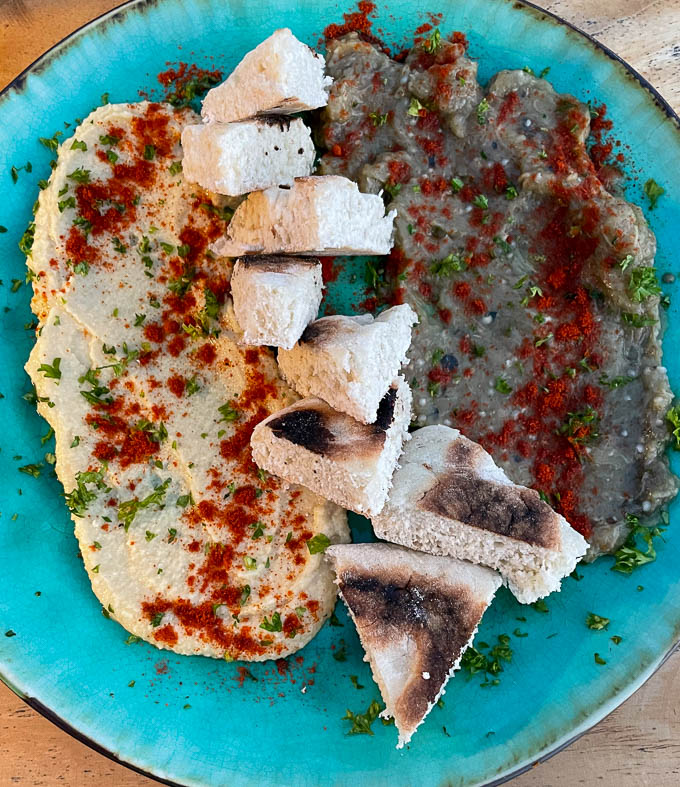 (Drift Restaurant above and Hummus and fresh Pita at Las Brukas)
4. 2×1 Drink Specials – Who doesn't like 2×1 cocktails??? I  am not sure if this qualifies as a "perk" but with all the crazy inflation these days, a discount sure feels nice!! Cocktails normally cost $10-12  each, so getting two Mojitos for the price of one truly makes the hour happier! Tip: For sunset view drinks try Las Brukas!! 
5. Foreigners from Everywhere! – This has grown to be an international hub and we met interesting people from all over the world: Israel, France, Peru, Italy, Argentina, Brazil, Switzerland and Russia. It was fun to hear their stories and why they were living or visiting Santa Teresa!  It threw me for a loop when we met a couple from San Diego!!
6. A Long Stretch of Beach for Walking –  The coastline connects  Malpais – Playa Carmen – Santa Teresa and Playa Hermosa making it a long stretch of sand for walking, running or horse-back riding! While I imagined walking every day the heat and humidity made it too unpleasant. For this reason,  I recommend walking at sunrise or sunset to avoid heatstroke!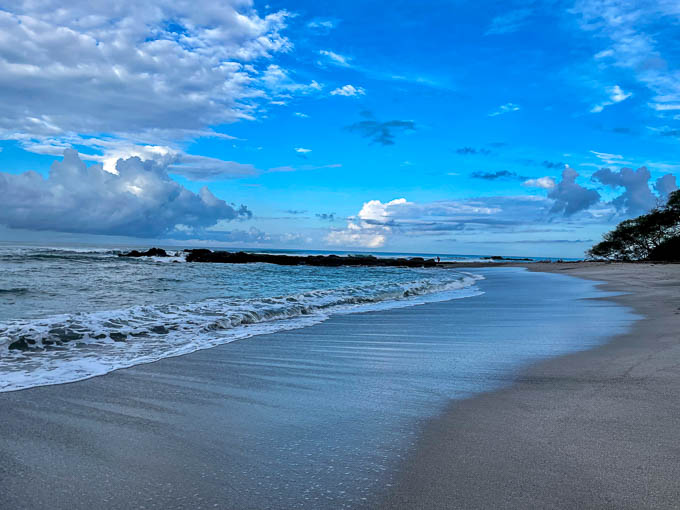 7. Howler Monkeys – Howler monkeys are funny! They are the size of a small cat but produce a ghastly screech that sounds like King Kong is going to leap out of the jungle. You can usually see them at sunset rustling in the trees!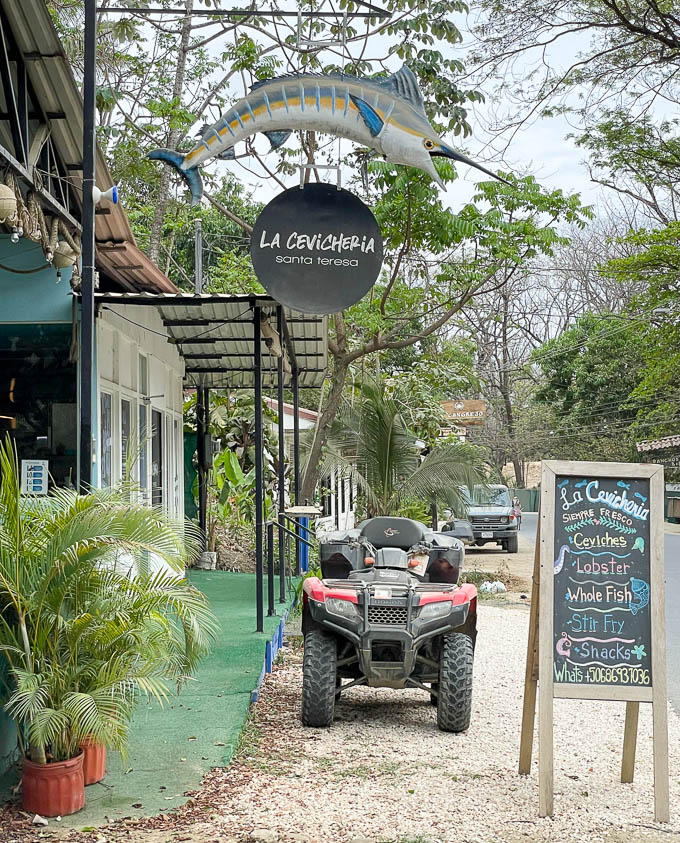 Santa Teresa is a great area, it's just not my favorite place. However, I ate very well here and especially loved The Bakery- where we went every day!  The Horizon Hotel also has a great organic restaurant open for breakfast and lunch! They even make their own tahini!!  There are so many tempting restaurants that we often struggled to decide where to go.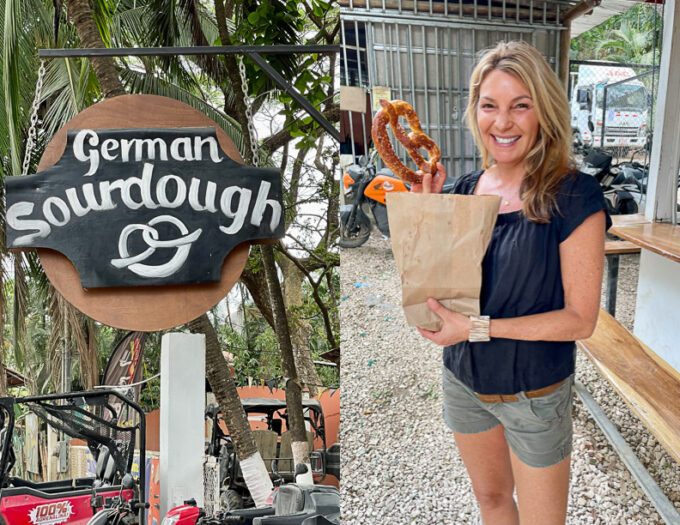 Restaurants in Santa Teresa:  
The Bakery!!! Hands down our favorite!!! We ate here every day. I was obsessed with The Shuk Salad – with the vegan green dressing and tahini and the golden milk!! So so good!!
Horizon Hotel Restaurant  This casual breakfast and lunch spot serves incredible food!! They make their own Tahini—and pita bread!!! I loved the tahini shake and the Greek salad.
Las Brukas Argentinian steak house with a sunset view!! (A bit overpriced but fun for drinks)
Chicken Joes Welcoming casual chicken restaurant with vegan options (black beans, salad, rice).
Katana Fancier restaurant with Asian inspired food. ($$$) Reservations recommended!
Zula Casual Israeli restaurant with salads, hummus, falafel, and pillowy pita bread!
La Cevicheria All kinds of Fresh Fish but nothing vegan! Thankfully, the German Sourdough bakery is next door with fresh sandwiches and pretzels.
El Tercer Ojo Caribbean food with chakra alignment and vegan options! We did not have a chance to try it but wanted to.
Drift – Nice atmosphere vegetarian restaurant with good options and a decadent vegan brownie (on the pricy side). DJ some nights.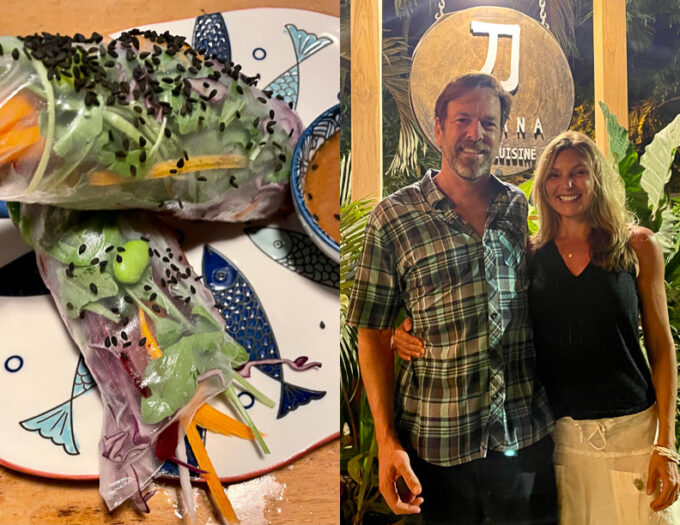 Helpful Blogs on Santa Teresa  
My Final Thoughts 
Overall, I liked Santa Teresa but there are places I'd rather go. For example, I find Mexico to be prettier and more charming. But if I were to return, I'd rent a car/ATV and plan a few excursions.  I'd like to see the bioluminescence and Playa Blanco! Next time, I'd leave my white clothes, sandals, and jean shorts at home (the road will trash sandals and it was too humid for jean shorts) and pack more yoga clothes. I'd also try other classes!