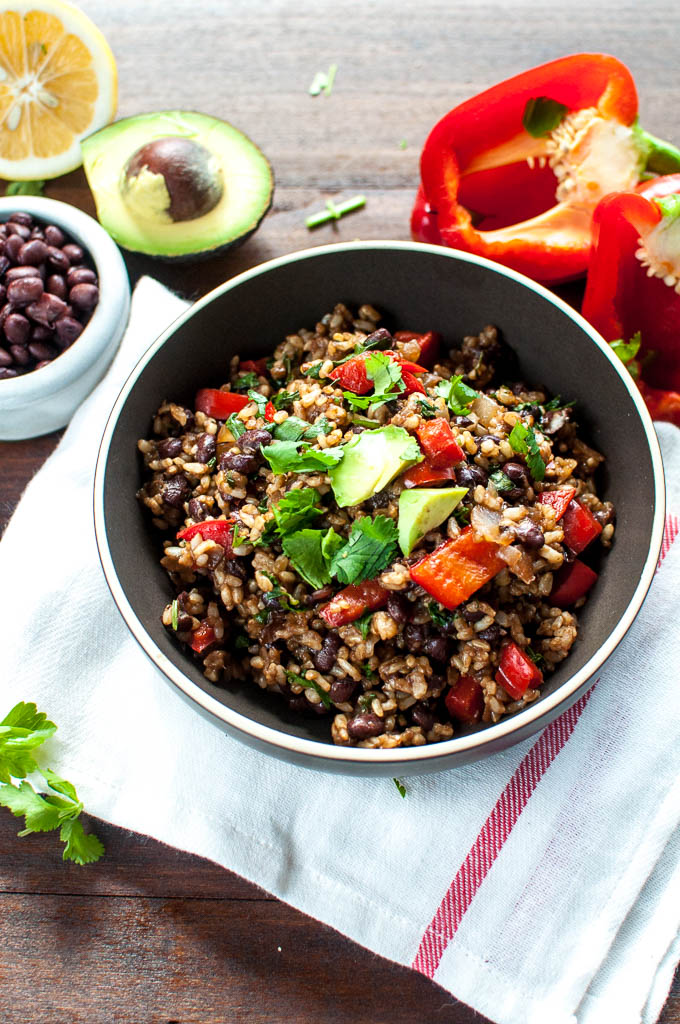 I fell in love with Gallo Pinto the first time I tasted it in Costa Rica. I was in my early 20's and fairly new to International travel. My prior experience as a student abroad in Spain, led me to believe that being vegetarian outside of the United States, was difficult. In Spain, my host family struggled with my vegetarianism and continually put fish, chicken, and meat on my plate. Thankfully, Pelayo, their neglected Irish Setter, came to my rescue. He secretly ate all the items I squirreled away in my napkin. We were best friends!
This wasn't the case in Costa Rica. Their national dish "Gallo Pinto" was vegetarian (when made without chicken broth) and I fell in love with it. Gallo Pinto or "Spotted Rooster" is black beans sautéed with rice and spices. The best part is topping it with Salsa Lizano, a tangy, slightly sweet condiment readily available in every restaurant. Salsa Lizano takes this common dish to new heights. I scolded myself for not bringing any home.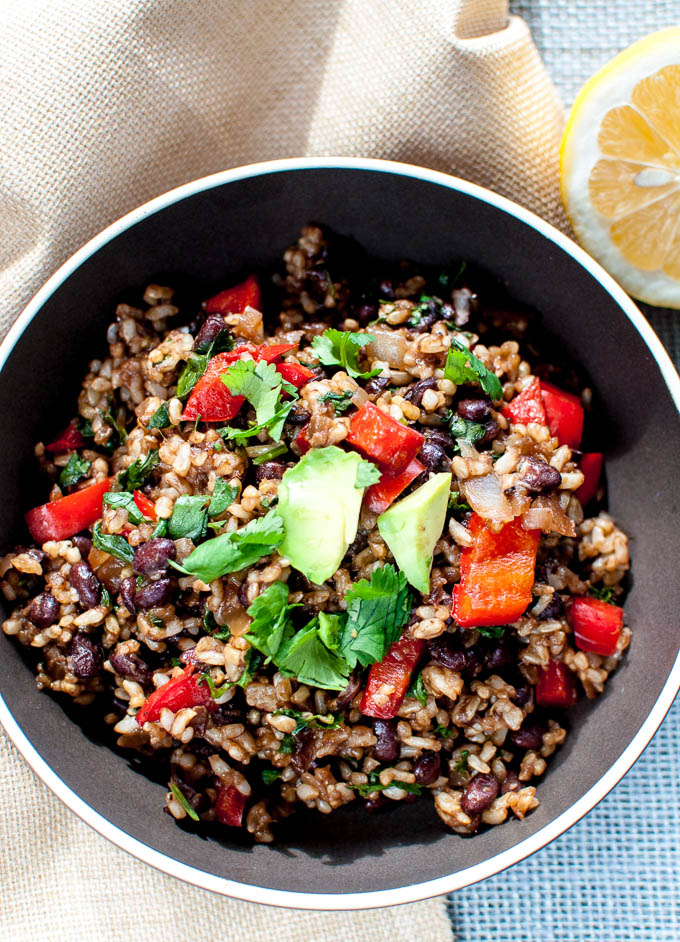 A Word About Carbs
The combination of brown rice and black beans has many benefits. It's a nutritional powerhouse, inexpensive, easy to make, holds up well for leftovers, tastes amazing, is high in fiber, makes a complete vegan protein and is a complex carbohydrate which is excellent for balancing out your energy and mood. 
Lately, carbs have gotten a bad rap because people fear they are responsible for weight gain. But not all carbs are bad. There are two types of carbs. Simple carbohydrates (I think of as sugar) are in foods like fruit, cereal, baked goods, pasta, sodas and sweets. Simple carbs breakdown glucose and pour energy to your bloodstream quickly. The energy burst feels good at first but can leave you feeling tired and grumpy a few hours later. Eating a lot of simple carbs increases your sugar cravings, promotes tooth decay, and can make you moody.
On the other hand, complex carbohydrates such as buckwheat, oatmeal, brown rice, and beans process sugar more slowly and release energy into the body more evenly, like a time release capsule. This reduces sugar crashes and irritability. Complex carbs leave you feeling more energized and emotionally balanced throughout the day. In Costa Rica, they eat Gallo Pinto for breakfast and experience the benefits all day long.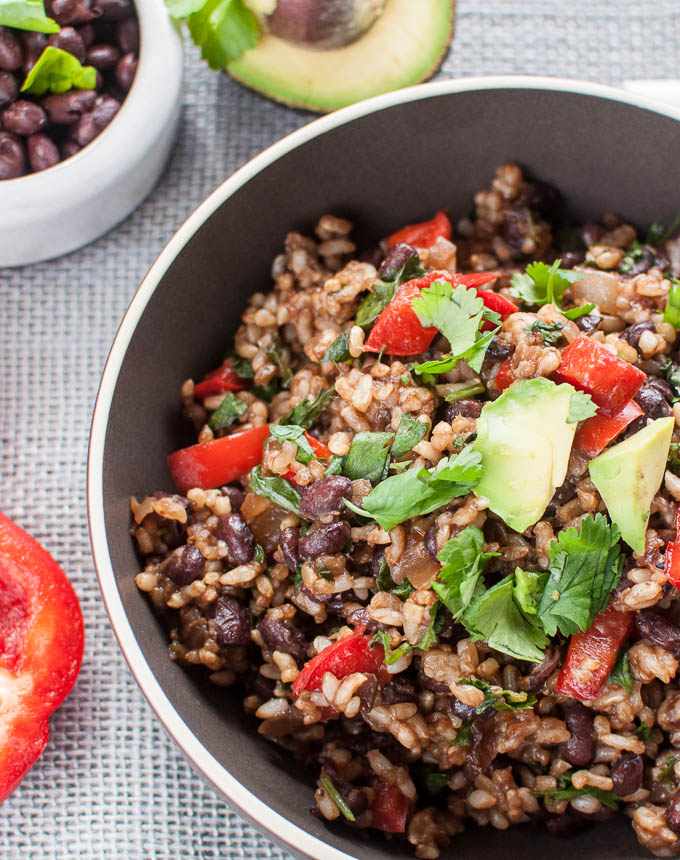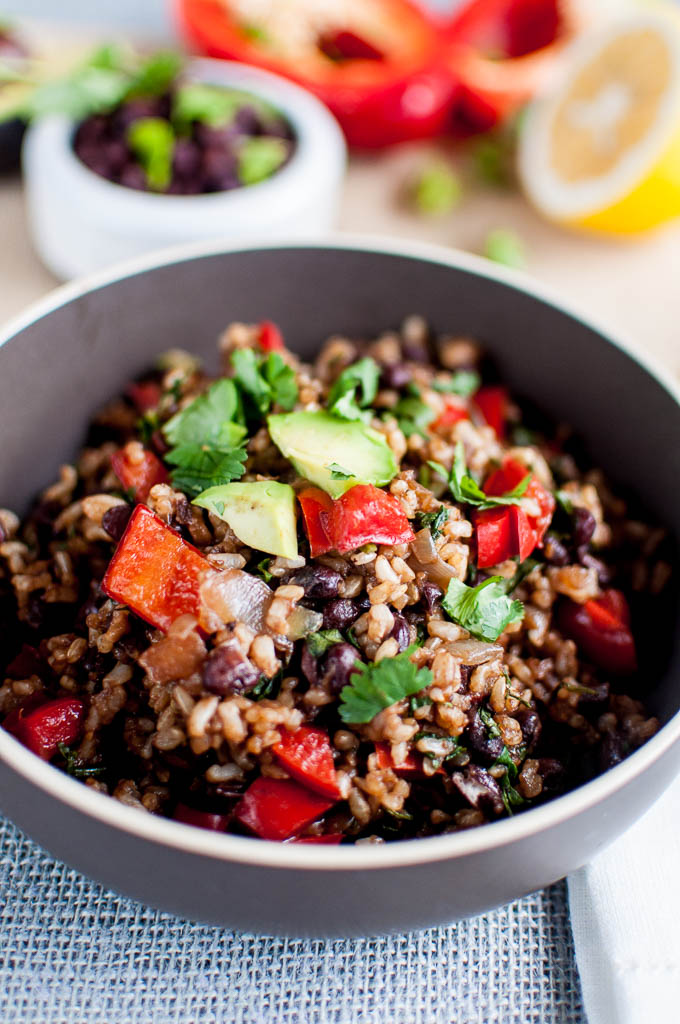 Gallo Pinto was my favorite dish is Costa Rica and I craved it at every meal. In fact, I was very excited when we stopped for lunch on our way to the airport for our departure. I spent my last few dollars to savor this dish one last time. It was the most memorable plate of Gallo Pinto of my entire trip. BUT, being a novice traveler, I didn't anticipate an exit tax at the airport. Huh?? My wallet was empty but I didn't panic. My stomach was full and I was prepared to stay and eat Gallo Pinto for the rest of my life!
******I made it back thanks to my savvy friend who had an "emergency credit card" and paid for me to leave the country. She rescued me that day!
Recipe: Brown Rice Gallo Pinto "Spotted Rooster" 
Makes 4 large bowls
Prep time is 30 minutes when rice and beans are made beforehand
Recipe inspired by The Striped Spatula.
Even the name is cute! Preparing the rice and beans in advance makes this an easy dish to quickly assemble. The cumin and Worcestershire sauce make this dish. Costa Ricans typically serve this for breakfast topped with a sunny side up egg.
Make the Brown Rice: The day before make your brown rice in a rice cooker or see this method.
Make the Black Beans: I don't have many appliances, but I do have a pressure cooker which allows me to make black beans in 18 minutes. However, if you don't, you will need to pre-soak a bag of beans the night before in a large bowl filled with water. Drain and rinse the soaked beans. Fill a large pot with 10 cups of water (water level should be a few inches above the beans) and bring to a boil over med-high heat. Be careful not to let the foam overflow (a little olive oil in the water or a wooden spoon across the top of the pot should prevent this). Once boiling, turn the heat down to a gentle boil, cover and simmer the beans for 2-3 hours. Stir occasionally and add more water if needed. Beans are done when they are soft to taste. See this recipe.
(If in a pinch, use 2 cans black beans reserve the liquid).
Ingredients:
1 tablespoon olive oil
1 sweet or white onion chopped
2 garlic cloves diced
1 red bell pepper chopped
3 cups cooked black beans
3/4 to 1 cup reserved black bean liquid

1/2 teaspoon cumin

1/3 cup ***Vegan Worcestershire sauce (more to taste) 

2-3 cups cooked brown rice
1 bunch fresh cilantro rinsed and chopped
Sea salt and fresh pepper to taste (see tips)
Directions: 
Heat oil in a large frying pan over med-high heat. Sauté chopped onion and red pepper for 6-8 minutes until pepper is soft and onion is translucent. Add minced garlic and sauté for another minute.
Now, add the black beans, reserved black bean liquid, Worcestershire sauce and cumin. Simmer for 5 – 7 minutes until slightly thickened and some liquid has evaporated.
Gently fold in the prepared brown rice and cook for another 5 minutes until it is thoroughly heated. Mix in a pinch of fine sea salt and a dash of pepper. Stir in cilantro. Add more Worcestershire sauce if desired.
Garnish with fresh cilantro and avocado.
Tips:
You'd think Worcestershire sauce would naturally be vegan (it is a condiment after all) but it usually contains anchovies or fish paste (so be careful if you like Bloody Marys).  I buy Annies Organic Worcestershire Sauce or Whole Foods has a vegan version as well. For more options click here.
Salt brings this dish to life. I add a teaspoon of fine grain sea salt and then a few generous cracks of Pink Himalayan salt.