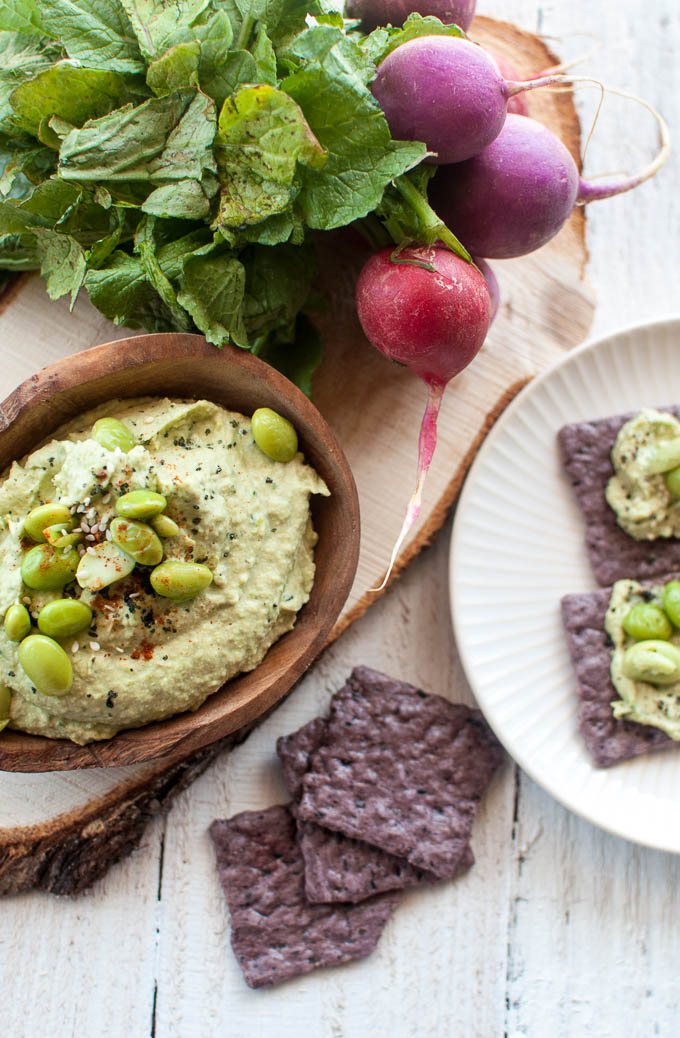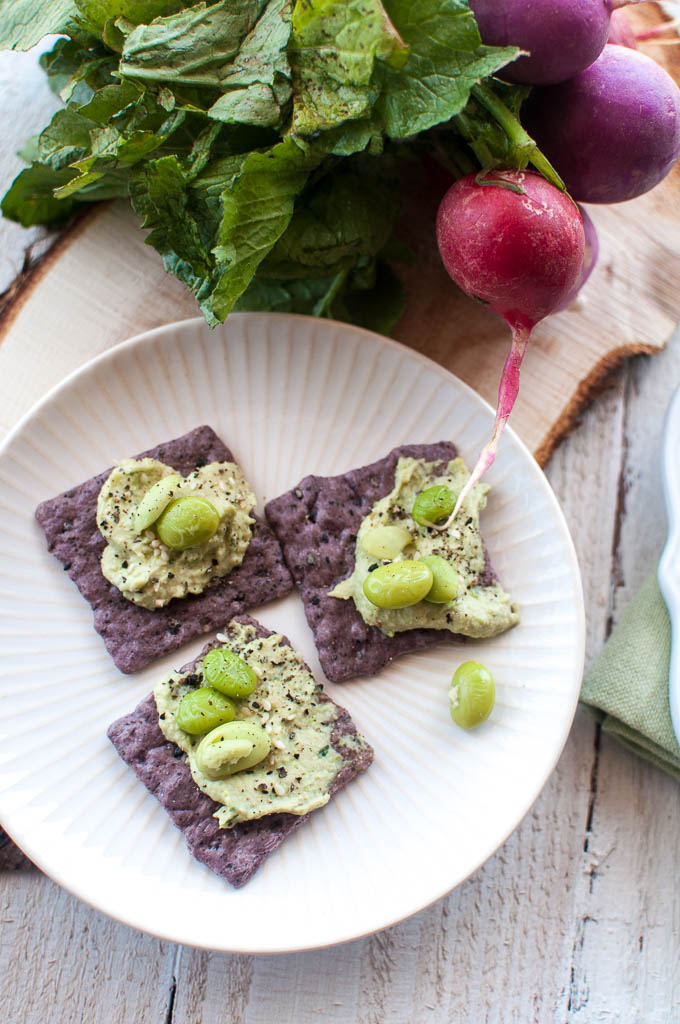 My love affair with hummus began in college when I was invited to a party at my Armenian friend's house. I loved meeting his family and tasting all the delicious handmade dishes prepared so lovingly by his grandmother. But I kept returning to the plate of hummus that was replenished several times on my behalf.  It was the creamiest dip I'd ever tasted and I couldn't stop scooping it up with warm, doughy pita.
The consistency and flavor of that hummus stayed with me long after the party was over and hummus became an indispensable part of my diet. Not only because it tastes amazing but it's an excellent source of plant protein. When served with a whole grain such as brown rice or whole wheat pita, the combination yields a complete amino acid profile which is optimal for vegans and vegetarians.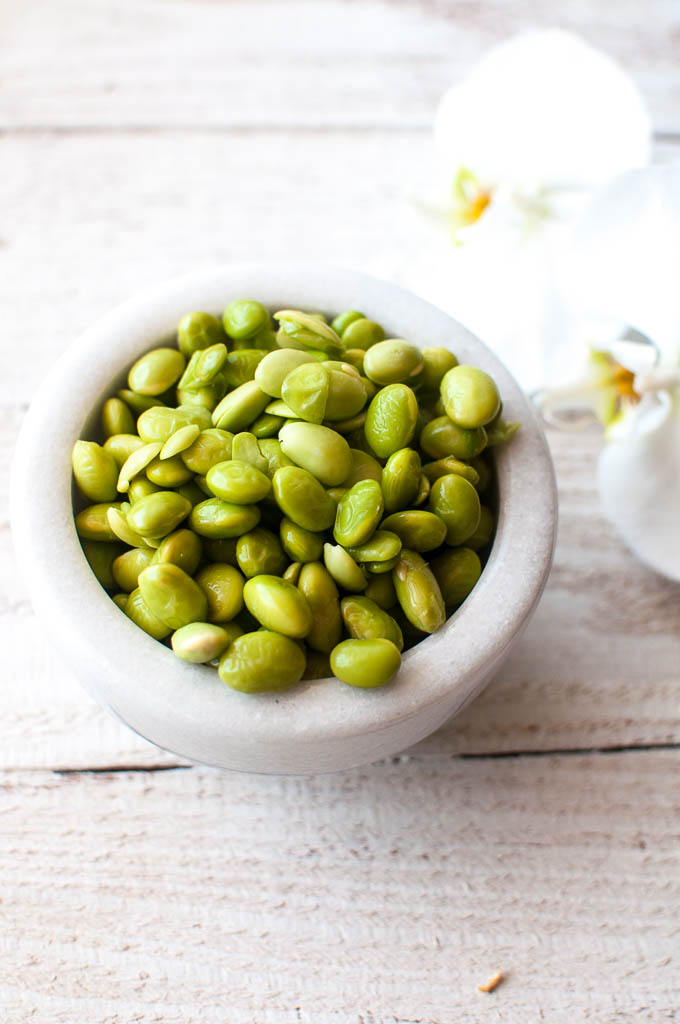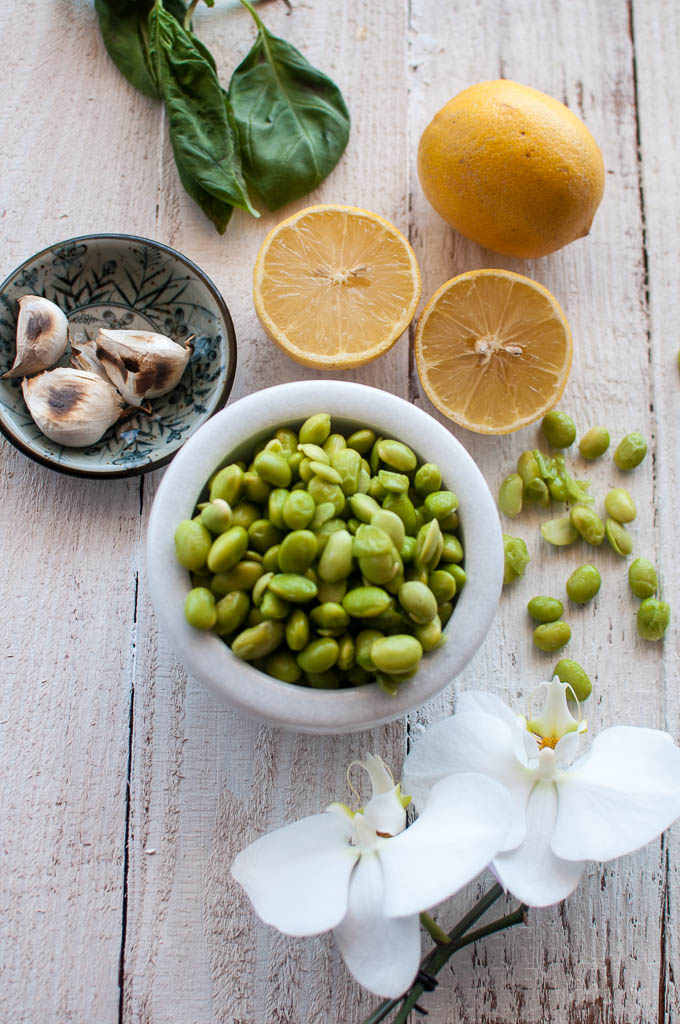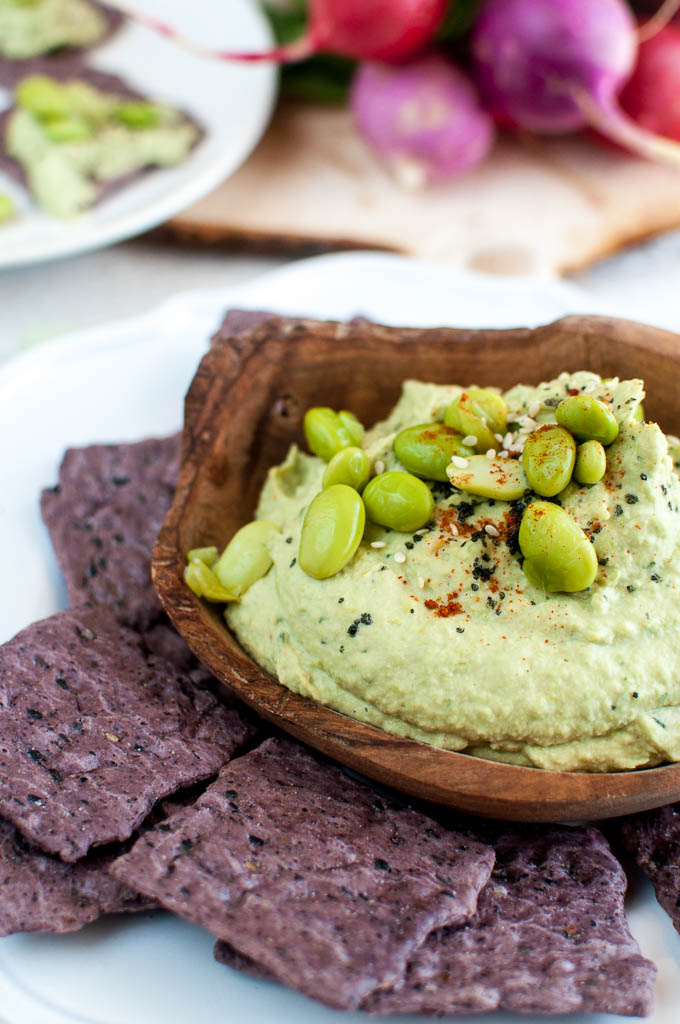 Garbanzo bean hummus will always have a special place in my heart but edamame hummus is a close rival. Green soybeans or edamame produce a delicious vibrant dip that contains fewer calories (yay) and even more protein (double yay) than traditional hummus. And, it's fast and easy to make since shelled soybeans cook in 4 minutes.
Soy has gotten a bad reputation and some people avoid it altogether. But I don't. I eat edamame, organic tofu, and occasionally drink soy milk. I like how healthy soybeans are and am convinced that soy balances my hormones. If you are avoiding soy, here is an informative article on it.
Edamame hummus is a beautiful bright green color that looks even prettier when served with a variety of chopped veges such as baby bok choy, sugar snap peas, carrots, and radishes. It also tastes great with tamari rice crackers or multi-grain flat bread.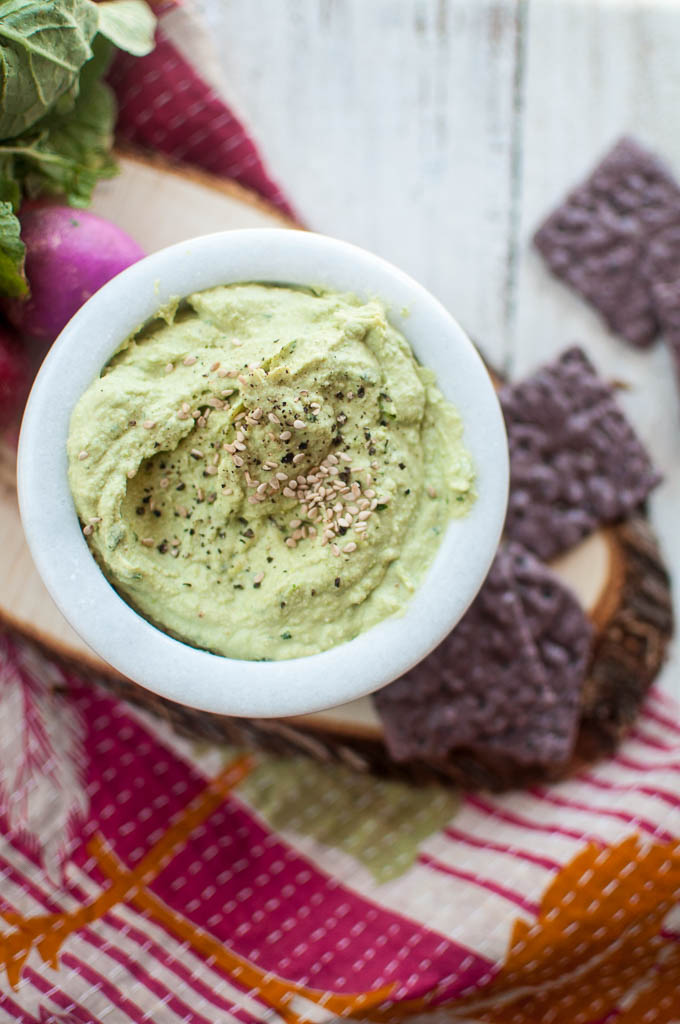 Like all hummus, use the recipe as a guide and adjust as needed. Since raw garlic gets stronger and more pungent over time, feel free to roast it or omit it. I've provided a stove top method below.
Recipe: High Protein Edamame Hummus 
Inspired by Edamame Hummus from Oh She Glows
Makes 2 cups
Ingredients: 
1 bag frozen SHELLED edamame
1-2 garlic cloves (you can roast them on the stove top for a more mellow flavor instructions below)
4 tablespoons of lemon juice (about 1/2 a large lemon)
2 tablespoons tahini (I've been buying this whole foods version)
1/4 teaspoon ground coriander
1/8 – 1/4 teaspoon of cayenne pepper (optional)
1/2 teaspoon tamari (optional)
1/2 teaspoon fine grain sea salt
3-4 tablespoons water or more to thin out
Directions: 
Cook edamame: Bring a medim/large pot of water to a boil with teaspoon of salt.  Add frozen edamame and return to a boil. Cook until bright green (4 minutes).  Drain and rinse under cool water.
Make Hummus: Chop garlic and add to blender or food processor (I use a hand blender) along with lemon, tahini, coriander, cayene, tamari and salt. Whirl to blend. Now add the edamame and water and blend until smooth. Taste and adjust as needed.
For the healthiest option, serve with chopped vegetables such as mulit-colored carrots, baby bok choy, sugar snap peas, red pepper, and cucumber. But this is also delicious with Tamari rice crackers, multi-grain flatbread, or tortilla chips.
To roast the garlic: Heat a non-stick frying pan over med/high heat. Add unpeeled garlic to the center of the pan and roast on each side until you see black spots (5-7 min). Turn, and roast on the other side.  Allow to cool for a few minutes. Cut off tip and lightly smash with flat edge of a thick knife. This loosens the papery peel and makes it easy to remove.
.