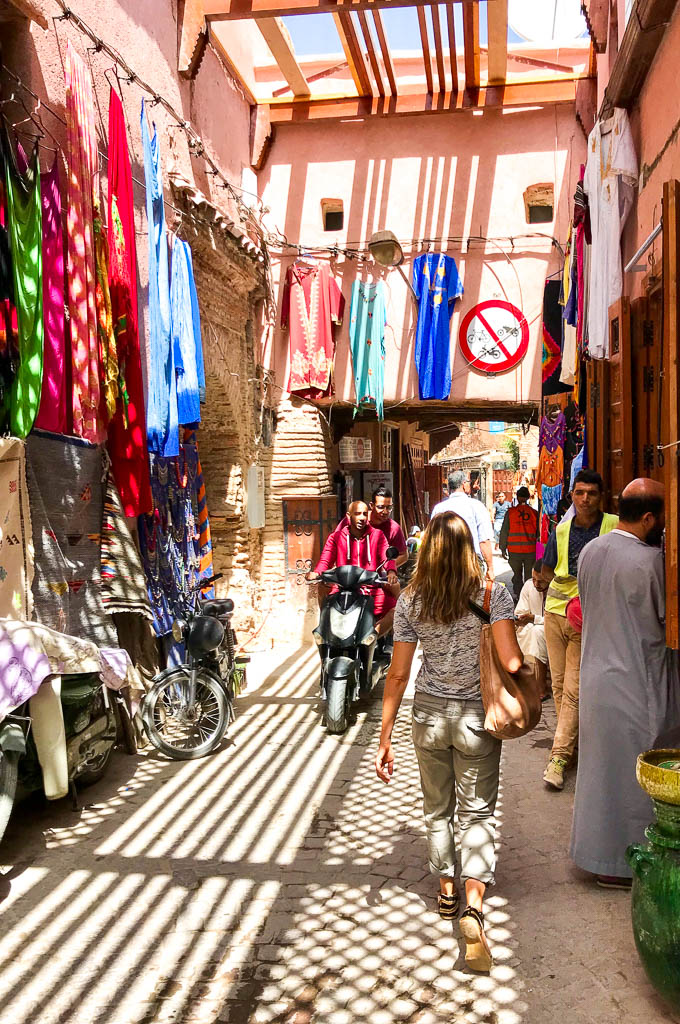 Morocco looks magical in photos, the African light, intricate tile work, desert colors and exotic architecture. Travel articles (here) praise the food and popular bloggers (here) post enviable pictures. Personal friends  have raved about it and I even had a friend who lived there after college. So why was I disappointed?? Were my expectations too high or has it changed over the years?  I've never felt like "prey" like I did in the Medina of Marrakech.  So I wanted to pass along a few tips.
Marrakech: Don't Judge a Country by its (Bloggers) Photos
I educated myself on common scams in the souk (here) and felt very prepared. However, I was surprised by how "demanding" it is to be there. You are "on guard"!! Dodging zippy mopeds. Dealing with pushy shop owners. Avoiding scammers, Protecting your wallet, while wishing you could just browse peacefully!!!
I wasn't scared but the constant hassle made it hard to relax. Nobody wants to be conned or mugged on vacation.
Tips for a Better Experience in the Medina
In order to have a positive experience, I suggest being "aware" and taking these precautions.
USE GOOGLE MAPS. Google maps is THE BEST way to navigate the souk. Locals will scam you by saying: it's closed ahead or you are going the wrong way so they can guide you (for money). Ignore them. They will take you in the opposite direction and demand more money to "guide" you back, or lead you to un-populated area where their friends will mug you.
Take a Café break BEFORE you feel overwhelmed. The souk is chaotic and overwhelming. There is so much to see (and lots to dodge). Hide out at a rooftop café. (Atay Cafe, Moorish Kitchen, Broc the Casbah, and Nomad are good options).
WALK ON THE RIGHT SIDE. It's safer to walk on the right side of the street when in the narrow souk.
Avoid the Jemaa el-Fna Square (Main Square). One of the most popular attractions in Marrakech is also one of worst for scams. The locals are extremely pushy. Women grab your arms to draw unwanted henna tattoos (sometimes with toxic ink) which you have to pay for,  Leashed animals are thrown around your shoulders (for a photo) and payment is demanded. Juice stalls water down drinks (with unsafe tap water).  Restaurants hassle you to eat there, then pad the bill. Pickpockets thrive in these crowds.
Don't take photos of locals – nor their goods. Locals may yell at you if you take a photo of them (or their goods). They believe you are "profiting" from them and may demand money. Be respectful and ask first even if your photos are strictly personal.
Avoid eye contact and being "polite". There is so much to see that this is tricky, but when you make eye contact or engage politely, it is harder to extract yourself. Some vendors say, "look –you don't need to buy!" But once you're inside, they pull down a dozen rugs or show you a hundred sandals while they ask questions about where you are from….etc. Ultimately, you (may) purchase an unwanted item just to get out.
Be wary of guides that approach you. You will encounter a few nice people who seem genuine in wanting to show you something local. They say they work at a fancy hotel to sound legit but be skeptical!! It's safer to hire a guide through your Riad.
Calculate your bill. Some restaurants, especially stalls in the main square, are famous for adding "extras" to your bill. Always double check.
Explore early. The most enjoyable time to be out is early in morning. The light is soft, the streets are uncrowded, and the city is waking up. Shop owners are busy hanging their wares and it's quiet. Arrive at gardens and palaces when they open to avoid the Instagramers and crowds. We arrived at the Bahia palace when it opened but the line was very long when we left 30 minutes later.
Protect your wallet. Chaos and tight spaces are a recipe for pickpockets. Keep backpacks in front of you, hold onto your purse, and keep a hand on your wallet at all times.
Dress Conservatively
Instagram makes it look like the place to wear sexy clothes however, Morocco is a conservative and religious country and as a female, I forced myself to pack more modestly. Nearly all waiters, hotel staff, and merchants are MALE. Therefore, females wearing spaghetti straps or short dresses are subjected to negative attention like lascivious or hostile stares. In public, it's best to wear loose fitting clothes that cover your shoulders and knees, once in your hotel or Riad, wear whatever you like.
What About Other Areas?
We walked to the Gueliz area which is a more modern section of Morocco. The streets are wide and it's easier to walk but the area lacks beauty and charm. We found a mall (with Zara and Starbucks) but failed to find the cafes, boutiques and galleries I was searching for.
However, there is Gaia – a vegan restaurant that looked good and a couple raved about La Trattoria.
Was it all Bad?
No! Once you know your way around, you are less vulnerable and more confident. I loved a hotel we went to in Dades Gorge called Chez Pierre (website doesn't do it justice – but the chef worked all over Europe and prepared wonderful vegan food for me).
Would I go back?
If I return, I would stay at Riad Berbere (the owner is lovely), I'd book a Hammam in advance (this one) and stay (here) in the Atlas Mountains or go to Fez and Chefchaouen (to hike to Gods Bridge). It is unlikely that my husband will ever go back!!!
A Final Word
My husband says, "just don't go", but everyone has a their own experience. My fantasy of Morocco was so different than the reality that I was disappointed —  but who knows, it might exceed someone else's expectations!!