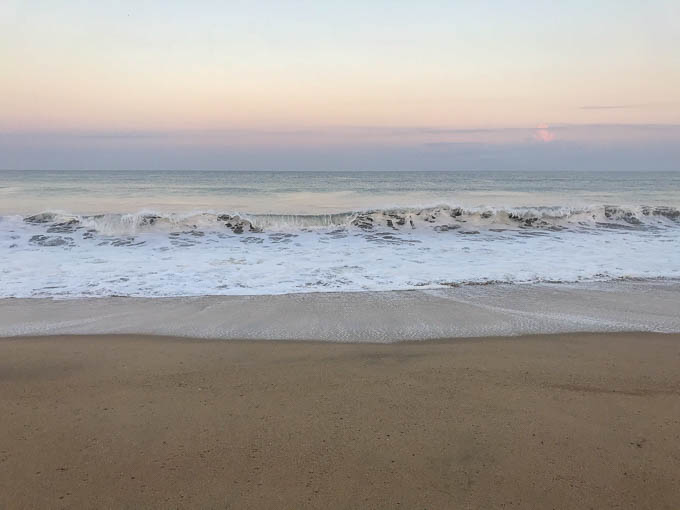 San Pancho, sometimes called San Fransisco, is a quaint beach town 50 minutes North of Puerto Vallarta, Mexico. You won't find grand hotels or all-inclusive resorts there but you will find a long crescent beach, lively main street, a handful of creative restaurants, boutique lodging, and plenty of local charm.  To me, San Pancho feels like Mexico was 20 years ago.

The Vibe
The village has an artsy, surfy, yoga vibe that attracts people who want a carefree lifestyle and stylish surroundings at a very fair price. The locals welcome newcomers and within days, you become part of the community. It attracts people who are looking to downshift and step off the treadmill to tap into something deeper.
What to Do in San Pancho
My days here unfold naturally.  I linger at a café, stretch out in a yoga class, watch the local dogs, or read a book in the sun. There is ample time to have a great conversation, listen to a samba band, or watch whales puff on the horizon. While I advocate doing less — here are some relaxing things to do in San Pancho:
Walk the beach – a great way to start the day!  
Take a Yoga Class at El Estar – try Silvana or Grisel's vinyasa class. Drop-in fee $150 pesos.
Surf  – the wave is fast and finicky and better for experienced surfers but you can rent a board in town. Beginniners should go to Sayulita (a 10 min. drive).
Hike to Sayulita – This 90 minute hike through the jungle is on my "to do" list. If you try it, be sure to READ this helpful Trip advisor post.
Visit Entreamigos. A lively community center that offers workshops, classes and special events to the local children.
Tuesday is Mercado day!  Browse the farmers market Tues 10 – 2 in Plaza del Sol.
Order a flight of craft beer at Cerveceria Artesanal – my favorite place!
Have a romantic evening – share the Bruschetta at Dolce Jardin.
Enjoy a healthy breakfast at Café Florista – This stylish open-air restaurant is connected to the Marii Hotel.
Go to the Beach at Sunset- the town flocks to the beach at sunset! It's tradition!!!  
Turtles in San Pancho 
Grupo Ecológico de la Costa Verde was founded in the early 90's by a few Americans who wanted to save the dwindling sea turtle population.  According to their latest newsletter, their work has paid off:
"From May through February, we recorded a total of over 1,100 nests, which we now estimate will produce up to 100,000 hatchlings. Total number of hatchlings released by our program since 1992 reached a total of 1,405,301. The big news is that we have one Leatherback turtle nest that is scheduled to hatch within the next 30 days!"
It's exciting to see them scouring the beach each morning. During my morning beach walks I chat with "the turtle lady", a volunteer who shows me tracks and nests. One day she allowed me to release a few baby turtles. The hatchlings are precious but so vulnerable – only 1 in 1,000 survive (eek).
They flail their flippers towards the ocean but waves toss them back. Over and over. I wish I could just pick them up and place them in the surf but doing so would harm their survival. Instead, I watch vigilantly to keep them safe from hungry birds and dogs.
Yoga in San Pancho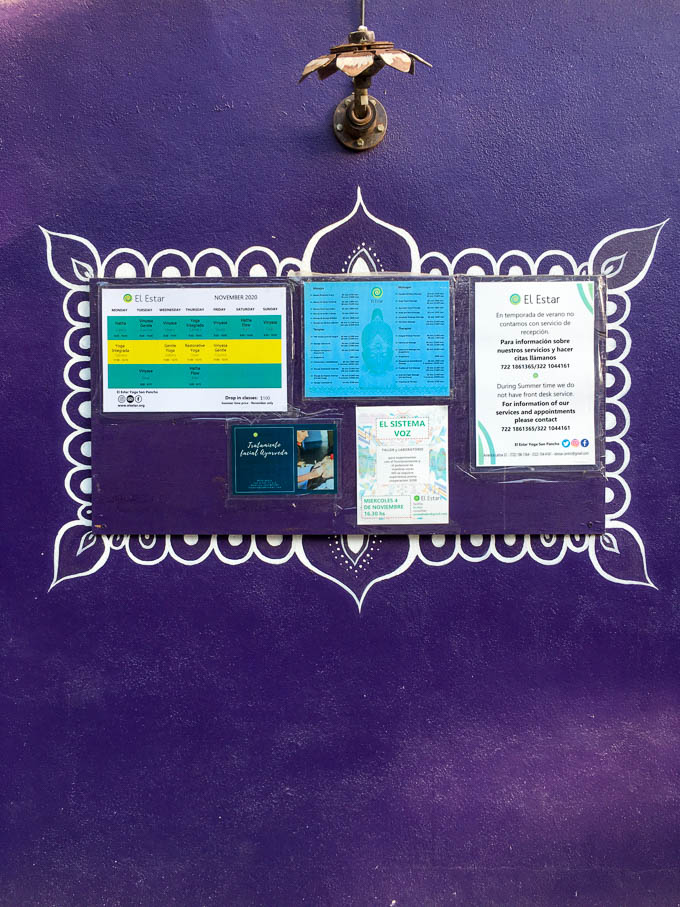 El Estar is a small healing arts center with yoga classes and massage ($150 pesos for a yoga class -mat included ~$7 usd). Classes are held in a screened room with a palapa roof and jungle surroundings. The teachers are experienced and the classes are great.
Coffee?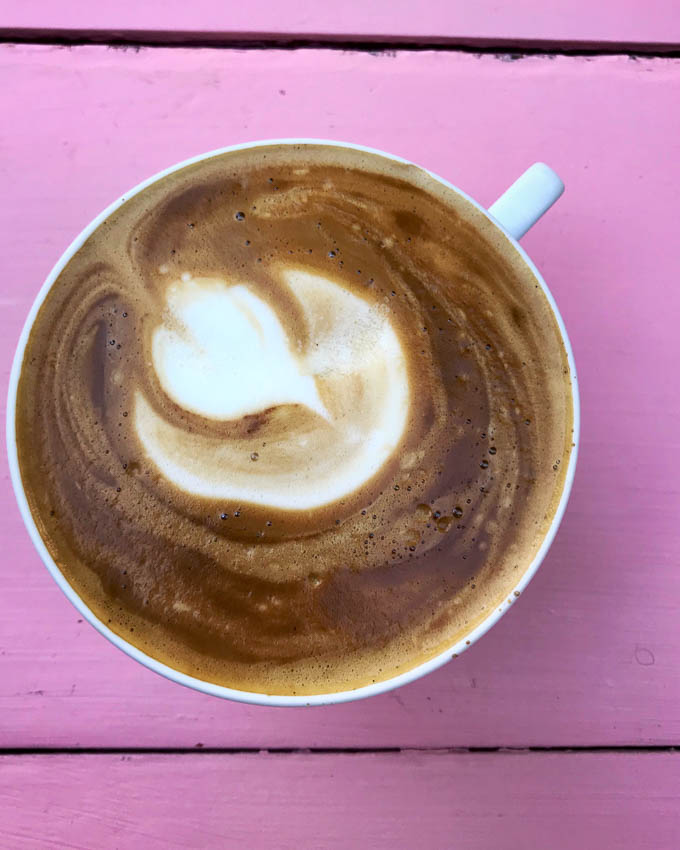 Finding a good coffee shop in a new place is key!! Especially one that makes a good caliente chocolate with soy milk! My husband and I love the ritual of walking to coffee. Our go to place is Café Paraiso but Kokonati is also popular.
Dining in San Pancho
Let's be clear – San Pancho is about the food! Whether you crave avocado toast, lentil ceviche, or homemade hummus with toasted sourdough, there is a variety of delicious cuisine to experience (vegan or not).  The chefs are imaginative, the restaurants are atmospheric, and the cost is extremely fair. Another bonus is how easy it is to be vegan. Try Chichili for a vegan ice cream cone or Mexicolate  for a rich vegan brownie.
My Favorite Restaurants with Vegan Options   
There is no shortage of fantastic dining options. It's not fancy, just good food, creative cocktails and cute atmosphere. My type of place!!
Ceveceria Artesanal – Charm oozes from this local craft beer establishment and it's my favorite place in San Pancho. Order a flight of artisan beer and the sundried tomato hummus. Or, the giant cheeseboard (if you are "cheegan").
Dolce Jardin – This garden patio restaurant is cute and has epic bruschetta. Nuff said!!
Ikan Marina Cocina – This tiny restaurant is on a quiet side street. They serve creative ceviche and tacos with a Mexican/Asian influence. I tried the tomato ceviche and tofu tacos. But what blew me away were the 6 different salsas they put on the table that I devoured with tostadas.
Limbo – Is a more expensive restaurant that turns out distinctive cocktails and interesting dishes (think dehydrated rice puffs). My husband loved the pulpo (octopus) dish (but this was hard for me after watching My Octopus Teacher). They have several vegan options but I liked the mushroom curry best.
Bisto Organico – This small bistro is tucked inside the courtyard of Hotel Cielo Rojo.  They serve healthy breakfast and lunches (sometimes dinner). Expect to find green juices, eggs, gluten-free muffins, delicious bread and veggies from the farmers market.
Café Florista – Inside Boutique Hotel Marii is another healthy breakfast option. Portions are small but each bite is carefully considered. Order the guacamole and a 2 x 1 hand-crafted cocktail.
Barracuda – This is for the seafood lovers. There is not much for vegans, but your fish eating friends will thank you. When restaurants don't have vegan options or salad, I always order guacamole and corn tortillas and make my own tacos.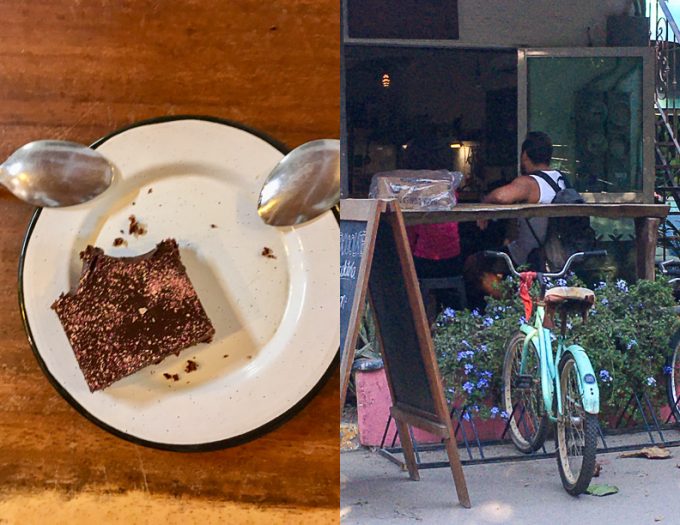 Restaurants I Still Have to Try
When you explore a new place, there aren't enough meals to try every eatery on your list so here's a few I will try next time:
Itzalanyasayan Restaurante –  (Yasminas) is a local taco stand that turns out (from what I've heard), "amazing vegan tacos and soups". There is no sign, just a stall with a painted lady.
Chido Greens –  A teeny corner spot that serves fresh salads and pressed juices.
La Baba Del Diablo – Locally recommended Mezcaleria located about 15 minutes (walk) up the road.
Where to Stay in San Pancho
San Pancho is compact and walkable whether you stay in town or in the residential area at the North end of the beach.  I've only stayed at Pal Mar Tropical, a stylish boutique hotel off the main street.  It has a small courtyard pool and roof top yoga room but the internet is spotty (it is all over town) and roosters may keep you up at night. I like the location, stylish rooms and relaxed atmosphere!
Marii Boutique Hotel  is another cute option. It's a newer hotel with a tropical feel a little further away from the heart of San Pancho (which may be quieter). I have not stayed here, but the restaurant, Florista, is nice and the owners are eager to please.
Also look for Air bnb's.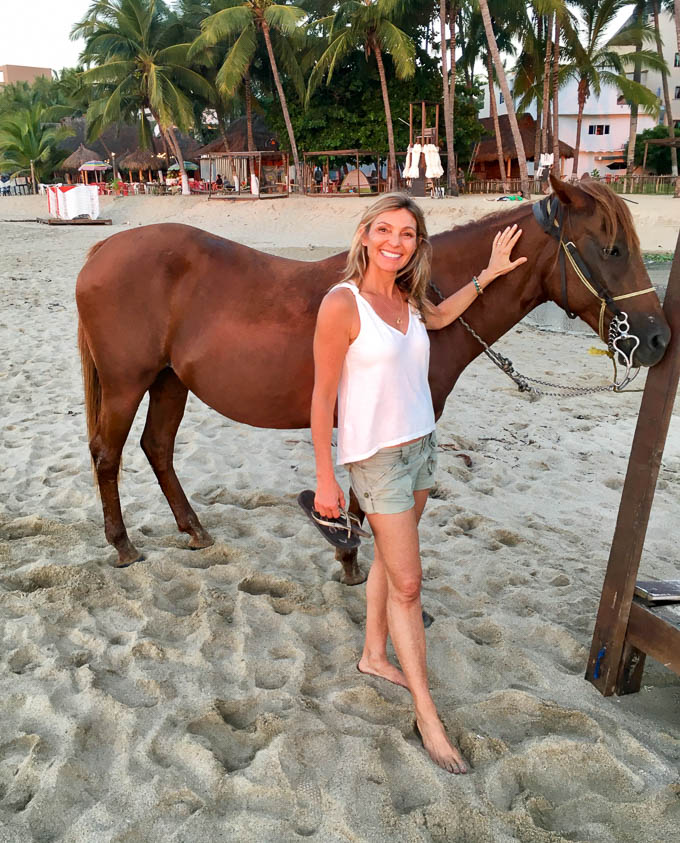 How to Get There
The easiest way to get to San Pancho is by taxi. Uber does not go to Nayarit Provence.
You can hire a taxi at the airport or for a better rate, walk across the pedestrian bridge and get one across the street (a 10 minute walk).  You will need pesos and to pack light enough to walk. The non-airport rate is around $800 pesos ($40us).
As you exit the terminal, turn left and walk to the end of the building. Look left for the pedestrian bridge that crosses over the main road. You will see the popular Tacon de Marlin. Hire a taxi from here.
To return to the airport have your hotel arrange a taxi, or walk to the park on the main street where the taxi's are parked and ask one to come to your hotel. Negotiate the rate in advance.
For more posts on Mexico: