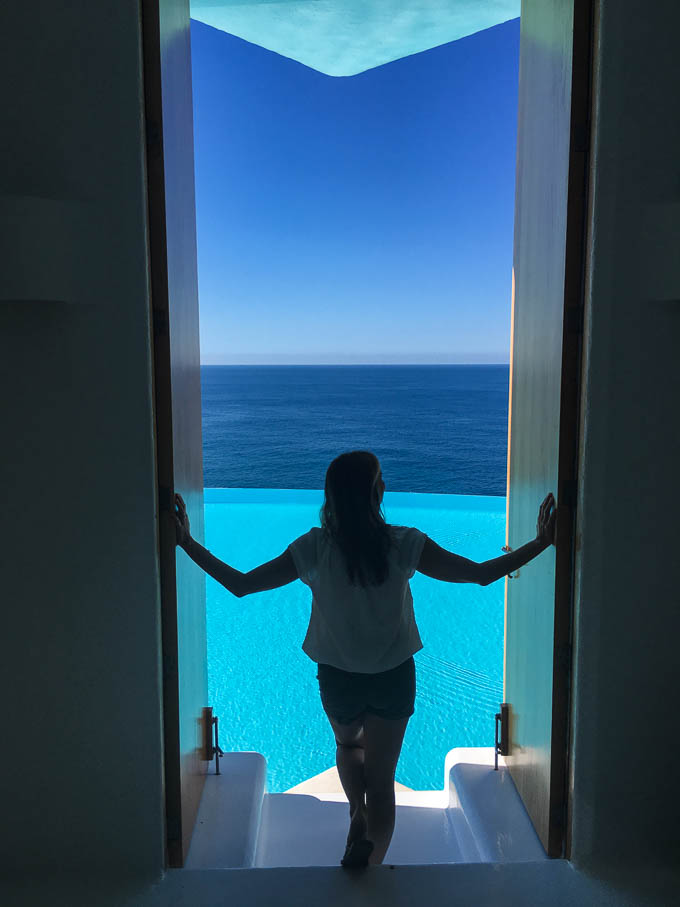 Costa Careyes captivated my interest years ago when browsing through drool worthy photos of a book called The Castles of Careyes. Impressive villas perched on cliffs above of the Pacific Ocean designed to blur the lines between land and sea. These beauties whose rounded walls mimic Caracol shells are surrounded by 180⁰ infinity pools so they appear to be floating on water. I was struck by the sheer splendor of these architectural masterpieces.
So, when our friends suggested a trip there, I instantly agreed!
A Splash of Luxury along Mexico's Unbuilt Coast
Costa Careyes is a small resort along Costa Alegre – a 57 stretch of shore on Mexico's Pacific coast.  This rugged, unbuilt area sits between Puerto Vallarta and Manzanillo and it's ecologically protected status, keeps it free of mass tourism (for now).
Founded in 1968 by Italian Banker Gian Franco Brignone, Careyes is an oasis of luxury in the heart of an unspoiled coast. Mexican colored casitas, villas, and castles rise gently above 2 serene bays with swimmable beaches. Anywhere else, these colors would look silly but here, the fuchsia tangle of Bougainvillea looks perfect against each periwinke, yellow, or Cobalt wall.
Our casita was only steps away from the turquoise bay of Playa Rosa.
What to do in Careyes
Costa Careyes was defined by Brignone as, "a Riviera hideaway for the elite". Its remote location keeps it discreet and tranquil. Here, it's all about the ocean!! With only a handful of restaurants and an empty beach cove, we prepared ourselves to unwind.
Relax the beach – Careyes has a peaceful vibe and revolves around the water. Our friends were delighted to swim, read on the beach, and eat at Playa Rosa beach club.
Walk to lunch or dinner at Pueblito Careyes – I like to explore so my husband and I walked each day (20 min each way) to La Coscolina (many vegan options) and Punto Como to dine.
Tour a Castle – we were lucky enough to see Sol de Oriente which was unoccupied. It's just as stunning in person as the photos I'd seen years ago.
Rent a boat in Perula to Isla Cocina. We parked at restaurante El Jabalin where we hired a boat and umbrella to take us to Isla Cocina. This was followed by a fresh seafood lunch at their beach restaurant (guacamole tacos for me).
Walk in Careyes – to get some exercise I decided to walk the cobblestone roads of Careyes. There isn't a lot to see but I came across a Javelin (wild boar). We looked at each other with wide eyes before scurrying off.
Assist with a sea turtle release (for a fee) during the winter months and visit La Copa Del Sol  – a gigantic meditation bowl a short distance away (for a fee). (We didn't do either)
Dining in Costa Careyes
Pueblito Careyes is a small plaza across the road (20 min walk) from Careyes with 2 lovely restaurants, small art gallery, and an ATM. Some restaurants in the area were closed during our stay.
Where to Stay
Careyes is expensive but has a range of bungalows, casitas and villas that vary in price. We shared the Stunning 2 Bedroom Casita with Pool and Ocean View which was perfect for 2 couples. It wasn't cheap but it was beautiful and exceeded our expectations.
For more on where to stay click here.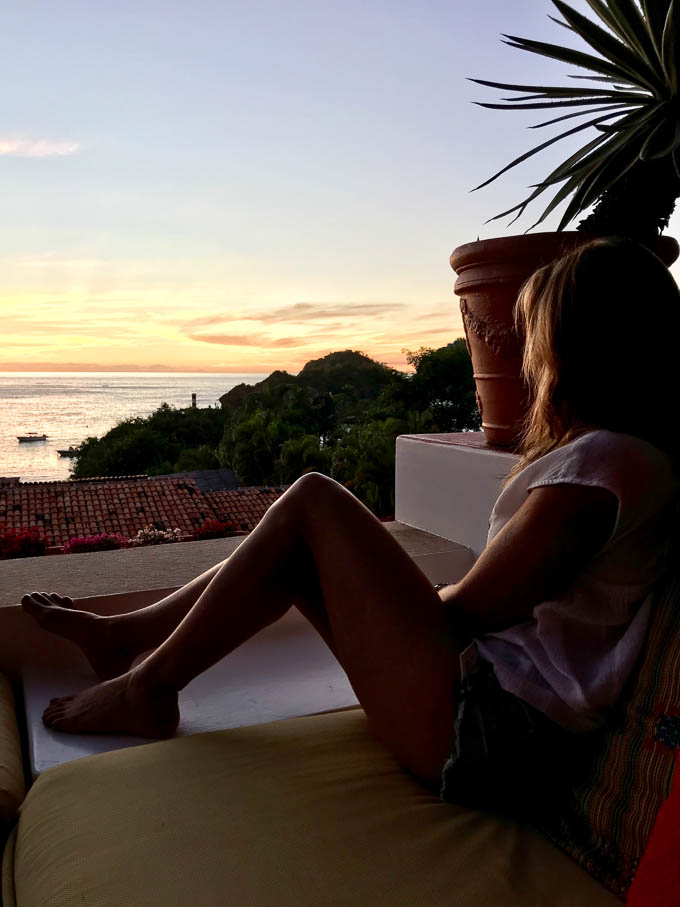 When to go
Early December is a great time to go. The water is still warm and the beaches are empty. We were lucky to avoid the 650 people arriving for the holidays.
How to Get to Costa Careyes
Costa Careyes is nestled between Puerto Vallarta and Manzanillo. It's closer to Manzanillo airport but flying there is considerably more expensive with less frequent flights. So, we flew to Puerto Vallarta where we rented a car and stayed the night at the Grand Miramar on the South side of Vallarta. We had a fun dinner at a local gastropub 116 Pulpita with vegan options and tasty beer. After a good sleep, we indulged in the delicious breakfast "included" by our hotel that prepared us for the 3 hour drive ahead!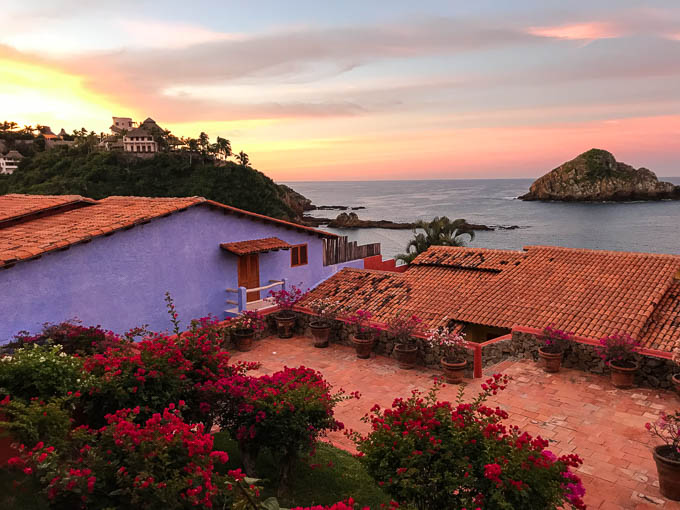 Driving in Mexico
Overall, driving in Mexico is safe however, there are some precautions to take and things to know about renting a car there.
The "insurance" for renting a car is a blatant scam. You pay a lot for "mandatory" insurance even though you may already have insurance through American Express.
For driving in remote areas, request a reliable car. To do this, tell them you will be leaving town and don't want any problems with the car.
Do NOT drive at night. Highway 200 is safe during the day, but Mexican roads are often under construction, there are large unmarked "topes" (speed-bumps) without warnings, few places to stop along the way, and minor difficulty finding our destination.
Expect the unexpected when driving in Mexico! You may be stuck by a random parade or behind a slow truck. Cows can cross the road, or "desviacion" (detours) slow you way down. So, plan for extra time especially if you have a plane to catch.
Do not leave valuables in your parked car.
Restrooms at gas stations often require or suggest a small payment.
When parking in the city, find where public lots are located. Street parking is hard to come by.