Siem Reap is a tourist hot spot because it's the closest city to the famous temples and ruins of Angkor Wat (see photo blog here). It's also a fun place to discover with its kind people, balmy temperatures, night markets, artisan shopping, $1 beers, top notch cafes and superb Vegan restaurants. Here is a list of the 5 best things to do in Siem Reap other than Angkor Wat.
1. Hire a Guide in Advance 
I chose to hire a guide in advance so I could find someone who understood my interests. I found Sokin on tripadvisor and emailed him right away. He responded quickly and I liked him immediately.  He was great! Prompt, reliable, easy to communicate with and reassured me when I needed it. Three days cost  $55 – compared to another less reliable guide who wanted $450.
(Sokin email [email protected])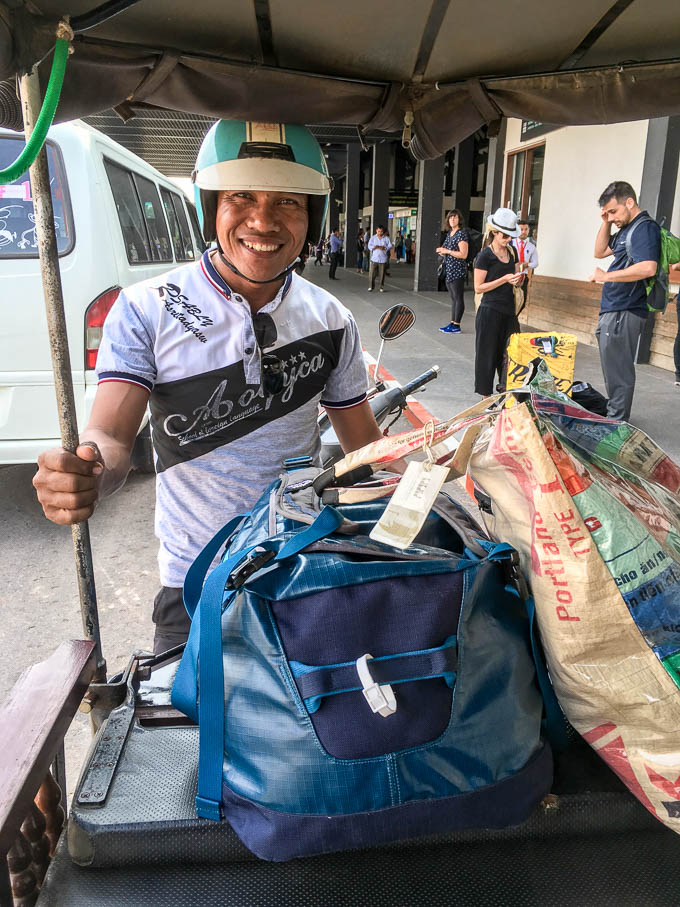 We stopped for drinks before arriving at the hotel.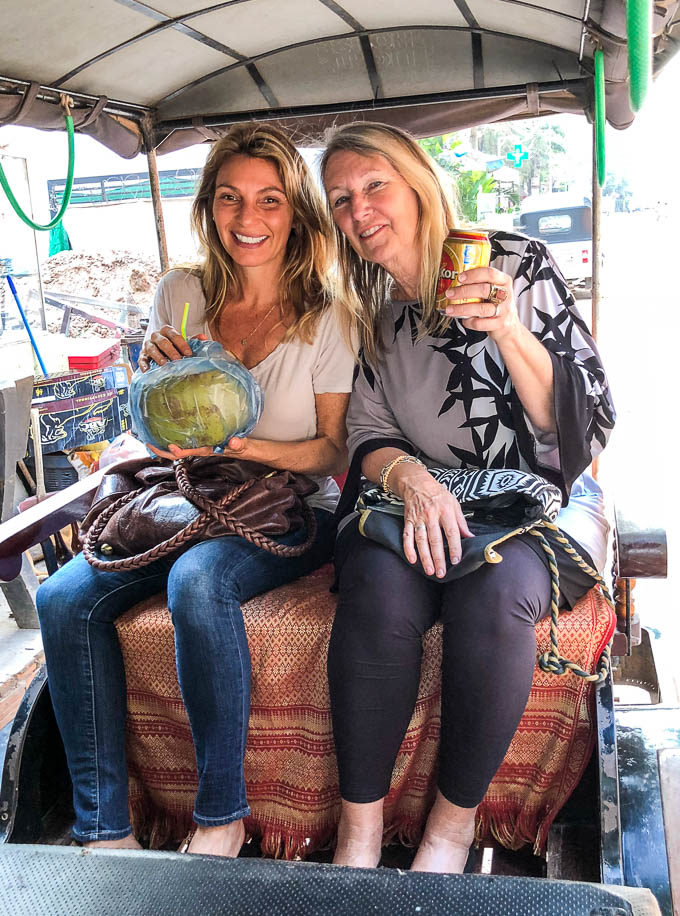 He collected us before sunrise and took us to the back gate of Angkor wat to keep us away from the crowds.We were the only ones there. By our third temple, my iPhone ran out of batteries. Sokin miraculously had a friend near the temples that could help. He re-energized my phone, while I sipped coconut water. Wow!!
2. Go to Great Bars
Siem Reap has a lively bar scene. Everything from the raucous Pub Street (a little cheesy) to fancy hotel bars to small cafes where you can enjoy great happy hours (beers cost $1).
After shopping Kandal village, we stopped to rest our feet at The Village Cafe. This is a great place to sit and watch the world go by. Our bar tab with 4 drinks totaled $5.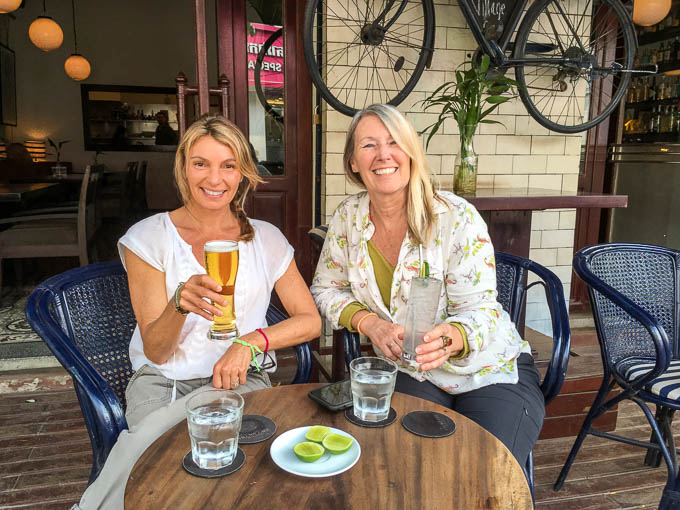 Moringa Bar was the first to bring craft beer to Siem Reap. I delighted in this tasty flight.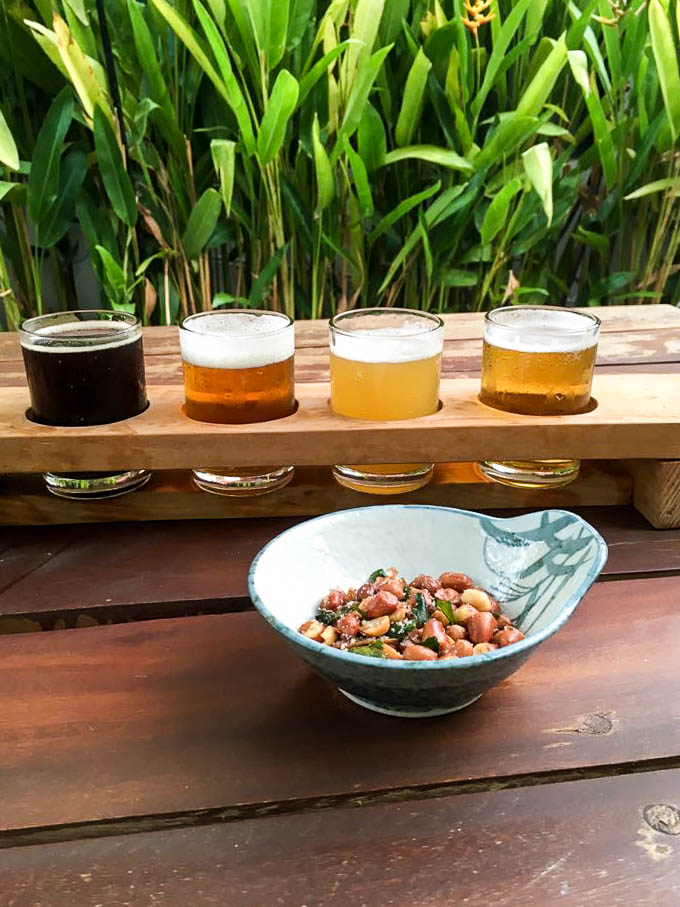 Jaya House River Park Hotel is one of the prettiest Boutique hotels in Siem Reap. It's special if you can stay there (great for vegans) but if not, go for lunch and luxuriate at a swing table, or hit their rooftop Skybar at sunset.
Other fun bars:
Miss Wong – think 1930's Shanghai with a great DJ.
The Living Room (Hyatt)- Sit on a plush sofa in this elegantly designed dimly lit bar with dark corners and a great drink menu.  One St. Germaine Gin & Tonic or Gingerbread Martini please.
3. Indulge in Healthy Vegan Food
Vibe Cafe 
Monday: 7:30-4:30pm Tuesday to Sunday: 7:30am-9:00pm
Siem Reap – (+855) 069 937 900 | No. 715, Hup Guan Street, Kandal Village, Siem Reap.
This airy bright vegan cafe serves healthy food that does improve your vibe. The welcoming space is clean and upbeat. So many items tempted me it was hard to decide what to order. The Japanese Macro Bowl with wild seaweed and sesame ginger dressing or The Arabian bowl with superfood falafel and beetroot hummus? A Chili Hot Chocolate or Reishi Mushroom Latte? Could we squeeze in a slice of the Raw Salted Caramel and Chocolate for dessert? See full menu here.
The Moringa Bar
136 Steung Thmei Road (Downtown Siem Reap)
DAILY: 4:20 PM – 11:20 PM CLOSED WEDNESDAYS
HAPPY HOUR: 4:20 PM – 5:20 PM   2 FOR 1 COCKTAILS!
The Moringa Bar is a tucked away vegan restaurant and my FAVORITE place in Siem Reap. Vegan or not, this fun bar/restaurant serves amazing food and drinks. The owner envisioned opening this place during a sound meditation and his positive energy is felt in every dish, beer flight, and cocktail.
Share the Cambodian Smoked Eggplant Dip, Mango rice salad and cucumber salad  while listening to chilled out beats and tropical house music. We returned 2/3 nights.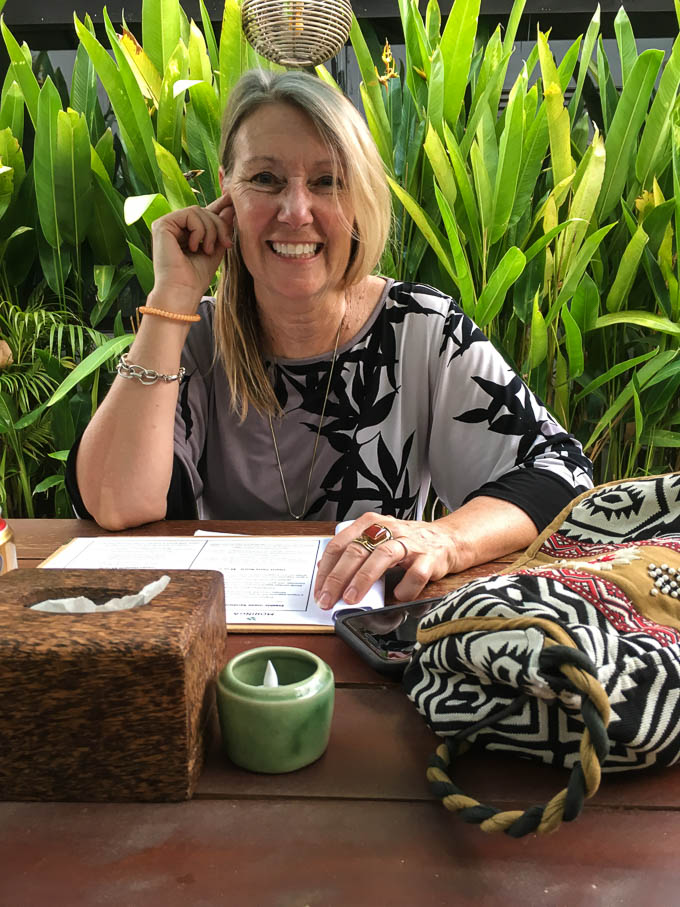 Try a fresh juice or smoothie. My friend loved her Avocado smoothie. I asked for pressed carrot juice but accidentally got a carrot smoothie (carrot and milk). Not for me.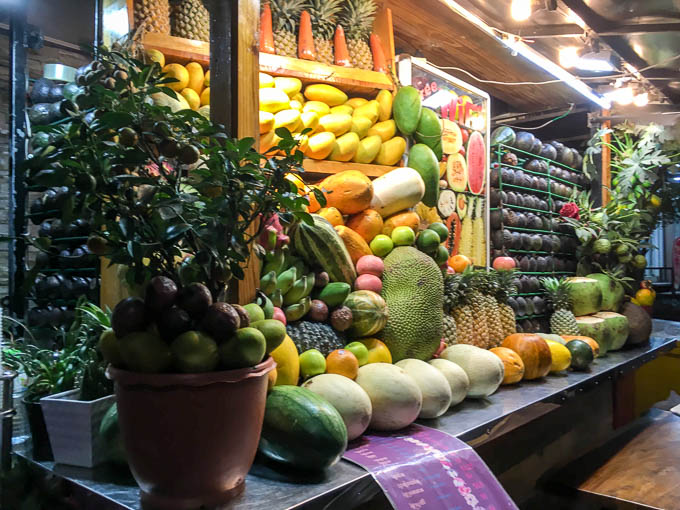 4. Shop at Kandal Village
Around the corner from Vibe cafe is the artisan district called Kandal Village. This lovely street has rows of pretty shops selling clothes, jewelry, homegoods etc. from local artisans.  Saarti skin care shop is where I found my new favorite Lemongrass Cleanser.  Smells like a spa.
5. Explore in the Evenings
The temperature at sunset is perfect for checking out the night markets, bars, restaurants, shops and bars. The town feels safe. Even in hidden alleys where you will stumble upon adorable restaurants and quaint shops.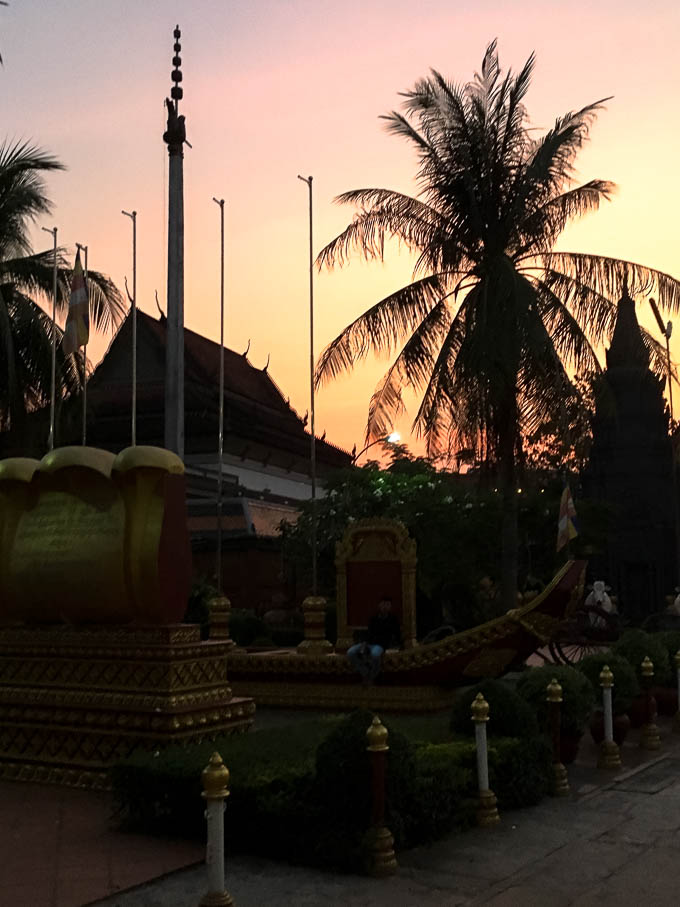 The night market across the river.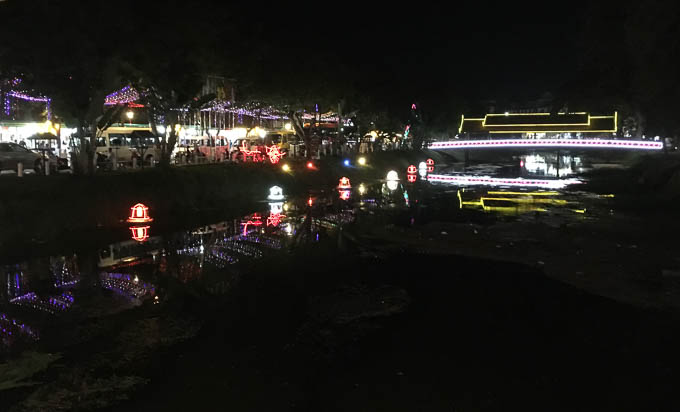 Hidden alleys near Pub Street.
Other Things to Do in Siem Reap: