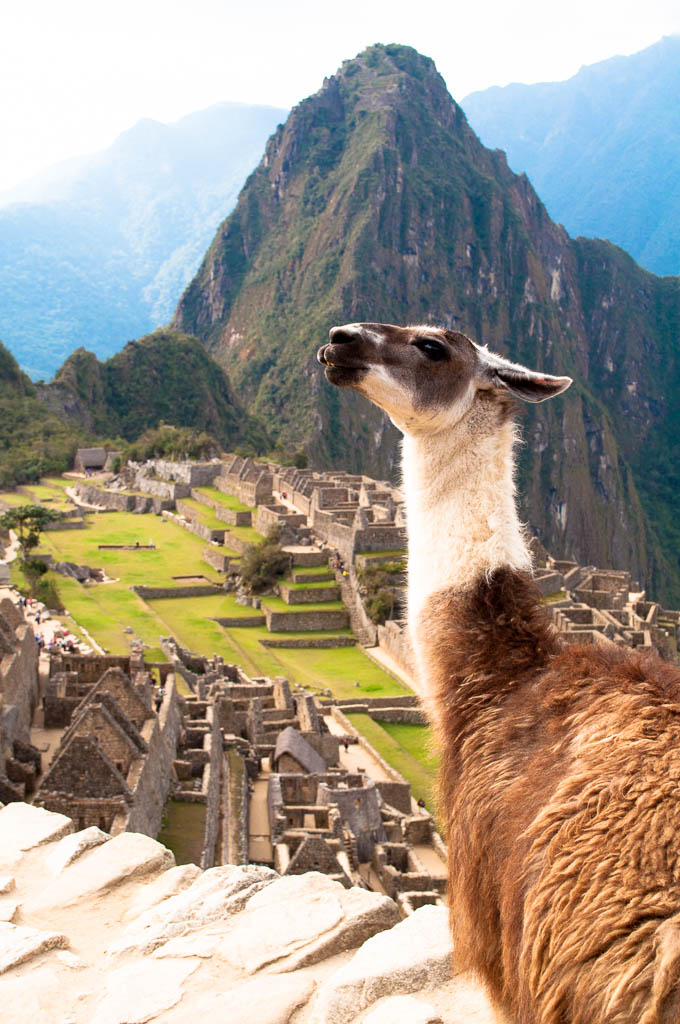 This is a photo journey of my 5 day hike to Machu Picchu on the Salkantay trail.
(Above) llama love at Machu Picchu.
Photos from Salkantay Trail: 
Day 1: An easy hike with views of the Andes.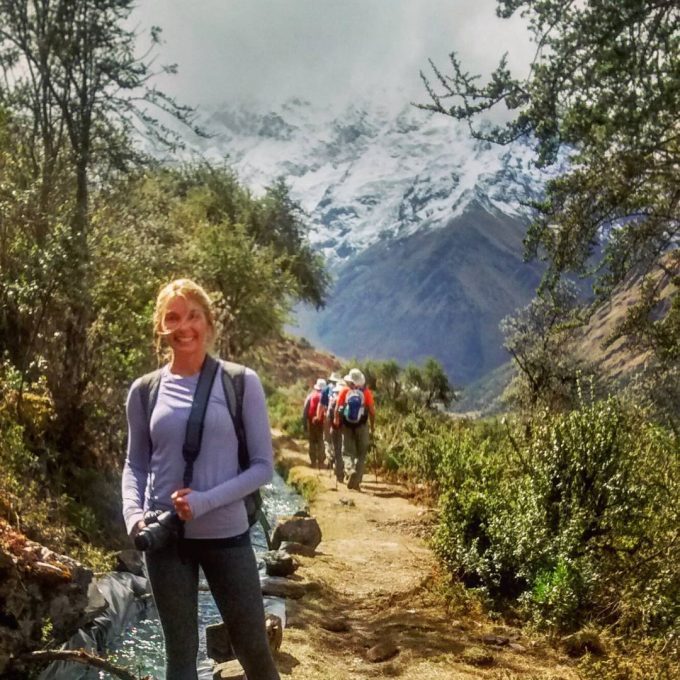 Pack light for the horses.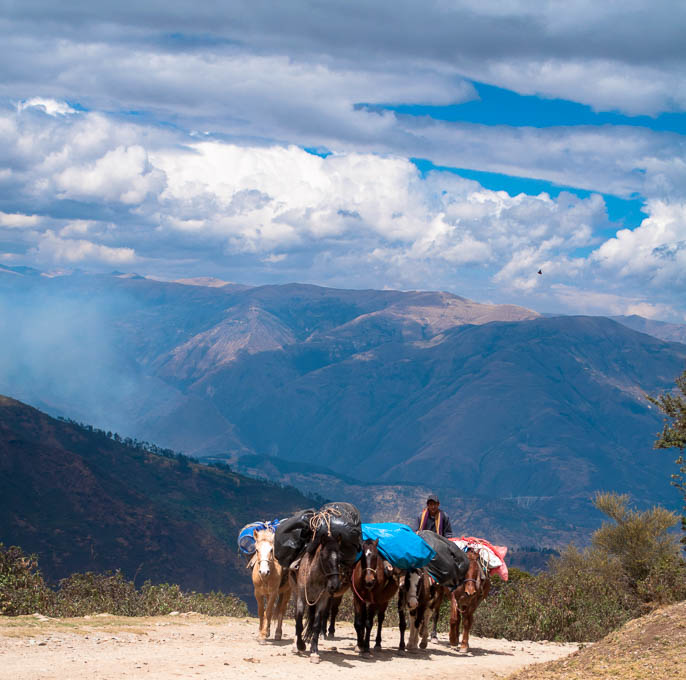 Day 2: Our acclimatization hike to a glacial lake. No one dove in despite how gorgeous it looked.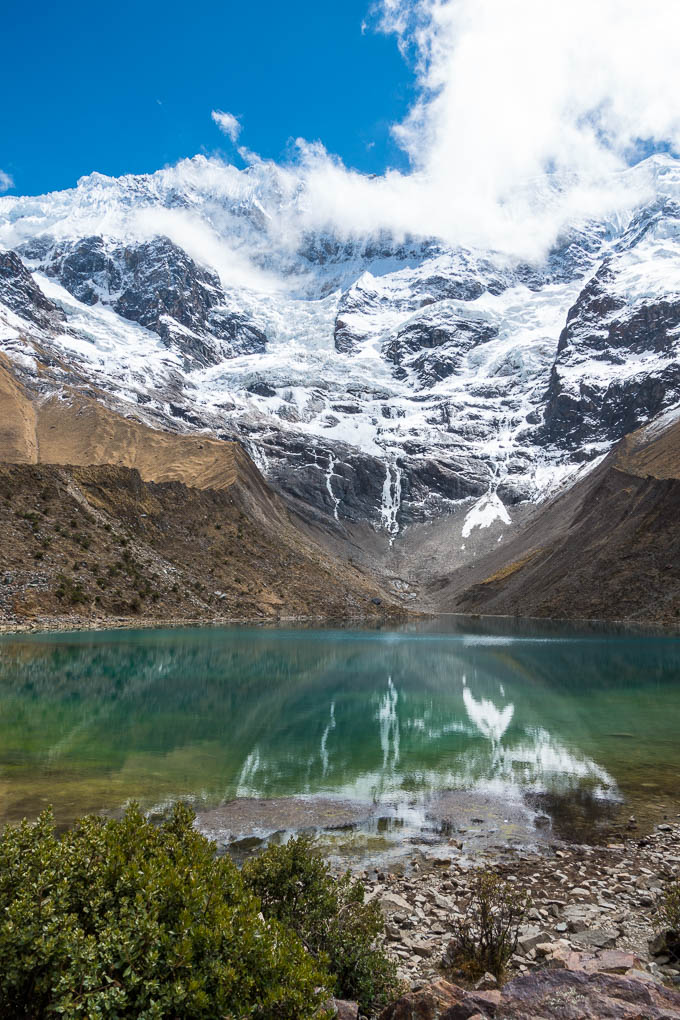 The glacier is receding.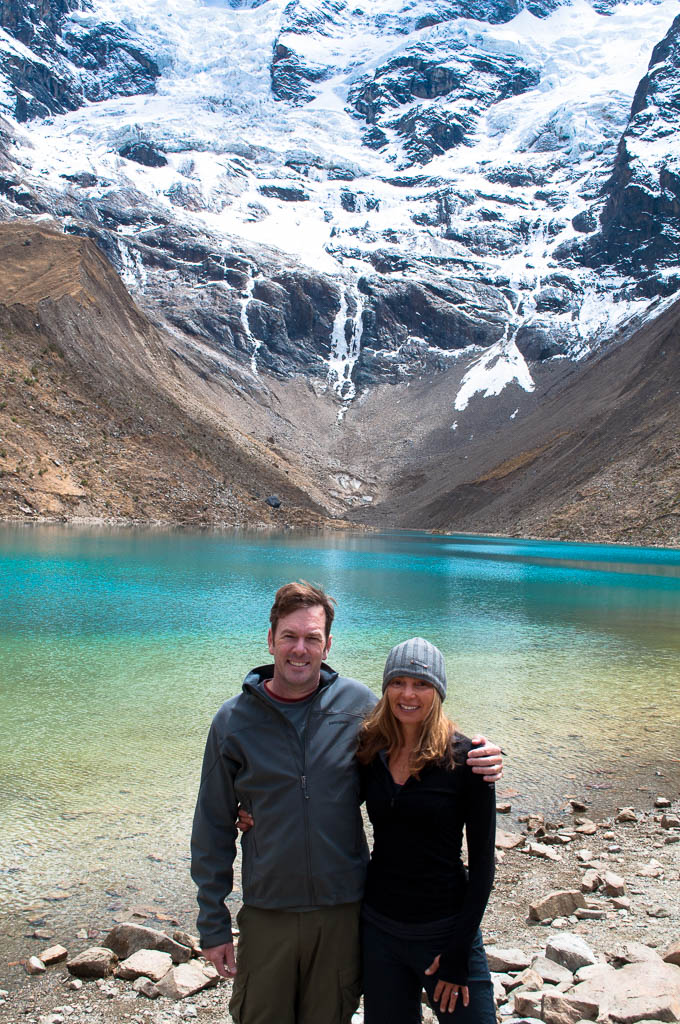 Day 3: Heading towards Salkantay pass. Smiling at the gorgeous weather.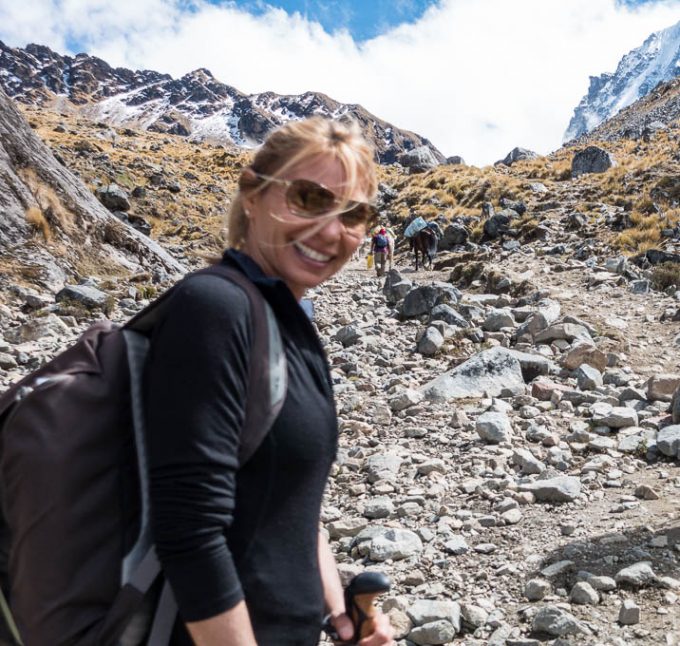 We rested often to catch our breath.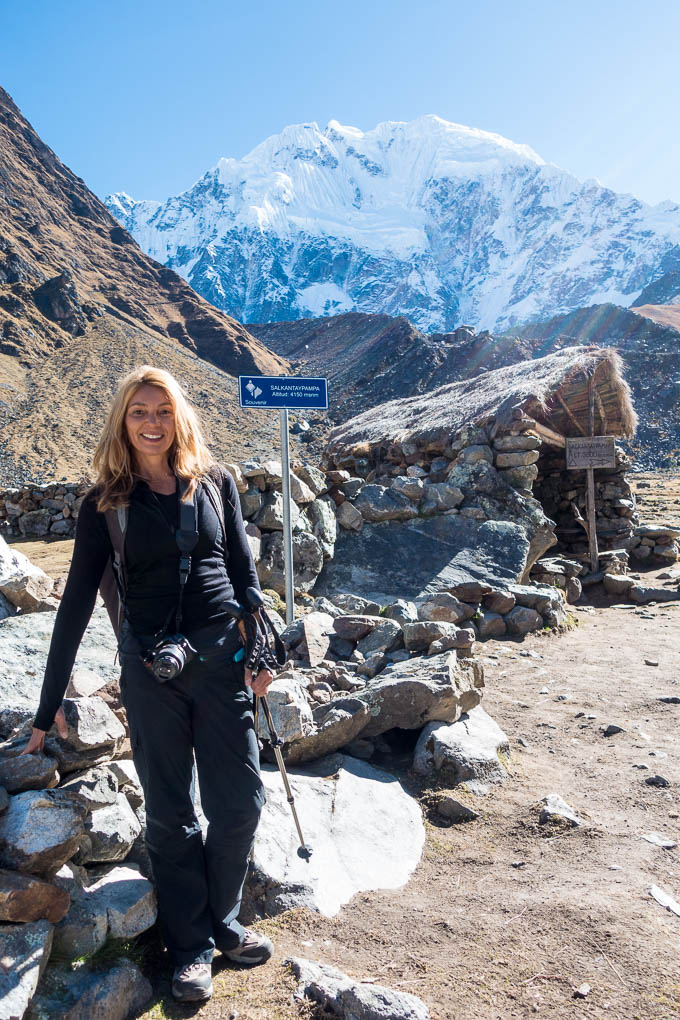 We were awed by the beautiful, rocky terrain.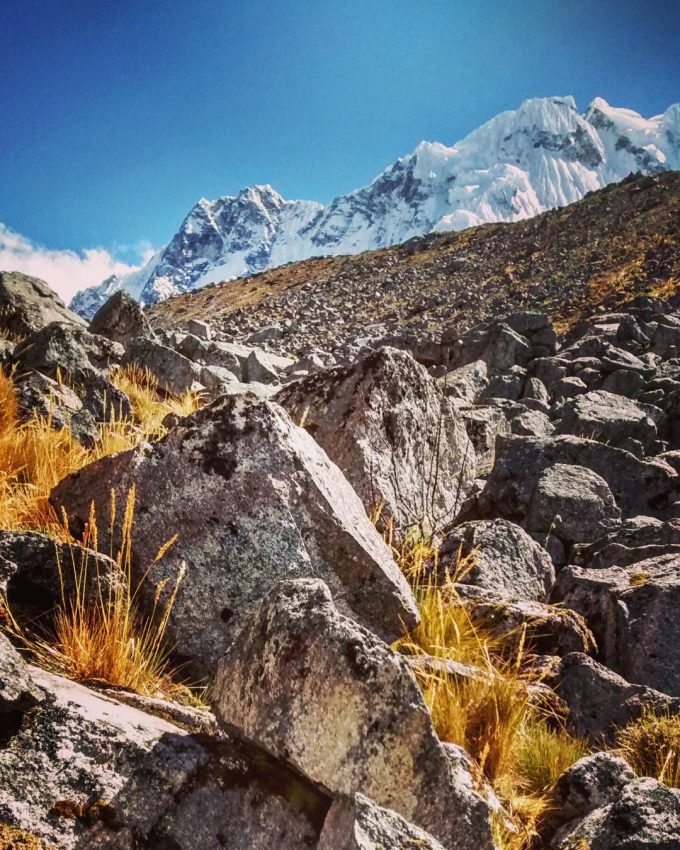 Help was always available.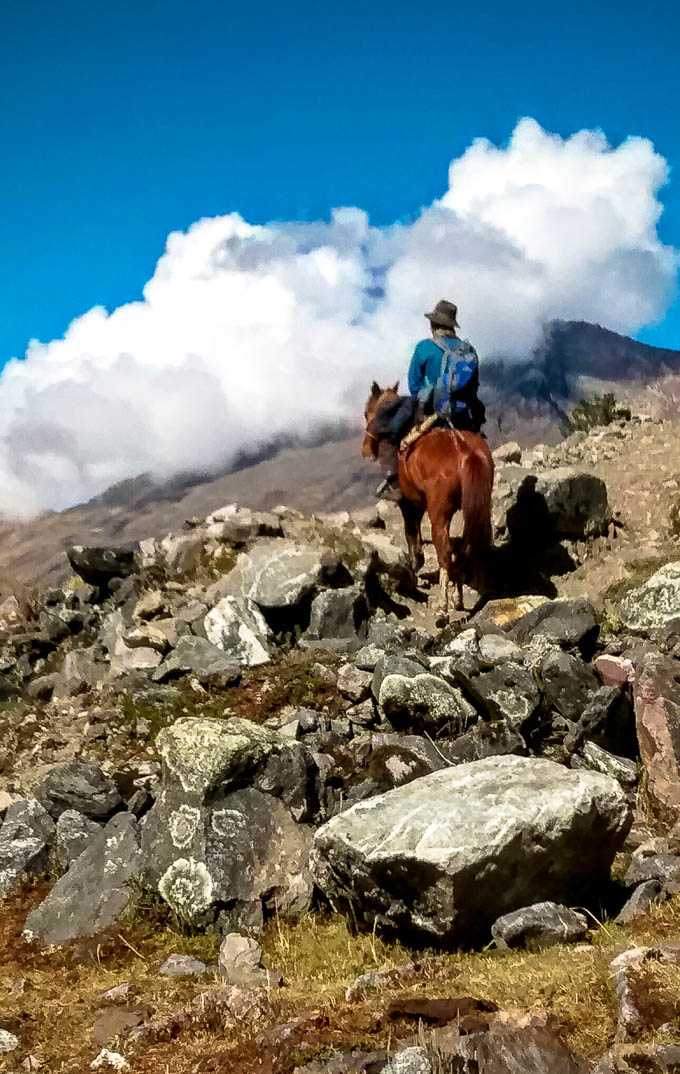 We summited 15,200 feet over Salkantay pass. Yay!!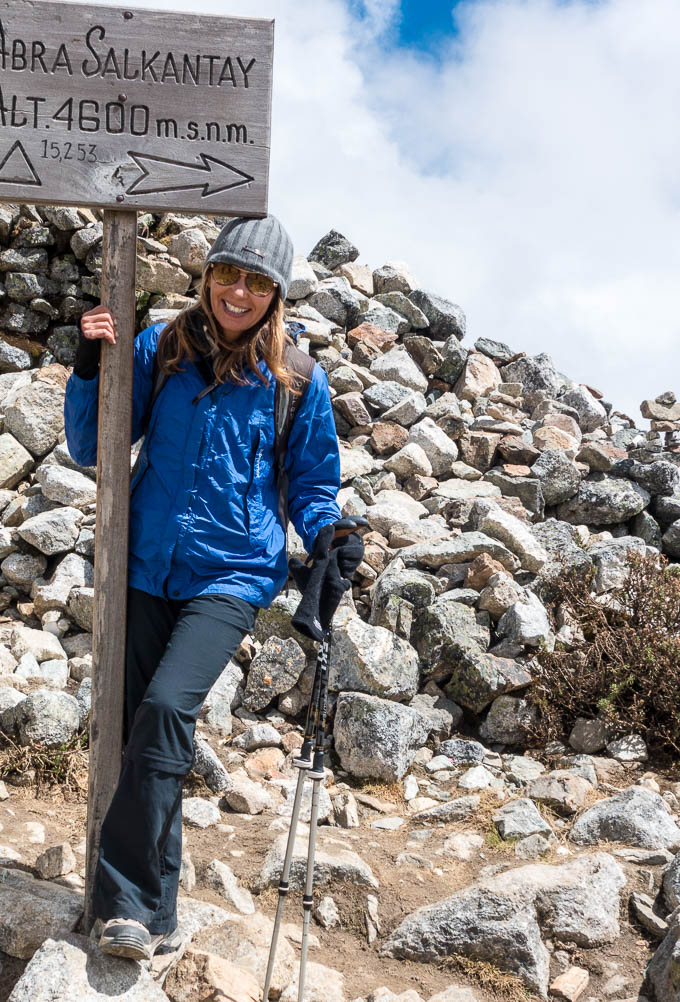 We lucked out with a gorgeous weather.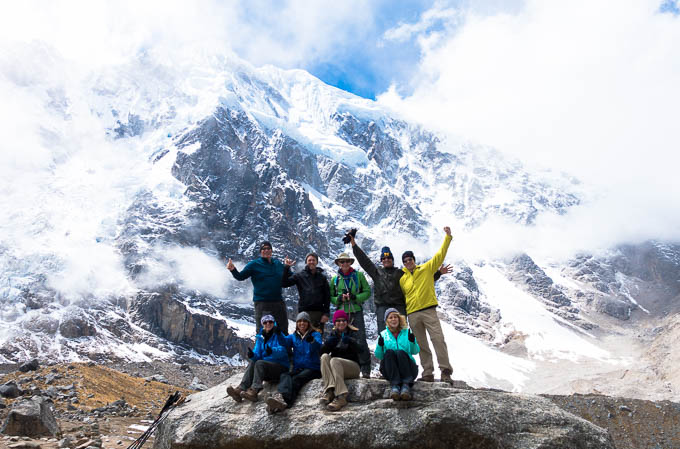 Day 4: We descended into the rain forest.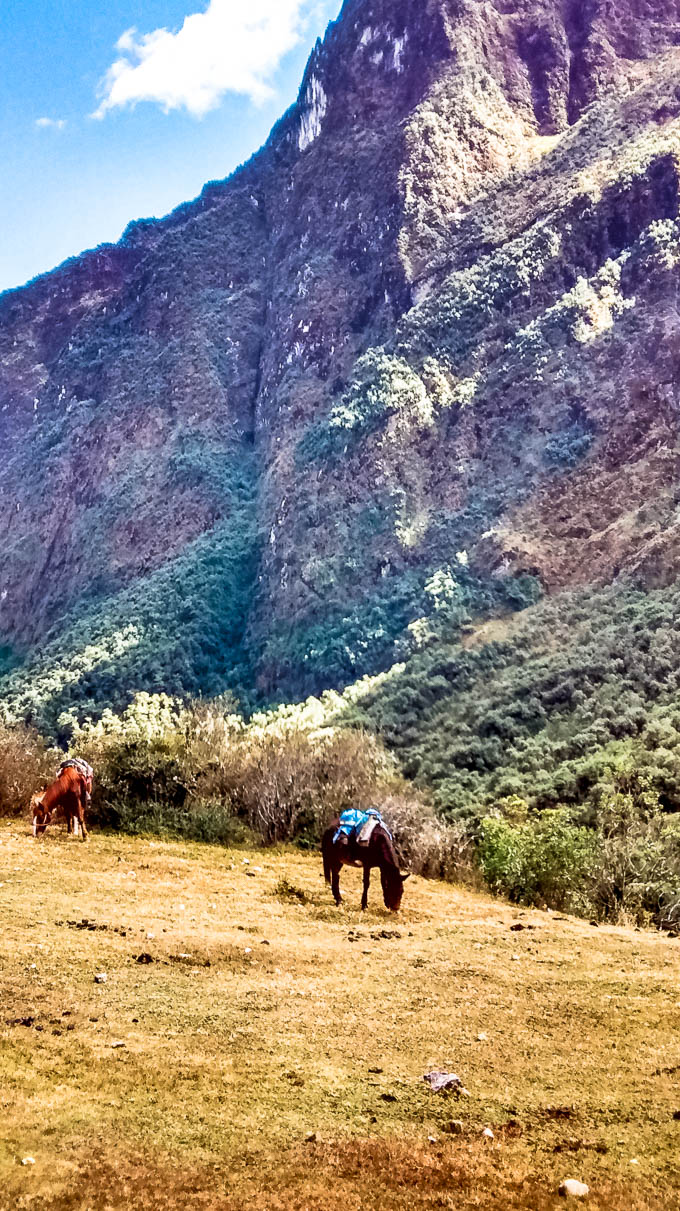 And made new friends.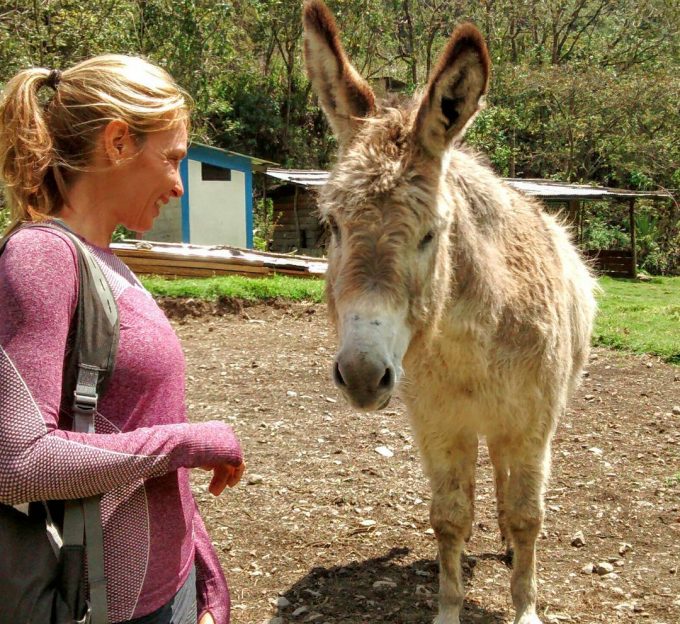 Day 5: We walked along ridges with beautiful views.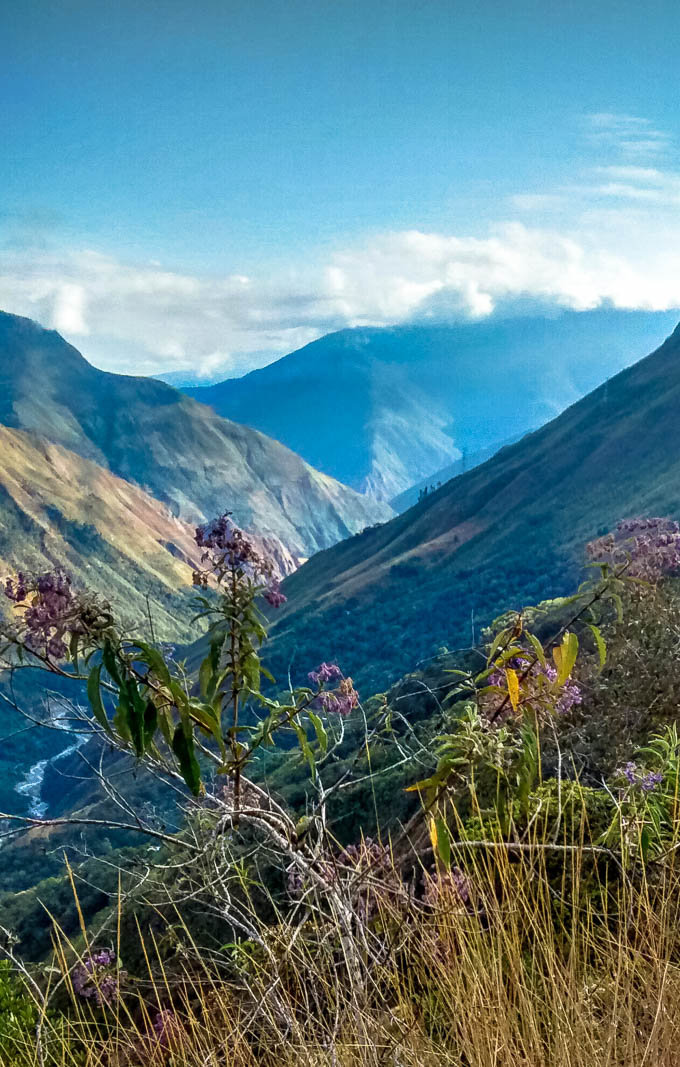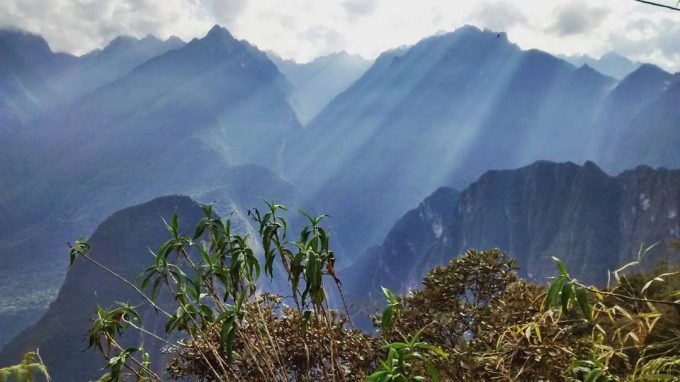 Day 6: We finally arrived at Machu Picchu.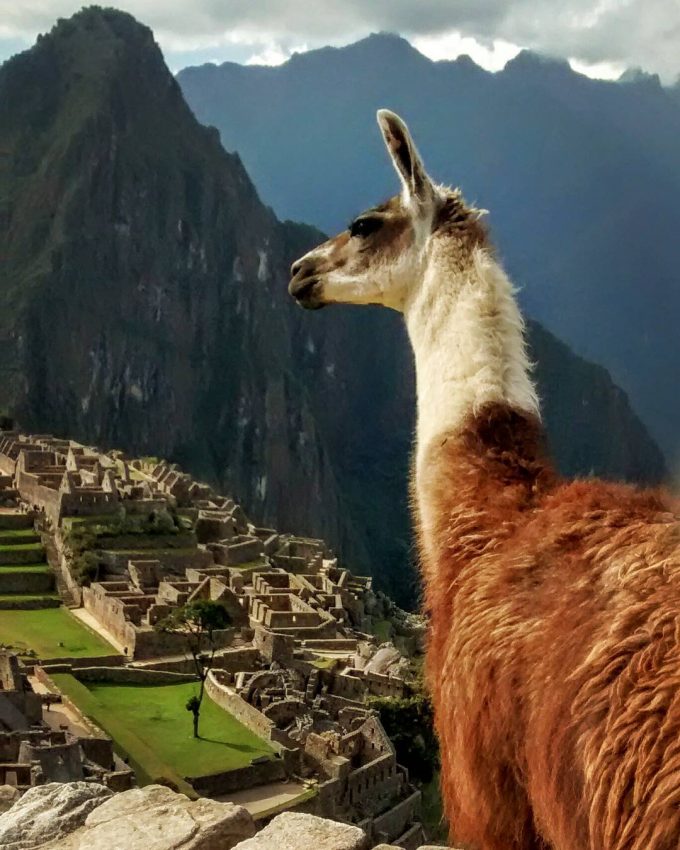 We took iconic pictures.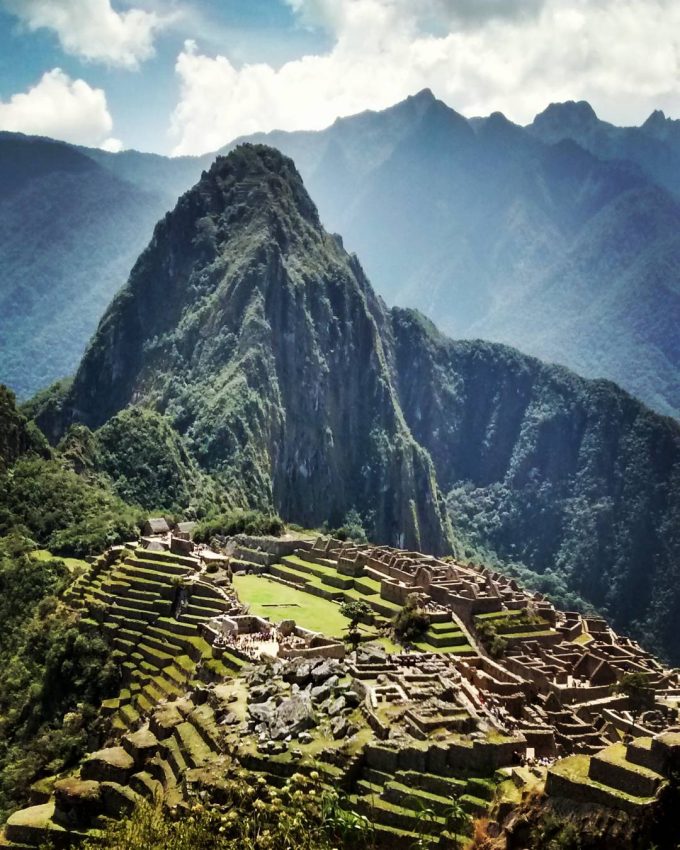 We were amazed by this terraced city.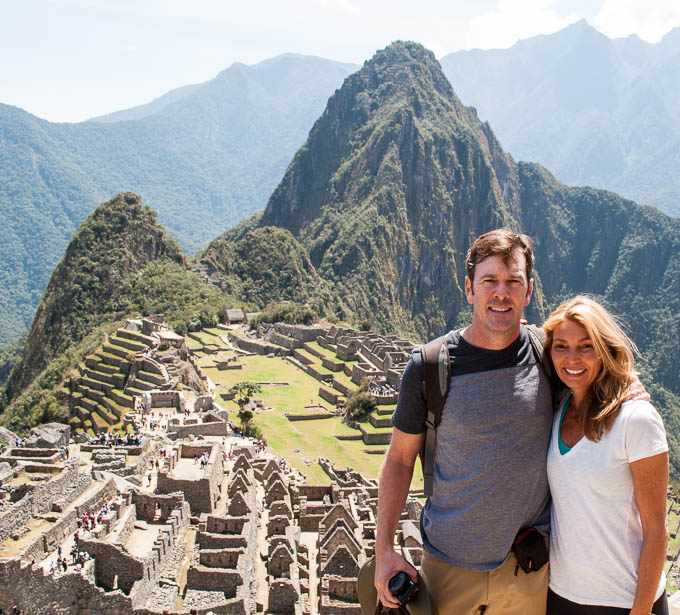 We found the sweetest llamas.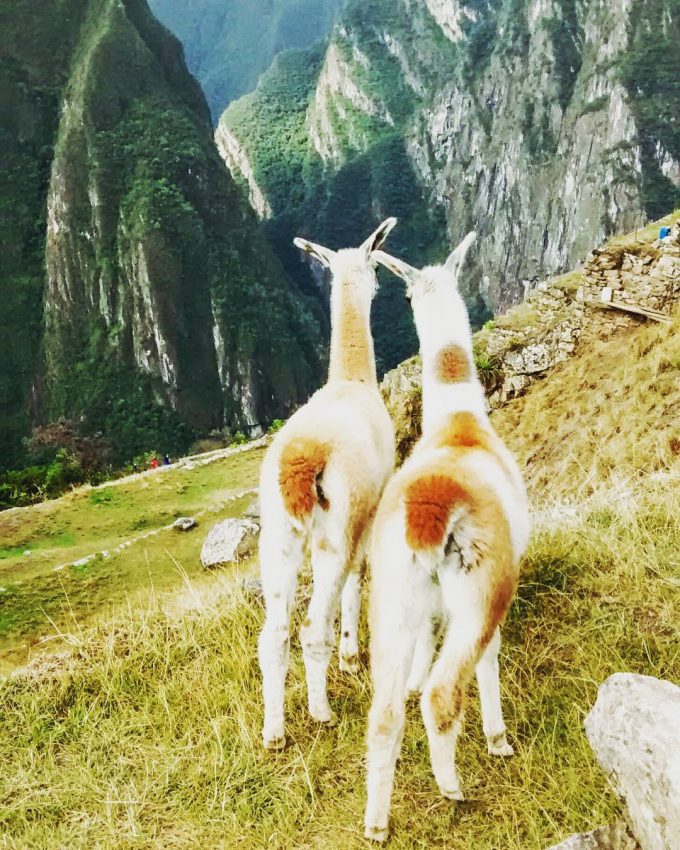 I wanted to take them home.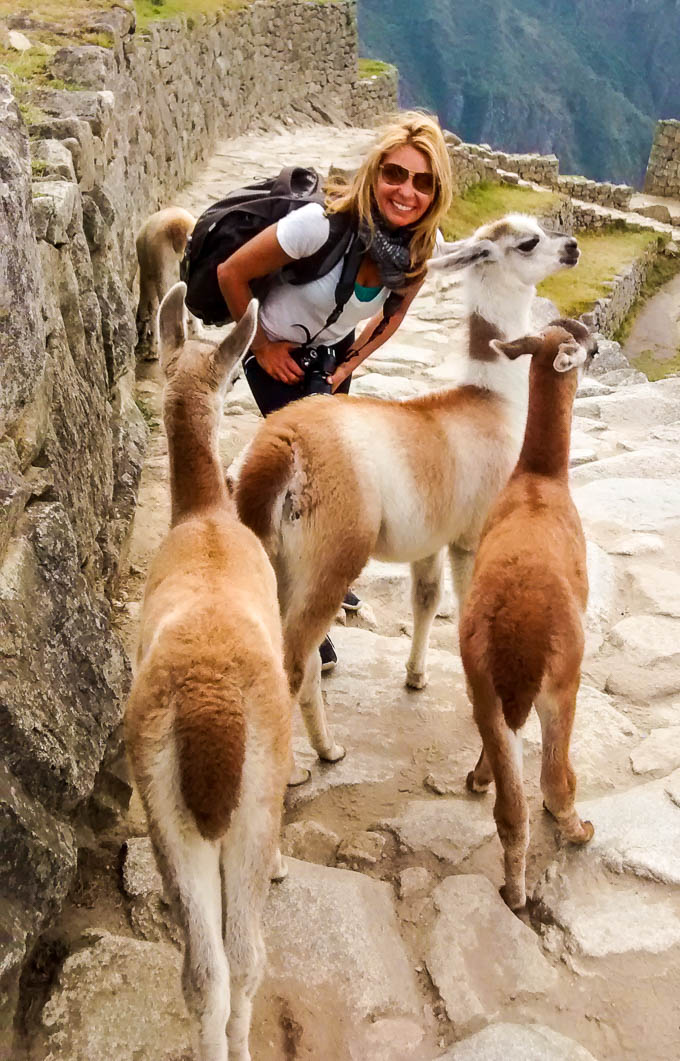 Last day: We hiked Montana Machu Piccu.
Spectacular views but vertical narrow stone stairs and sheer drops…not for anyone with vertigo or a fear of heights.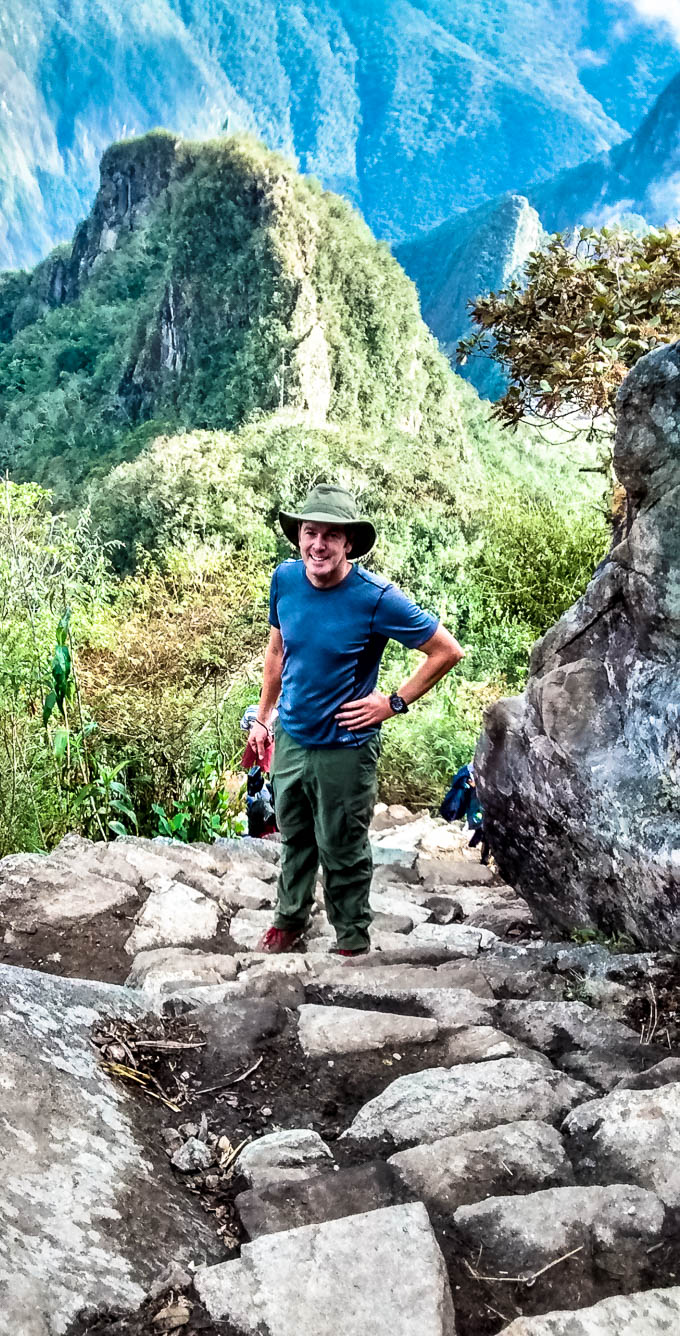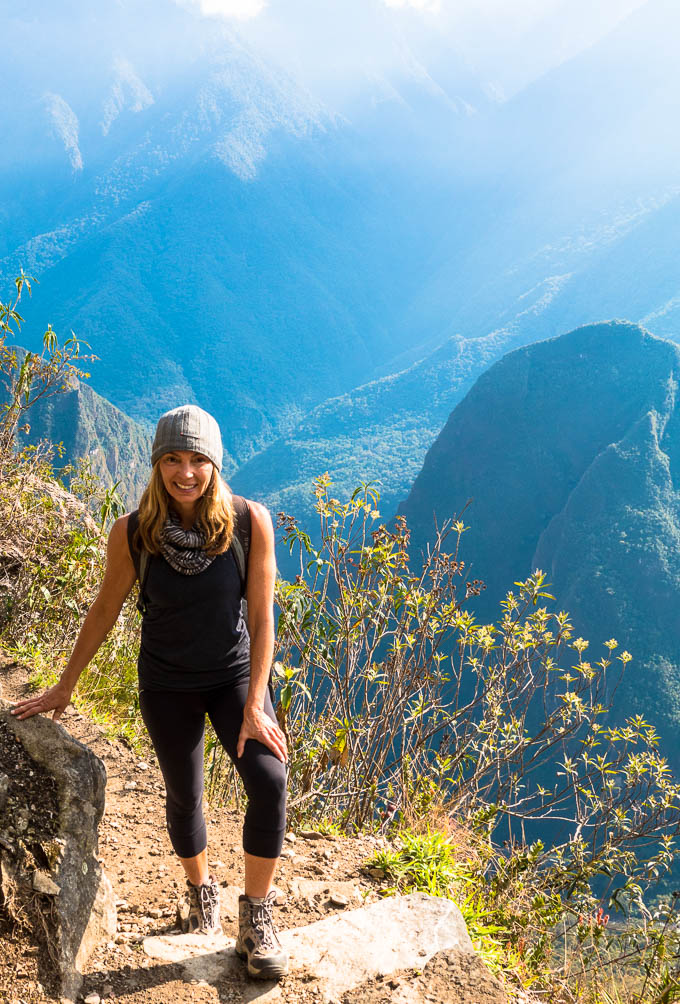 I loved this beautiful journey.
For more information about hiking lodge to lodge with REI- click here.
Salkantay Trail Notes:
The Salkantay trail is 43 miles long and can be hiked over 5 days. The most challenging part of this trip is getting over Salkantay pass (15, 200 ft.) The trail itself is not scary but the altitude can make it difficult to breathe. I worried about this part of the hike but in reality, it was very doable. I think spending a few days in Cusco (11,000 ft.) to acclimate made all the difference.
I found the most challenging day was hiking Montana Machu Picchu at Machu Picchu.  You will need a permit for this hike and the views are spectacular but be prepared for 1.5 hours of steep, narrow stone steps and a few narrow passes.
Combat altitude: Altitude affects people differently regardless of fitness level our age. In fact, the youngest member of our group (21) returned home from altitude sickness. Several other hikers with us took Diamox, a prescription medication for altitude- but it has some side effects (Dizziness, lightheadedness, increased amount of urine may occur, especially during the first few days as your body adjusts to the medication. Blurred vision, dry mouth, drowsiness, loss of appetite, stomach upset, headache and tiredness) that I didn't want so I opted for a natural approach.
Chlorophyll Drops. This emerald drops I bought at Whole Foods are supposed to strengthen the immune system and increase red blood cells. I'd read that they help with altitude so I took them for 2 weeks prior to leaving and added drops to my water each day. For me, they worked like a charm.
Arrive Early. It takes time to acclimate properly so I arrived in Cusco 2 days before the hike began.
Drink Coco Tea. When in Rome, do what the Romans do. Well, the locals drink coco tea, so did I.
Bugs: Bring strong protection and use it. I brought Picaridin spray and Deet. The mosquitoes and no-see-ums aka biting midges are invisible and vicious.  Some travelers had so many bites, you could barely see their legs. Protection helps. I got bit on my hands where I washed the spray off. My bites were large, itchy and long lasting. Our guides jokingly called them"mountain tatoos". +
Packing for many climates: The weather on this trail varies a lot. The peak is cold but the rain forest is warm. Packing was confusing. You want to pack light and wear layers. My best purchase was the ICEBREAKER 260 merino wool half zip. It saved me. I bought it on ebay for under $50. It was versatile and worked well over light layers or under heavier ones.
Poles: I'm not a big hiking pole fan, but it was good to have them. Your knees will thank you.
Umbrella: After hiking the Tour de Mount Blanc (where it rained) I decided to always hike with a folding umbrella. Luckily, I didn't need it for this trip but it's still good to have.
Trekking Company: My husband and I went with REI which does this lodge to lodge. I highly recommend them. The remote lodges felt like a wonderful reward at the end of each hike. Private rooms with comfortable beds and hot showers, freshly prepared dinners, and glasses of wine by the crackling stove.
(To read about vegan dining in Cusco, click here and to read a more detailed account of hiking lodge to lodge with REI click here)