Soy Sauce Alternatives
I love the taste of soy sauce but prefer it's healthier cousins like Tamari, Coconut Aminos, and Bragg's Liquid Aminos. So, what are these alternatives and how do they differ from traditional soy sauce? Keep reading….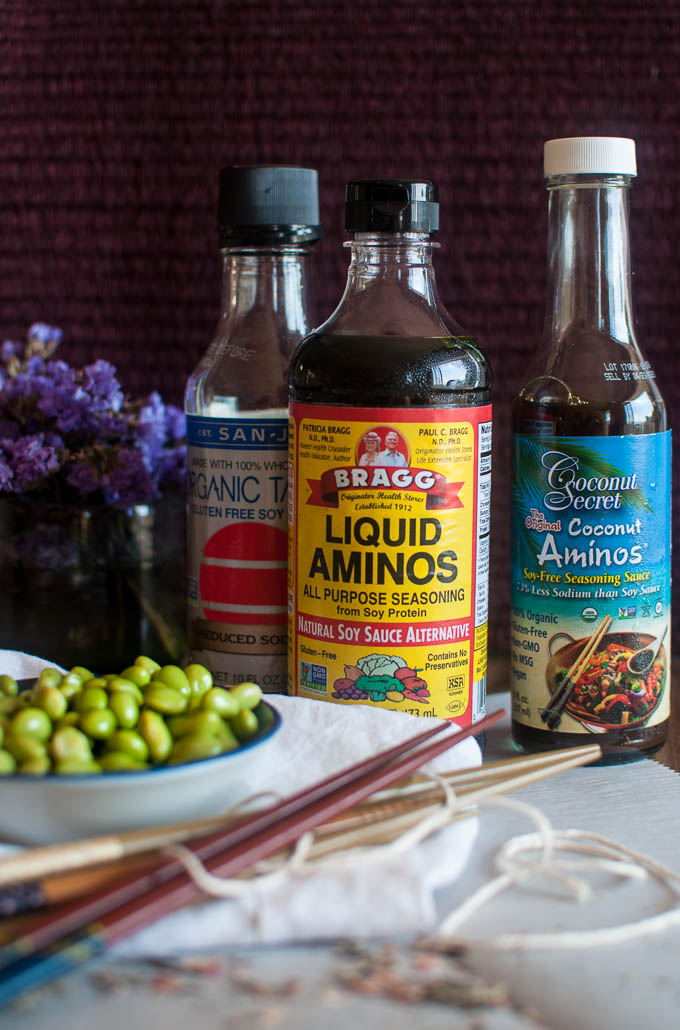 What's Wrong with Soy Sauce Anyway?
Let's take a step back and look at traditional soy sauce. There are many kinds of soy sauce and 2 basic ways to produce it. The traditional production of soy sauce includes fermenting soy with wheat, salt and a culturing mold for many months. Then it is pressed, pasteurized and bottled. The quicker, cheaper method uses heat and chemicals to speed up the process. This produces a less flavorful product which contains toxic carcinogins, added flavorings, color, and salt. But the biggest downside of soy sauce is that soybeans are one of the top GMO foods produced and are often loaded with pesticides.  For more on the production of soy sauce, read here.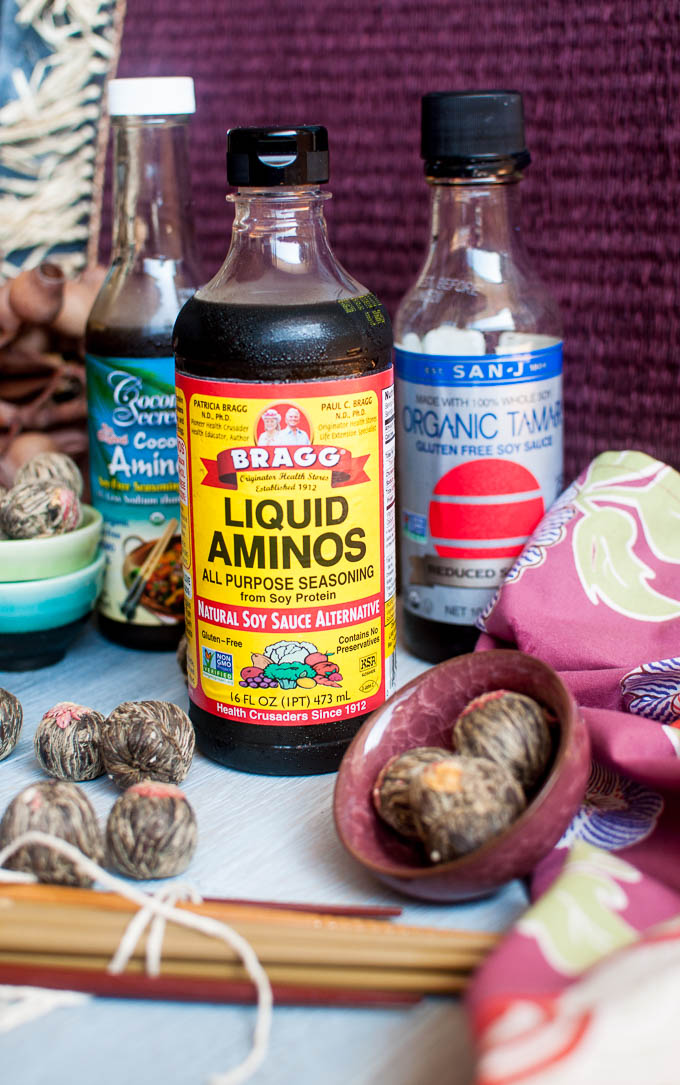 What is Tamari?
Soy sauce is a salty liquid condiment found throughout Asia but Tamari is specifically Japanese. It has a stronger, more balanced flavor than soy sauce and is produced with little or no wheat.  Therefore, it is gluten-free (to be sure, check the label). I use Tamari all the time so I get the Reduced Sodium Organic Tamari made with non-gmo soybeans. I love Tamari in my "everyday vinaigrette dressing" (mix: a dollop of organic honey mustard, a few chugs of Tamari, Balsamic vinegar and Extra Virgin Olive oil).
What is Coconut Aminos?
Coconut Aminos is another soy sauce alternative that omits the soybeans altogether. Many people prefer not to eat soy for it's estrogenic effects so coconut sap is fermented and mixed with salt to recreate the tangy, salty, umami rich flavor of soy sauce. I find it tastes sweeter and less "sharp" than soy sauce, and like that it contains 73% less sodium.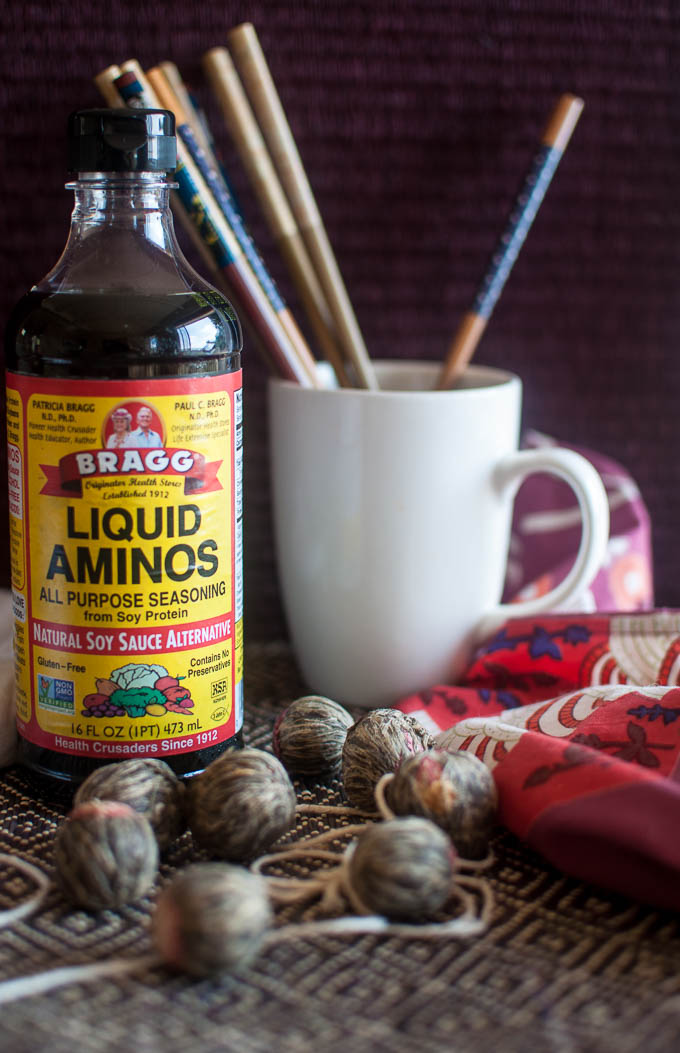 So What the Heck is Bragg's Liquid Aminos??
Bragg's Liquid Aminos is a liquid protein soy sauce alternative. It's made from non-GMO soybeans and purified water. Unlike traditional soy sauce, Bragg's is not fermented so it is processed without alcohol or wheat. It's considered a "healthier alternative" to Chinese soy sauce because it is alcohol and gluten-free and contains 16 essential and non-essential amino acids . However, it is not a low sodium item. According to the Mother Nature Network:
Bragg's Liquid aminos has no added salt (like soy sauce), but it contains 320 grams of sodium per teaspoon. The sodium is naturally occurring from the soybeans.
In a nutshell:
Bragg's contains 16 amino acids 
It's vegan, alcohol and gluten free
Made with NON-GMO SOYBEANS
It's free of preservatives
Has no added salt (soybeans have naturally occurring sodium and is not a low sodium condiment)
I'm hooked on its tangy, "umami" flavor
Bragg's takes a little getting used to at first, but now I can't get enough of it!! Bragg's Liquid Aminos adds a snappy punch to all of my dressings, veges, dips, and sauces and I especially love how it pairs with Tahini.
For Bragg's Liquid Aminos recipe ideas see:
Egg-less Cauliflower Fried Rice, Kale n' Quinoa Salad, or Napa Cabbage Salad with Sweet Tamari Vinaigrette.