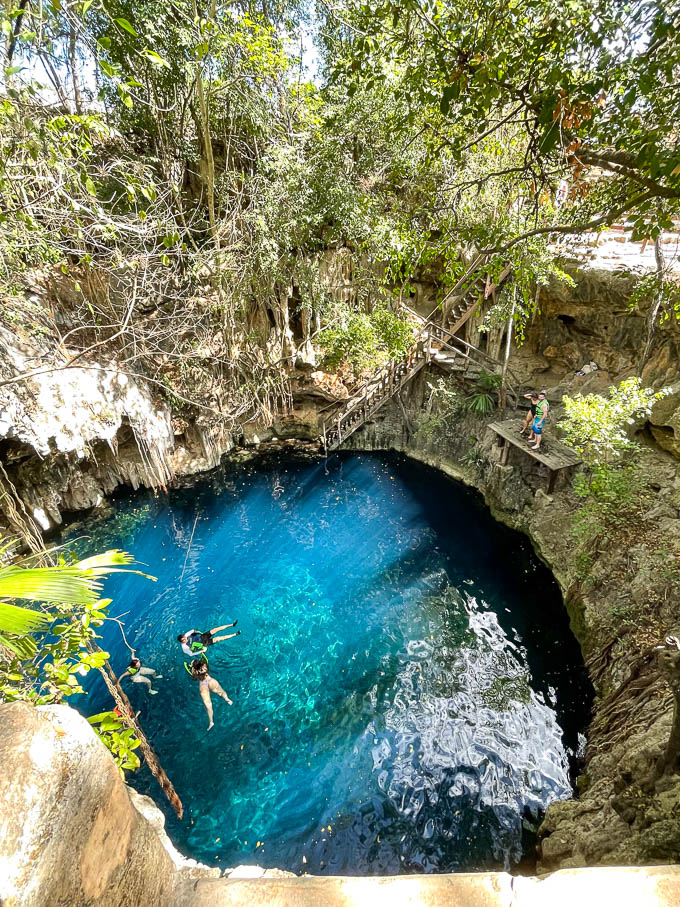 "Cenotes are magical!" said Rachel, another yogi who I'd been practicing next to for years. She was telling me about her recent trip to Tulum where she swam in several wild cenotes in Mexico's jungle. The sinkholes filled with limestone walls and aqua water sounded mystical and alluring. I was instantly enchanted. Years later, that conversational seed sprouted and a trip to Mérida, Yucatan's capital city, was born.
Yucatan's Cenotes 
You can find cenotes all over the world but the Yucatán Peninsula is unique due to its sheer number of cenotes  – an  estimated 7,000!! At least 900 of them are a part of the 'Ring of Cenotes' located near Yucatan's capital city of Mérida. This makes Mérida as special place since you won't find this quantity of cenotes anywhere else in the world.
Cenotes were sacred to the Mayan people. Not only were they a main source of water, but they were also considered to be the entrance to the underworld – a place where the Mayan gods would visit. This gives each cenote a mystical, magical energy.
Mérida, Mexico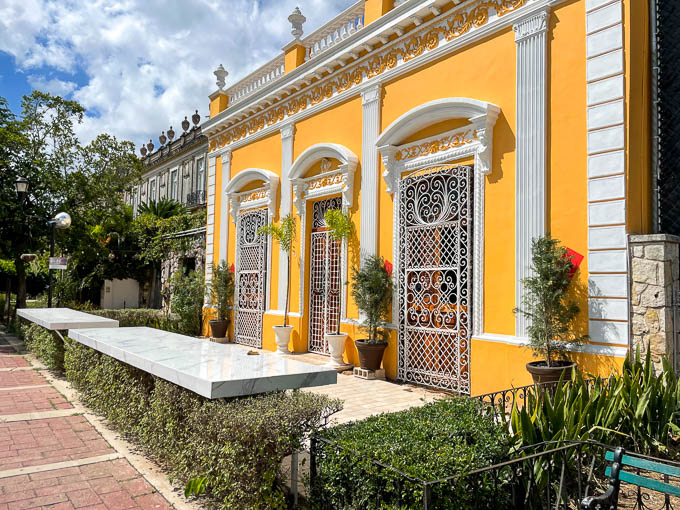 Our flights to Mérida were long, and I arrived hungry (aka- irritable). There was a vegan friendly restaurant nearby so we dropped off our bags at the hotel (after a painfully slow check-in), and walked a few blocks over.
El Apapacho, is an artsy restaurant/feminist bookshop with homestyle Mexican food in a casual setting. We found a table in the courtyard and ordered beer and guacamole – our standard welcome to Mexico starter!" A giant bowl of guacamole arrived  which probably served six, but I finished it anyway – no problema! Needless to say, I was pretty full when my main course arrived soI ate what I could and rolled out of there completely stuffed.

Vegan in Mérida
Food is a critical part of traveling the highlight of many trips. But, I didn't care for the food in Mérida despite it's great reputation. There were not many vegan options that appealed to me and the food is prepared with a lot of oil which makes it heavy.  There are some "plant based" restaurants but most of them served veganized meats like hot dogs or plant based hamburgers and salads and lighter fare, was hard to come by.
Luckily, I found Pita, a delicious Mediterranean restaurant that served fresh hummus and the softest, pillowy pita.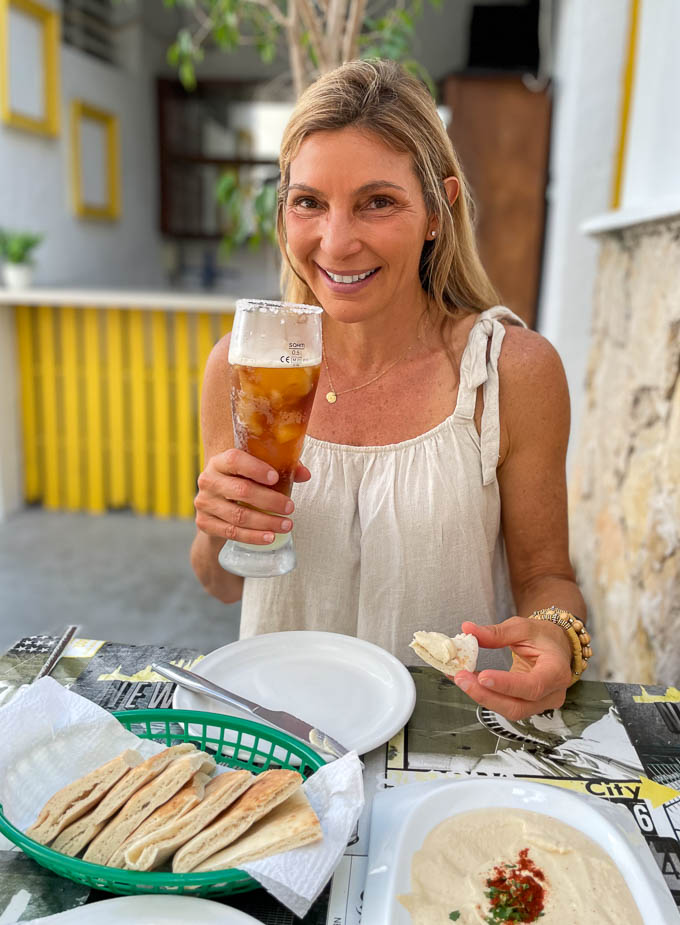 Yucatán Cuisine
The Mayan influence on Yucatán foods is part of what makes this regional cuisine a destination for foodies and so different from the rest of Mexico. Mérida's population remains 60% Maya so many of the dishes are unique to this area.
They use a lot of pumpkin seeds, make their crepe-like Marquesitas, serve Kibbeh – a middle eastern influenced dish of bulgur balls stuffed with spiced minced meat, and they eat lots of  pork, turkey and chicken. One of the most popular dishes, Cochinita Pibil, is pork marinated in achiote and sour orange, wrapped in a banana leaf and slow cooked in an underground pit.  For more on Merida's unique cuisine, read this article here.
Ruins, a Cenote and Hacienda!
During the trip planning phase, I wanted a private tour so I found John the driver via Trip advisor. After reading his rave reviews, I contacted him through Whats app and scheduled a day with him. We communicated easily and I trusted his help for our itinerary.
That morning, I had him meet us at cafe Márago so I could start the day with a soy milk hot chocolate (the Mayans invented chocolate-what can I say?). John was prompt, polite and funny. I liked him right away.
Our first stop was Mayapán, the last standing city before the arrival of the Spanish. We scaled the narrow, steps of the tallest pyramid where you could see for miles. Then I wondered how to get down and wasn't the only person who slowly descended step by step on their bum.
Uxmal
Next we visited Uxmal, a Unesco world heritage site which is considered to be one of the most important archeological ruins of the Mayan culture. According to the Smithsonian, "Uxmal was a seat of power in the Puuc region…"  Ornate carvings, friezes and sculptures embedded in the structures show how the Mayans adapted to threats from enemies and the natural environment."
Both sites were impressive and had many large, stealth iguanas hanging around.
 The MOST Magical Cenote: Yaal Utzi 
After the cultural sites, John stopped the car in the middle of nowhere! I got out and followed him a few feet until I was peering into a fairytale cenote. Beautiful limestone walls sunk into sparkling, sapphire water.  I couldn't wait to go in and changed in a rustic room that I was grateful to have. I carefully walked down the rickety wooden steps while my husband took the more adventurous jumping route! We floated around the warmish water by ourselves and found it relaxing and blissful.
Cenote Yaal Utzi is a very special cenote.
Lunch and Grand Hacienda
By this time we were all ready to eat so we stopped for lunch at a local restaurant. The menu was mostly meat (no surprise), so I ordered guacamole, handmade tortillas and beer (my usual). Plus, the waiter bought me a side of sliced cucumber which really hit the spot. There was an incredible tree in the parking lot that shed bright pink tassels. I've never seen a tree like this before.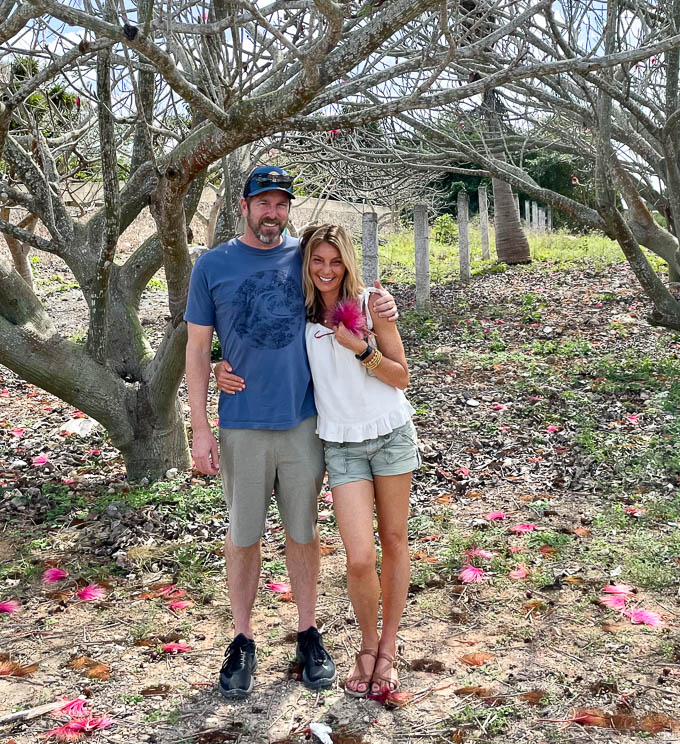 Hacienda Yaxcopoil
Finally, we stopped at Hacienda Yaxcopoil. Haciendas are grand estates that were once used as cattle ranches before the Spaniards turned them into Henequen (twine) plantations. Fibers from a type of agave plant grown here made a near perfect rope that was in high demand globally. This "green gold" was so lucrative, it made Mérida one of the richest cities in the world.
Today, many haciendas are abandoned but some have been purchased, restored and turned into luxury hotels. Hacienda Yaxcopoil is a museum but it's also used for weddings and events. You can feel it's grandness while but also it's sadness as the Mayans were often enslaved workers.
We reached the end of a perfect day! We climbed back in the car and absorbed all our experiences on our drive back to Mérida.
A Last Minute Cenote Tour  
I was so delighted by the cenote we visited that I wanted to see a few more. An air bnb advertisement, Magic Cenotes Experience caught my eye and had over a thousand positive reviews. At $50pp, I signed us up for the following day. The trip included a hacienda, 2 cenotes and an artisanal lunch prepared by a local Mayan woman (vegan and vegetarian options available).
Our group of 3 couples met early and headed out of town before the crowds. We stopped at a bare bones hacienda. A few walls and agricultural pools but it's mostly overrun by jungle. We took a few pictures and headed to our first cenote.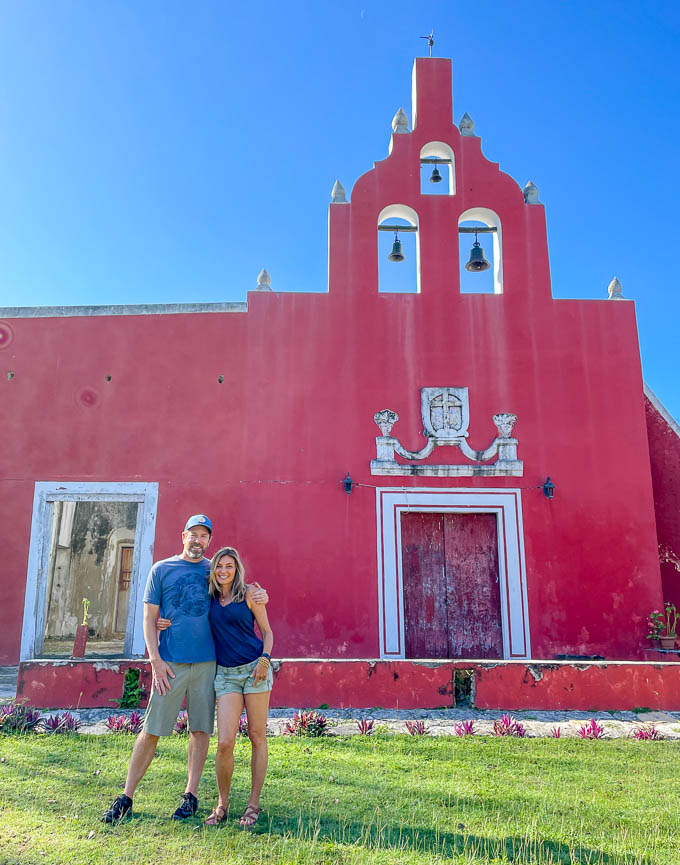 The Cave-Like Cenote
This cenote is "partially covered" and cave-like. It was quiet and calm. The water was brilliant turquoise where the light beamed in and I was eager to go in. The water here was chillier than the day before (it was also earlier) but the swimming around the cave was surreal. It felt spiritual and sacred but also a little eerie.
Tarzan's Pool
The next cenote was right out of a Tarzan movie! A large, perfectly round pool of emerald water surrounded by birds, vines, and trees. It even had a rope swing for those brave enough to jump. The water was surprisingly cool (cooler than the others) but the color was thrilling and the pool itself was mesmerizing. I stayed in as long as I could floating around this reservoir of bright green ground water.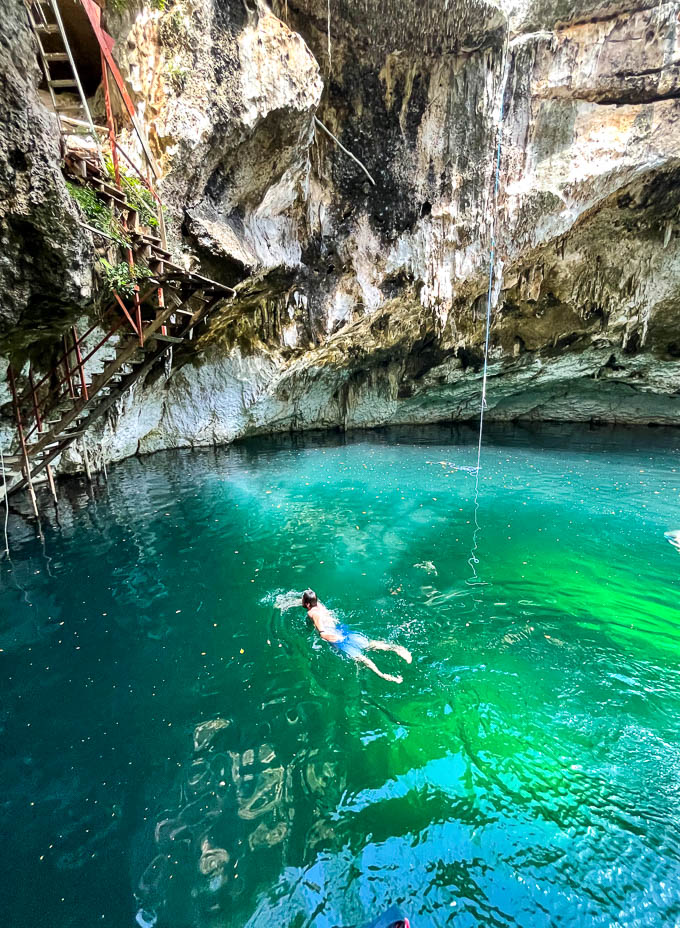 A Local Mayan Lunch
We changed for lunch and arrived at a local home in a teensy town. A Mayan woman had prepared regional specialties like black bean soup, rice, plantains, guacamole, homemade tortillas and tacos filled with meats or veges (for the vegan). We ate everything and enjoyed such an authentic experience.
Hotels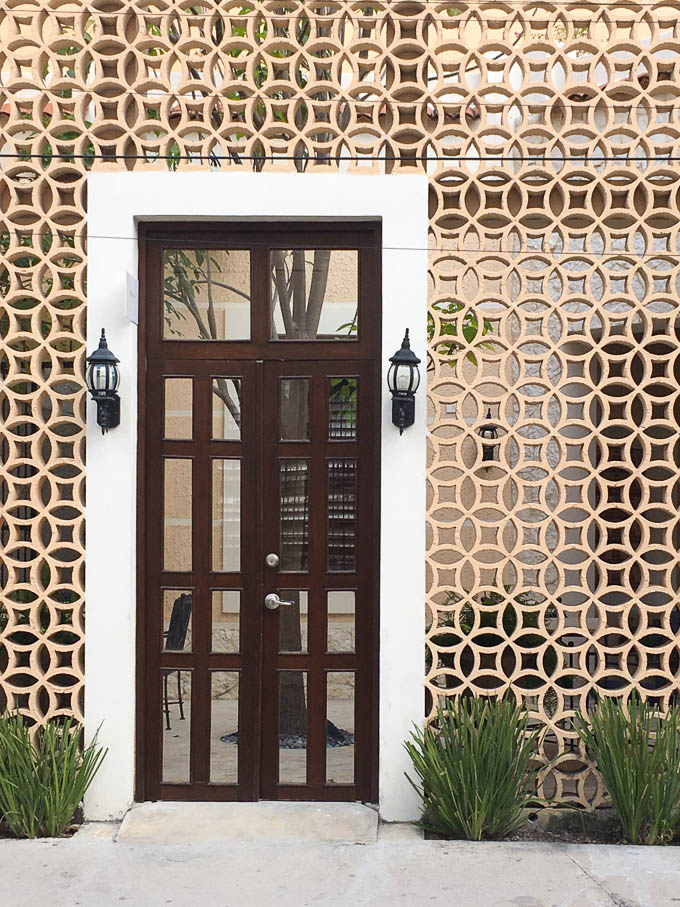 I find selecting a good hotel on the internet can be challenging. I browse many places before choosing one. Here, I chose the NH Collection for it's high ratings (4.7 on google from 600+ reviewers), good location and fair price. Unfortunately, the hotel was not what I expected.
Here is a list of the other hotels I would have rather stayed in.
Vegan Friendly Restaurants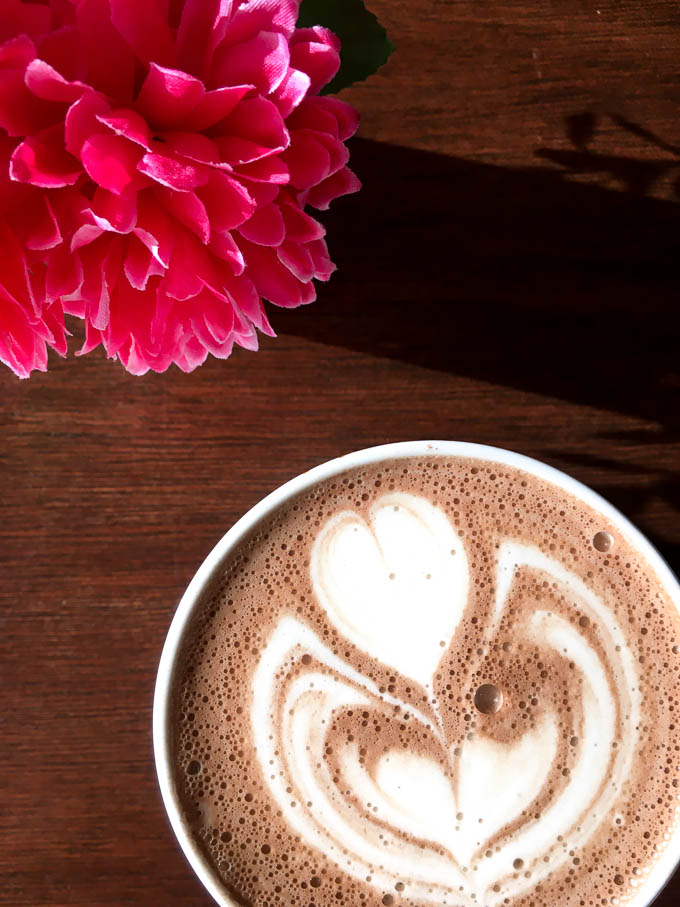 People rave about the food in Mérida but I found it underwhelming. If you are vegan, it can be tricky but we missed a few vegan places that looked great!
The options below are vegan friendly:
Summary
I didn't fall in love Mérida, like I had with Oaxaca city or San Miguel de Allende. However, I loved our day with John the Driver and was thrilled to see the cenotes and ruins. I don't usually get a private guide but sometimes it makes sense to see the things you are interested in. I loved John the Driver and felt he was reasonably priced.
(He can be reached via facebook or on what's app +52 999 190 1343).