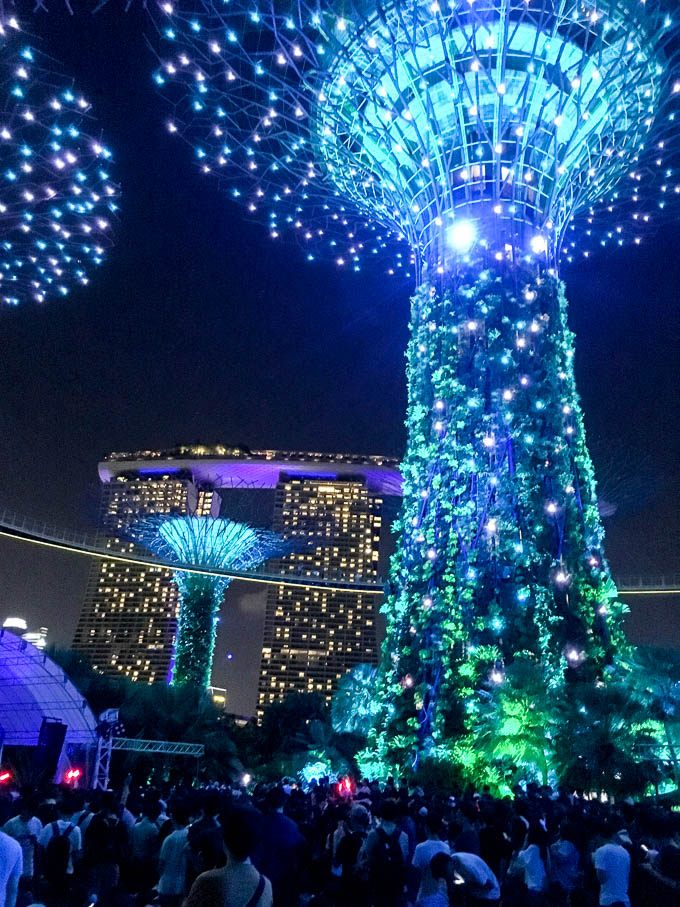 Singapore is called The Garden City because amidst the modern high rises, super malls, and abundant food stalls, thousands of trees have been strategically planted. In 1963, Prime Minister Lee Kuan Yew envisioned litter-free streets and lush greenery to highlight Singapore as a well-organized city that would attract tourists and foreign investment. His mission was accomplished.
The moment you land in Singapore, you notice how clean and green it is.  Even the airport has gardens. Trees line the roads softening the concrete edges of this vertical city and manicured gardens lure residents to enjoy the natural space.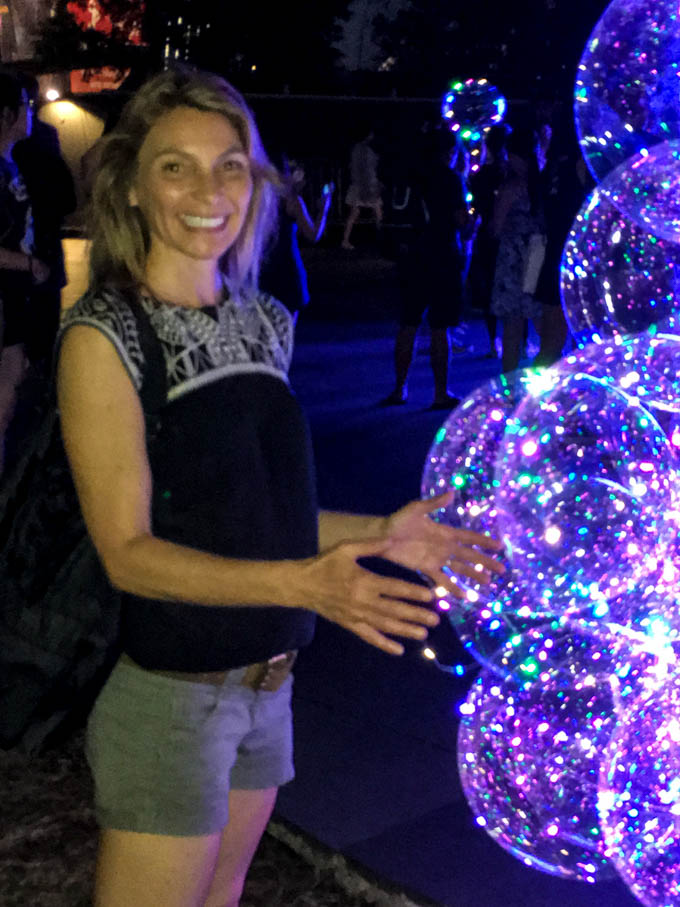 Gardens by The Bay
One of Singapore's most famous destinations is Gardens by the Bay. This million dollar project boasts the Super Tree Grove (vertical gardens), flower domes and cloud forest habitat. This park sits below the iconic Marina Bay Sands hotel (the one that looks like a ship on top) and comes alive at night with festive light shows and free concerts.
We arrived just in time to see the brilliant light show and a Japanese pop concert. One of the best things about Singapore is how safe it is. The residents are polite and well-mannered.
The Botanic Gardens

The Botanical gardens are exquisite. Locals take advantage of this park to run, walk, practice Tai Chi, let their pooches sniff, and meet friends for a meal at one of the many restaurants. "Singaporeans love to eat".
The Halia is a popular airy restaurant with a stylish deck. We stopped in for a fresh juice and light salad (most dishes contain dairy and egg).
Another morning, my friend and I rose early and power walked through the park. The temperature was perfect and the trails were bustling with activity before the humidity swelled. We stopped for breakfast at Casa Verde where I had a refreshing watermelon/celery juice and tried tofu (with a side of sugar water) for the first time. It was deliciously memorable.

The Southern Ridges Hike
I love to walk in cities and Singapore was no exception despite the humidity. However, there are two hiking trails that veer off the urban streets.
The MacRitchie Resevoir trail which we didn't have time for but I've heard is lovely.
The Southern Ridges Trail, a 6 mile walk that hovers above the city through a connection of exciting bridges. Look for giant leaves and mischievous monkeys. Go early and bring water!!!
Chinatown
Chinatown is a fun area of Singapore. Get lost inside the stalls of the street markets and find all kinds of trinkets. It's a stark contrast to Orchard street which has every store imaginable from Tiffany's to Crate and Barrel. Chinatown is a food extravaganza too. I hydrated with the BEST coconut water I've ever tasted.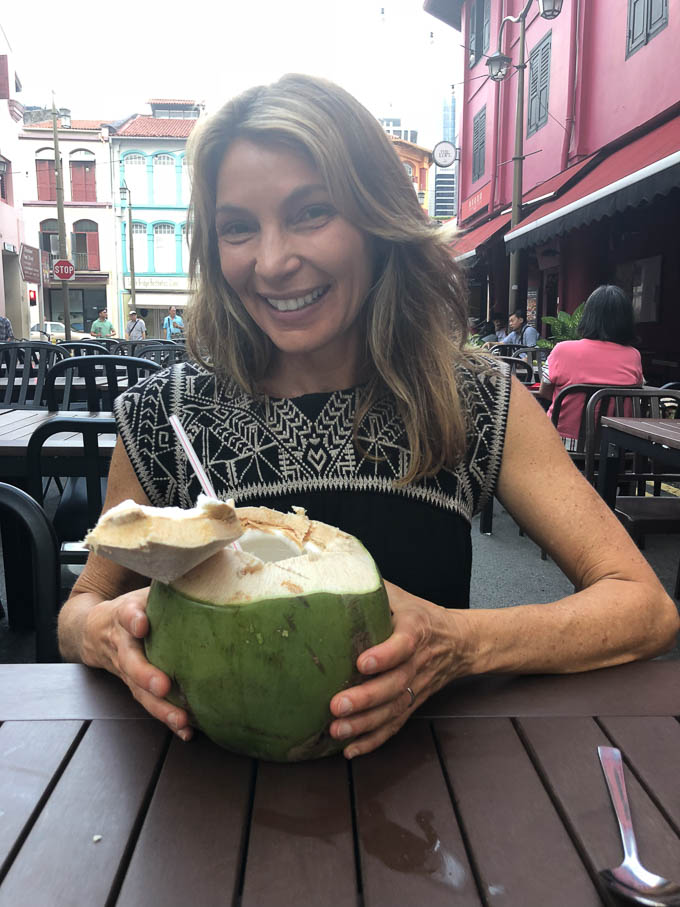 Singapore Vegan Dining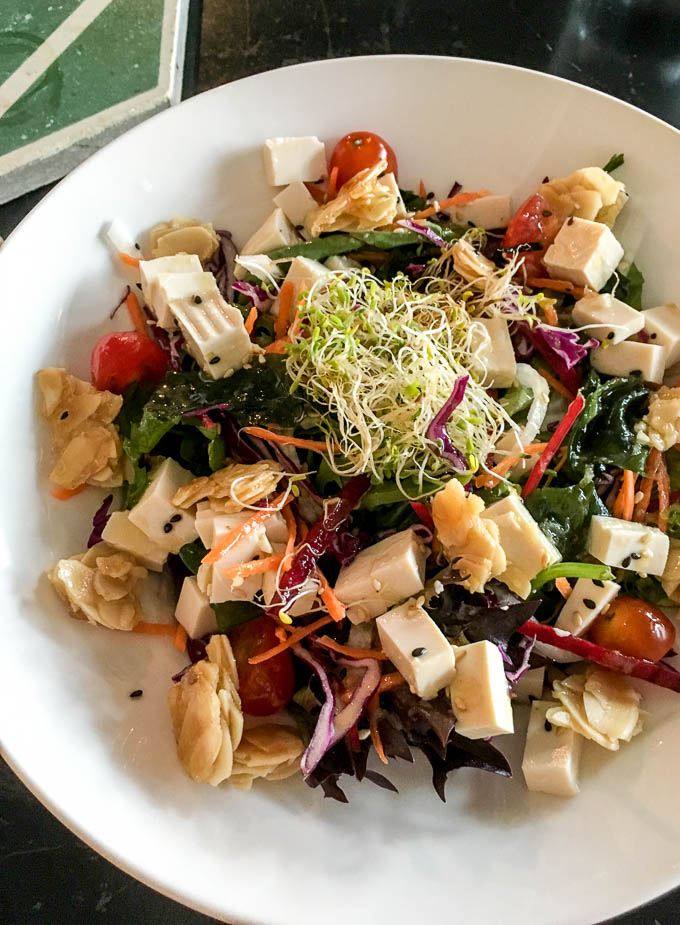 Eating vegan in Singapore was more difficult than I had anticipated. Many cultures consider seafood vegetarian or "non-meat." So, "When you order food in a Chinese restaurant, you can't just assume that the General Tso's Tofu or Vegetable Lo Mein is vegan. Many restaurants use chicken broth or fish broth in most of their sauces and soups, even the tofu and veggie dishes and vegetable soups". (read more on ordering vegan Chinese food here).
For example, following a delightful tour at The National Gallery, we dined at the National Kitchen by Violet Oon. This upscale restaurant has "V" dishes (for vegetarian) clearly marked on the menu. However, when I inquired about the peanut sauce on the "V" salad I wanted, the waiter confirmed it had shrimp paste. They did however, make the BEST Singapore Sling.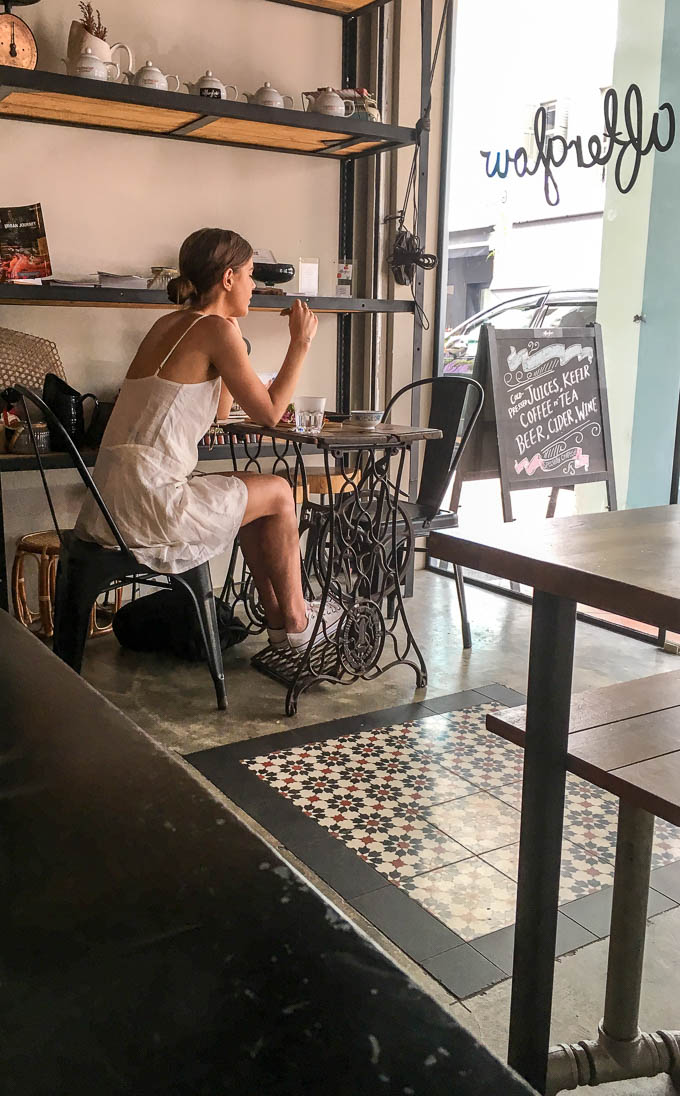 The next day I Ubered to Afterglow by Anglow, a petite raw vegan restaurant near Chinatown. I ordered a tofu salad and vegetable noodle roll. The waitress looked at me funny for ordering so much food, but I was famished. Both dishes were healthy and "good" but lacked a bit in flavor. What I really craved was their raw chocolate salted caramel fudge dessert, but was too full after the giant noodle roll (next time).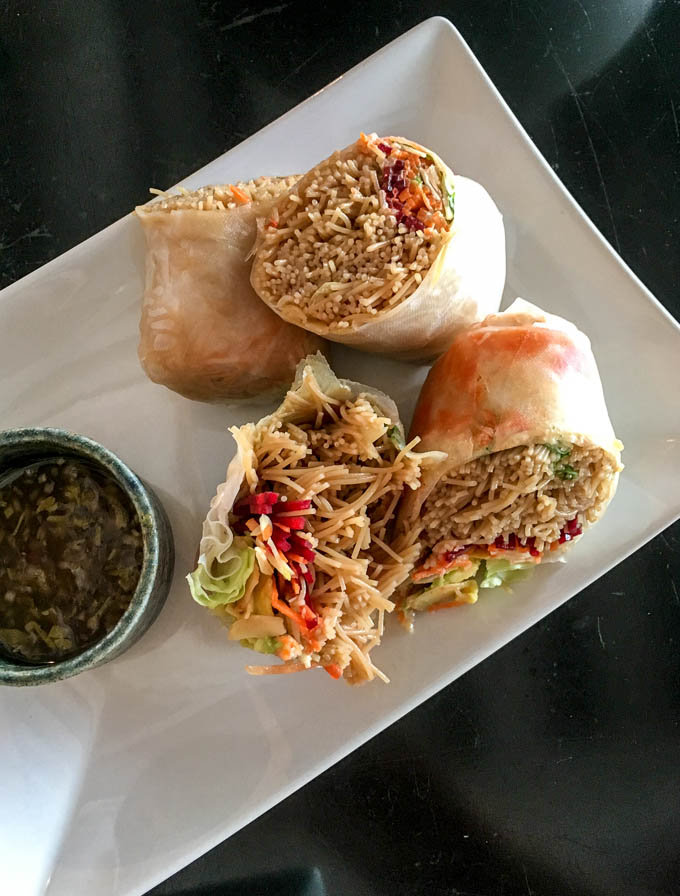 Afterglow was calm and quiet compared to the hustling and table jockeying at Kitchen by Food Rebel. This funky place could have been in the heart of Berkeley with it's Buddha bowls, vegan brownies, and beetroot lattes. Their motto is, "Don't Panic it's Organic"………
I enjoyed the food and lively atmosphere. The red velvet latte was photo worthy and the brownie was sinfully rich.
The most interesting vegan meal I ate was at The Whole Earth Vegan Restaurant. I anticipated vegan Thai food and was excited for a green mango salad. However, I learned it's Peranakan-Thai (a blend of two cultures) and unlike any Thai food (or any food) I've ever tasted. We shared the monkey mushrooms covered in oats and the enchanted forest with lily bulbs and a collagen vegetable. The food is tasty and 100% plant based – but not at all what I expected.
Dumplings are the food to eat in Singapore but vegan dumplings are hard to come by. They serve them at Genesis Vegan Restaurant but I didn't get a chance to go there.
Singapore  Vegan Food Resources
Duxton Hill: A Quaint Area
Several streets away from Afterglow, I discovered Duxton hill. Two blocks of low buildings, quaint restaurants, cafes, and bars that offer a welcome break from tall buildings. I browsed Lululemon, had a juice at Juice Junkie, and got my nails painted at Lash Blossom (where I would have had my lashes extended had I more time). Mostly, I was excited to see the colors and decor.
Yoga in Singapore
I attended an Ashtanga and Vinyasa flow class at PURE yoga Ngee Ann City. The studio is on the 18th floor of a fancy building. It has a large locker room with plenty of showers and they supply mats and towels at no extra charge (which was good since a drop in class costs around $38 usd). The practice rooms are large and light and teachers are proficient. Pure yoga has several locations.
The only disappointments were that the best classes book up instantly making it nearly impossible to get a space and one of their best teachers, recently left the studio.
Where to Stay
There are an abundance of hotels in Singapore so you have to decide where you want to be located. My friend lives across from The Regent Hotel near Orchard Road. So, I stayed there. It was a lovely hotel with nice facilities and an accommodating staff. My room had floor to ceiling windows, a great bathroom and shower plus comfortable beds. The breakfast (included) is high quality and has everything imaginable.
Highlights and Notes
Singapore dollars are easy to obtain from any ATM. Locals use the app GRAB instead of Uber or get a taxi. Free wi-fi is available at Changi airport but you must get a code from the service desk.
Highlights
The light show at Gardens by the Bay
The National Gallery tour (and/or go for a cocktail at their roof bar)
Duxton Hill for a glass of wine or spin class at Cru Cycle (next time)