I've always been interested in Moroccan decor! The bold use of color,  exotic tiles, and bohemian textiles. On a recent trip, I saw all of this inspiration in person. I studied how they used color and natural materials to make a space feel cozy and inviting. Every courtyard and Riad had it's own unique style, and I was excited to SEE it ALL!!!
Earthy Neutrals
As a Virgo (Earth sign), I gravitate towards Earth tones and neutrals! These calming colors reflect my unobtrusive and modest personality which instantly relaxes me. Off whites, cremes, beige, tans, terracotta, browns and blacks. They also incorporate natural materials such as basket lampshades, terracotta pots with pomegranate and olive trees, black and white cotton or wool rugs,  and gorgeous pillows for a splash of color.
Not only do I love these colors for interior spaces, but they monopolize my closet too. I always feel my best wearing neutrals.
Warm Desert Tones
I also LOVE the warm, rich, fiery colors of the desert. Especially for a "pop" of color. I love Kilim rugs and these passionate pillows. Don't they look cozy?? The Moroccan's mix and match a range of colors, patterns and textures without appearing chaotic or distracting. It looked as natural as the brick buildings and basket weave lights.
 Colorful Tiles
Normally, feel overwhelmed by "busy" patterns and bright colors but in Morocco, it worked!! The soft sunlight somehow makes the patterns appear delicate and  romantic and when it's done well, it looks STUNNING!!! (I fell in love with this jade color tiled floor). Moroccan's make bold patterns and color exciting – but also well balanced.
Where to See Great Design in Marrakech 
One of the highlights of my trip to Morocco, was seeing the decor. I enjoyed everything from the traditional tiles in the the Palaces and schools to the more modern look of the Riads and cafes. Most of the decor is inside courtyards and restaurants so peek in doorways and explore. Here are places I enjoyed for design inspiration:
Moroccan decor is all about texture and a bit a drama and it's popular right now with the painted tiles, poufs, and patterns. For home ideas, see here. I bought a rug, a few pillows and a bowl that I absolutely love. If you go, I suggest packing light to leave room for a few special treasures.
Shopping
To Shop from here- go to Etsy (Juna Paris, Socco So, Le Petit Morocco)
For other articles on Morocco – like how to safely navigate the Medina in Marrakech – click here.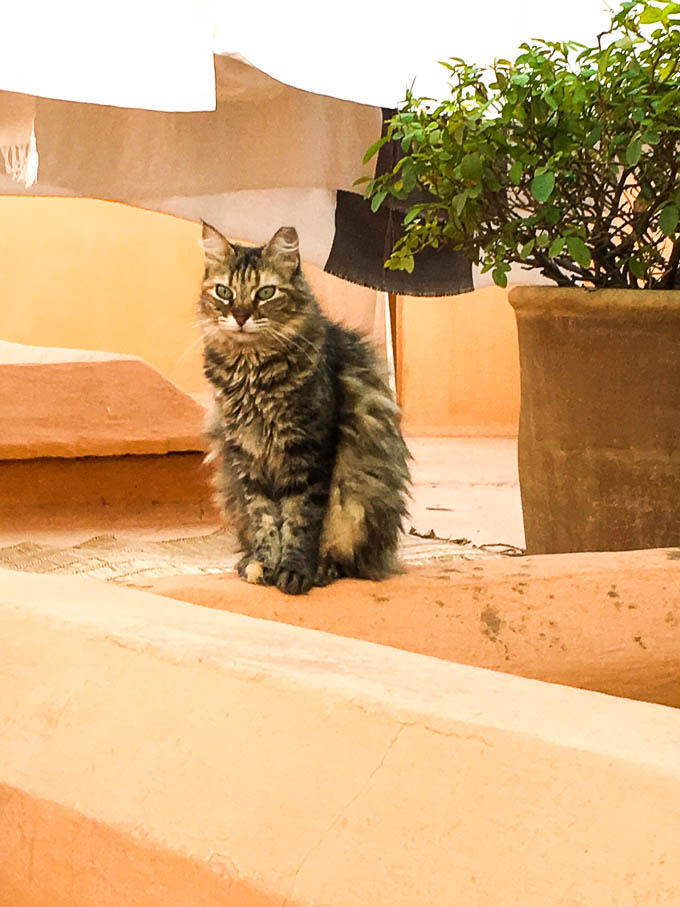 Even the cats match!!