Mammoth in California's Sierra Mountains is best known as ski resort for California winters but it also has an abundance of summer activities like hiking, fishing, camping, mountain biking and horse back riding.  Until last summer, we hadn't been to Mammoth in over ten years, but this year we've visited three times already. The beauty of the mountains is awe-inspiring but we keep discovering great restaurants, excellent beer and delicious coffee (with plant milk options).  Despite having car trouble (every time we go – ugghh), we've developed a fondness for Mammoth.
Two Stunning Hikes in Mammoth
On this trip, we found 2 extraordinary hikes, Duck Lake Pass and Little Lakes Valley. The altitude gets your heart pumping but the breathtaking scenery distracts you from all the huffing and puffing. I love a good workout so these hikes were perfect.
The trails are well marked and popular so parking fills up. I suggest arriving early. We got there at 7am each day and had no problems. We also had the trails to ourselves.
1. Duck Lake Pass (moderate – but doable)
"Awesome hike with amazing views. A little bit of everything – emerald lakes, streams, forest and granite peaks". Scott McGee
Duck Lake Pass takes around 5 hours to complete (~10 miles). There is more elevation gain then I was expecting (about 2-3000 ft depending on how far you go) but the scenery makes this hike worth every step.
Start at the end of Coldwater Campground and weave through pine forest at a steady incline. You will pass several lakes before reaching the rocky pass. The pass is a set of switchbacks that look worse then they are. Keep going!! At the summit you can go to Duck Lake or Pika lake. We stayed right along Duck Lake until we gradually descended to the shore. Such a gorgeous spot to enjoy a well-earned snack.
2. Little Lakes Valley to Gem Lakes  (easy/moderate due to altitude)
"This trail was the reason I became a geologist"– Jay Naimson
I didn't think it could get better than Duck Lake Pass, but this hike was stiff competition!!!  It's the  Disneyland of hikes. With only 1,200 ft. of elevation gain and ~ 8 miles, this option is family friendly and very manageable. I hesitated to do this trail because it's 40 minutes from Mammoth, but I'm so glad we did it.
We arrived at 6:45 (it's lovely getting there so early) and hardly saw anyone. A series of 7 lakes nestled below the peaks make this a dramatic and WOW hike (think Switzerland).  Gem lake is the "grand finale", a blue-green oasis with easy for a swim and smooth rocks to relax on, meditate, or sit down for a peaceful snack.
Lodging
There are plenty of lodging options but we've always stayed at the Westin Monache Resort in town, or Tamarack Lodge for cross country skiing.
This Marriott hotel is conveniently located down town (across the street from the village).  The spacious rooms have gas fireplaces, comfortable beds, and mini kitchens. There is a pool, Jacuzzi and gym but these are closed or have limited access for Covid. Overall, I like this hotel (except for the $50 resort fee).
Tamarack lodge has been around forever and has maintained a vintage feel even though the cabins have been redone. The cabins are cute and cozy with pot belly stoves and small kitchens. An onsite ski-hut makes it easy to rent ski's and head directly out to the trails. Be sure to have  an après-ski mulled wine at the main lodge and thaw out by the fire.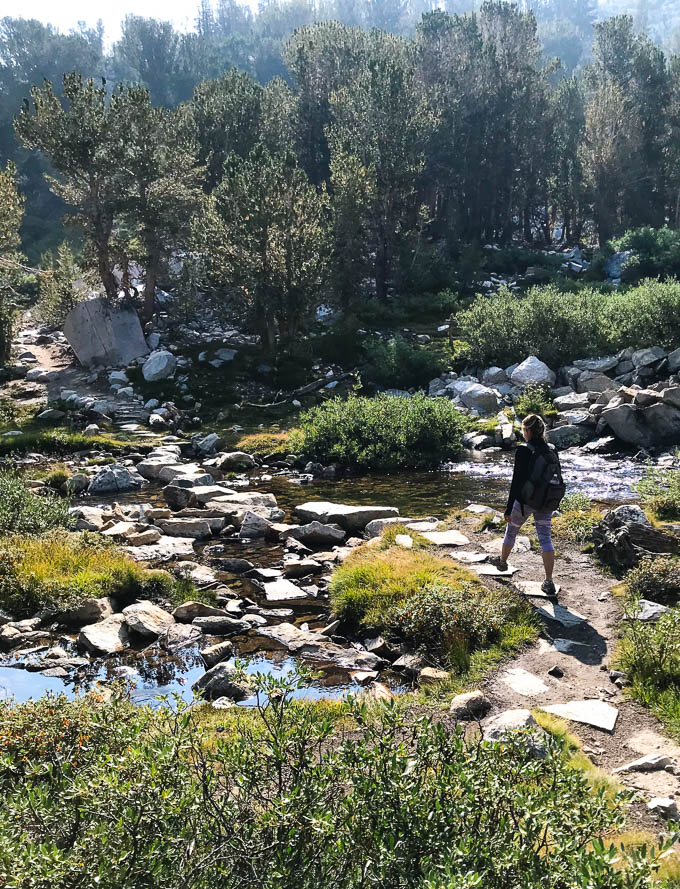 Vegan Options in Mammoth     
For a ski town, Mammoth offers a fair amount of vegan food but I still like to bring hummus and carrots for the car ride up and as an afternoon snack.
For More Hiking Inspiration Check Out: