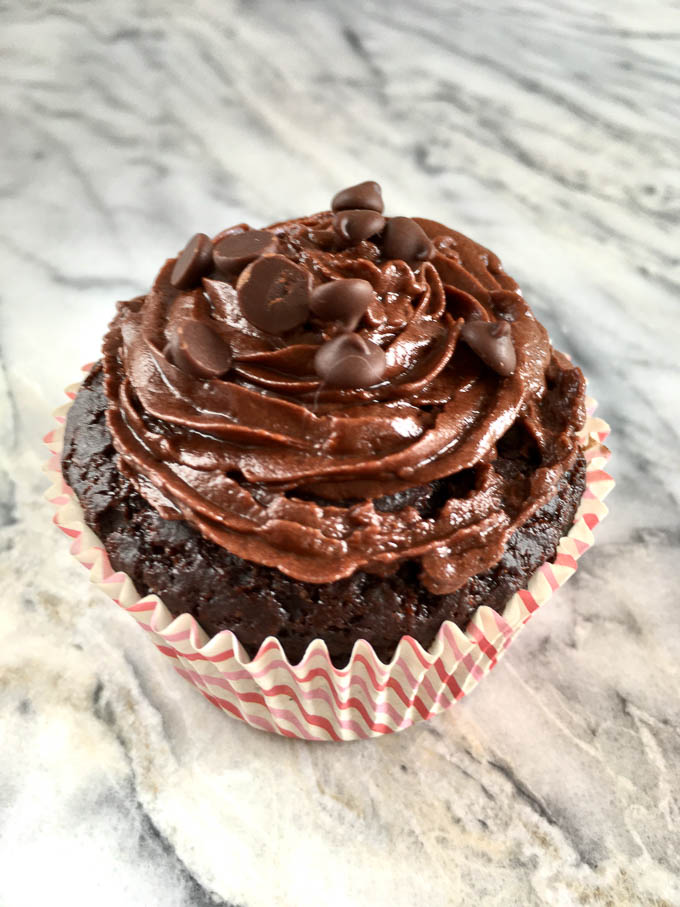 For the entire week of my husband's birthday, he went "vegan". I cooked a lot of delicious meals for him but went BIG for the grand finale! I opted to surprise him with these amazing vegan gluten-free chocolate cupcakes.  They were the perfect birthday treat. Not only did they taste heavenly, but they were beautiful to boot. Now, I usually bake "healthier treats" so even though these are gluten free they are FULL SUGAR… and I was pushed OUTSIDE MY COMFORT ZONE!! I quickly rationalized that it's ok to splurge on birthdays which allowed me to fully enjoy each rich, chocolaty bite!!!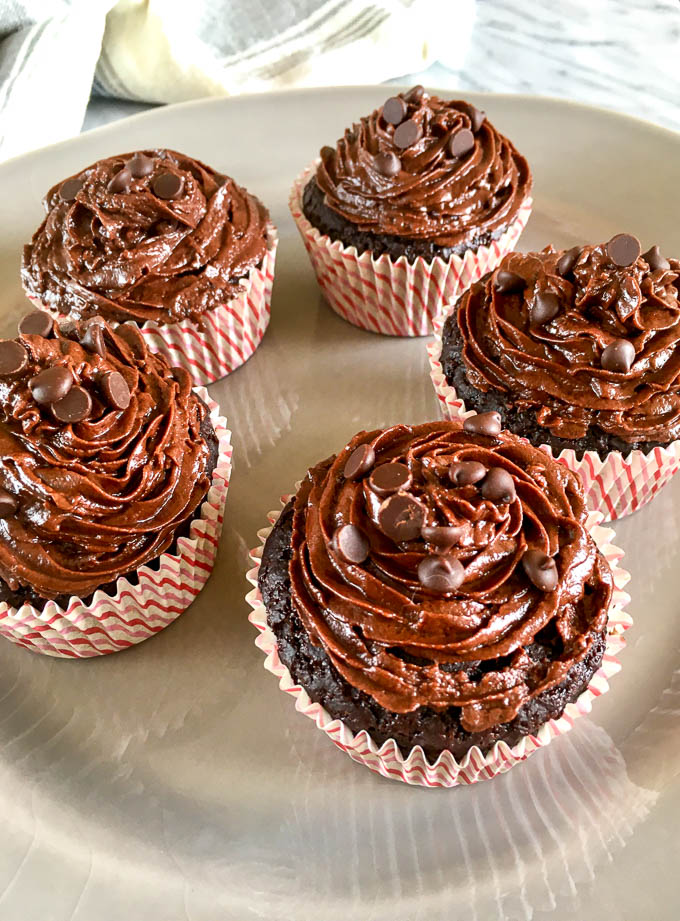 We had an intimate gathering with our closest friends and a whole cake would have been too large. Instead, I opted for cupcakes and cut the recipe in half. It was perfect and yielded 5 perfect treats. Cupcakes also have a playful quality. They bring out the inner kid in you. And who doesn't need that from time to time?
Vegan Buttercream Frosting 
Is anyone else intimidated by making frosting from scratch?  If so, I get you!!! This was new territory for me and I floundered before diving in.  To start with, I borrowed a hand mixer and frosting/piping bag. Then, I read the amount of sugar and thought it was a misprint. (I compared with similar recipes to  dismiss my doubts).
Next, I tried to reduce the amount of sugar (call me stubborn) but the consistency was  off so I submitted and used the full amount. And OMG this frosting is amazing!!! I think it's a dessert all by itself. Be warned – you will want to lick the bowl (just leave some for the cupcakes!)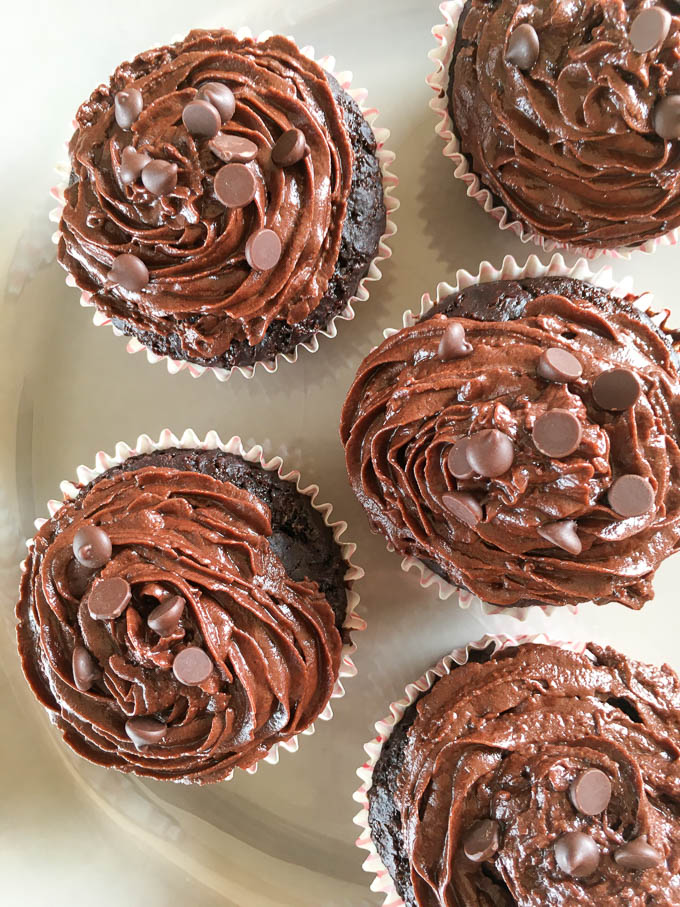 Frosting the Cupcakes
As a newbie froster, I watched videos on Youtube and soon felt confident. When I discovered the piping bag was missing a critical piece, I improvised with a plastic bag, piping tip and rubber band. The result was great!! I sprinkled each adorable cupcake with vegan mini chocolate chips for artistic expression.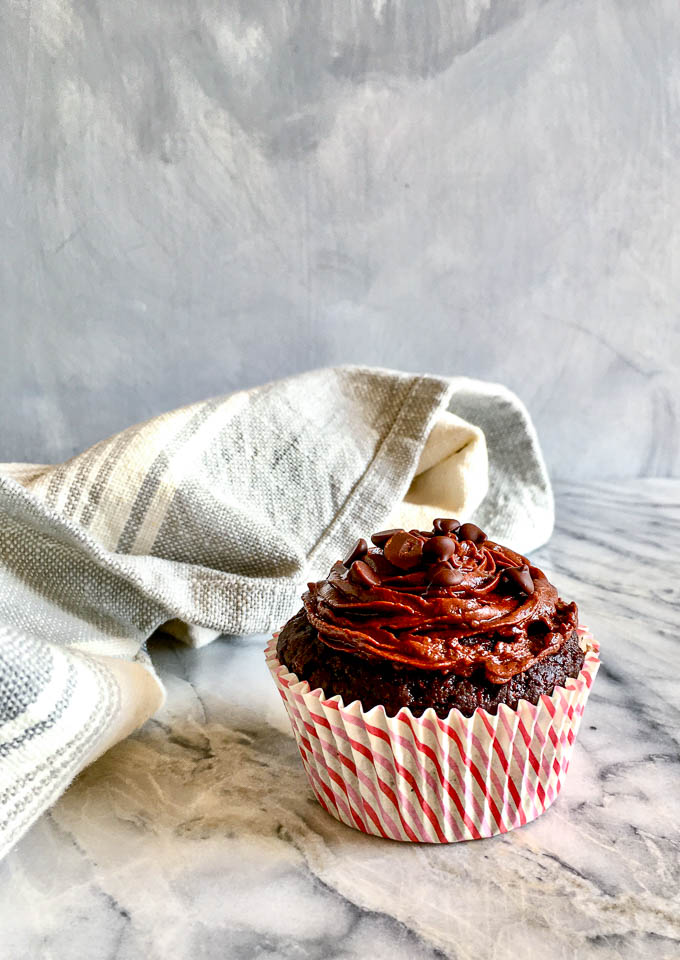 No one Knew They Were Vegan and Gluten-Free
To make these gluten-free, I used Bobs Red Mill 1:1 Gluten Free Baking Flour and they came out great. No one knew these were  vegan/gluten-free. They looked and tasted like "regular" chocolate cupcakes.   It's a beautiful thing when you have non-vegan guests.
I encourage anyone to try this stellar recipe by Nora Cooks. There is a reason she gets almost all 5 star reviews!!
Recipe: Amazing Vegan and Gluten-free Chocolate Cupcakes 
RECIPE: Amazing Vegan and Gluten-free Chocolate Cupcakes Recipe by Nora Cooks
If you want a dessert that appeals to anyone with specific diet criteria than this recipe is perfect. You won't compromise on taste or texture but end up with rich cupcakes that aren't overly sweet. The frosting is easy to make and chocolatey beyond words. I made the full amount of frosting but ended up with a ton leftover.
If feeling "artsy" try to frost the cupcakes with a piping bag/sleeve. Here are Nora's inspirational photos.
Half the Recipe yields 5/6 cupcakes 
Ingredients (for half the recipe/~ cupcakes)
Directions: 
Preheat oven to 350 degrees F.
Mix soymilk and apple cider vinegar and let it sit so it curdles (like buttermilk).
In a large bowl, mix dry ingredients.
Now, add wet ingredients (oil, applesauce, vanilla and soymilk mixture).
Stir well to combine.
Fill cupcake liners a generous 1/2 full.
Bake 15-22 minutes or until a toothpick comes out clean.
Make frosting here.
Allow cupcakes to cool completely before frosting.
Store leftover frosted cupcakes in a covered container.