During the Pandemic, I fell in love with San Pancho. A small, lively town North of Sayulita. We fly direct flight to Puerto Vallarta and take a taxi 45 minutes up the coast ($40) — it's that easy!  I love San Pancho's energy!! It  attracts creatives like me who want to do yoga, eat fresh food, walk on the beach, listen to live music and chillax under the warm Mexican sun. I wonder if there is an energy vortex here. During our recent visit, we planned to check out La Lancha surf break in Punta de Mita (a town 20 minutes south). Little did I know, I'd be taking a beginner surf lesson!!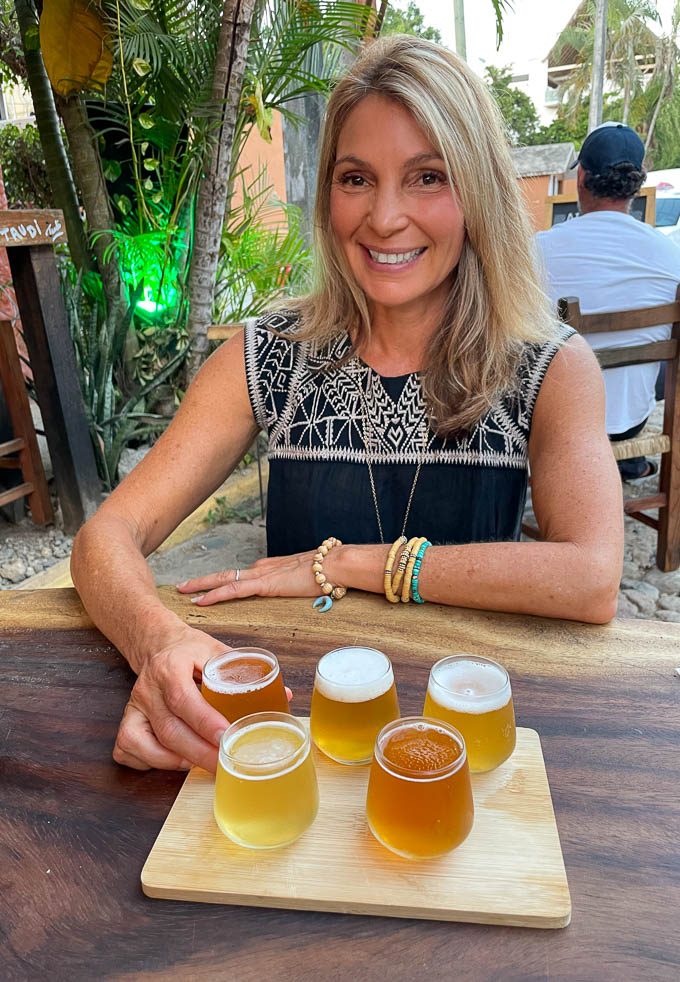 (Arigato Bake and Brew a new restaurant in San Pancho – they make their own beer and sourdough bread—right up my alley!!!)
The Surf Lesson Proposal 
La Lancha is a pretty beach with a good surf break located in Punta Mita, a town 20 minutes south of San Pancho.  I love checking out new areas and was happy to sit on the beach, read my book and look for whales on the horizon while my husband surfed. I'm not that into the ocean these days as I've grown fearful of the waves. So I was caught off guard when he said,
"The water is 80, the waves are small and it's a great day to learn .…… do you want to take a surf lesson?"  "The surf place gets great reviews and a shuttle is included." 
What?? I wasn't ready for this proposal! My anxiety rose instantly.
My mind started racing and squirming for a good reason to decline but honestly, I couldn't come up with one.
I said, "ok"…..  and before I knew it, I was scheduled to face my fears at 11:30 tomorrow!!!! Yikes!!!
(BTW- there are no pictures of me or the surf. I was too nervous to worry about anything but the challenge ahead).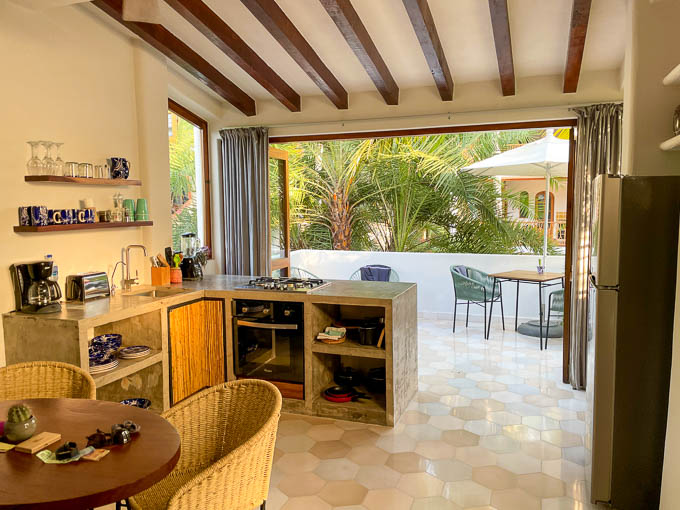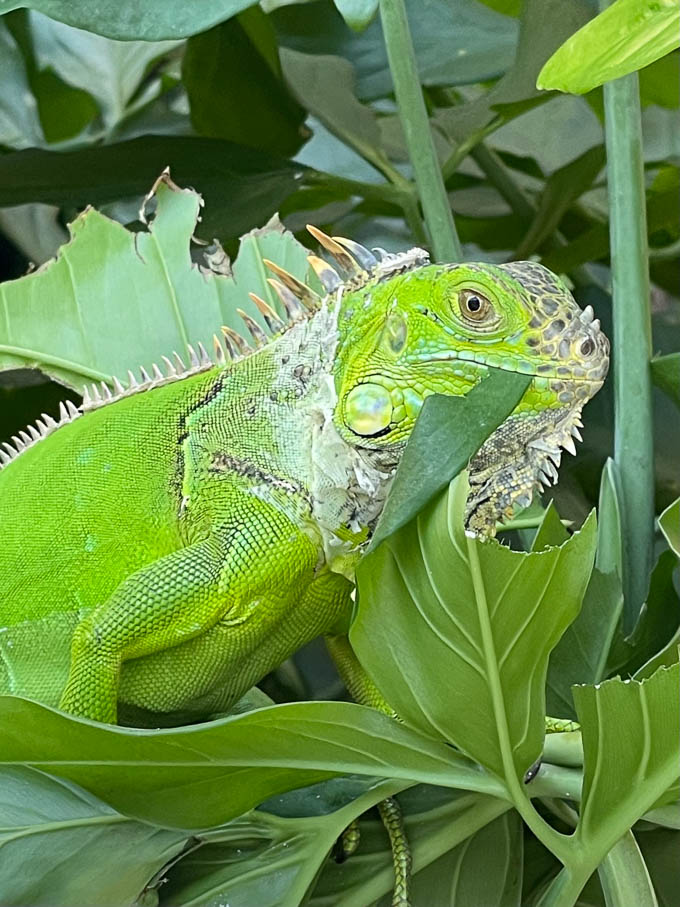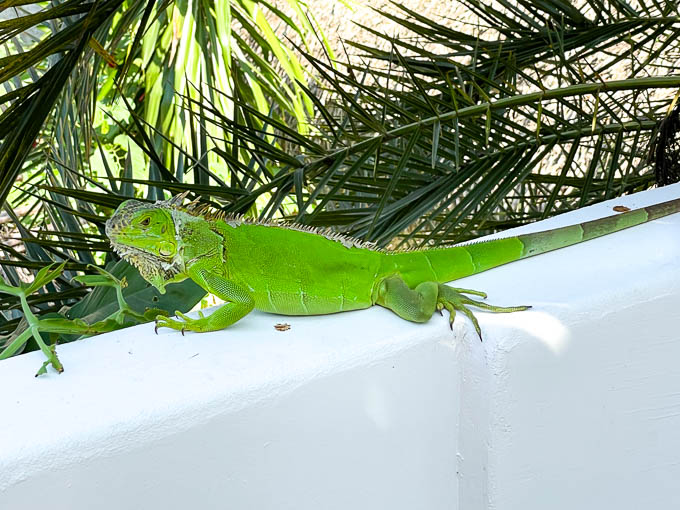 (Our suite at Palmar Tropical) and a visitor who joined us for happy hour!) 
Surfing La Lancha
WildMex is a surf company referred to us through a friend but they also get great ratings on Google. For $80, I'd get round trip shuttle service from San Pancho, surfboard rental, rash guard, and a 2-hour lesson (which happened to be private). Such a Deal!!!
I was introduced to Octavio, my surf instructor, when we arrived. He showed me the foam board (or shall I say cruise ship) I'd be riding and explained everything! I liked him from the git-go! He gave me a brief overview of what to expect (I like a lot of preparation) and we grabbed our boards and headed towards the jungle path that takes you to the beach.
As we walked through the jungle carrying our boards, I felt like a "real" surfer. However, I was also trying to ignore my escalating nervousness.
(La Lancha is a public beach but some hotels in the area have tried to limit access so only an unmarked jungle trail remains – I'm glad we didn't come on our own).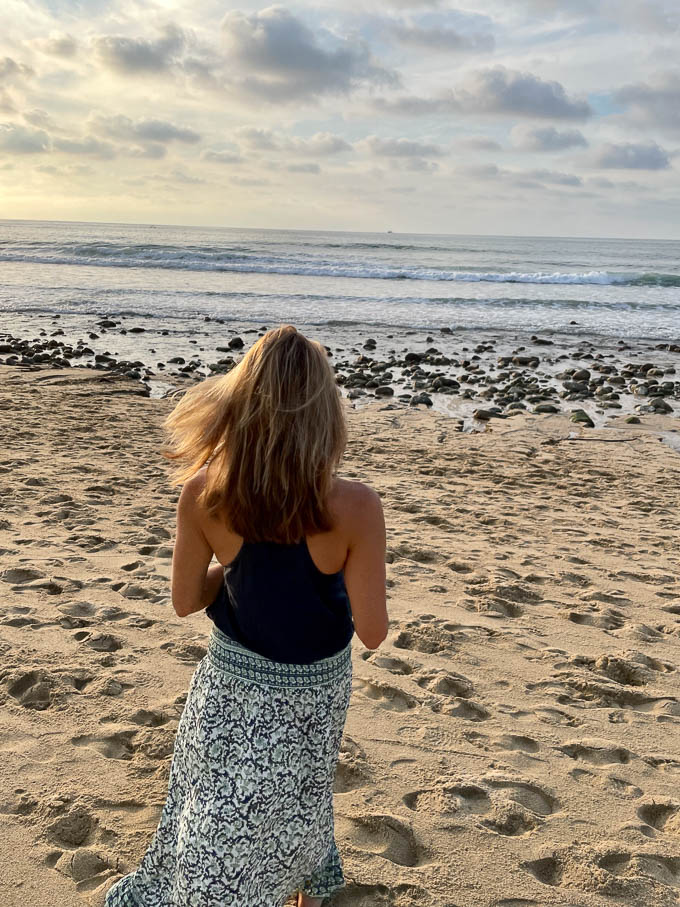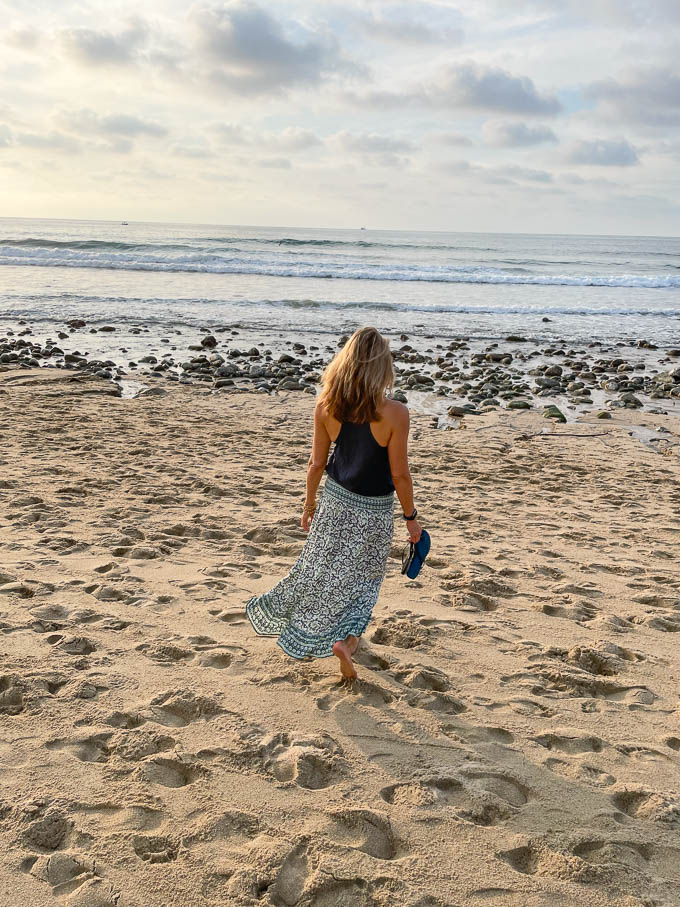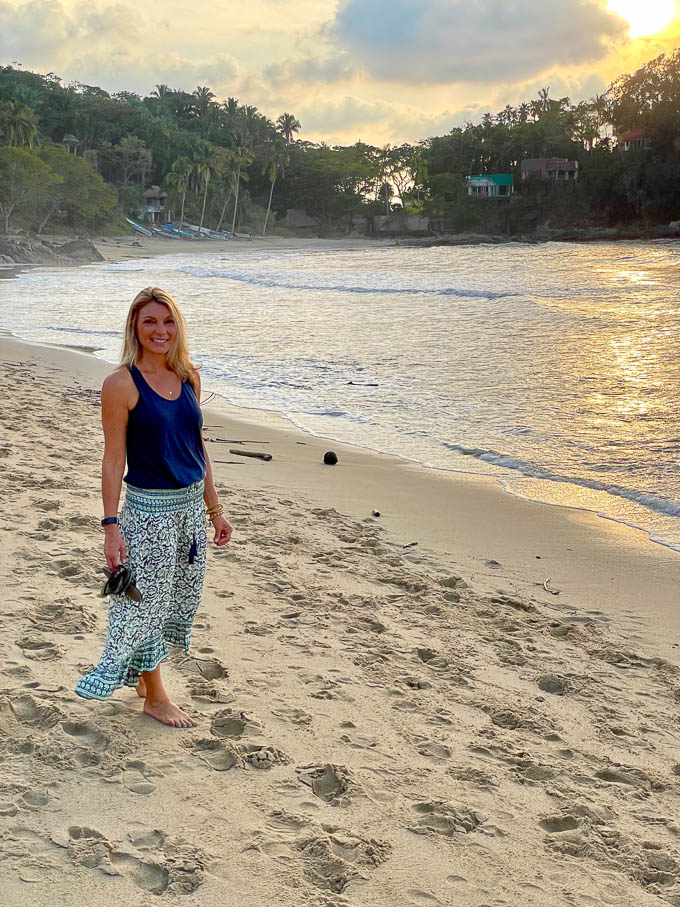 (Sunset on San Pancho beach, where everyone gathers to salute the setting sun!)
Surfing When You're Terrified
Octavio started me in the shallow white water. He instructed me how to lie on the board and "pop up" when the wave catches the fin. A giant board makes it easy because it's so stable.  I could have sipped a cup of coffee while getting up – that's how stable it was.
To my surprise, I stood up right away!!! (I call it beginners' luck!).
Next, we moved to a deeper, "more ridable wave".  I trusted Octavio and felt safe even though my anxiety was steadily increasing, especially in the deeper water.
There was a lot to focus on. Not only the looming waves (which look gigantic from a prone position), but the other surfers in the water were scary obstacles. What if I hit someone?? And my bikini wasn't cooperating. Each time I landed in the water, I had to adjust and reposition it – ughhh!!!
None of this worried Octavio! He was confident and gentle. He guided me well and I stood on many waves. Not gracefully, but I was up!! I even turned the board (barge) once!! My anxiety was with me the entire time and increased the longer I was out there. But I pushed myself to surf for nearly 2 hours and felt exhilarated (and relieved) when it was over.
Facing Fear: My Philosophy 
I am an anxious person in general and if I catered to my fears, my world would be very small. So my strategy is to do things despite my fear (in other words: be afraid but do it anyway!!). If I feel my fears are getting the better of me, I push myself outside my comfort zone- (see my skydiving post here).  I also believe in going slow, staying present, getting help, and withholding judgement!!
The upside of facing fears is the amazing feeling of accomplishment you have when it's done!!! I love that glow! And that confidence seeps into other areas of your life.
I'm no Kelly Slater but I emerged from the water elated and more confident than when I began.
Helpful Tips for A Beginner Surf Lesson
What did I learn from my beginner surf lesson?
Wear a one piece or shorty wetsuit – or at least a bikini that won't shift around.
Allow the fear to be there but do it anyway.
Go with a good instructor. Octavio was attentive, calm, present and right there with me!!
Be kind and compassionate with yourself. Learning a new skill is challenging. That's ok!!
Feel proud for trying something new. This is the reward so fully enjoy it.
Reward yourself afterwards — we shared a hummus plate (yay) and cold beer.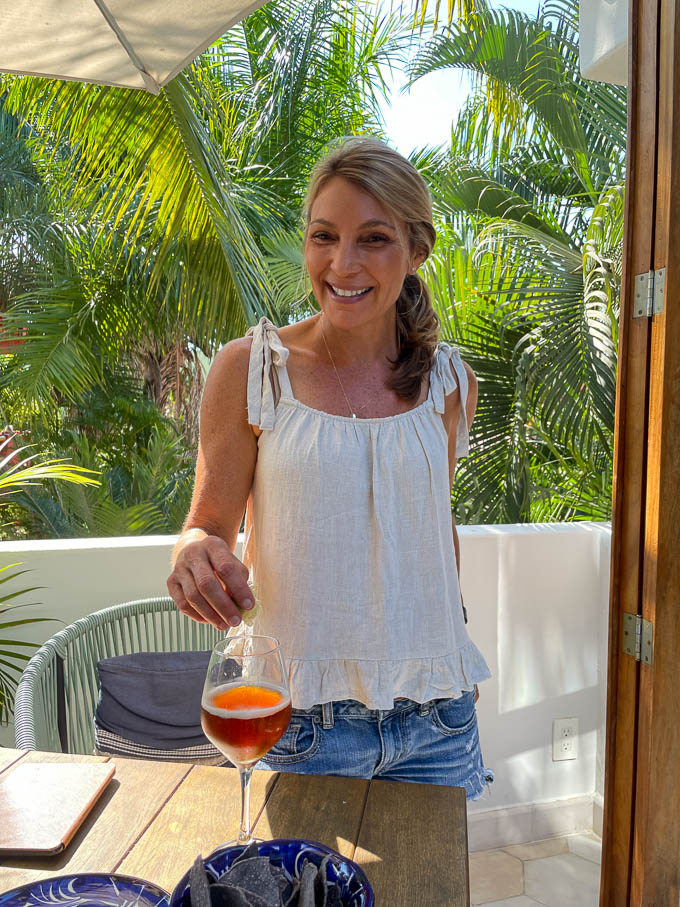 (A little Bohemia on the deck)
For more on San Pancho  and Mexico read:
Happy surfing!!!