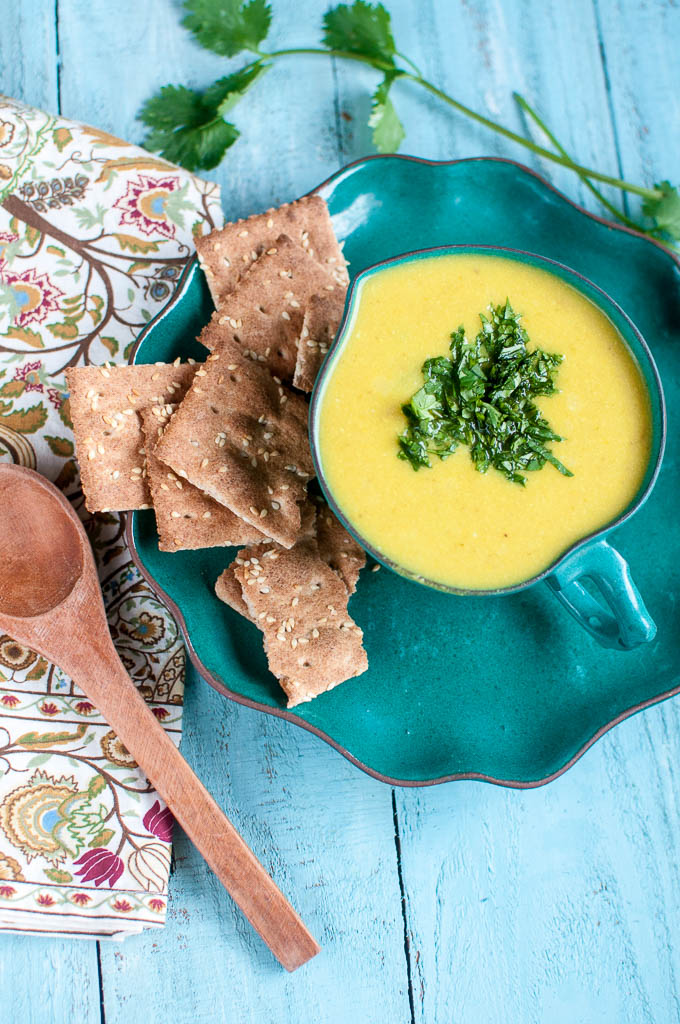 A few weeks ago my husband was feeling run down and unwell. He complained of a sore throat and felt a cold might be coming on. I wanted to make him a healing soup. It had to be something warm that contained a ton of ginger and turmeric. Since he loves the coconut soup at our local Vietnamese restaurant, I had the idea for trying to recreate it using coconut oil, ginger, shiitake mushrooms and spices.
I researched many recipes online but none of them hit the mark of what I was looking for. Most included canned coconut milk which I didn't want to add since I preferred making a "lighter" soup with fresh ingredients. That's when my cooking intuition kicked in and I ran to the store and followed my instinct.
I was so happy with the final result, that now this intuitive creation is a regular meal in our house. The broth is a rich gold color with a combination of ginger, turmeric, sweet onion and shiitake mushrooms sweetened by the coconut oil they are sautéed in. Yum. Then, to avoid the high calories of canned coconut cream (792 per cup–eek) I substituted a small yellow potato which is blended to thicken it. Adding fresh spinach leaves, mushrooms, sliced carrots and cilantro boosts the fiber and vitamin content which is always good when your immune system needs support.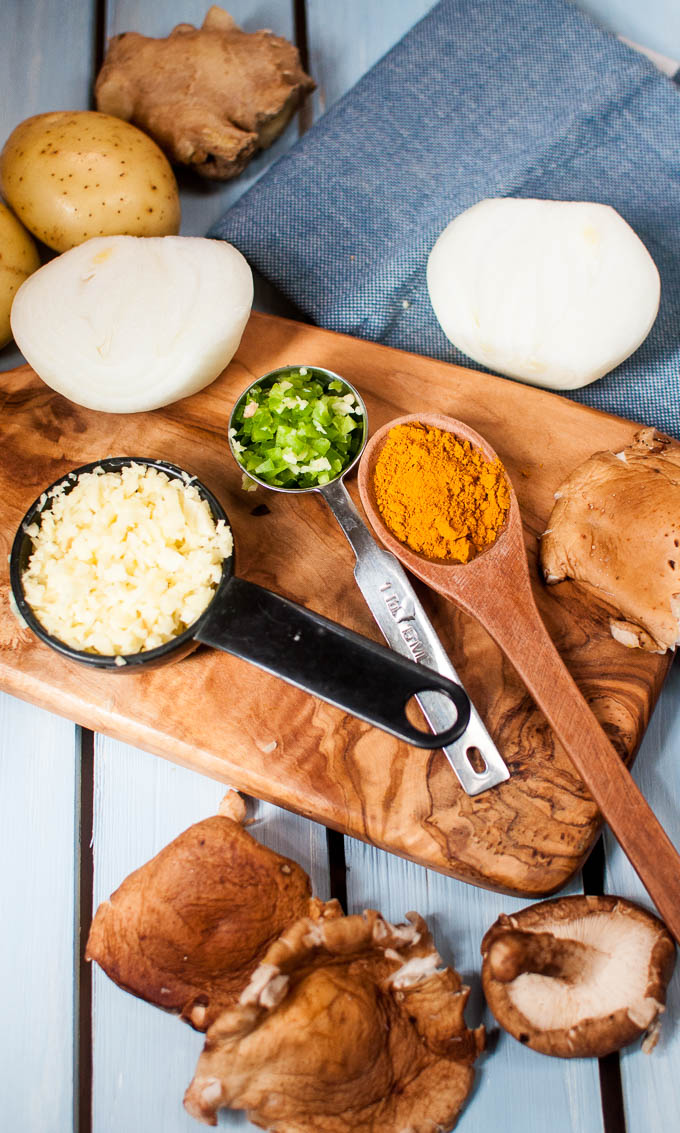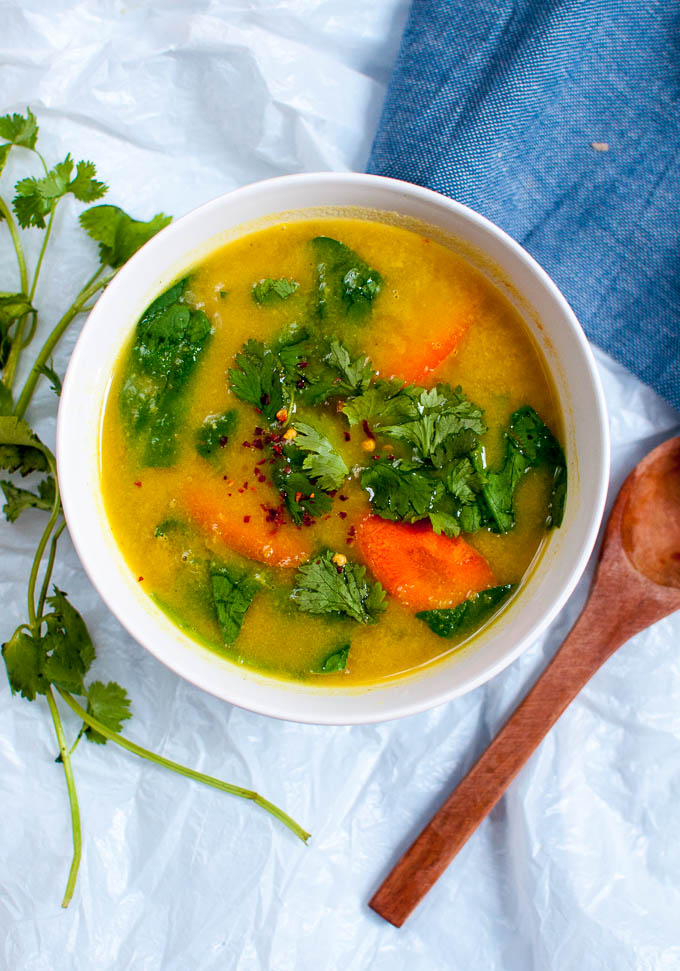 It's hard to know what truly heals us, but I'm convinced that cooking foods with love goes a long way. Isn't it a luxurious experience to have someone you love cook something special for you? Perhaps it was the placebo effect for my husband but he claimed this soup cured his sore, craggy throat.
Use this recipe as a guide but listen to your own intuitive voice.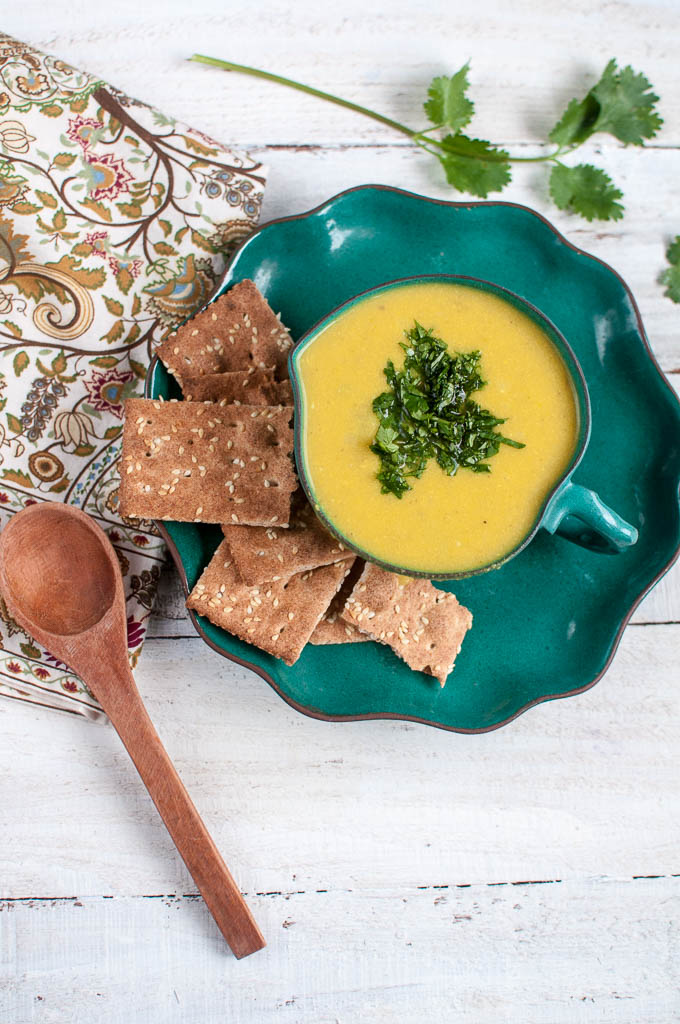 Golden Broth: Lighter Thai "faux" Coconut Soup
I love sipping this golden broth on it's own but it's also great with veggies and herbs. It's easily digestible and feels soothing on the throat.
***The turmeric turns everything yellow so be careful with your clothes and dishtowels. 
Makes ~2 large bowls
2 teaspoons coconut oil (I've been using Dr. Bronners)
Thumb size knob of ginger (about 2 inches) peeled and finely chopped
1 small sweet onion diced
2 shiitake mushrooms chopped
1 teaspoon turmeric
1 small yellow potato diced small
Dash of red pepper flakes or teaspoon chopped jalapeno (no seeds)
Pinch of sugar (I use sugar in the raw)
4 cups water and 1 vegan bouillon cube with sea salt (***I get Rapunzel) or vegetable broth (if using a no-salt or low sodium version start with 1 tsp sea salt and add more to taste).
1 tablespoon braggs liquid aminos (optional)
¼ cup almond milk (or non-dairy milk of choice)
If adding vegetables, here are some options:
Bunch of fresh spinach – de-stemmed and washed
Baby bok choy
Handful of sliced mushrooms
2 carrots thinly sliced on a diagonal
½ zucchini cut into half moons
3-4 broccoli spears cut into small pieces
1 red pepper chopped (I used the small sweet peppers and sliced them)
Handful of cilantro or basil
Directions:
In a medium saucepan, add the coconut oil over low/medium heat and saute ginger, onion, shiitakes, and turmeric stirring occasionally for 10 minutes. Add potato, water, bouillon, braggs, sugar and red pepper flakes. Turn up the heat and bring to a boil. Once boiling, turn heat to low, cover and simmer for 15 minutes until potatoes are soft.
With an immersion blender (or alternatively you can add the broth to a regular blender just be very careful as the liquid is HOT) and blend until smooth. If using a traditional blender, pour back into your soup pan and add almond milk and vegetables. Serve in warmed bowls (I put mine in the toaster/oven on 250 F for 10 minutes) and top with shredded basil or chopped cilantro.
Notes: 
Non-vegan folks can cut up an organic chicken breast and sauté it in skillet with coconut oil (about 10 minutes until the chicken pieces are cooked through). Remember to keep utensils and cutting boards separate if you dining with non-meat eaters to avoid cross pollination. In this case, add the chicken directly to the bowl and ladle broth/soup on top being careful not to touch the meat with the ladle.
***This product contains MSG which I am NOT a fan of and think it cause headaches and other problems. I am looking for a better substitute but in the meantime, I use this product minimally. Update: I am now using Edward & Sons.