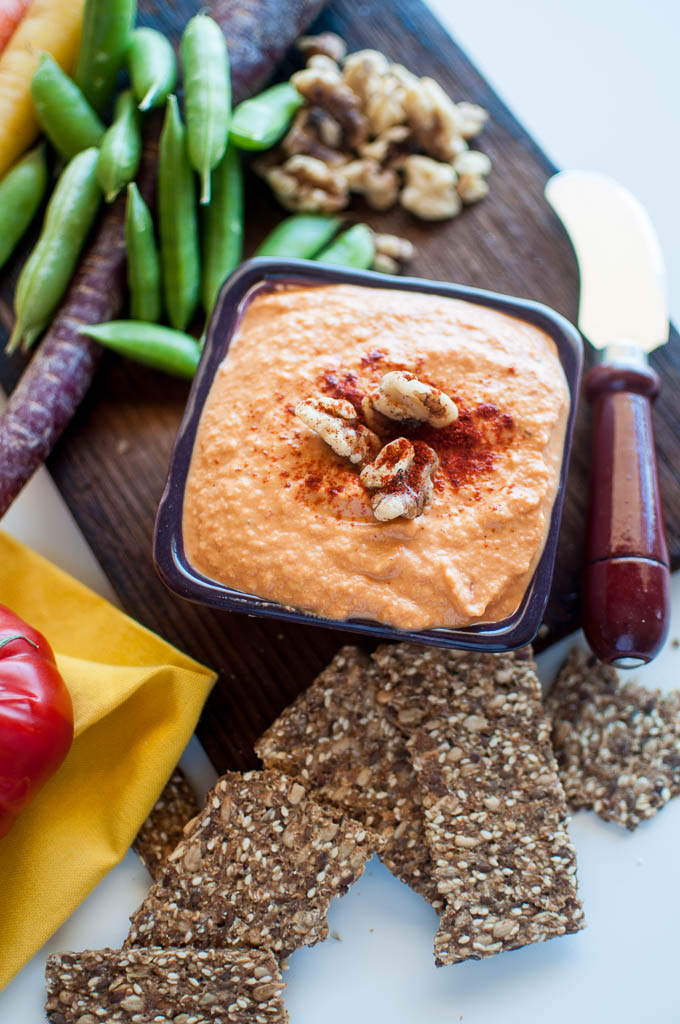 I love this Roasted Red Pepper Hummus. It's got a velvety smooth texture that melts in your mouth. The roasted red peppers in this tasty recipe not only create a super creamy texture (without any added oil) but they add a deep, warming flavor that is enhanced with a pinch of cayenne. The result is a healthy, delicious dip with toasted pita, carrots, snap peas, cucumber, celery, or grainy crackers.
Hummus is a healthy dip but store-bought hummus can be deceiving and less healthy than you think. This post shows you how to make amazing hummus at home and what to avoid when buying it at the store.
Why You Want to Make Your Own Hummus: 
Store-bought hummus can taste super creamy which can be difficult to replicate at home without adding a ton of oil, but there are good reasons NOT to buy pre-made hummus. Many brands sneak in unhealthy oils, thickeners and salt. So, it's really worth learning how to make your own (I even like to make fresh chickpeas). Unlike manufactured hummus which can taste synthetic, homemade hummus is made with simple fresh ingredients (and love). You can personalize the recipe to suit your desires and when you eat as much hummus as I do, making it at home will save you money. But the BEST reason to make your own hummus is that you KNOW exactly what is going into your body.
The Downside of Store-bought Hummus 
Here are some ingredients to avoid in store-bought hummus products:
Potassium Sorbate- responsible for headaches and stomach issues
Sunflower oil- increases inflammation and is highly caloric
High in Sodium
Citric Acid and Guar Gum are unwanted additives that are hard to digest
Xanthum gum which is linked to flu-like symptoms and lung problems
Canola Oil which contains harmful GMOs
Why is Hummus Good For You? 
Hummus is a great source of protein and fiber making it especially good for vegans and vegetarians. Here are some benefits of eating this Mediterranean dip:
Chickpeas (aka garbanzo beans) are high in fiber which promotes good digestion (so important).
Chickpeas are a complex carbohydrate which controls blood sugar so you won't crash and experience the moodiness  (crankiness) that follows.
Chickpeas are high in Folate which supports healthy cells the body and brain.
Hummus is part of the Mediterranean diet which is heart healthy.
Hummus can keep you full longer which is positive for weight management.
Hummus is a gift for your taste buds.
Red peppers are high in vitamin C.
Because I go through phases, there are times I want other kinds of hummus such as my traditional hummus (yummy hummus), or edamame hummus. But right now I crave the creaminess of this roasted red pepper hummus. I dollop it on salads or scoop it up diagonally cut carrots and fresh red pepper slices.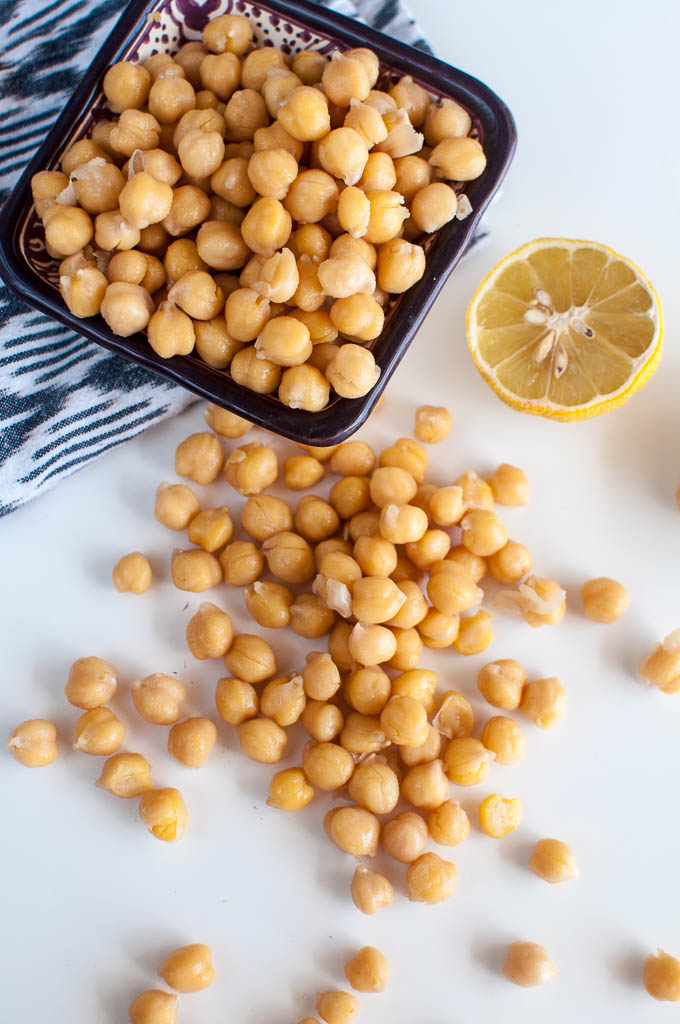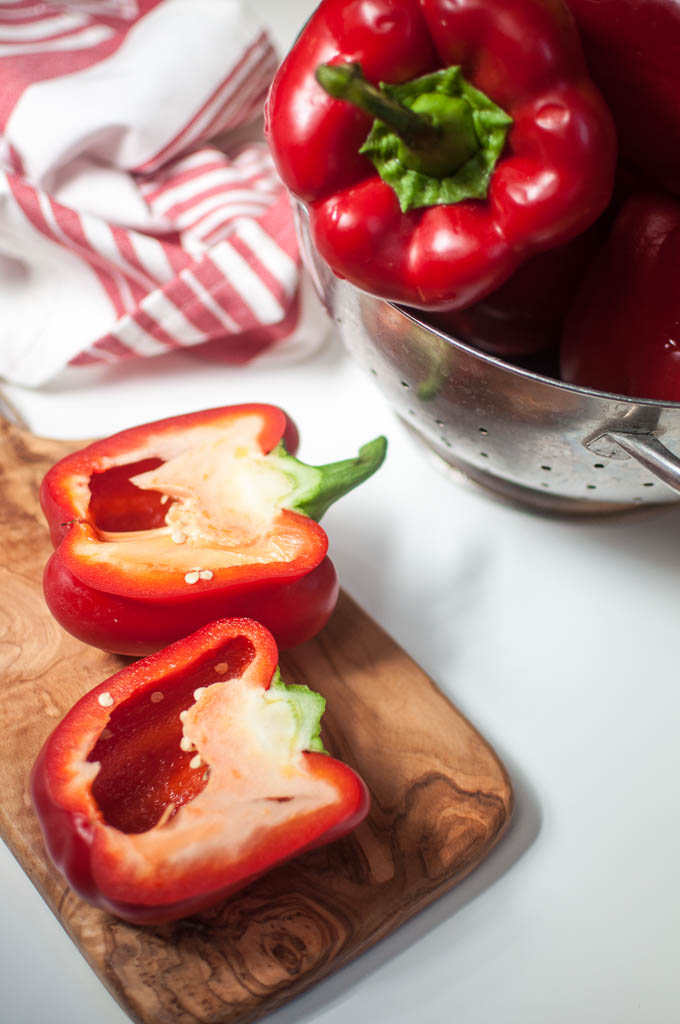 Roasted Red Peppers and How to Easily Remove the Skins:
I used to be intimated to roast peppers. Mostly because I didn't have the right technique for removing the skins and it was a mess. The secret to getting the skins off effortlessly is to let the peppers steam in tin foil as they cool. 
Put oven on BROIL and place the oven rack on the highest level. Line a baking sheet with tin foil (tin foil is important here).
Cut at least 2 red peppers into quarters and place them on a baking sheet – skin side up. Then, smash them down with your palm so they flatten out.
Place the tray of peppers on the highest rack under the broiler and for 10-15 minutes until they are blackened.
Remove tray from oven and carefully fold the tin foil over and crimp the sides so it "tents" the peppers (like you are making a pepper package). Let steam (15/20 minutes).
When the peppers are cool, it should be easy to slide away the blackened skin.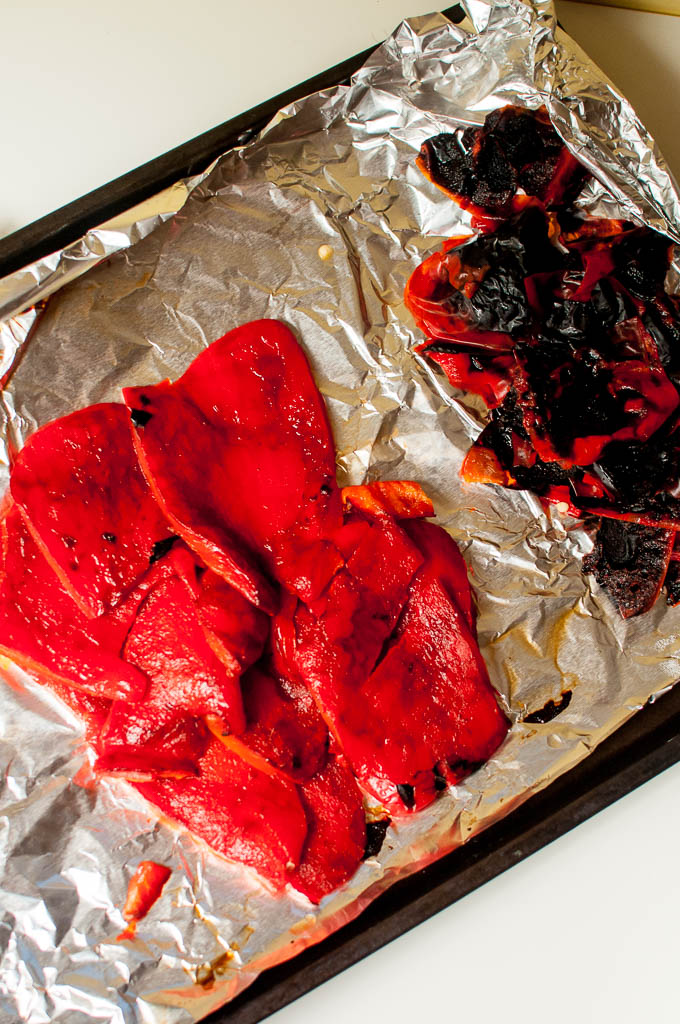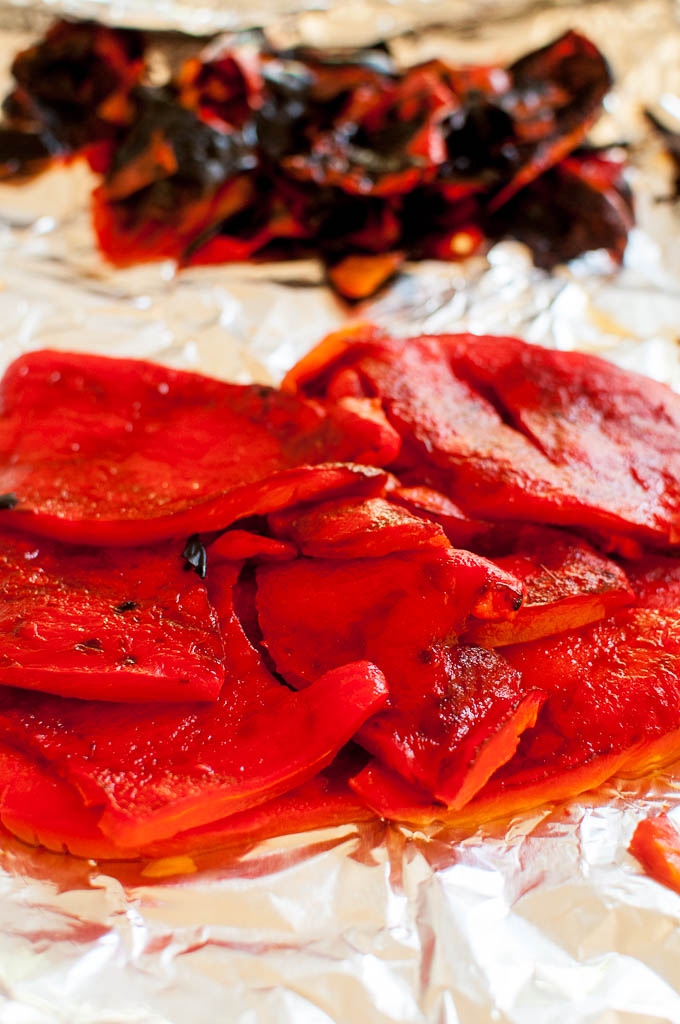 This recipe comes from Angela Liddon at Oh She Glows and has become my "go to" hummus dip. I serve it to guests, bring it to social gatherings, and enjoy it quietly at home as an appetizer or snack.
Roasted Red Pepper Hummus
To make fresh chickpeas:
Soak 1/12 cups of chickpeas in water for 1-2 hours. They should swell. Place in a large pot with water covering by an inch or two. Bring to a boil and simmer for 1:15 or until chickpeas are soft (and can be easily squeezed between your fingers).
Save about half a cup of chickpea water (agua faba) if you like and drain the chickpeas. Set aside.
Roasted Red Pepper Hummus
I use a blender for this recipe but you can use a food processor if you have one.
Ingredients:
1 1/2 cooked chickpeas
¾ cup roasted red peppers
¼ cup tahini
1 lemon squeezed (or 5 tablespoons lemon juice)
1 garlic clove
1 teaspoon salt
¼ teaspoon cayenne pepper
¼- ½ cup chickpea water regular water or a combination (more if necessary)
Directions: 
In a blender (or food processor) add the tahini, lemon, and garlic. Whip.
Now add the chickpeas, pepper, salt and cayenne and blend again. Add 2 tablespoons of the chickpea water to keep the blending smooth. If not blending easily, stop and scrape down sides with a spoon. Add more liquid to help get the mixture moving. Blend until smooth and creamy.
Adjust spices as needed
I love to serve this with fresh whole grain pita bread (or any fresh bread) chopped carrots, snap peas, red peppers, and cucumber.