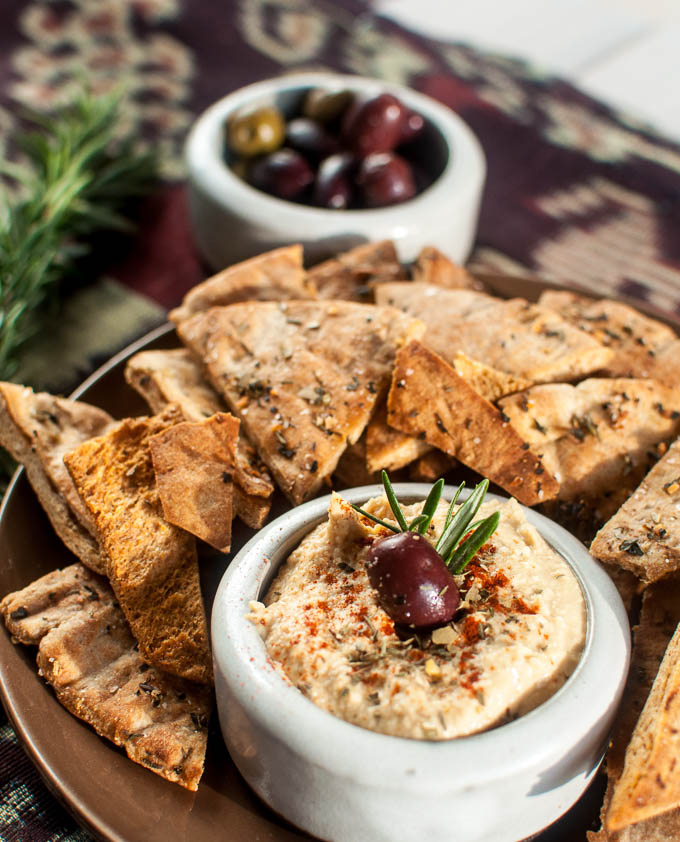 Oh hummus how I love you, let me count the ways! Hummus is a staple in my fridge. Whether it's white bean, lima bean, edamame, almond pulp (raw hummus)  or traditional, there is almost always a tasty dip available to dollop on salads or snack on with carrots.
I've been making hummus for years and while the ingredients remain the same, I've yet to lock down exact measurements. I take a fluid approach allowing my intuition to guide me. A little more lemon, another roasted garlic clove, a sprinkle of cayenne, a dash of salt – blend, taste and adjust.
During my quest for "the perfect hummus", I researched articles and tried different techniques. For awhile, I individually peeled each chickpea to yield a smoother texture. The process was (somewhat) meditative but too time consuming and unpractical. I determined that making hummus needs to be a pleasant experience.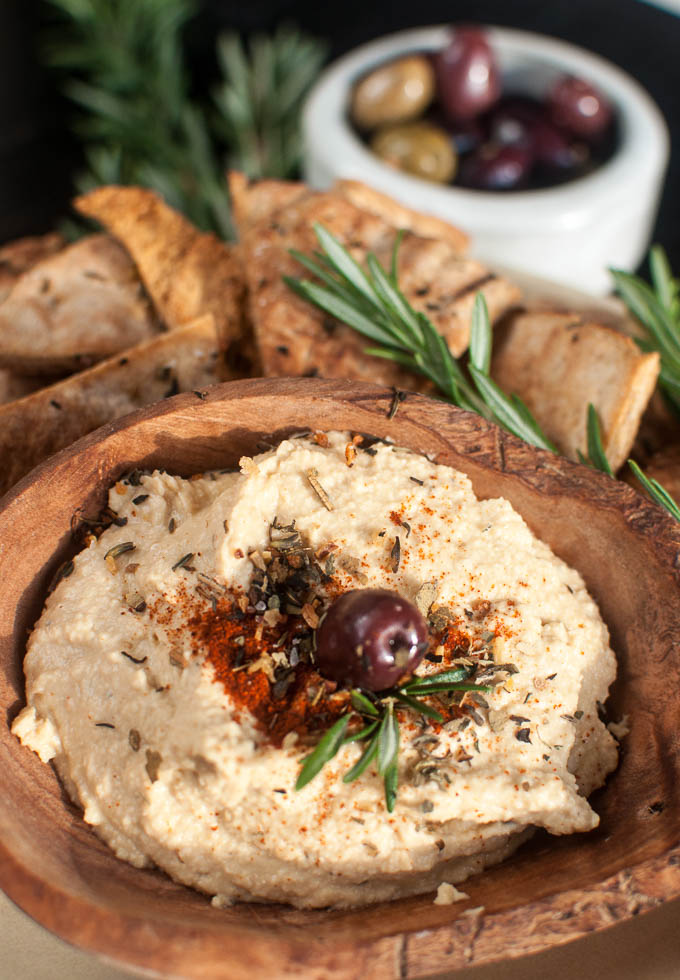 I finally found a recipe that uses a blender (not a food processor) and makes a substantial amount. This easy recipe confirmed how I'd been making it all along. Please use the measurements as a guide and play around to match your taste. Half the fun is tasting as you go.
Because hummus is a staple for vegetarians and vegans, it's a great option to serve at a party. Not only will your non-meat eating friends be delighted by your deep understanding of them, but it presents beautifully with sliced vegetables and a dusting of paprika for color.
Once you make your own hummus and even your own beans (which is simple), you will taste the unpleasant preservatives in packaged versions and never go back.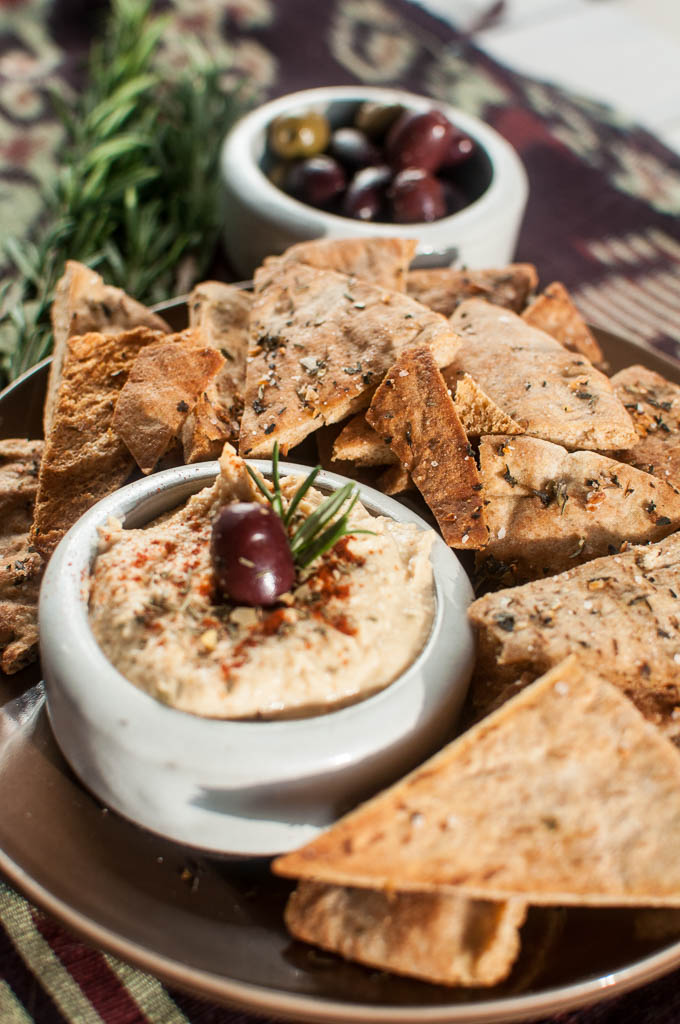 This hummus is creamy with more lemon than garlic (garlic tends to get stronger over time).  You can roast cloves of garlic on the stovetop to take the "edge" off (see method below). I abandoned the pressure cooking method and simply boil the beans on the stove.
There are simple 3 steps to making hummus: 
Soaking the beans: Empty a bag of beans into a large bowl and cover with 5-6 inches with water. Let the beans soak for 1-2 hours. (I usually soak them first thing in the morning). Once the beans have nearly doubled in size, rinse and drain. (Alternatively, you can soak them overnight).
Cooking the beans: In a large pot add the beans and cover with 1 -2 inches of water. Bring to boil. Spoon off and discard any foam that has formed. Reduce heat to low, lightly cover, and simmer for 1 hour – 115 minutes. Check to make sure the water does not evaporate and add more if necessary. Beans should be soft when they are done. Rinse and drain. (If you'd like to use the cooking water in your hummus, drain about a cup into a container).
Making hummus: See recipe below
Recipe: Yummy Hummus  
Adapted from Fat Free Vegan Kitchen's Hummus in a Blender
Ingredients:
3 cups cooked chickpeas (also called Garbanzo beans) See how to cook the beans above
1 cup water (or cooking liquid from beans)
1/2 – 1 freshly squeezed lemon
2 tablespoons Tahini (sesame paste)
1-2 peeled garlic cloves (roasted or regular) – see roasting method below.
1/2 – 1 teaspoon ground cumin
1 teaspoon salt of choice (I use kosher or fine sea salt)
1/4 – 1/2 teaspoon cayenne (optional)
1/4- 1/2 teaspoon smoked paprika (optional)
Dash of tamari (optional)
Fresh black pepper to taste (I use about 3-4 grinds)
Directions:
If roasting garlic, place 2-4 unpeeled cloves in a non-stick frying pan over medium heat. Shake pan to rotate cloves during cooking. Cloves take about 10-15 minutes to cook. They should be blackened on the outside and soft and mushy on the inside. Cool and peel before using.
Put all ingredients in a high speed blender and start on low speed gradually increasing to high. If hummus is too thick and doesn't "blend" add more water. If the chickpeas get "stuck" stop blender and mix with a spoon or spatula. (High speed blenders work well for this. Alternatively, you can use an immersion (hand) blender since you can move it around the hummus mixture. Less powerful blenders produce a grainier texture).
Taste, add more salt if necessary and adjust the spices until you find the hummus that makes you happy.
Dollop on salads or serve with crudites and pita.
Oven Baked Pita Chips with Herbs de Provence
Ingredients:
4 whole grain pita breads (or pita of choice)
1 -2 tablespoons Olive oil
 1 -2 tablespoons Herbs de Provence
Salt (0ptional)
Directions: 
Preheat oven to 400 degrees Fahrenheit and line a large baking sheet with parchment or tin foil.
Cut each pita into 8 triangles and place into a large bowl. Pour on olive oil and with your hands, gently mix to coat. (If the pitas is to dry you can add more oil although I tend to go light on oil). Sprinkle with Herbs de Provence and mix again. Place pita triangles on baking sheet and sprinkle with a little salt (optional).
Bake for 10-12 minutes until they are brown and crispy.
What to do with the leftover beans? 
Make these amazing garbanzo croutons from Oh She Glows to add to salads or soups.