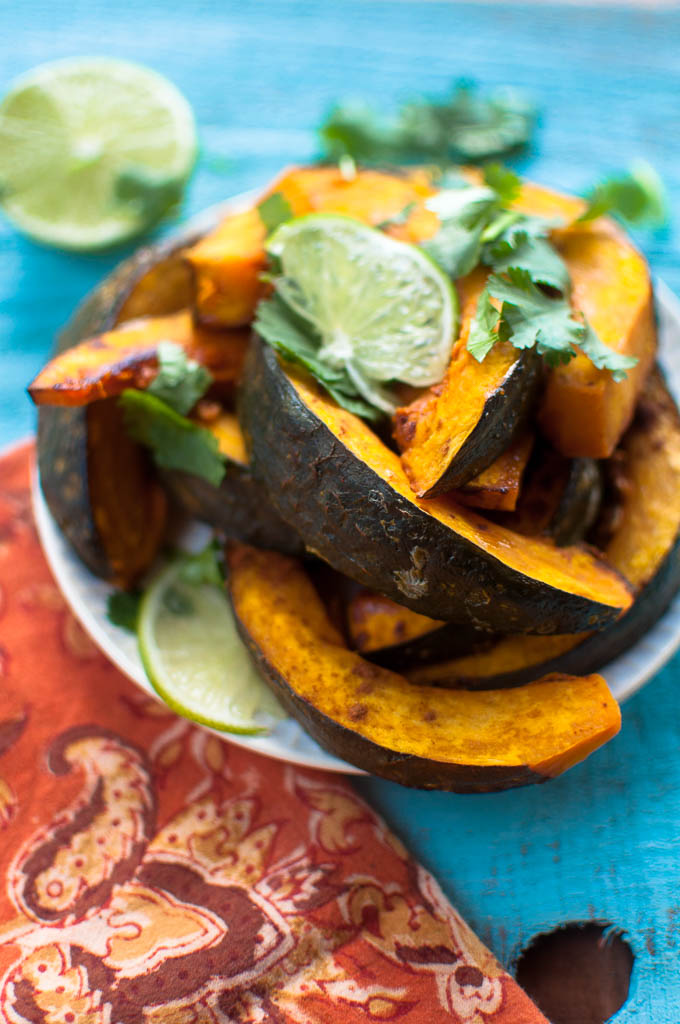 Roasted Kabocha squash fell under my radar from Alicia Silverstone's book The Kind Diet. I've cooked it several ways, but always come back to this simple, minimalist way of enjoying it. Could it be that I end up devouring it right off the cookie sheet and lack the discipline to save it for other recipes? Sure! But there is something nurturing and comfy about simply roasting a Kabocha squash.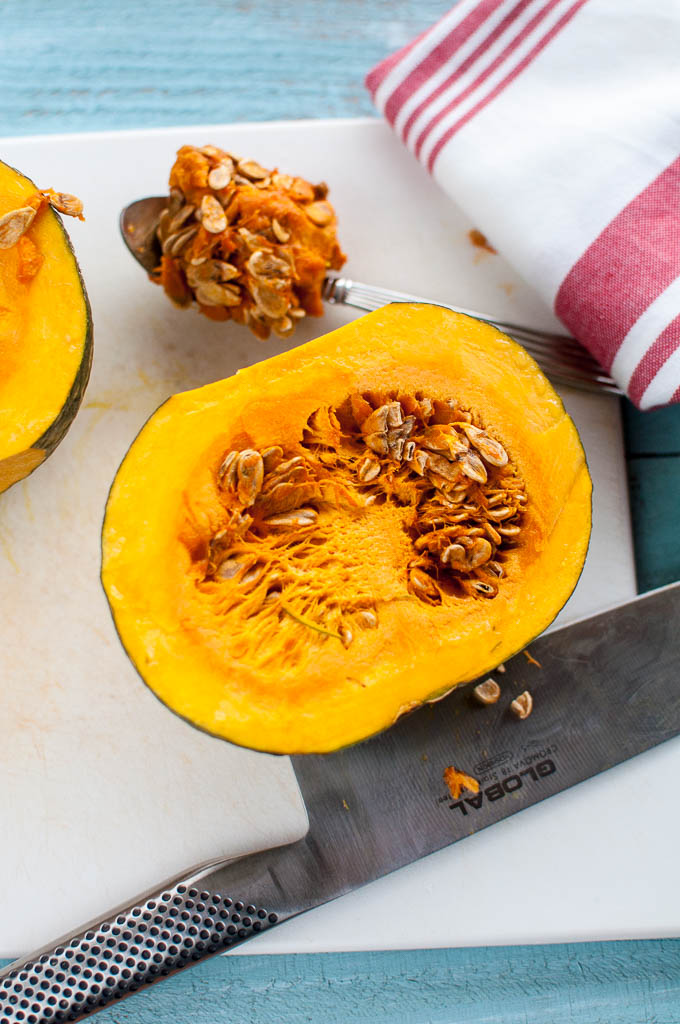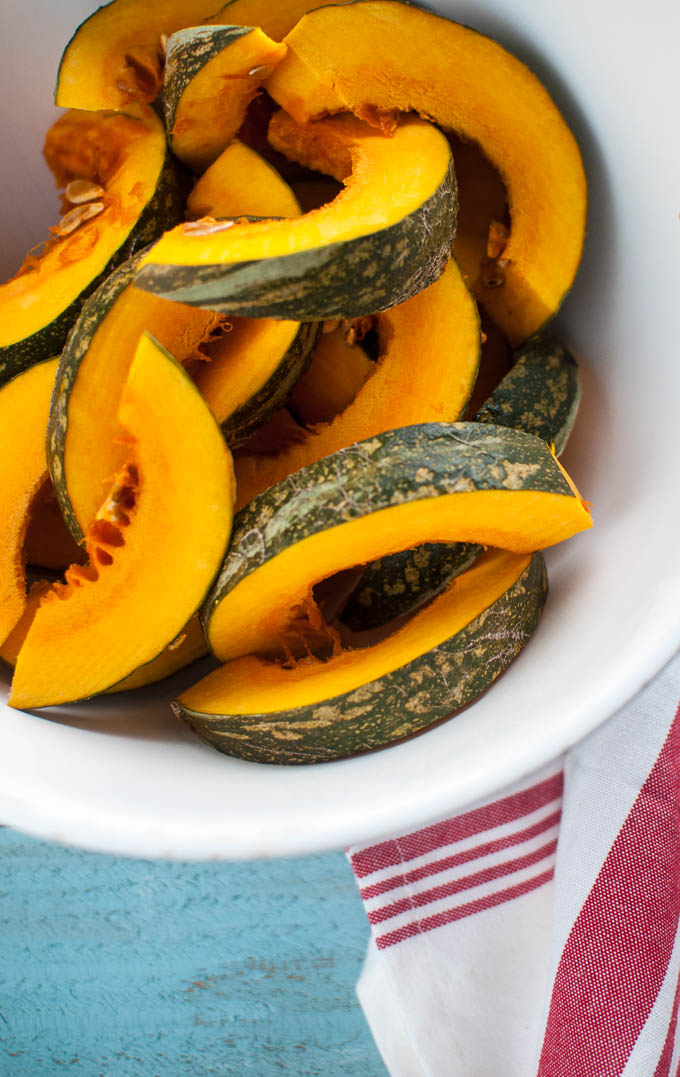 Compared to other squashes, Kabocha is low in carbs and calories, high in beta carotene, and provides protein, iron, and vitamin C. Leave the skins on and benefit from it's fiber (buy organic). Mostly though, it's delicious and the texture reminds me of those large potato "steak" fries.
Cutting up Kabocha Squash 
Kabocha is easy to make, but tricky to cut. Here's how I go about tackling it. Whatever you do….don't cut yourself!! This video tutorial is helpful. I've also seen people put it in the microwave for 2-4 minutes to soften the skin before cutting.
Wash and thoroughly dry the squash with a towel to prevent your knife from slipping. Place cutting board on a towel to keep it stable.
Hold the squash firmly on it's side and cut the bottom off by slicing near the edge with a large knife so your squash will sit flat on the cutting board (be careful)!!
Place the squash upright on its "new" flat bottom and make a cut near the stem at the top. Rock your knife back and forth while sinking the knife deeper into the skin until you are about halfway down. Rotate the squash and repeat this on the opposite side to approximate a straight line. The squash will separate and "pop" open when you've cut about halfway down on each side.
Scoop out the seeds with a large spoon or ice cream scoop.
Now place each half  flat side down on the cutting board and cut off the stem (might be a V shape cut) and cut each half into quarters.
Using the same rocking method, take each quarter and cut even slices from it's highest point down being careful that the knife doesn't slip. Always keep your fingers above the knife placement. Place the slices in a large bowl.
It is slippery so be careful and go slow.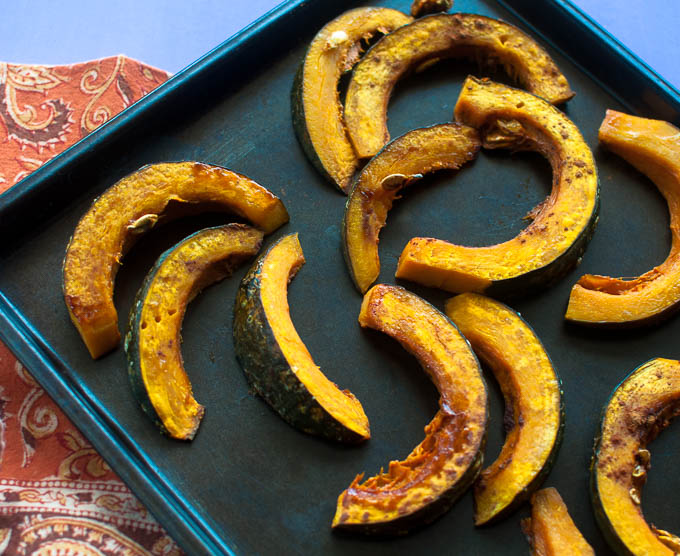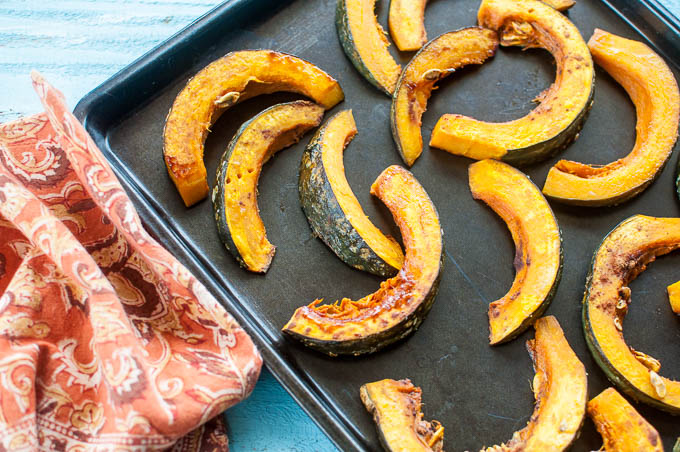 Recipe: Simple Roasted Kabocha Squash 
I love roasted Kabocha squash. I'm a minimalist, so I'm quite happy keeping it the fridge and sneaking a half moon slices here and there as a snack. I also love to adding chunks salads (especially kale salads) and Buddha bowls. Once you master cutting them, Kabocha squash is an amazing vegetable to have on hand.
Ingredients:
1 Kabocha Squash cut into slices (To cut squash watch this video) (Keep skins on for added fiber)
2 teaspoons olive or melted coconut oil
Couple grinds of good salt and pepper or sprinkle with cinnamon if using coconut oil
Directions: 
Preheat oven to 400°F.
Line a baking sheet with tin foil (I need 2 baking sheets for a good size squash).
Place your Kabocha squash slices into a large bowl. Add oil, salt and pepper and mix well with your hands until slices are coated. Pour onto baking sheet and adjust slices so they don't overlap/touch.
Bake for 30 minutes or until soft with a fork.
Keep in a sealed container in the fridge for 5-7 days (although I promise it won't last this long).