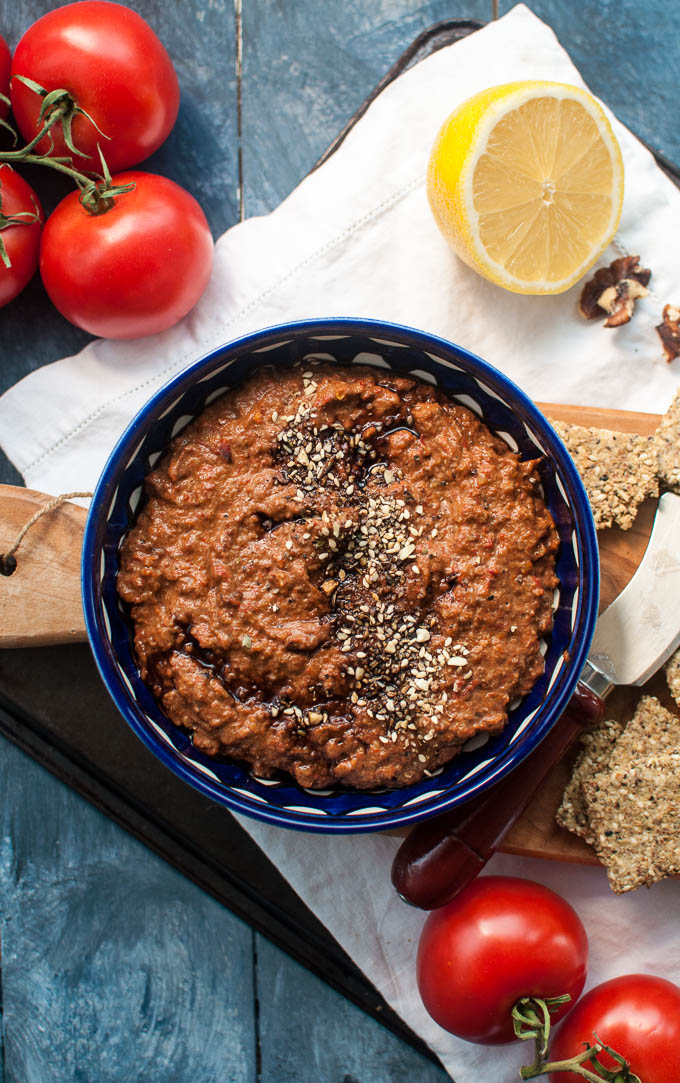 Have you ever tasted Muhammara? Even heard of it? If not…you're not alone! I learned about Muhammara on a trip I took to Turkey several years ago. Istanbul is a fun and dynamic city with tons of history, culture, beauty, and personality. The people are warm and engaging and the food is some of the best I've ever tasted.
One minute we are swept up in the lively crowds on Ikstikal street and the next we are climbing stairs in a cozy restaurant off the main drag for rest and culinary surprises. Our lovely waitress, the daughter of the owner, guided us through the unfamiliar dishes and recommended meze to share. In addition to hummus (I had to have that) she introduced me to Muhammara – a unique red pepper walnut dip with a hint of peppery heat, a Thyme salad, a few meat dishes (for my husband) and basket of irresistible bread.
We dined like royalty!!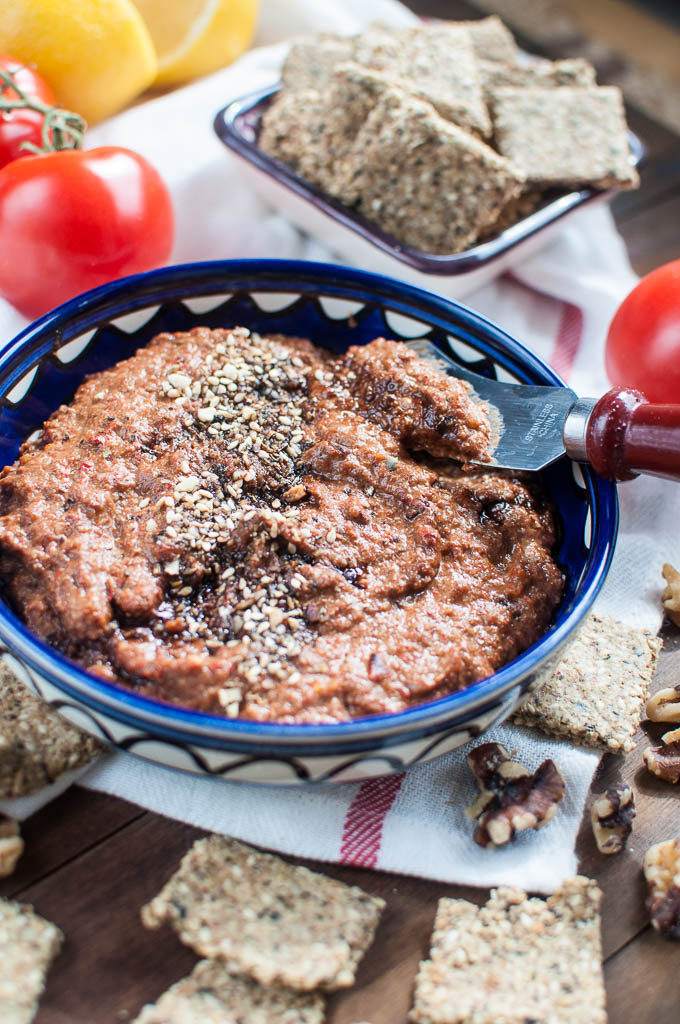 What is Meze and Why is it So Fun?
Technically speaking, meze is a selection of small dishes served as appetizers or tapas meant to be shared with friends and accompanied by drinks. But that doesn't capture the FULL meaning of meze. According to Julia and Barry from Turkeys for Life "Meze is more than just eating, it's a heart opening experience."
They write, "Eating meze is a social activity; it's chatting with friends around the table for hours on end, helping yourself to the occasional spoonful of antep ezmesi, aubergine salad or spicy pickled beetroot, tearing off chunks of fresh Turkish bread and dipping it into the pickled or olive oil dressings. It's drinking rakı together, sharing hot, as well as cold, meze to complement the aniseed flavours of the rakı. It's going out to listen to live saz music, nibbling, dipping, savouring. It's an experience". 
In Turkey, meals deepen relationships and vice versa.
Vegan Meze
Turkey is one of my favorite places. Partly because much of their food is naturally vegan and healthy. They serve small plates such as: sliced cucumbers, flavorful tomatoes, mini bowls of homemade jams and  local honey, fresh feta, and no meal is complete without baskets of warm bread. Pressed pomegranate juice is everywhere, but my fondest memory was the unforgettable peach juice I found at a stand across the river.
Some Turkish dishes are naturally vegan. For a list of vegan meze, read here.  Or check out A Kitchen in Istanbul, a mouthwatering site with vegan-friendly Turkish recipes.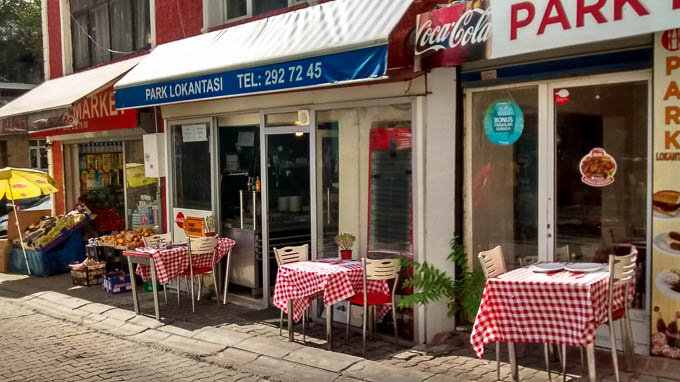 Muhammara: Simple yet Complex
Muhammara is simple but full of flavor. The texture is pesto-like and the taste is impressively unique.  Sweet red peppers, tangy pomegranate molasses, beefy walnuts and subtle heat from Aleppo chili. Make this dish and invite your friends over for casual get together. Open a charismatic bottle of wine and serve this appetizing dip with sliced cucumber, pita or easy to make gluten-free crackers.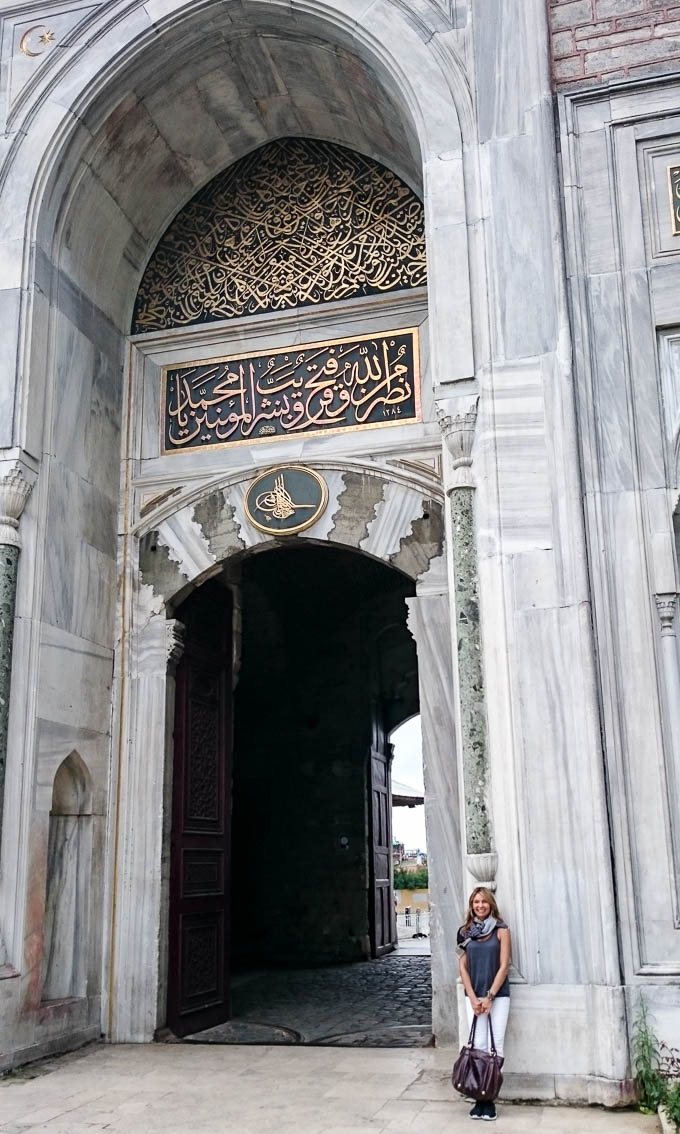 Is a Vegan with Exceptions Still a Vegan?
I used to be a purist about my diet and felt like I was betraying myself if ate "unrestricted" foods. But I've become more flexible when I travel (sometimes for strictly practical reasons). I do my best to stay vegan, but in some countries, being so limited can hinder my experience. For example, in Turkey, the most common bread, Pide is made with small amounts of milk and egg yolks so it's not vegan. However, I ate Pide and even fresh feta while I was there because I valued experiencing their fresh, local food.
Recipe for Muhammara
Since lowering my carb intake,  I've replaced hummus with Muhammara (jaw dropping – I know!). The recipe doesn't yield a huge amount, but the dip is filling. Despite the longish list of ingredients, it's very easy to make.
3-4 red bell peppers cut into quarters for roasting
1/2 cup raw walnuts (lightly roasting them is optional)
3 tablespoons **pomegranate molasses (I mix 2 tablespoons molasses with 2 tablespoons pomegranate vinegar from Trader Joes – or you can use balsamic vinegar but the pomegranate adds a nice flavor).
2 – 3 tablespoons fresh lemon juice
3 tablespoons golden ground flax meal (or bread crumbs – preferably gluten free)
1/2 teaspoon ground cumin
1/2 teaspoon smoked paprika (optional)
1/2 teaspoon sea salt
scant 1/4 teaspoon red chili flakes (it's easy to make this too spicy so start with less than you think)
1 tablespoon olive oil
1 garlic clove (optional- I don't care for raw garlic so I omit this)
Directions:
Turn oven on broil and line a cookie sheet with tin-foil. Cut the peppers in quarters and remove the stem and seeds. With the heel of your palm,  smash the peppers to flatten them. Place on cookie sheet skin side up (for photos see here). Roast 12 -1 4 minutes or until blackened.
While the peppers are cooking, mix the pomegranate vinegar and molasses in bowl (50/50) and set aside. If toasting walnuts, toss in a frying pan for 1-2 minutes on medium heat until they are fragrant but be sure to keep from burning. Loosely chop walnuts and add to blender along with peppers.
Remove peppers from oven and fold over tin-foil to make a sealed "package" and let them steam about 15 minutes or until cool. Peel off and discard skins and place peppers into a blender or food processor.
Add molasses mix, garlic (if using), spices, lemon, salt and olive oil and lightly pulse to leave texture. Taste and adjust as needed.
Notes: 
I've heard pomegranate molasses can be found at Whole foods or you can cook down pomegranate juice. However, mixing molasses with pomegranate or balsamic vinegar works well too.
Recipe slightly modified from Minimalist Baker and Ottolenghi.
Store in sealed container in the refrigerator 3/4 days.