I admit that I'm a cracker head! Sometimes, I find great comfort in the art of snacking. Since I removed wheat and carbs from my diet last October, I've been challenged to find tasty gluten free, vegan crackers that aren't $6.99 a box (I love ya Jilz but you're a bit $$$).
So, I set out to make my own! I found a combination of nuts, seeds, and oat flour that's EASY to roll out and produces firm, crunchy crackers with lots of flava. Even my Paleo husband likes them! These are not your thin, wispy crackers, no, these gluten free vegan crackers are dense and "meaty".
The original recipe (from the amazing Oh She Glows), calls for brown rice flour. These tasted good, but I struggled to roll out the dough without it crumbling and breaking. Plus, the brown rice flour has more carbs than I wanted. So, I played around with different seeds and flours replaced the brown rice flour with more almonds, a 1/4 cup of gluten free oats and my 3 seed mix (pumpkin, sunflower and chia seeds) which I blended into flour. I added a dash more oil to moisten the dough so it's easy to roll out for non-bakers like me (I'm surprised I have a rolling pin). I then covered the round dough ball with saran wrap and rolled it out evenly, without crumbling, breaking or sticking.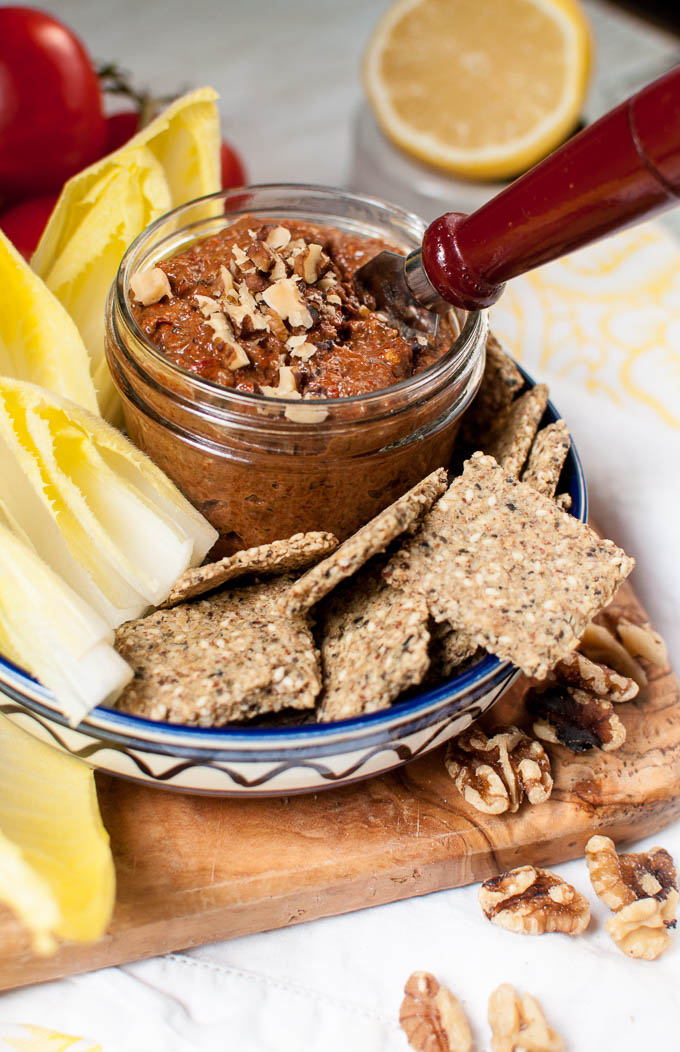 Gluten Free Vegan Crackers that are EASY to Make
These gluten free vegan crackers are a healthier alternative to regular store bought crackers (and you will save money). They are crisp and flavorful and provide great benefits from the seeds, nutritional yeast, and flaxmeal. I spice them with Trader Joes, Everything but the Bagel Sesame Seasoning Blend, but you can easily adjust the spices to suit your taste.
Makes about one baggy of crackers (1 cookie sheet)
Ingredients:
Directions: 
Preheat oven to 350 F and line a cookie sheet with parchment paper. Add the almonds, seeds, and oats to a blender and pulse until you have a course flour (don't over process or the almonds will release oils and turn to butter). Place this in a medium size bowl and add nutritional yeast, flax meal, sesame seeds, spice mix, baking soda and salt. Mix until combined. Add water and olive oil and kneed until well mixed and you have a lightly sticky dough ball.
Place the ball on the parchment and cover with an equal size piece of saran wrap (I like to roll this out on the counter so the sides of the cookie sheet don't get in the way. I place the parchment over a flat dishtowel to prevent it from sliding around). Pat the ball into a large "burger" and start to roll from the center outwards. Get it as flat and even as possible without tearing (mine ends up looking like a large fruit roll up).
Move the parchment with the rolled out dough onto the cookie sheet and remove the saran wrap. Use a knife or pizza cutter to score (not a full cut) the dough into squares. (I do this freehand but you can use a ruler).
Bake at 350 for 20 minutes. Once done, remove from oven and let sit for 5-10 minutes before breaking into squares. If they don't break easily, they may need a few more minutes in the oven.
Store in a seal tight baggie or container in the fridge.