Are you getting enough greens? Most people will answer "no" to this question which is why I'm posting this vibrant and nutritious Kale and Quinoa salad."Recent research estimates that the optimal intake for reducing our risk of heart disease and early death to be around ten servings of fruit and vegetables a day" (source). Therefore, we are aware of the research but struggle to put it into practice.  
Are You Eating Enough Greens?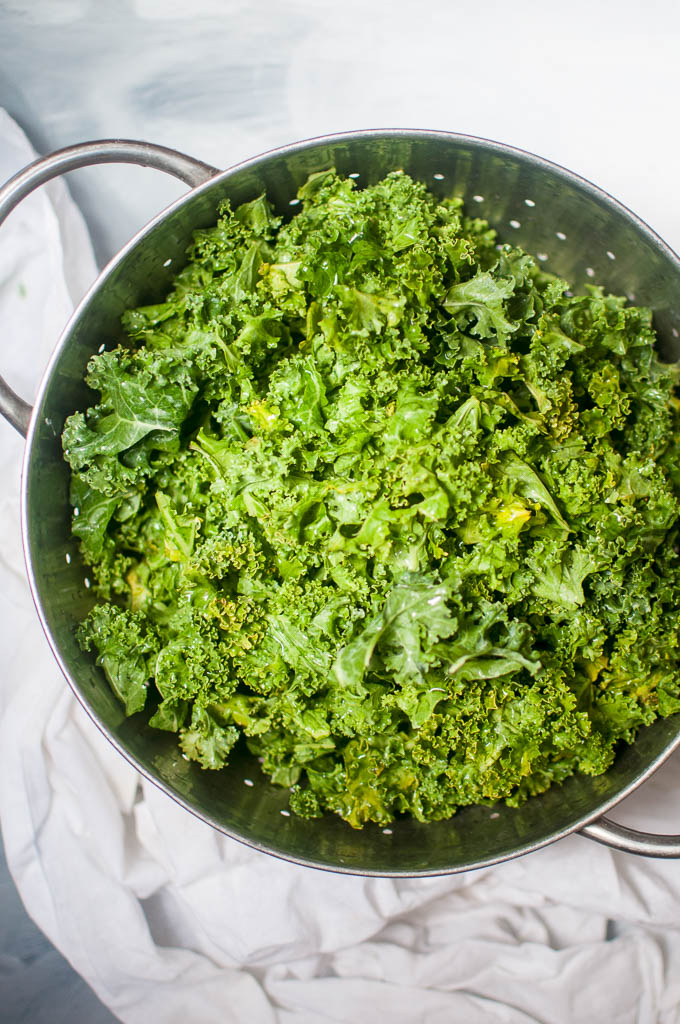 Green vegetables are nutritious power foods but too many of us fall short on getting enough of them. I know  people who don't eat them at all!!! To determine your daily green intake, consider these questions:
Do you eat greens on a daily basis?
When/how do you eat them?
Do you eat a variety or stick to one type?
Where could you add more greens?
If you photographed your food, how much would look green?
Adding greens to your diet, whether you are vegan or not, requires intention. If you aim to eat greens every day (and ultimately, with each meal), you will cultivate a habit of eating greens regularly. How easy is it to go a day, week, or multiple weeks without kale, spinach, chard or broccoli?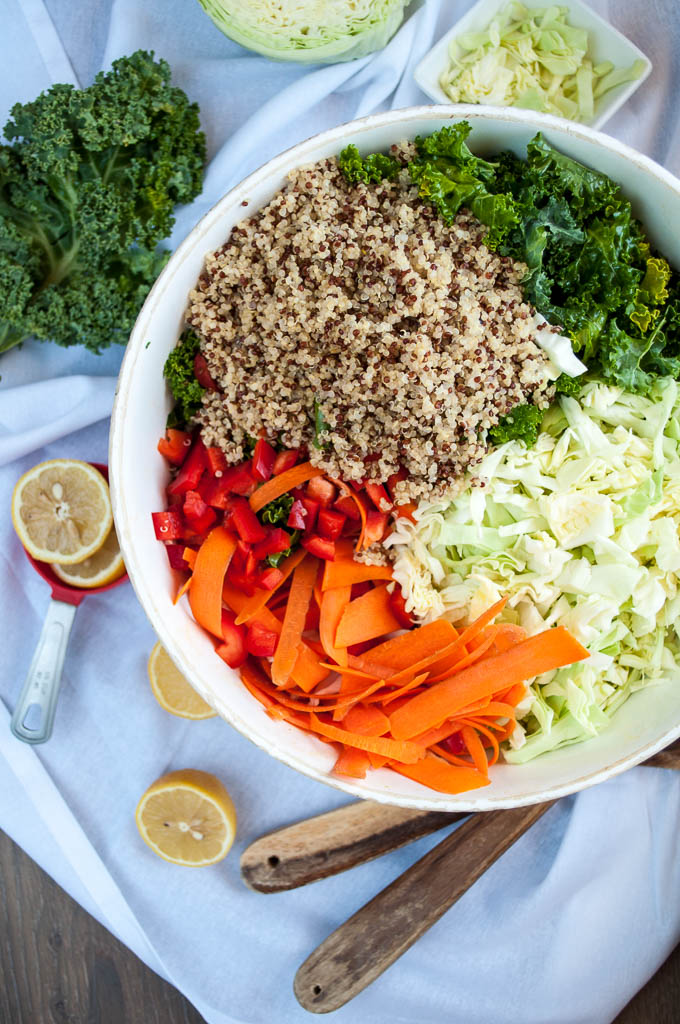 Eating Greens Begets Eating More Greens
If you are eating greens regularly, than you may not know what you are missing!!  Greens make your body happy!!  For example, Kale is considered one of the most nutrient-dense vegetables on the planet due to its various vitamins, minerals and antioxidants. It's a super-food after all. And once you start eating it, your body will want more. So, for the skeptics out there, try this healthy Kale and Quinoa Salad. It's got greens, crunchy vegetables, chewy quinoa protein (more plant based proteins here) and nothing beats a drizzle of Tahini dressing!!!
Train Your Palate to Crave Greens
You can actually train your palate to desire greens. How? By eating more of them. But, you can't do this if you have a food aversion. Vegetable aversions often result from overcooked, mushy or bland preparation. Who wants wilted broccoli or stinky, bland Brussels sprouts??? Making vegetables that are crisp and flavorful, changes everything. For example, I used to dislike kale (hard to believe I know) until I learned a better way to prepare it. Now I CRAVE it (my husband does too – and he cringes at most vegetables).
For vege picky eaters, try:
Kale  and Quinoa Salad Recipe
This kale and Quinoa salad is tasty, bright and colorful. The kale/cabbage combo has a cleansing effect. It's vegan and gluten-free and an effortless way to incorporate more greens into your weekly rotation.
Makes (~4 servings) and works well as leftovers. Store in a sealed container in the refrigerator for 3/4 days.
Ingredients 
½ cup uncooked quinoa (**prepared according to package)
1 head of curly kale washed and de-stemmed
Half head of green cabbage
2-3 medium carrots washed and peeled into ribbons (I use one like this)
1-2 red bell peppers
1 tablespoon of Extra Virgin Olive Oil
For the Dressing
Stir ingredients together in a measuring cup or bowl. Taste and adjust as needed
1/3 cup Tahini
¼ cup fresh lemon juice (or the juice of one lemon)
Tablespoon Toasted Sesame Oil
¼ cup Bragg's Liquid Aminos  or Tamari
Tablespoon Maple Syrup
Teaspoon dried ginger
Directions
Place quinoa to a fine sieve, rinse and soak for 5 minutes before draining. Bring 1 cup of water to a boil in a small saucepan, stir in quinoa, cover and return to a boil. Turn to "low" and cook for 15 minutes. Let sit covered for 5 minutes. Allow to cool.
De-stem kale (grab the stalk and strip the leaves), rinse and dry the leaves. Add to a large bowl, tear leaves into bite sized pieces, add olive oil and massage leaves until they are slightly wilted (2/3 min).
Prep other veges:
Quarter the half head of cabbage and thinly slice horizontally into bite size pieces.
Ribbon the carrots with a vegetable peeler (I start half way down the carrot, and rotate as I go).
Cut the bell pepper into small squares.
Add veggies, quinoa, and 2/3rds dressing to the kale and mix well.  Adjust to taste (using more dressing or salt if needed). Garnish with sesame seeds, pumpkin seeds or cashews.
Recipe inspired by Kale Quinoa Salad from FitMittenKitchen.