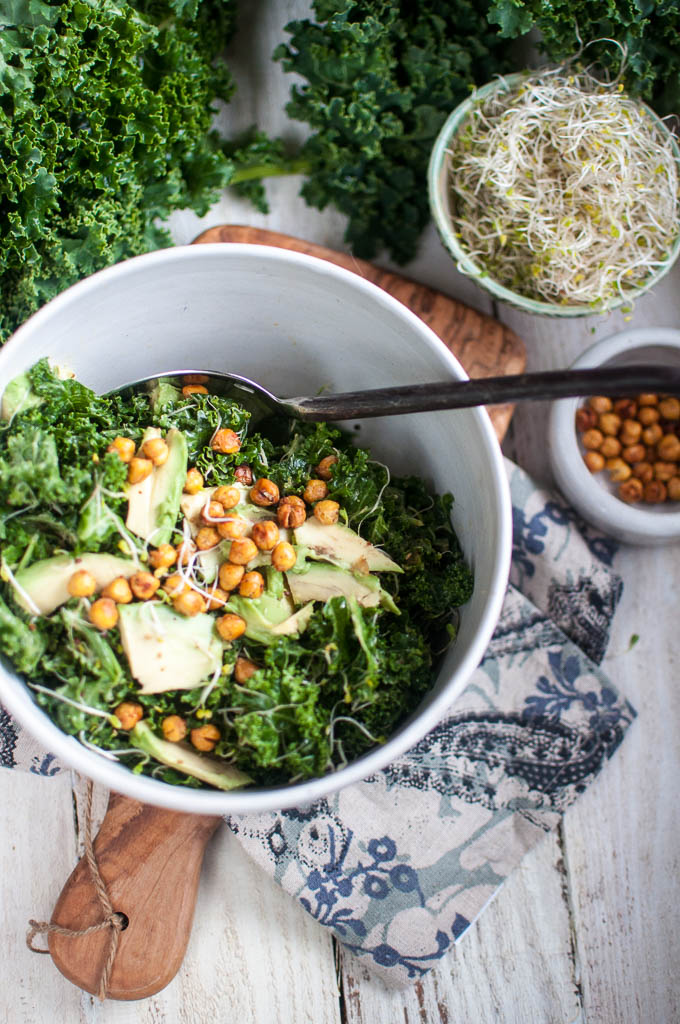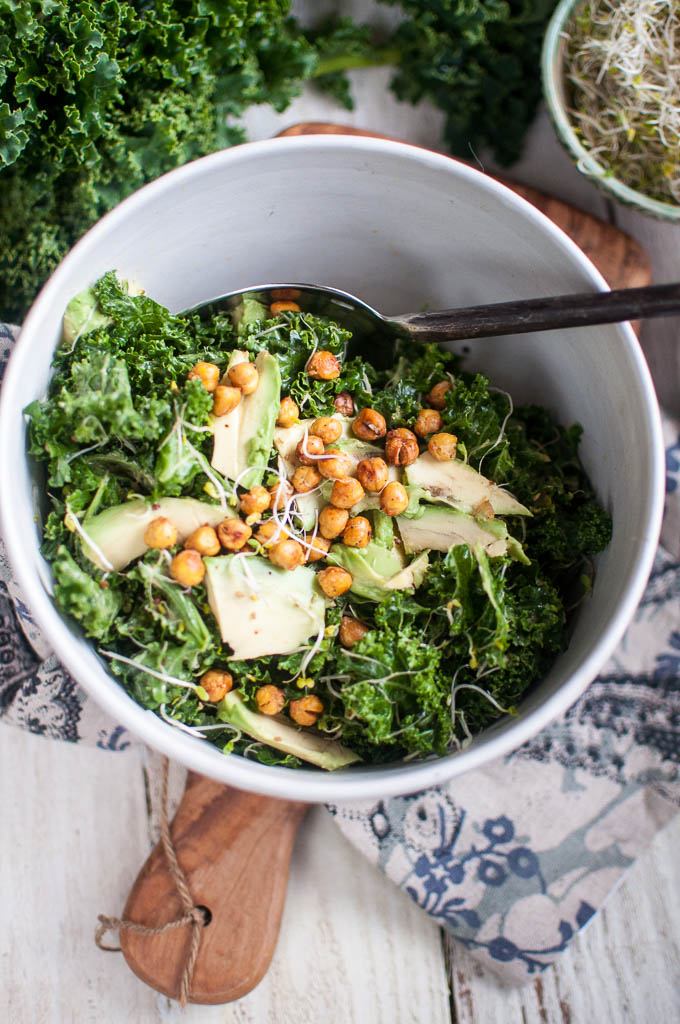 I'm calling this an Everyday Kale Salad not because it's ordinary but because you will WANT TO EAT IT EVERYDAY!! I recognize that not everyone loves kale the way I do – but this salad will change your mind. The thing you will love about kale is how HEARTY it is. It's not "bird food" or fluffy like a butter lettuce salad. No, kale is strong and bold like Filet Mignon. It takes center stage as a complete meal that WILL satisfy your mind, body and spirit. Big shoes to fill?? Not for this green superhero.
Massage Kale to Soften and Sweeten
I admit that it's has taken me time to fully appreciate kale but massaging it changes everything. Gently rubbing the green leaves with the acidic ingredients in this nutty, tangy Tahini/Tamari dressing sweetens and softens the kale making it far more desirable to eat. Mixing the dressing directly onto the greens means that each nutrient dense leaf is evenly coated and only one bowl is required.
***Tip: As you massage the leaves with your hands – insert love and positive energy into them. This healing message then gets digested into your body for the highest level of goodness.

New to Kale?
If you are new to kale and prefer a gentle introduction, I recommend adding Red Leaf or Romaine lettuce to this salad. You will hardly notice the kale until your body starts to crave it.
This salad is also completely versatile so you can enhance it with your favorite additions. My favorites are: Pan fried tofu, baked lentil falafels, roasted sweet potato chunks, red quinoa, pear slices, carrot ribbons, sliced radicchio, walnuts, and sunflower seeds. Kale really grips the dressing so it makes the perfect base for bold toppings.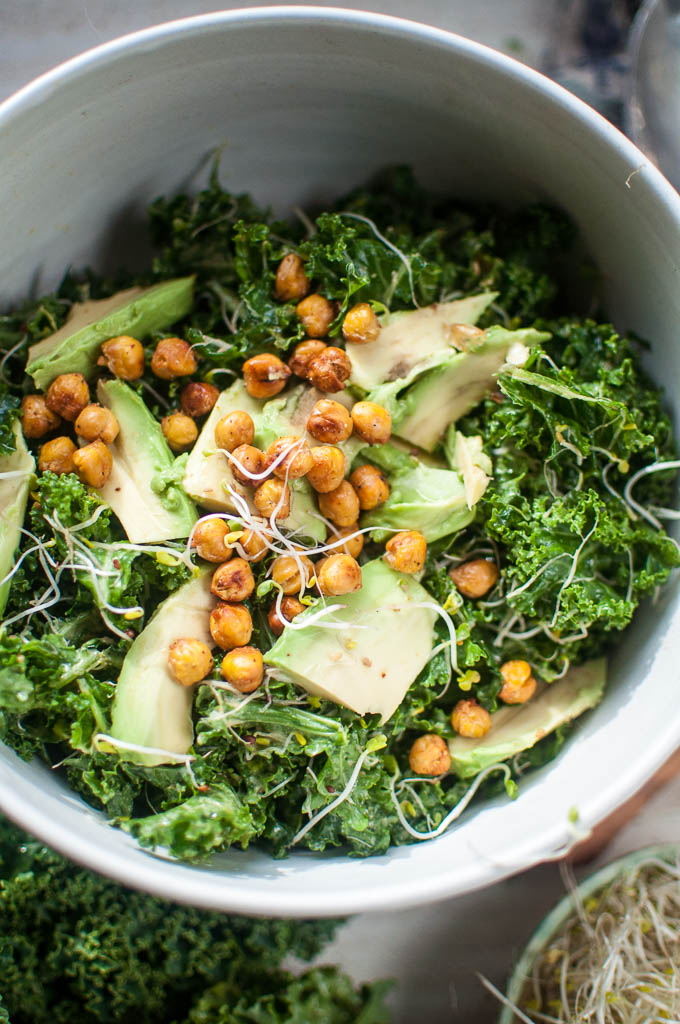 Getting More Vegetables into Your Life
Your life changes when you increase the amount of vegetables you eat. I've heard this over and over again from people who add more vegetables in their lives when they want to lose weight or are trying to become "healthier". It's not the  weight loss that surprises them since they expect that outcome, but it's how much clearer and less foggy they feel overall. Eating more vegetables is good for your emotional well being too. Especially if you carry a lot of anger.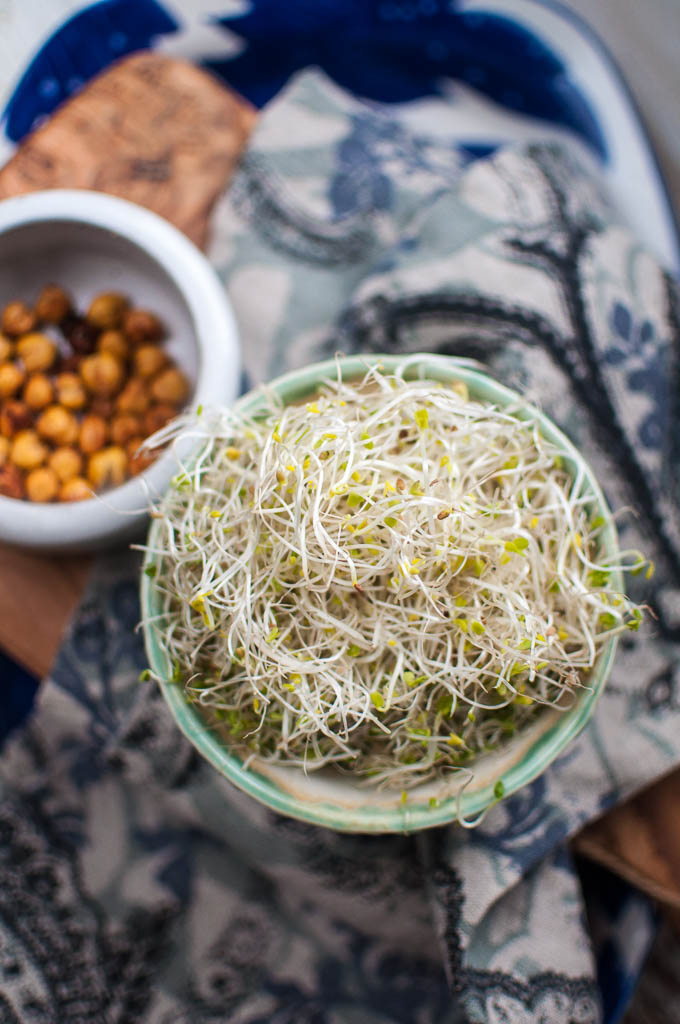 Recipe: Every Day Kale Salad
Ingredients: 
For the salad:
2 heads of curly green or purple kale
1/2 avocado
1/2 basket of broccoli sprouts (or other sprouts) (optional but great nutritionally)
2 tablespoons of chickpea croutons (optional – see recipe below)
For the dressing: 
(I usually just eye this so I am giving estimates but please adjust as needed)
Juice of 1 lemon
Drizzle of olive oil (start with 1 tablespoon)
Drizzle of Tahini dressing (start with 1 tablespoon)
Drizzle of Tamari (start with 1 tablespoon)
Sprinkle of Nutitional Yeast (start with 1 tablespoon)
Instructions: 
For the chickpea croutons:
(I usually have these on hand so don't worry if you don't have them). This recipe comes from Oh She Glows.
1 1/2 cups cooked chickpeas
1 teaspoon olive oil
1/2 teaspoon fine grain sea salt
1/2 teaspoon garlic powder
1/4 teaspoon cayenne pepper
Preheat oven to 400 ⁰ F and line a baking sheet with tin foil.
Rinse and dry your chickpeas with a paper towel. Place chickpeas on the baking pan and sprinkle with olive oil. Roll around to coat.
Add spices and do roll around again to coat.
Bake in oven for 20 minutes. Roll around and bake for another 10 – 15 minutes until golden/brown color.
Remove from oven and let cool. They will crisp more as they cool.
To make the kale salad: 
Prepare the kale by washing it thoroughly and removing the leaves from the stem. (To remove the leaves- grab the thickest part of the stem and with the other hand slide down as you grab/pull the leaves off. The leaves are harder to remove where the stalk thins out but this is ok).
In a large salad bowl, tear the kale into  bite size pieces and remove any remaining woody stems you come across.
Add the dressing ingredients onto the kale leaves and with clean hands – gently massage the leaves until all the dressing is mixed in and the leaves soften to about half their original size (1-3 minutes). Adjust the dressing as needed.
Mix in the broccoli sprouts
Top with sliced avocado and sprinkle with chick pea croutons or toppings of choice
PS. If you are open to eating cheese, a nice Feta (preferably from abroad where less hormones are used) works really well with this salad.