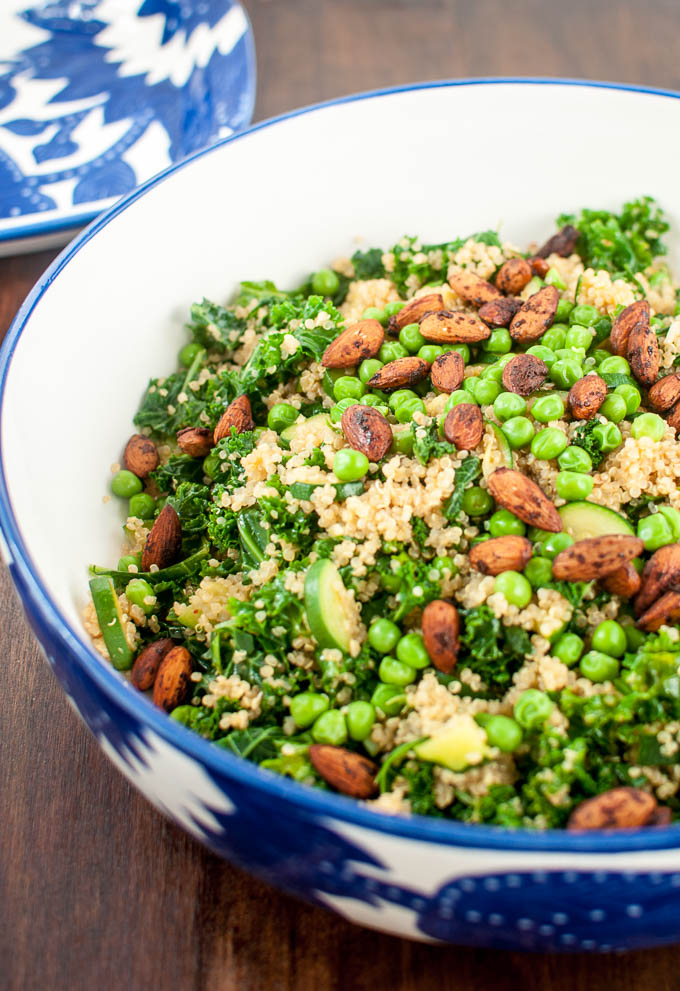 I'm always trying to find more ways to eat kale. I love how hearty it is and that it can stand up to strong flavors. It also hugs any dressing making each bite ooze with flava. And since kale is a superfood, you simply feel great eating it. Better then Popeye chugging spinach from a can.
I also became curious about green peas after noticing how many vegan protein powders use "pea protein" as a major ingredient. So, I researched recipes featuring green peas and kale and stumbled upon this nutty pea and quinoa bowl by Deliciously Ella. Now, I make this dish or a modified version of it, all the time. It's an easy recipe to adjust to your preferences and you will want to put the Tamari almonds on everything.
This dish is great way to get plant protein:
| | |
| --- | --- |
| 1 cup quinoa | 8  grams |
| 1 cup kale | 8 grams |
| 2 cups green peas | 16 grams |
| 2 zucchini | 4 grams |
| ½ cup almonds | 10 grams |
| Total | 46 grams   |
The key here is find fresh peas or frozen ones with low or no salt. I found Woodstock organic green peas at my local health food store. These peas are organic, non-GMO and have no added salt. I've also cheated and made this dish using broccoli instead of peas. I replace the puree with a tangy miso tahini dressing. Yum! The Tamari almonds are a great addition to any salad and the quinoa adds enough bulk to make this a substantial meal.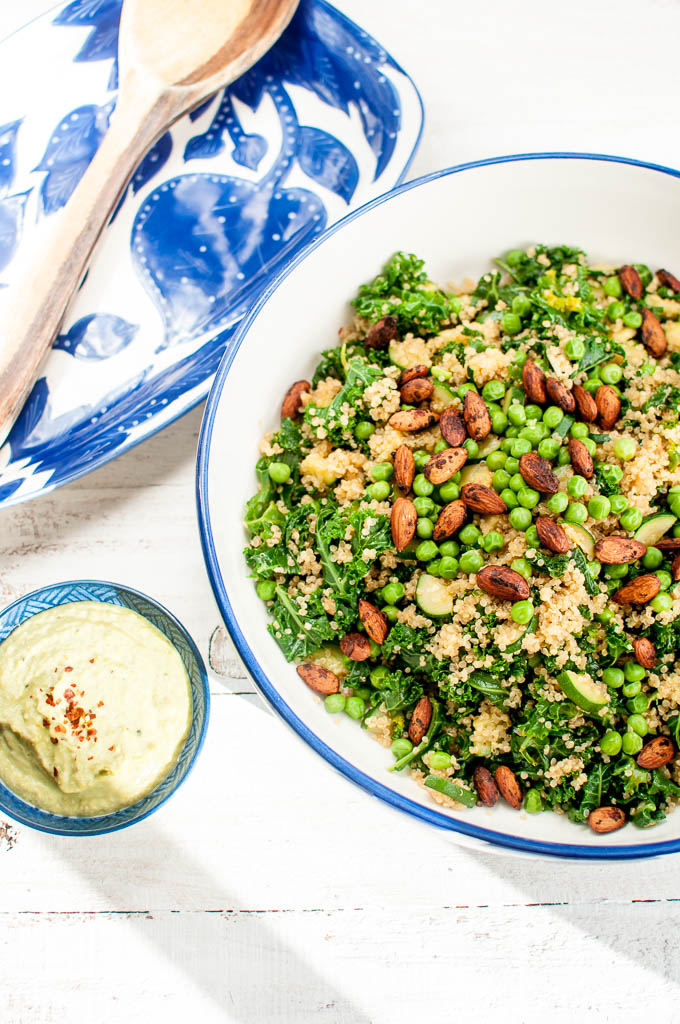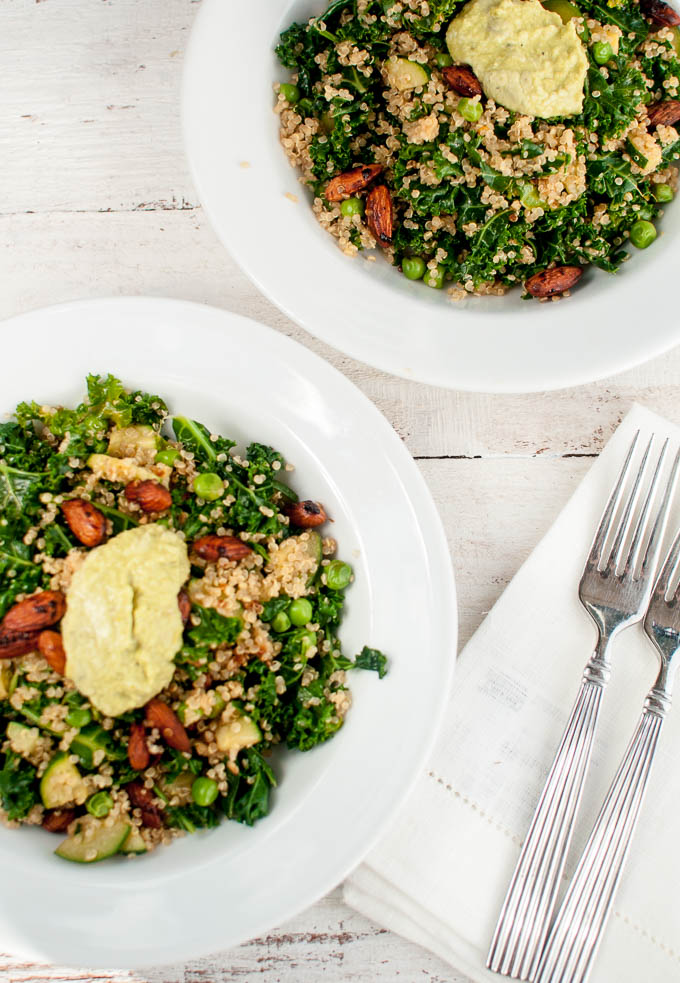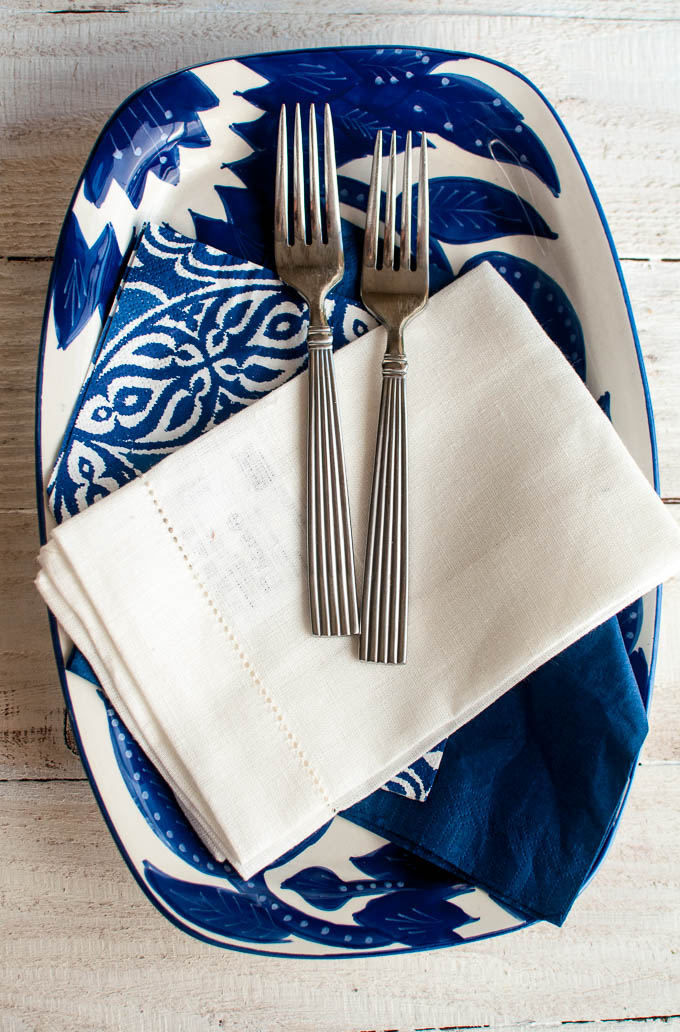 If you haven't gone to Deliciouslyella's site- do so. Not only is she beautiful, but her blog, videos and books offer tasty, healthy recipes that can easily be thrown together. Her cute British accent makes her even more likable. This green protein salad makes a great last minute lunch or dinner since there is little prep work and minimal cooking as well.
Recipe: Kale, Pea and Quinoa Salad with Tamari Almonds
Recipe by Ella Woodward at Deliciously Ella
Ingredients:
1 cup cooked Quinoa
1 large bunch curly kale rinsed and torn into bite size pieces
6 tablespoons olive oil
2 cloves garlic minced
1 bag (unsalted) frozen or fresh peas (or two cups)
2 medium zucchini sliced in 1/2 inch quarters
1/2 cup raw almonds
1 tablespoon Tamari
Pinch of red chili flakes
Juice of 1 lime or lemon
Salt and pepper to taste
Directions:
Bring 2 cups of water and a pinch of salt to a boil in a small saucepan. When boiling, add 1 cup rinsed quinoa and return to a boil. Cover and lower heat simmering for  13 min. Remove from heat and let stand covered for another 2-5 minutes. Fluff with fork.
To make pea puree. Bring  3-4 cups of water to a boil in a medium saucepan. Add peas and return to a boil. Cook for 2-3 minutes. Drain and rinse with cool water. Add 1/2 of the peas to a blender with 4 tablespoons of olive oil, juice of 1 lime (or lemon) and salt and pepper to taste. Blend until smooth and creamy.
Place almonds in a large non-stick skillet and when they start to get hot add 1 tablespoon Tamari and stir to coat (about 3-5 minutes). Remove the almonds and set aside.
In the same frying pan, heat 2 tablespoons of olive oil and saute chopped garlic with a pinch of red chili flakes for a few minutes until slightly browned, add zucchini and kale and cook until soft (5-8 minutes).
In a large salad bowl, add the kale and zucchini mixture, cooked quinoa, remaining peas and top with Tamari almonds. Add salt and pepper to taste.
Serve with the pea puree on the side or dollop it on top.
A Nice Variation: If you don't have peas, forget the puree and saute a cup of cut broccoli along with the kale and zucchini instead. Then add this miso tahini dressing to the remaining quinoa, greens, and almond mixture (it's so delicious):
Juice of 1 lemon
1 tablespoon tahini
1 tablespoon miso (I use red)
1 generous tablespoon olive oil
1 tablespoon water
pinch of cayenne pepper
pinch of salt
Mix ingredients with a fork until smooth. Add more water to thin if necessary.