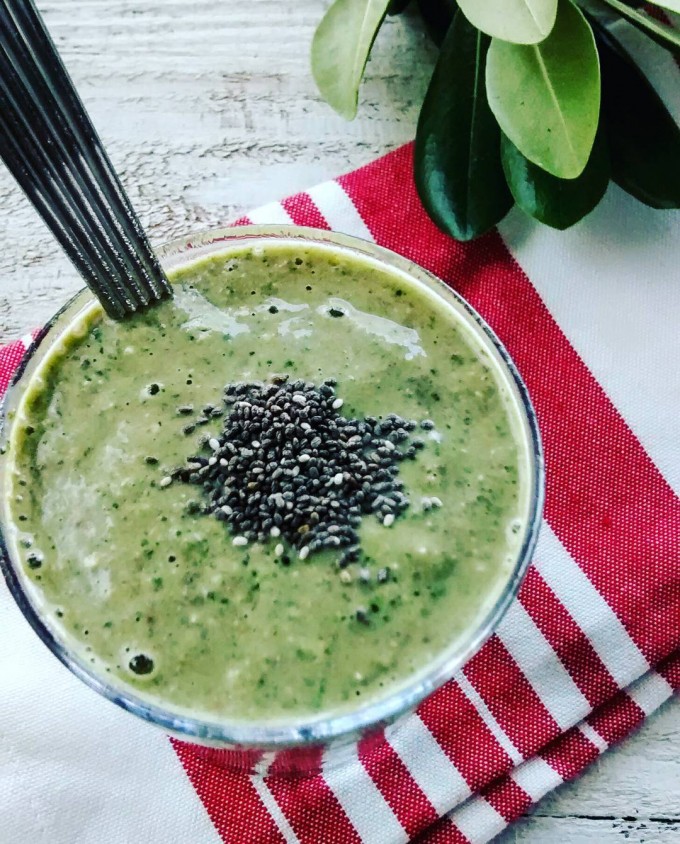 I've been exercising a lot lately. I like to work out extra hard in the summer because it's light out early and I tend to have more energy in general. My routine this summer is to get up around 5, lollygag in bed for 15 minutes, drink a cup of tea (Rooibos chai) and go out for an hour of cardio. I either power up the hill behind my house, take a 4 mile run, or climb the stadium stairs at the local high school. Afterwards, I take a yoga, barre or Pilates class to strengthen my core and keep me flexible.
I prefer not to eat before I exercise so by the time I am done, I'm hungry and ready to replenish my system. If this sounds like a lot of working out, it is. But I'm training for a 5 day hike in the Andes which I will enjoy it a lot more if I feel strong and well-conditioned.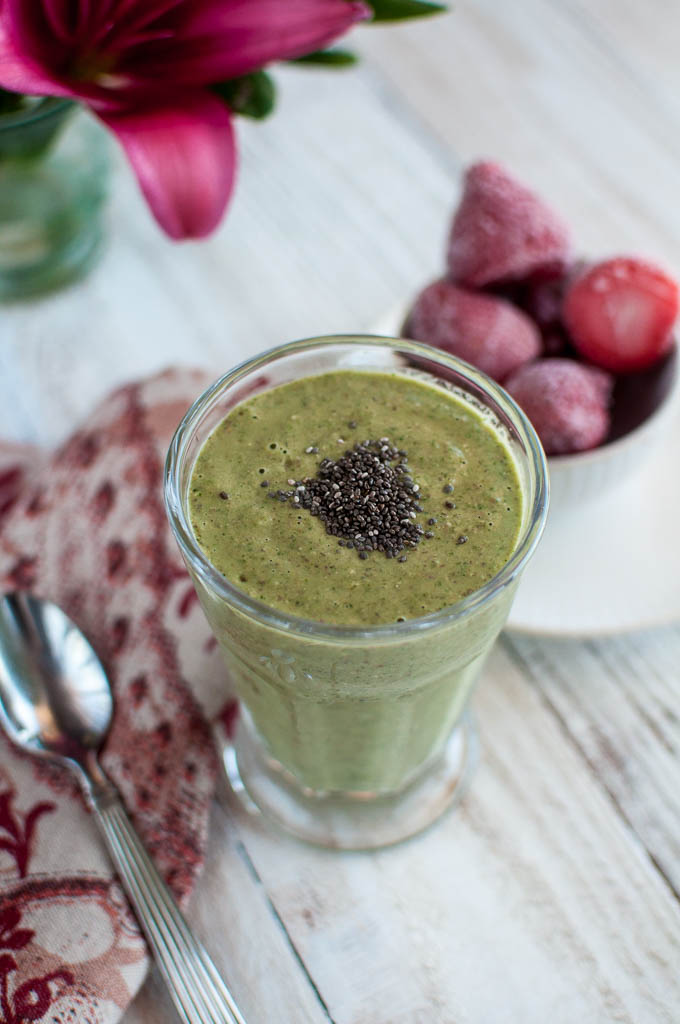 One of my favorite post workout breakfasts is a high protein green smoothie. They are quick to make, give me raw power greens, protein and taste amazing. I love the cool creamy texture.
Normally, I make my "go to" Kale Iron Smoothie, but the Sunwarrior protein powder I use was recently reformulated. This resulted in a larger size and higher price (ugghh). It felt expensive before, but now it feels really spendy. I'm pretty sure this was the boost I needed anyway to try something new.
I researched smoothie recipes made with protein sources I already had on hand such as hemp and chia seeds and found this easy breakfast smoothie by Deliciously Ella (I'm a huge fan of her recipes). The smoothie lived up to it's glowing reputation. It's easy, quick, delicious and uses simple ingredients.
The key to making great smoothies is keeping frozen bananas and berries in your freezer at all times. I always have a bag of peeled frozen banana chunks on hand. And berries too, when they are in season — assuming I haven't gobbled them down while putting away the groceries (seriously – I have no self restraint around berries).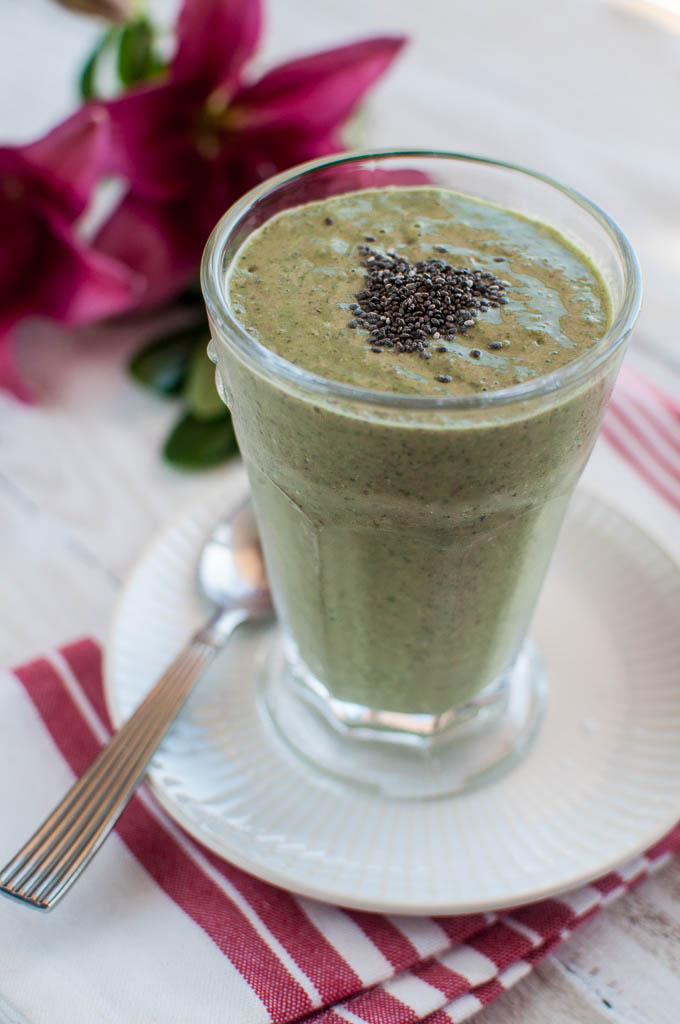 The thing about smoothies is that they can give you the impression that they are "tough love" food. All that spinach and protein, it's bound to be good for you. But it's important to be aware of how much sugar is in them. So before you add a bunch of dates, honey, or agave syrup (which I don't recommend as a sweetener) ask yourself if you could enjoy it with less or without. Read this article for a nice reminder.
My favorite smoothies are on the thicker side so I can eat them with a spoon and avoid sucking it down at ultra speed. To make the process easy, I use the whole green piece, stem, stalk and all. This is optional but it's easier to just wash, tear, and toss the greens into the blender without removing stems and stalks.
Recipe: Protein Rich Breakfast Smoothie 
Makes 1 serving
Ingredients:
The measurements are just guidelines. It's rare that I bother to measure anymore. I often just eyeball it after making it the first time.
1 small frozen peeled banana chunks  (about 4/5 thumb size)
1 large handful of frozen berries (whatever kind you like, this one has strawberries)
1/2 – 1 cup of almond milk **see note on almond milk brands
2 large handfuls of washed spinach, kale, or swiss chard (I add the stems too) torn into smaller pieces
1 tablespoon chia seeds
1 tablespoons hemp seeds
3 tablespoons gluten free oats
1 pitted Medjool date (to sweeten if necessary). Soak in warm water to soften.
Place all ingredients in a high speed blender and blend until smooth. Add a few ice cubes if smoothie needs to be creamier or a tad more almond milk if it needs more liquid.
** A note on almond milk. In a perfect world, I would make my own almond milk all the time. It is by far the healthiest option the downside is that it doesn't last that long and needs time to soak the almonds. Right now I feel happiest with Calafia Farms Unsweetened Vanilla which is available at Whole Foods. But here is a good article on the different options. My biggest complaint is the brands that add sugar despite labeling themselves as "unsweetened".
Recipe is courtesy of Deliciously Ella.