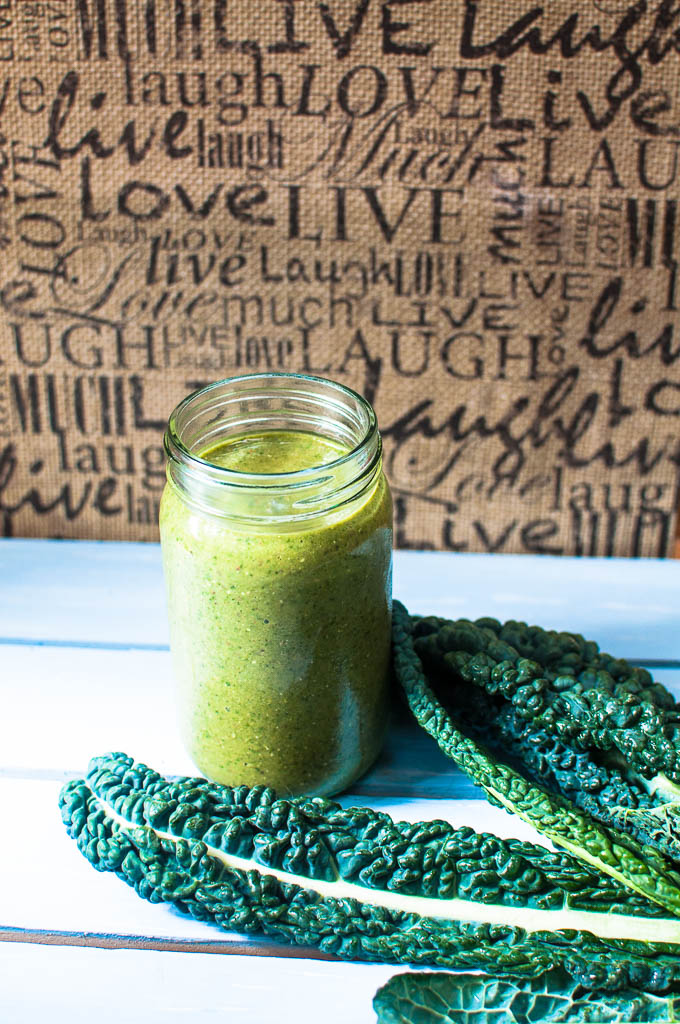 If Popeye were around today, he'd ditch the cans of spinach and guzzle a kale smoothie. Why? Because kale has the reputation of being a super food. It's high in Vitamins A, K and C and rich with nutrients and anti-oxidants that help fight disease and aging.  It's also very low in fat and calories. So why isn't everyone eating kale? Because kale tastes healthy and earthy which isn't a bad thing, but takes some getting used to. Therefore, adding kale to smoothies is the best way to start your love affair with it.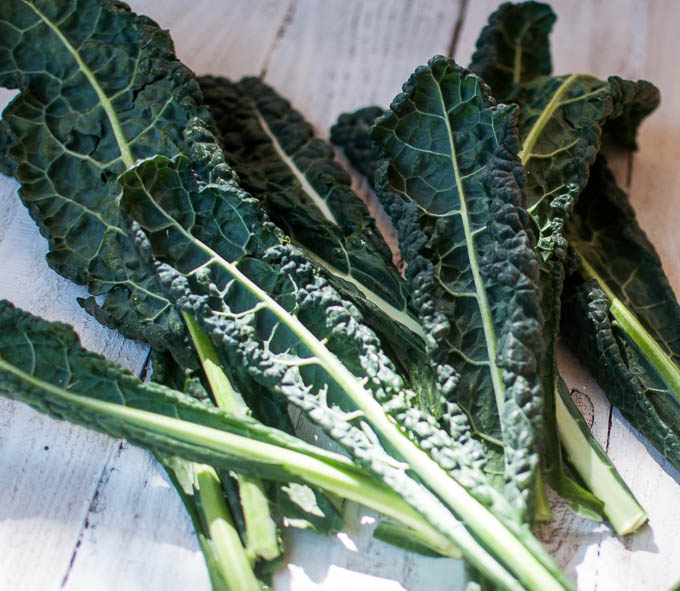 I was originally drawn to kale because it was "good for me" but I must admit, I wasn't crazy about the taste (I've since grown to love it). I wanted to add protein and iron to my diet so I thought a smoothie would be the perfect solution. I've always loved the creamy consistency of milkshakes and I hardly taste the kale since it's flavor is concealed by bananas, almonds, and the sweetness of dates.
The best thing about smoothies is that they are flexible. Sub in soy milk for almond milk if you want more protein, throw in spinach instead of kale if that looked vibrant at the market. Adjust the spices to your liking. I find my use of cayenne continues to increase.
I made this "shake" when I wanted to add more iron into my diet. Anemia (iron deficiency) is very common in the United States so I am mindful about increasing my iron intake. Signs of anemia include feeling weak and tired, having trouble concentrating, out of breath, headaches, dizziness, feeling chilled in the extremities (hands, feet, nose). My acupuncturist suggested adding blackstrap molasses to my daily diet because it's a good source of iron. Now I add this with a tablespoon of Brewer's yeast to my smoothie. I'm not nearly as chilled as I used to be.
**NOTE: To make sure I can prep a smoothie anytime, I peel bananas and break them into thumb size chunks which I store in baggies in the freezer.  Frozen banana chunks ensure a creamy, shake-like consistency.
Smoothies are flexible and can be easily adapted to suit you. However, it is easy to unknowingly inch up the sugar so keep it heavy on the greens and lighter on the fruit. Have fun, be creative and get your iron!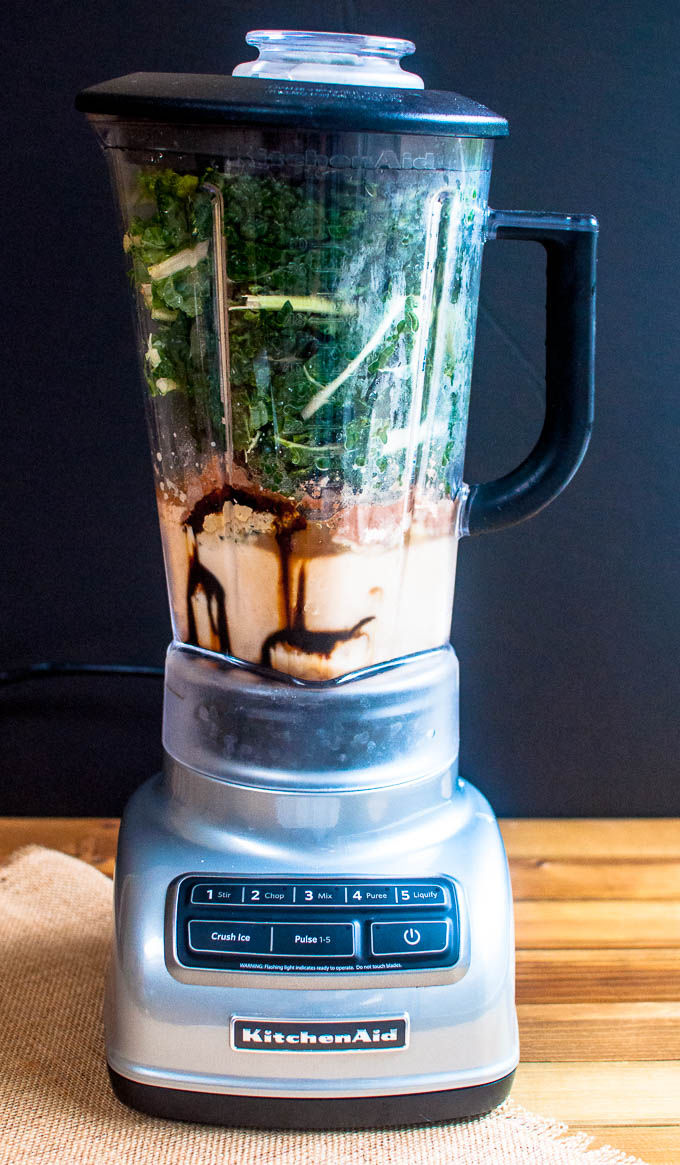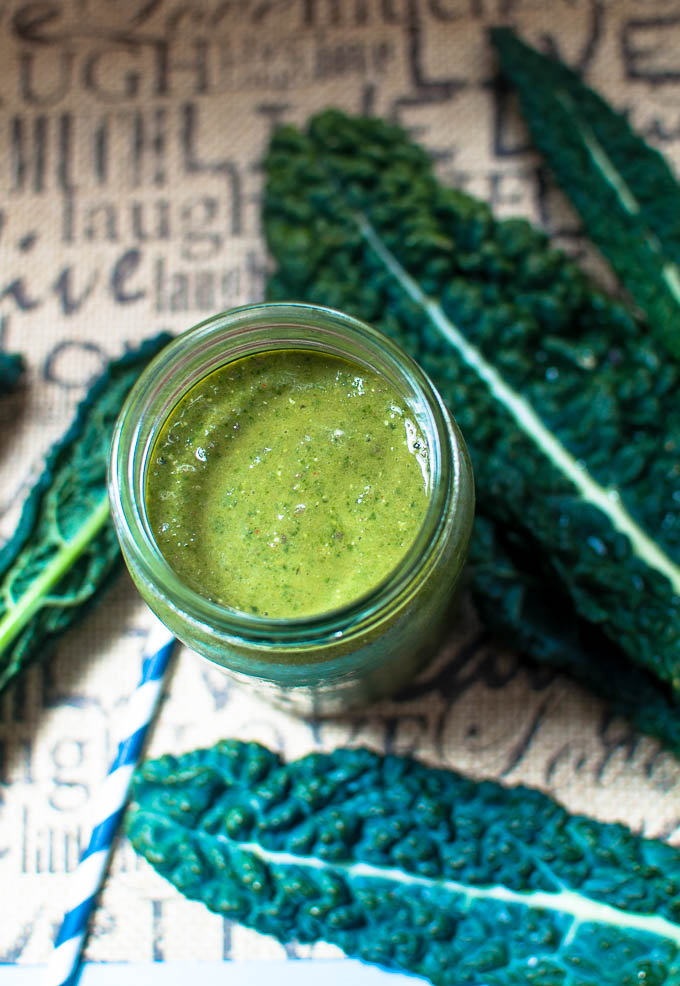 KIS: Kale Iron Smoothie
Makes 2 large mugs
Ingredients:
5 thumb-size pieces of frozen (unpeeled) banana  *see note above
1 1/2 cups unsweetened vanilla almond milk (or other non-dairy milk)
5 ice cubes
1 tablespoon Brewer's Yeast
1 teaspoon Blackstrap Molasses
1 tablespoon Cinnamon
1 teaspoon Cayenne Pepper
1 serving Protein Powder (I use SunWarrior Blend Chocolate)
1 pitted Medjool date (I put it in water while I'm preparing the Kale)
½- ¾ bunch of washed Lacinto Kale (also called Dinosaur Kale) cut or torn into smaller pieces for the blender (I include the stems for added fiber but this is up to you).
Instructions:
Add all ingredients to a blender, hold lid in place and pulse until ice is crushed and greens start moving. Increase speed of blender until you get a smooth and creamy consistency. Add more ice if necessary. Pour into your favorite mug or glass and enjoy (I eat mine with a spoon)  This makes a hearty amount so if you want less, cut the recipe in half.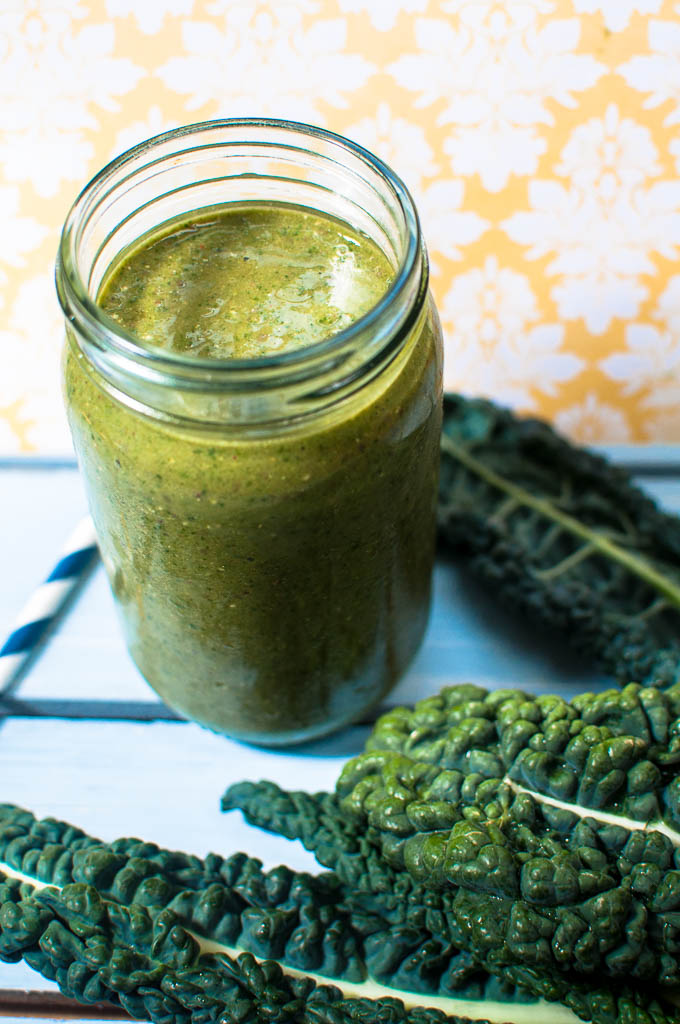 Enjoy!