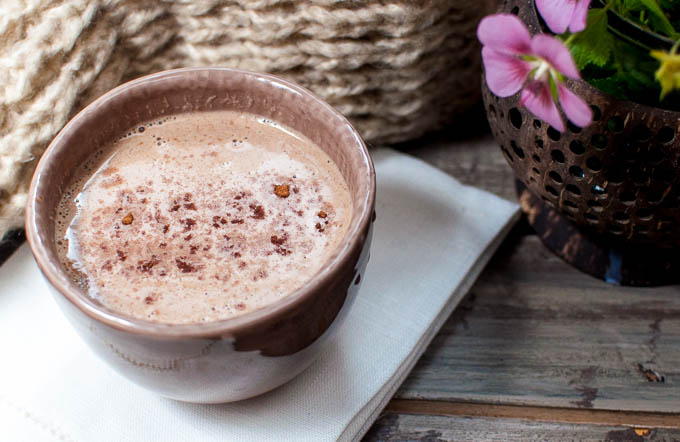 I love hot chai lattes especially when it's cold out and I'm feeling chilled. The warm spices and light sweetness taste healing and comforting. I also like having a warm vegan treat now and then which is hard since I don't drink coffee and am very sensitive to the effects of caffeine. Most cafe's and coffee shops don't offer decaffeinated chai so I make this as a special treat for myself at home.
I love Chai but wanted a decaffeinated version.  This uses non-dairy milk to make it thicker and lots of warming spices. It's my morning staple but it makes a nice dessert treat too.
This Cheater Chai uses no tea so is quick and easy to make. Without caffeine, feel free to enjoy it anytime.
Cheater Chai Recipe:
Makes 1 serving
Ingredients:
1 mug of unsweetened vanilla almond milk (about 1 1/2 cups) or non-diary milk of choice (I use Calafia Farms Unsweetened Vanilla)
1 teaspoon cinnamon
1/2 teaspoon nutmeg
1/2 (generous) teaspoon ginger
1/2 (shy) teaspoon cardamom
1/2 (shy) teaspoon cloves
dash of cayenne (I like mine spicy)
2 teaspoons sugar in the raw
1 teaspoon of your favorite protein powder (optional) I use Sun Warrior Classic Raw Blend 
Directions:
Add almond milk to a saucepan and turn to med/high heat.
Add spices, sugar, and protein powder and whisk until well combined. Milk will boil over if unattended so keep an eye on it. Heat until lightly bubbling.
Pour into your favorite mug (I preheat with hot water) and enjoy!