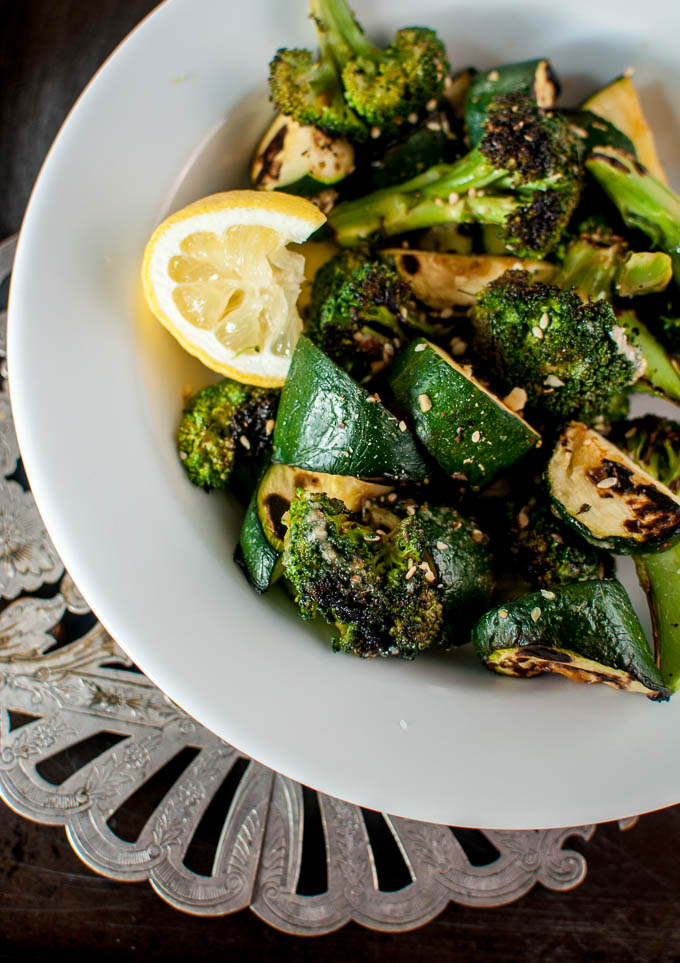 Do you ever eat a dish that stays with you long after the meal is over? Even years later? For me, this is case with burnt broccoli! Many years ago, I was developing a friendship with a woman who happened to be a great cook and as (my) luck would have it, she invited me over for lunch at her house. I knew she enjoyed cooking, but I didn't know I was in for such a memorable treat. She explained that her boyfriend wouldn't eat this dish because he was more of a meat eater type, but she knew I loved veggies and figured (accurately) that I would. Moreover, she was pleased to share this healthy meal with someone else. It was her favorite!
She referred to this dish as, "burnt vegetables" so I wasn't sure what to expect. I observed her char a mound of mixed vegetables and tofu in an iron skillet. Hmmm I thought, I'd never seen vegetables done this way before! Once the vegetables were moderately blackened, they received a drizzle of flaxseed oil (great for the skin) and Tahini (great for the taste buds), a few cracks of fresh pepper and pinch of fine salt.
My friend tended to be on the fancier side which is why I was surprised by this casual lunch that was beautifully plated and presented on a delicately set table with fine linens.  At first glance, my lunch looked like someone wasn't paying enough attention in the kitchen and accidentally burned a few veges, but when I tasted it……oh my, it was a revelation! The dish was humble but man, it tasted good.
She moved away shortly thereafter but her burnt veges lunch still ranks high as one of those "unforgettable meals".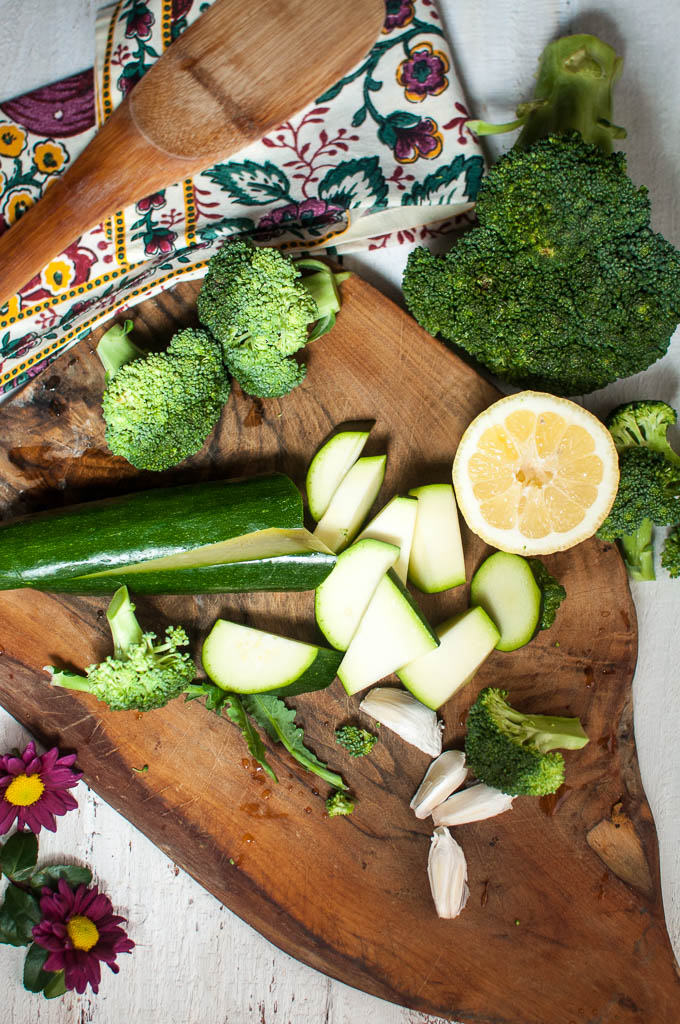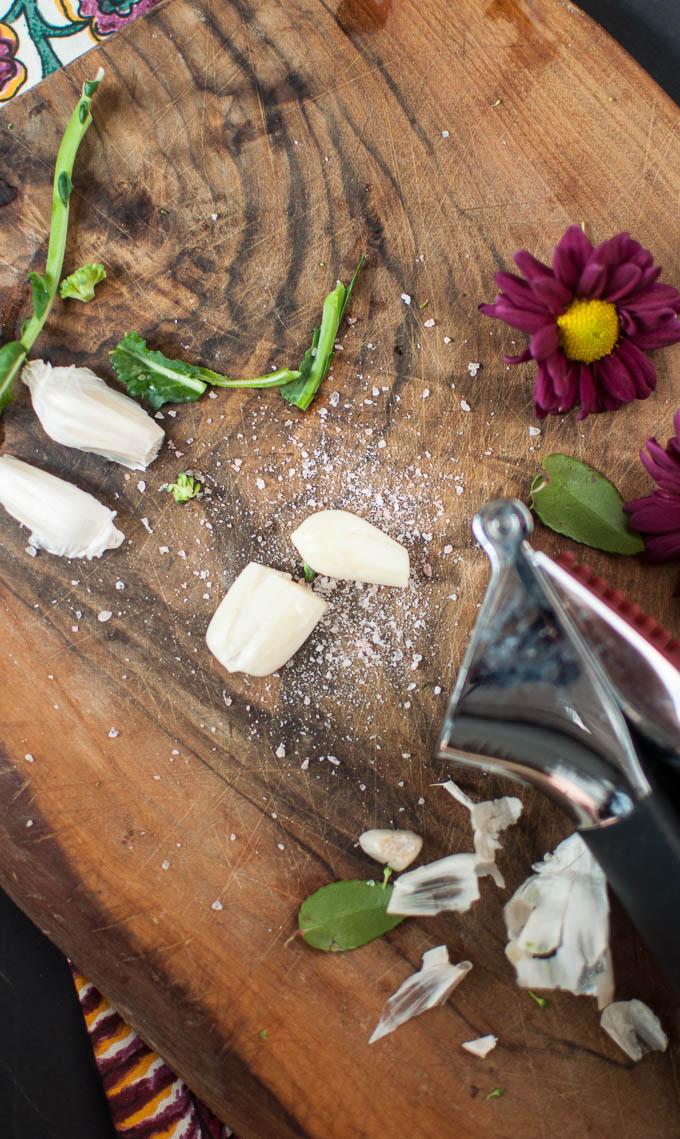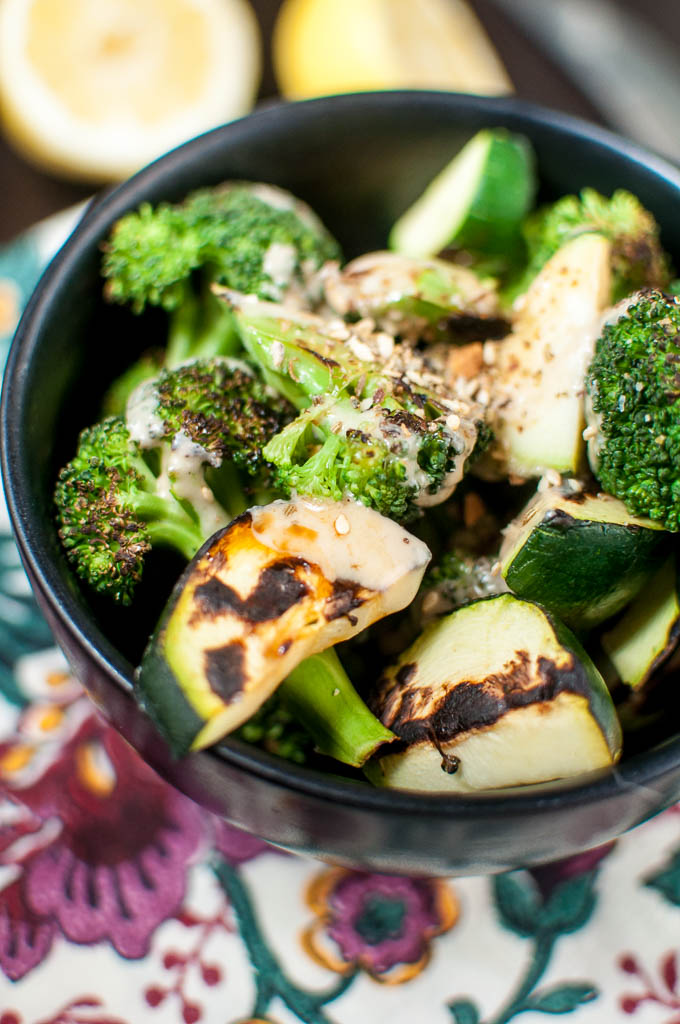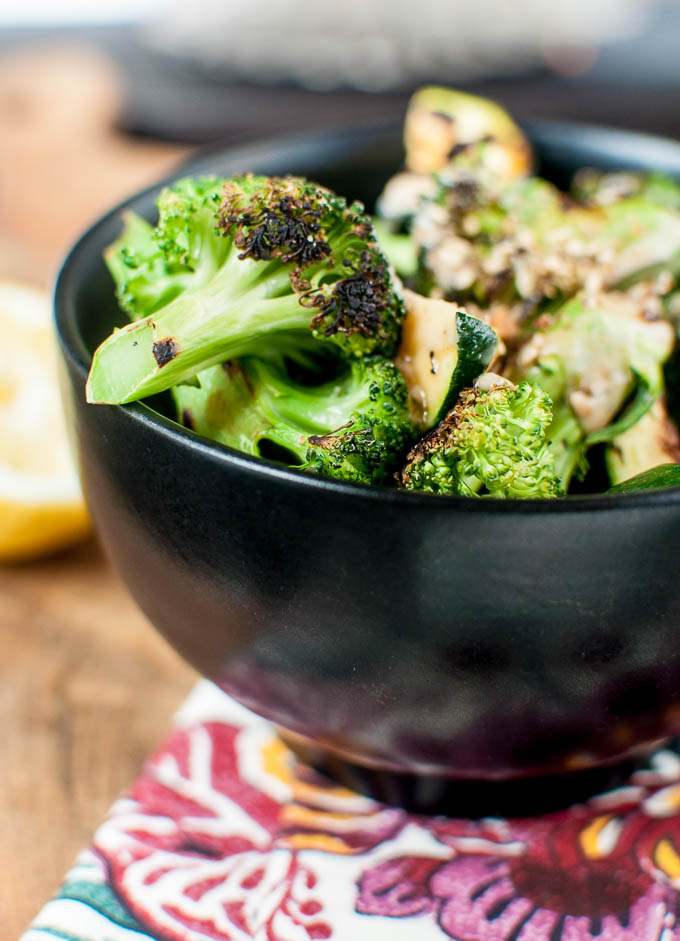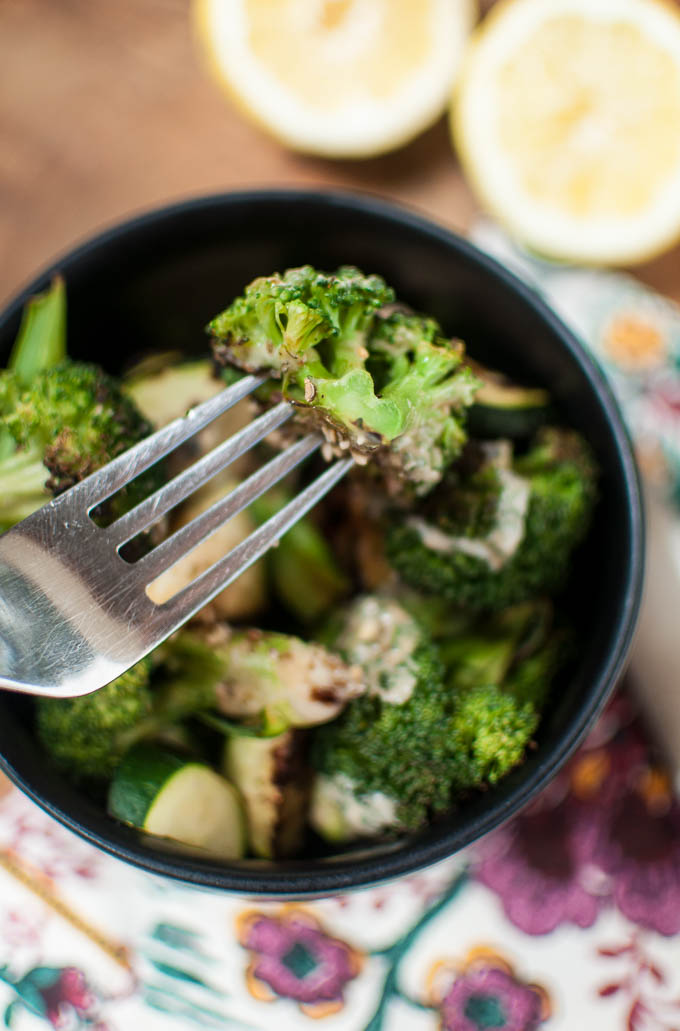 Just recently, I felt inspired to recreate this dish for a quick, healthy lunch or dinner. Now I'm smitten and eat it several times a week. It's so easy to prepare and perfect for one person. I've mentioned in other posts that I crave greens daily and eat a ton of salads. But when it's cold, and a salad feels too summery, a warm cozy bowl of burnt broccoli hits the spot. Charring the greens adds a smoky "burnt" flavor I love but this may be a personal preference.
This recipe is easily adaptable too. I use broccoli and zucchini because they are green and hold up under the heat, but feel free to experiment with other firm veges (if they are too moist, they will steam rather than blacken). For added bulk, serve over brown rice or quinoa. Want more protein? Add shelled edamame or green peas. Top with cubed avocado, nuts or Dukkah for texture.
Recipe: One Man Burnt Broccoli
Makes 1 bowl 
Ingredients
1 head of broccoli
1 small/medium zucchini (or half a large one)
1 clove garlic finely chopped or pressed (more if you like I'm just very sensitive to garlic)
pinch of good salt (I use Pink Himalayan Sea Salt)
Drizzle of fine Olive or Flax oil
Drizzle of Tahini
Drizzle of Tamari
Juice of half a lemon
Garnish with Dukkah or white sesame seeds (optional)
Directions
Wash the broccoli and zucchini. Cut broccoli into small, bite-sized florets. Trim off each end of the zucchini and slice in half lengthwise. Then cut into (around half inch thick) half moon slices. Finely chop garlic or press in a garlic press.
Set a large non-stick frying pan on the stove-top over medium-high heat and toss in the broccoli, zucchini, (optional) garlic and a pinch of salt. (no oil). (I try to face the half moon zucchinis down so they get more surface space to burn). Allow the veges to cook/burn in the pan before turning them over (around 7-10 minutes but this may vary depending on heat). When the veggies are partially burnt on one side, flip them over for another 5-7 minutes to burn another side. Cook until the vegetables are blackened in spots (around 15 minutes total).
Once the veges are blackened in spots, transfer to a bowl and lightly drizzle with fine olive or flax oil, tamari, Tahini, and fresh lemon juice. Taste and adjust as needed. Garnish with Dukkah,  or white sesame seeds.
Enjoy!