As the Covid Quarantine drags on (it's now over 2 months), I feel like Bill Murry in Groundhog Day! My motivation to try new things is suffering so my kitchen routine doesn't vary much. I go on autopilot and repeat  the same ol' dishes with slight variations. However, this everyday powerhouse steamed greens bowl with tahini dressing is just as fresh and tasty as ever!  It's ultra healthy (te quiero kale and broccoli) and served with an addictive tangy, umami dressing that makes it hard to resist (even if you don't like broccoli). I crave this bowl so often that I sometimes have it for breakfast (shhhhh)…!

Steamed Greens
If you don't have a steamer pot, it's a worthwhile investment. Steaming is one of the best ways to cook veggies so they retain their nutrients. Another advantage is that no extra fat or salt is added to the cooking process keeping your vegetables low in calories. Steaming may sound unexciting, but it's is a great way to get more vitamin rich vegetables into your diet. Try steaming spinach, Swiss chard, baby broccoli, baby bok choy, asparagus or zucchini.  For density and flavor I add a carb such as:
The Dressing: AKA The Star of The Show
Have you ever tasted a Thai or Gado Gado salad that's ALL ABOUT THE DRESSING? Here, the salty/umami  Bragg's Liquid Aminos and tangy/nutty lemon Tahini dressing is the star of the show!!  The dressing enhances a lot of otherwise "meh" dishes.  Even if you don't enjoy broccoli or kale, the dressing could change your mind. But add roasted sweet potatoes for heavenly sweetness. It's so good!!
Another option I want to try is peanut sauce (this one or this one). You know the kind you could drink straight from the jar?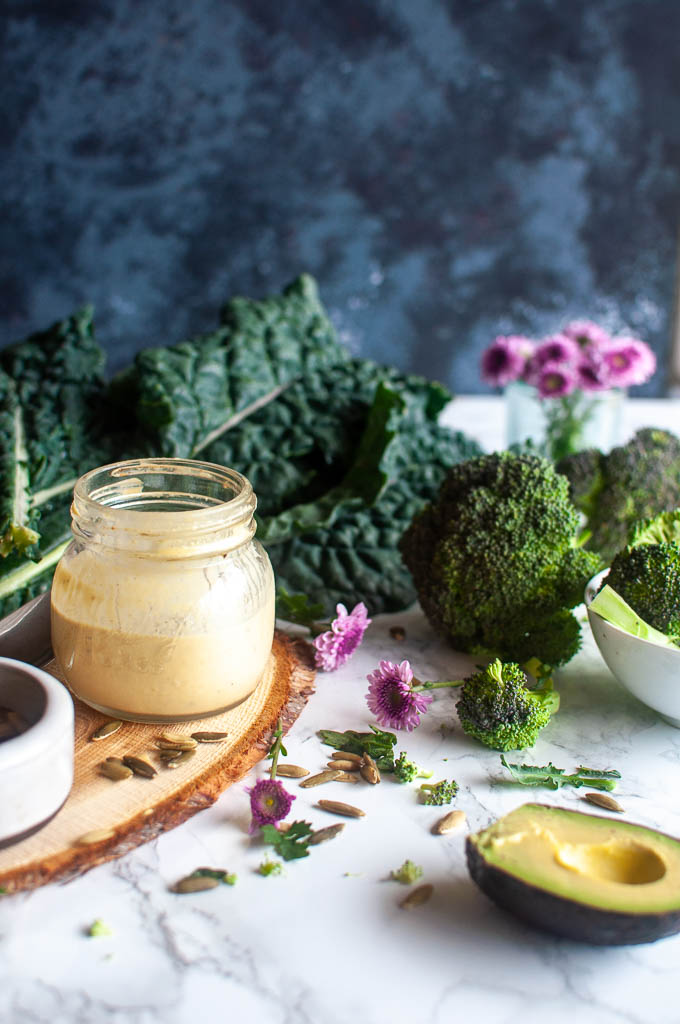 So Many Bowls, So Little Time
"Bowls" have become all the rage since people started photographing their food for Instagram. Buddha Bowls, Nourish Bowls, Power Bowls, Grain Bowls etc. They conjure up images of vegan health enthusiasts ordering a "glow bowl" after a sweaty yoga practice. OK! OK! …. I'm guilty!
Bowls are packed with a rainbow of vegetables, grains, beans and tofu and smothered with an irresistible dressing (see 11 recipes here sub chicken with tofu or omit entirely). While Buddha and Power Bowls use a multiplicity of ingredients, my Everyday Powerhouse Steamed Greens Bowl only uses 5, so it's more like a Humble Bowl.
I go heavy on the kale and broccoli to increase my iron, fiber and super food intake and go light on the carbs. I steam everything together (not avocado) and fancy it up by serving it in a low rimmed bowl (I found a few at T.J. Maxx). Food plated on dishes you love, will always taste better.
The Recipe: Everyday Powerhouse Greens Bowl with Tahini Dressing 
This recipe makes a large portion for one person. However, steam as many greens as you like, there is no limit and your body will thank you. The bowl takes 10 minutes to prepare when the carbs and dressing is prepared in advance. This lemony-tahini dressing from Angela Liddon at Oh She Glows is my favorite dressing and I've been making it for YEARS!!  Keep a jar in the fridge to add on salads too (Lentil Quinoa Protein Salad, Kale Salad, Burnt Broccoli).
Ingredients 
1 bunch Lacinto kale de-stemmed and torn into bite size pieces
1 broccoli crown cut into bit sized pieces (for extra credit, cut up the stem as well)
½ cup of roasted sweet potato or cooked brown rice
A few dashes of Bragg's Liquid Aminos or Tamari
Lemony Tahini Dressing (recipe below)
Optional: sliced avocado
Lemony Tahini Dressing
¼ cup Nutritional Yeast
½ cup fresh lemon juice
¼ cup tahini (I like Trader Joes Organic Tahini)
2 Tablespoons Olive Oil
2 Tablespoons cold water
1 teaspoon sea salt
(optional) garlic clove (I omit the garlic)
Add all ingredients to a large measuring cup and mix well with an immersion blender or fork. Store in a sealed container in the refrigerator for up to a week.
Directions
Fill a large steamer pot with 2/3 inches of water and bring to a boil. Add kale, broccoli florets and potatoes or rice to the steamer basket, cover and steam for 5 minutes.
Place steamed veges in a pretty bowl. Top with a few dashes of Bragg's Liquid Aminos (or Tamari), Lemony-Tahini Dressing and sliced avocado.
Notes: The dressing makes enough to store in the fridge for future use. I keep it in an airtight jar for up to a week. For extra crunch, sprinkle on raw pumpkin or hemp seeds.
For more on Bragg's Liquid Aminos read this article here.