Yes it's another bread recipe!!!  I just found out that my month-long trip to Portugal has been canceled which is such a bummer. I planned it almost a year ago and was looking forward to experiencing Fado music, lingering in wine bars, and trying every cute cafe in Lisbon. Plus, I'm feeling stir crazy with the extended Covid quarantine. So, it's no surprise that I'm craving comfort foods like my favorite: toast and tomatoes. I've been trying different breads, but this healthy, grainy slightly sweetened seed bread could be my favorite so far. The recipe is the genus work of Alanna, a former pastry chef turned full time blogger of The Bojon Gourmet. If you haven't ogled her site yet, stop now and click over.

The Bojon Gourmet
When Alanna lost her job, she started The Bojon Gourmet. Bojon spelled backwards = No Job (clever..I know). She is superbly talented and to be honest, I've been intimidated to try her recipes but this bread looked too good to pass up. First, she roasts the seeds to deepen their nutty, rich flavor and adds a teensy sweetness of maple syrup to bring it all together. This bread is gluten-free and vegan and has a fair amount of protein and fiber due to the healthy ingredients.
Healthier Breads
Even as a young girl, I was drawn to healthy breads like multi-grain, oat, or whole grain seeded. But it was on a trip to Denmark that I tried the ultimate hearty grainy breads like this Danish Rye.  So, when I returned found Sarah Briton's  Life-Changing Bread on her blog My New Roots. Because Sarah lived in Cogenhagen, her bread reminded me of the delicious loaves I savored there.
However, not everyone likes a chunky, seedy texture, so if you prefer a smoother loaf, I recommend trying this yeast-free buckwheat bread.
For other healthy seed bread ideas, click here.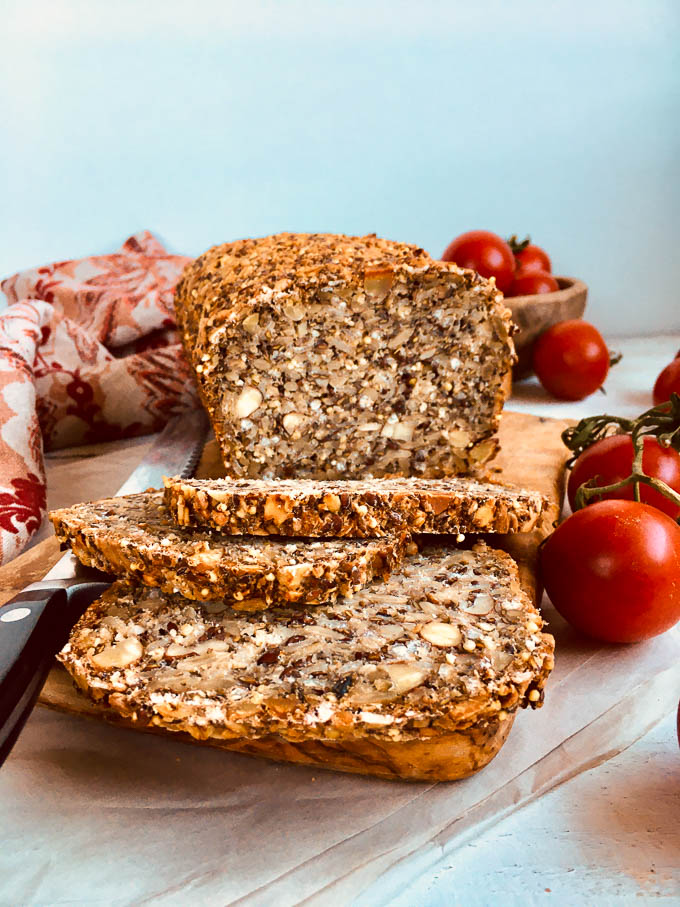 Baking Bread is Intimidating – But Not this One!
Seed breads are easier to make than traditional breads in general so, when my "dough" came out runny, I was worried. Luckily, the recipe is forgiving and the bread turned out well. This is an easy starter recipe for anyone who is new to baking, especially gluten-free or vegan breads. You don't need fancy equipment nor starter yeast. Simply toast the seeds, mix in the wet ingredients, let sit, bake, cool…..and enjoy!!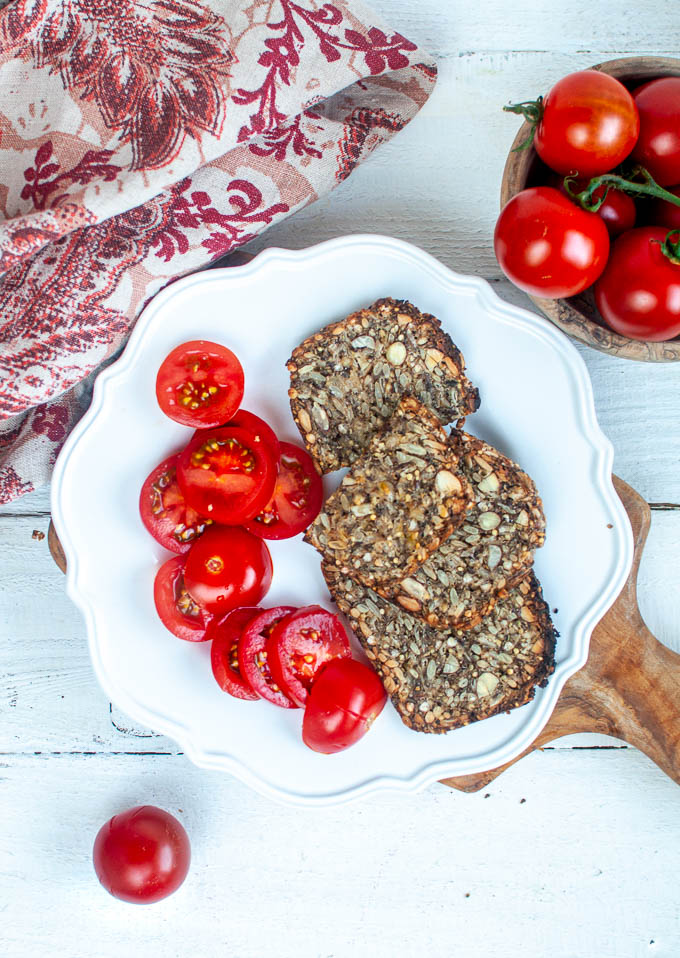 Facts about Flax
Since I don't often use whole flax seeds, I wanted to learn more about them (and why one store charged $7.99 for organic flax seeds another charged $1.99). I didn't find why the costs varied so much, but discovered a few facts about Flax.
"Flax seeds are one of the best plant-based sources of heart-healthy omega-3 fatty acids, according to Healthline which also credits them with vitamins, protein and fiber. Eat flax regularly to improve digestion, reduce risk of heart disease, type 2 diabetes, and cancer!" (source).
How to Eat Flax:
Whole flaxseeds – When you eat flaxseeds whole, you benefit from the fiber and the lignans but you must chew the seeds very well (or grind them) to get the omega 3-fatty acids. Store whole flax at room temperature for up to 10 months.
Ground flaxseeds or flaxmeal – Flaxmeal has all the nutritional benefits (omega 3-fatty acids, fiber, and lignans). Store in the fridge or freezer for up to 3 months. Grind as needed to prevent spoilage. There are approximately 1.6 grams of omega 3-fatty acids in 1 tbsp of ground flaxseeds.
Flax oil – Flax oil is extracted from the whole flax seed and sold as an oil or in gel supplements. It's an excellent source of omega 3-fatty acids, but the lignans and fiber are removed during extraction. Refrigerate to keep from spoiling. There are approximately 7.2 grams of omega 3-fatty acids in 1 tbsp of flax oil. (source)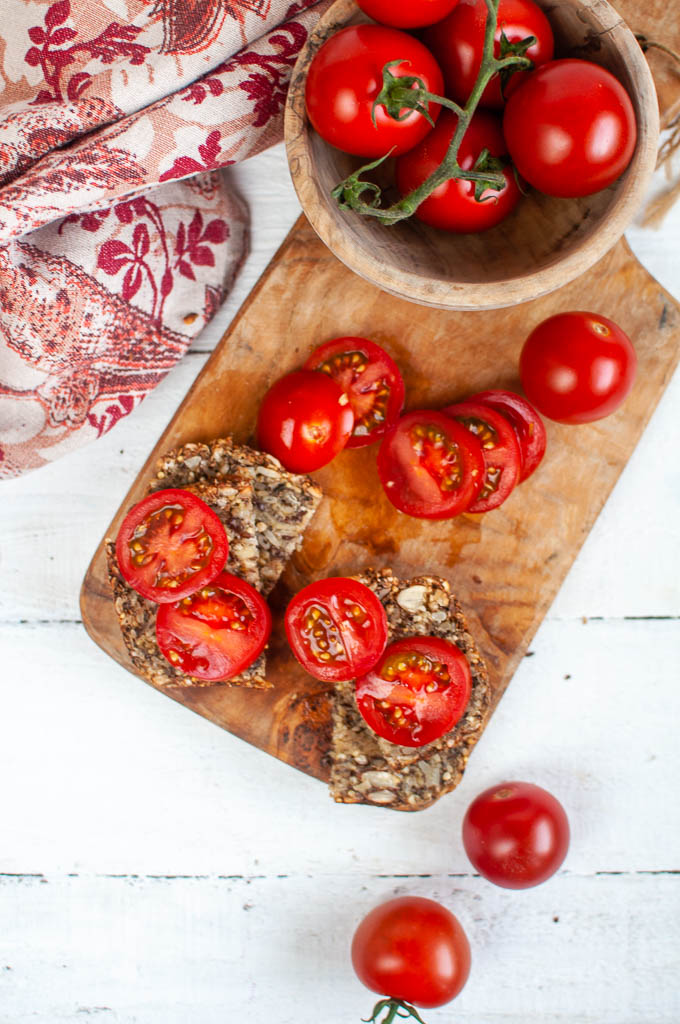 Recipe: Healthy Gluten-free Seed Bread from The Bojon Gourmet
This healthy gluten-free seed bread is simple to assemble but takes a few hours to sit before and after baking. The ingredients are available at Whole Foods or Thrive market (online). Recipe from Alanna at The Bojon Gourmet.
Serving ideas: try toasted with:
Sliced tomatoes and Himalayan salt
Smashed avocado
Almond or Peanut Butter
For weighted measurements (and Alanna's incredible photographs), click here.
Ingredients
Directions
Prepare the Dough:
Pre-heat oven to 325° F and line a baking sheet with parchment paper. Add sunflower seeds, almonds, buckwheat and millet. Toast until fragrant (8-10 minutes).
In a large bowl, add the oats, flax, psyllium husk and salt. Stir in the toasted seeds. Now, add the wet ingredients (syrup, oil and water) and mix well.  If necessary, use your hands to blend and form the dough.
Line a loaf pan (8 ½ x 4 ½) with parchment paper and pour in the dough. Smooth the top and tamp down the sides making a slight domed shape. Cover with a tea towel and let sit at room temperature for 2-24 hours (mine sat for 2 hours).
Bake:
Pre-heat oven to 400° F and bake uncovered for 1 ¼ – 1 ½ hours or until golden bronze. (If unsure, gently insert a knife into the loaf and see if it comes out clean). Remove from oven and cool completely (about 2 hours) before removing from pan.
Store in an airtight container or a layer of wax paper and tinfoil and store in fridge for up to a week.