Have you tried Bitchin' Sauce yet or even heard of it? If not, you are in for a treat!!  This bold vegan dip made with almonds, tastes tangy, garlicky and punchy. Best of all, it's vibrant personality means no one will suspect it's vegan!!! Even your veggie resistant friends will dig in. And, you can serve it in place of hummus (for those rare folks who shy away from this delicacy). So, it's the perfect (vegan, gluten-free) Superbowl dip.

Why Dips Make the Best Social Food
Imagine a Mexican restaurant without chips and salsa or an Italian meal without bread and olive oil (before the carb and gluten free craze)? Not so fun!!! Dipping food is fun food. Sharing food, "aka breaking bread", brings people together and dipping foods – appeal to everyone!!! When you walk into a home with a dip or salsa on the table, you can feel the festive vibe!!
Dips are also easy!!! You can make them well in advance and forgo the plates and forks. Just scatter around fun napkins (and there is little to clean up). Plus, they meet many dietary restrictions (vegan, dairy free, gluten free, paleo, etc). (See my salsa recipes too).
Whether I'm having a party or just a few friends over, I make this Bitchin' sauce the day before and serve it with chips, crackers, pretzels or a rainbow of fresh vegetables. It's always a curious hit!!
Move over Hummus (Not so fast….Bitchin' Sauce)
Personally, I don't understand anyone who doesn't like hummus, but it happens. Maybe they are uncomfortable with chickpeas or had an overly processed store-bought version (ex. Costco's hummus is too salty and chemical tasting — IMO ).
On the other hand, if any of your friends don't consider hummus it's own food group, then try this Bitchin' sauce. Or if your friends are hummusaholics, like me, here are my favorite homemade hummus recipes:
Classic Hummus (can't go wrong)
Roasted Red Pepper Hummus (the peppers make it super creamy)
Edamame hummus (quicker to make and the color of Kermit the frog)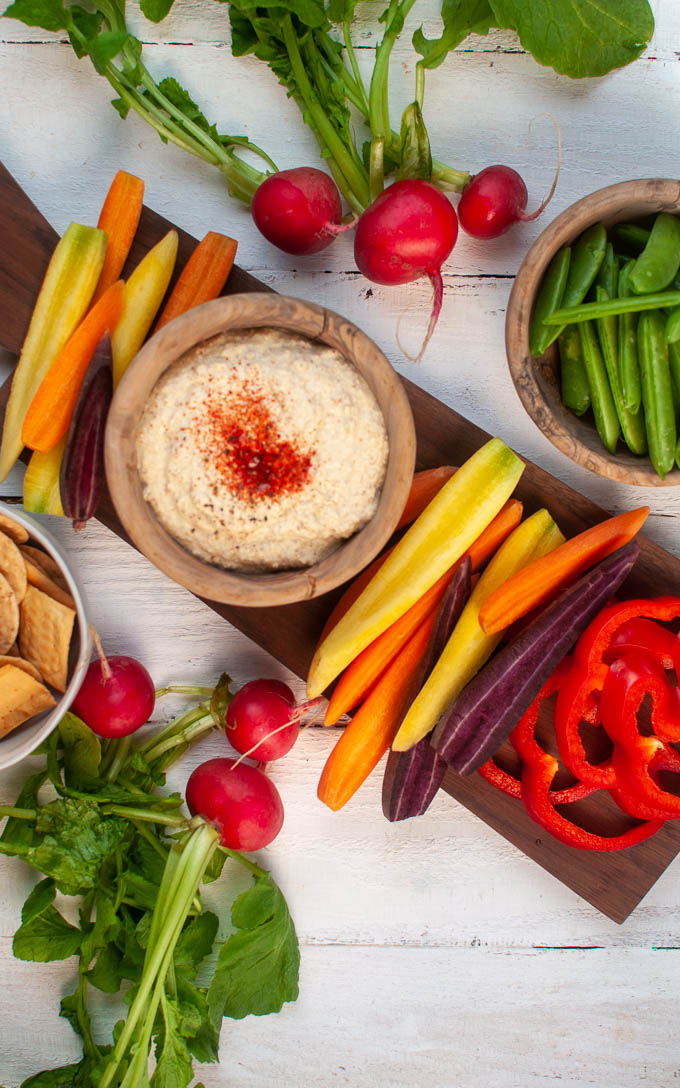 Bitchin' Sauce: What is It? 
Bitchin' Sauce started out by a 16 year old in Carlsbad, California, who was unimpressed with other vegan options. Soon, she was bringing her concoction to farmers market and this local family owned business grew and grew. Now it can be found at many grocers like Wholefoods, Costco, Walmart, and Pavilions and comes in a variety of flavors including: Chipotle, Cilantro Chili, Pesto, Bombay and Heat, but the original is my favorite.
I enjoy supporting small, local companies but Bitchin Sauce has gotten more expensive and runs about $6.99 for 8oz. As a result, I found the most exacting copycat recipe from Ashley at Blissful Basil which is a fantastic easy to make at home option.
Copycat Bitchin' Sauce Recipe from Blissful Basil
*****Remember to pre-soak the almonds in water overnight (in a pinch I've heard you can pour boiling water over them and soak for 2 hours). I follow the recipe exactly but cut the amount of garlic to one clove because I'm extremely sensitive to it. A neutral tasting oil is best, but if you don't have grapseed oil, you can use olive or canola oil with minimal difference.
For the recipe click below: 
Copycat Bitchin' Sauce recipe from Blissful Basil.
Top Bitchin' sauce a drizzle of oil, smoked paprika and freshly ground pepper and serve with your favorite dipping foods like chips, pretzels or cut vegetables. Or use as a zippy vegan Caesar salad dressing.
Store in an airtight container in the refrigerator for 1-2 weeks.