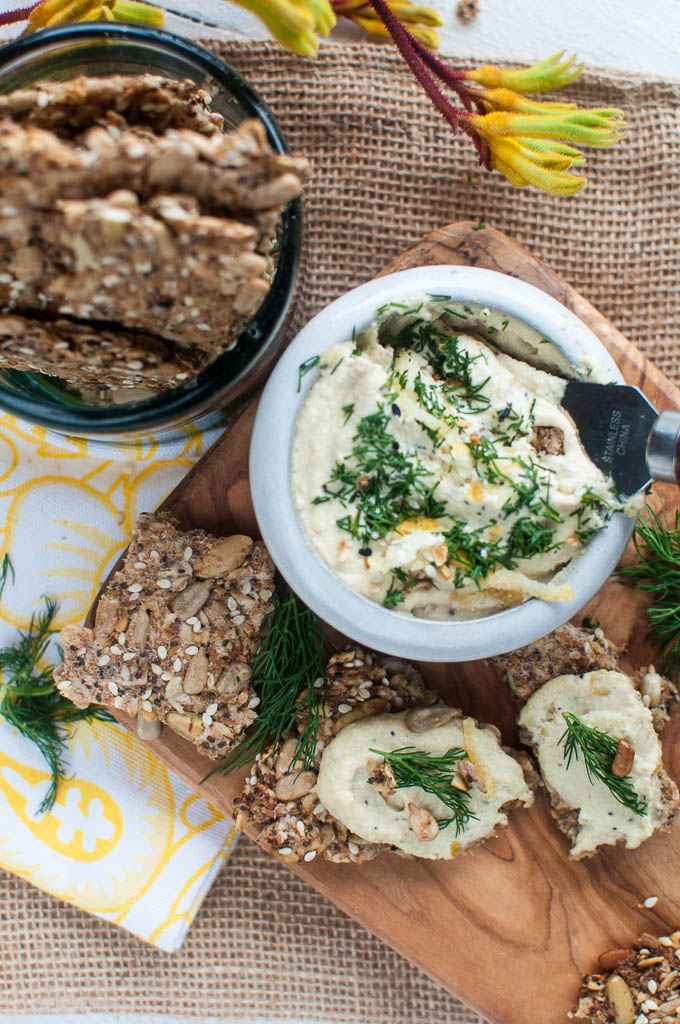 Before going vegan, I was vegetarian for many years and LIVED on cheese and crackers. It's one of my favorite snacks in the world, but I found myself addicted to cheese. At parties I would hover over the cheese plate instead of socializing. I was hooked! Unfortunately, crackers are highly processed and cheese is dairy so, rather than deny myself something I love, I set out to make a healthier version.
I found a tempting recipe for grain-free, low sugar, gluten-free healthy crackers that would pair well with a zippy vegan cashew "cheez" spread.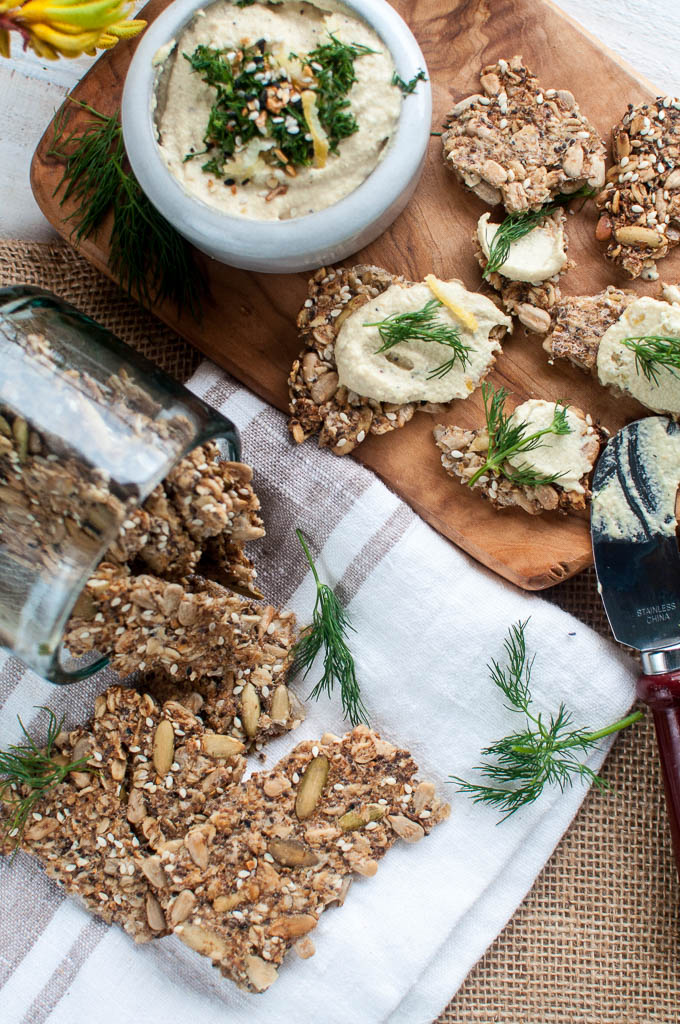 The Problem with Packaged Crackers
The problem with store-bought crackers, is that they are highly processed and contain too much sugar or high fructose corn syrup, salt, unhealthy oils, and artificial flavors. Some companies deceptively add molasses or caramel coloring to make their crackers "look" like healthy whole grain when they are not. This trickery makes it difficult for consumers to purchase healthy crackers.
(For more on crackers, read this article here).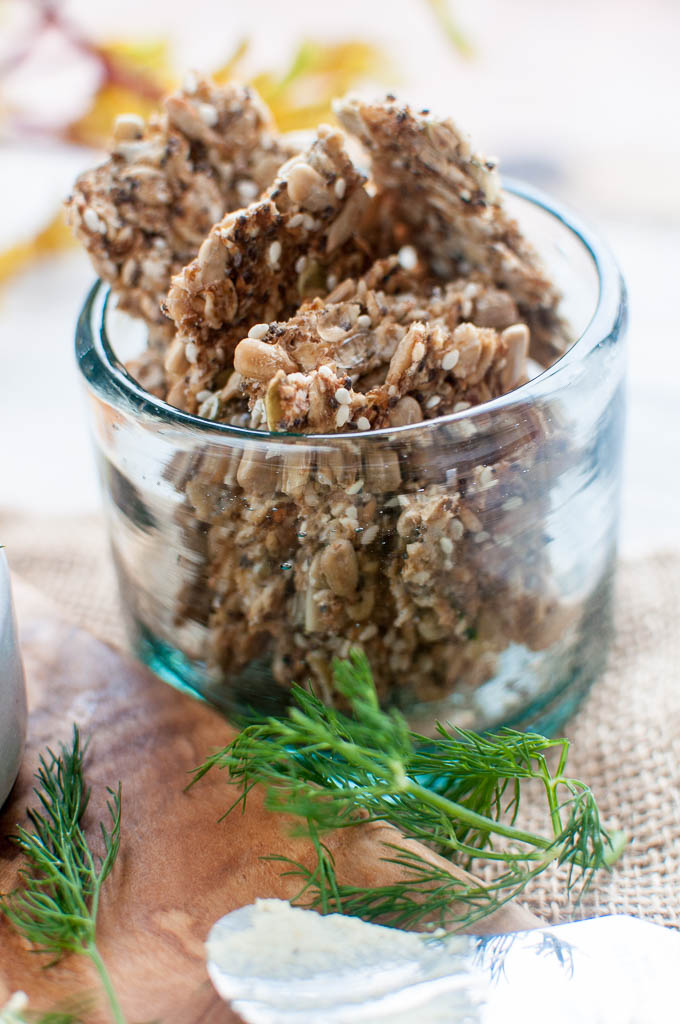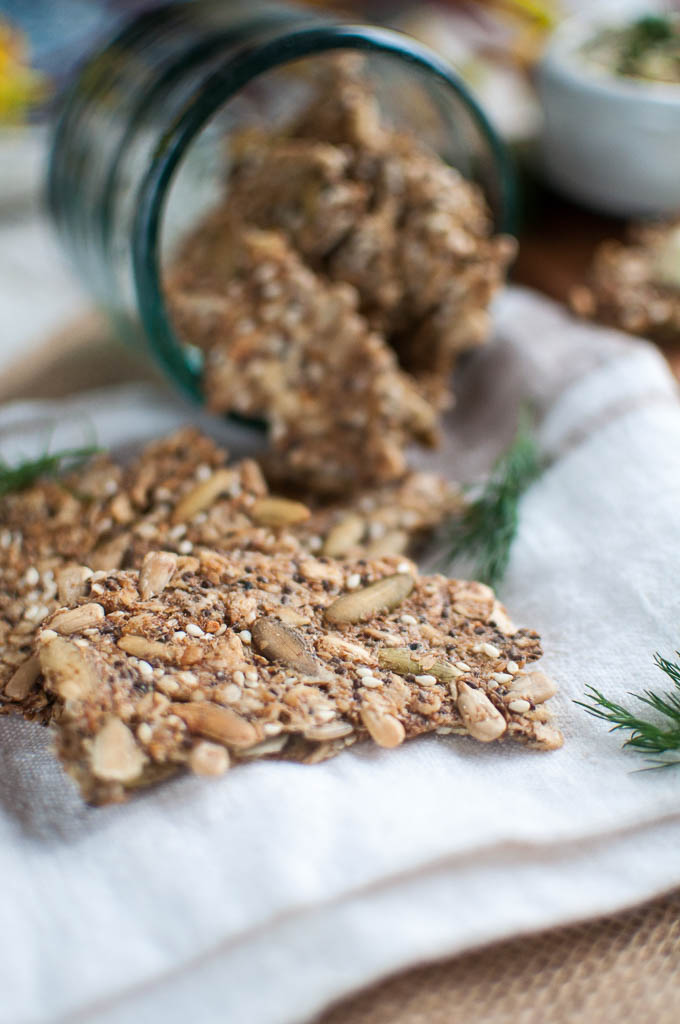 Making Healthy Vegan Crackers
Sarah Brittons's "life changing crackers" from My New Roots were exactly what I had in mind. Sarah is a master cook whose written several books, teaches workshops, and develops sophisticated plant based recipes for her brilliant blog like: Celeriac pasta with puttanesca sauce,  Goji ginger lemonade, and Carob fig muffins. Browse her site and you will be dazzled by her photos and talent.
Despite being intimidated, I made these crackers and was excited by the results. I feared they'd be too crumbly but these hearty crackers held their shape well. They are made with healthy seeds, ground flax, and gluten-free oats instead of flour. There is a teensy dab of maple syrup and a dash of salt plus savory spices to enhance the flavor.
I love keeping healthy crackers in my house to enjoy with cashew "cheez" spread, hummus, or crumbled over soups and salads. AND they save me when a cheese and cracker craving hits.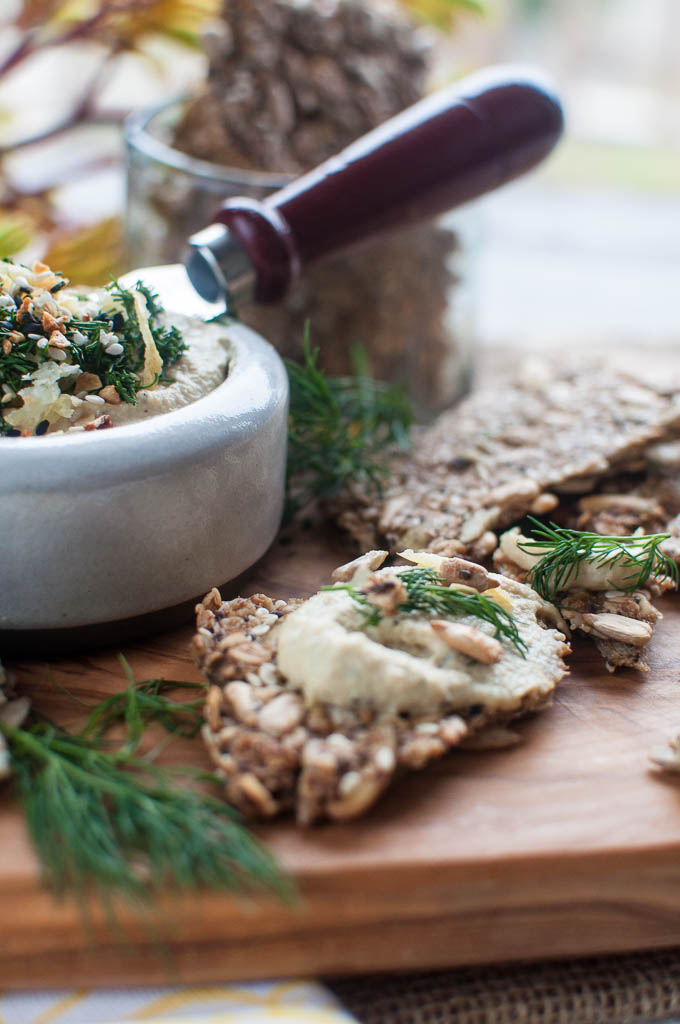 Easy Vegan "Cheez" Spread
I've also been reluctant to make vegan cheese. Would it pale in comparison to real cheese? That's big shoes to fill.
So, I'm calling this cashew "cheez" to avoid any direct comparisons. Yes, it reminds me of Boursin with its creamy texture and hint of dill but I think it shines best without comparisons.
The recipe is simple and only requires a little advanced planning to pre-soak the cashews. Then, it's as easy as whipping it up in a blender or food processor with water, lemon, nutritional yeast, garlic, salt, and spices. Garnish with lemon zest, pine nuts and fresh dill for added pizzazz.
Now, when I serve this vegan cheez and healthy crackers, I'm still the one hovering nearby for a sneaky nibble.


Recipe: Vegan Cheez and Healthy "Seed" Crackers
The "cheez" spread tastes even better the following day as the flavors meld and fresh dill is a nice addition. The cracker recipe is a bit fussy but well worth trying since homemade crackers are far healthier than packaged ones.
Healthy "Seed" Crackers
This recipe for "life changing crackers" comes from Sarah Britton's, My New Roots. I've halved the amount and simplified it as much as possible.
Makes one cookie sheet
Ingredients
Wet:
1/2 cup sunflower seeds
1/4 cup ground flax meal
2 Tbsp.  plus 2 tsp. pumpkin seeds
2 Tbsp. chia seeds
2 Tpsp. sesame seeds
3/4 cups gluten free rolled oats (grind 1/4 cup in a high speed blender to make a better binding)
2 Tbsp. whole psyllium husks
1 tsp. fine grain sea salt
2 tsp Herbs de Provence or Trader Joes Everything but the Bagel Sesame mix (I used the Trader Joes Bagel mix but you can use any spices to flavor the crackers to your liking. Garlic powder, onion powder, basil, dill, etc.)
Dry:
1 Tbsp and 1 1/2 tsp melted coconut oil
1  1/2 tsp. maple syrup
3/4 cup warm water
Directions:
Preheat the oven to 350°F and line a baking sheet with parchment paper.
Mix the dry ingredients in a large bowl (sunflower seeds, flax meal, pumpkin seeds, chia seeds, sesame seeds, oats, whole psyllium husk, sea salt and flavoring spices). Mix well.
Measure out coconut oil and heat on stove until it melts (2-4 minutes).   Add it to a measuring cup or bowl with maple syrup and water. Whisk to blend.
Add the wet ingredients to the dry ingredients and mix until a thick dough forms. Roll the dough into a ball and let it sit for an hour.
The dough may be a little crumbly but shouldn't be so crumbly that you can't roll it out.
Place the dough ball on the middle of your lined cookie sheet and cover with another piece of parchment. (I put my cookie sheet on a towel to keep it from sliding around). With a rolling pin, roll out the dough getting it as even and close to the edges as possible.
Bake for 20-25 minutes. Now, flip the crackers over. I did this by taking another baking tray and placing it on top and flipping both trays over so the crackers fall onto the new baking tray. Then peel off the parchment (which should be on top). Once flipped, bake for another 10-15 minutes.
Remove from oven and let cool completely. Then break into pieces or use a pizza cutter to cut into squares or rectangles.
Vegan Cashew "Cheez" Spread  
Inspired by The Full Helping and Minimalist Baker
Ingredients
1 cup raw cashews covered in water and left to soak in the refrigerator overnight
2 Tbsp nutritional yeast
2 Tbsp fresh lemon juice and grated lemon zest for topping
1/4 – 1/2 tsp garlic powder or 1 clove of fresh garlic
1/2 tsp salt
1/4 tsp fresh ground pepper
1-2 Tbsp olive oil
2 Tbsp almond milk or water
1-2 Tbsp fresh dill chopped (more for garnish)
Directions:
Place all ingredients in a high speed blender or food processor. Process until smooth. Add a little water or almond milk to thin if necessary. Texture should be thick and spreadable like hummus. Garnish with lemon zest, fresh dill and pine nuts if desired.
Store in an airtight jar in refrigerator. Flavors improve over time.