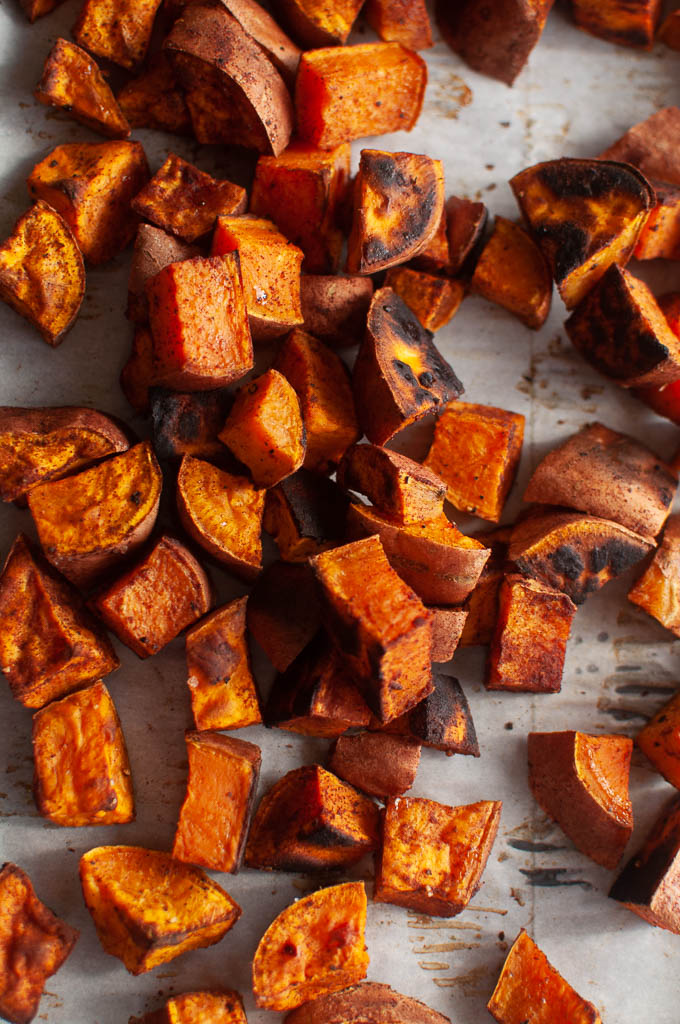 Did you know that sweet potatoes can boost your immune system??? This is good news since our media is in a whipped frenzy about the Corona Virus. All the hand wipes and sanitizer has been sold out so how else can you protect yourself? Build up your immune system. Eat lots of  leafy green vegetables topped with these comfy cinnamon roasted sweet potatoes.
How to Boost the Immune System
We think of the immune system as one thing but it's really a "system" that relies on, "following a healthy lifestyle". An article in Harvard Health says:
Don't smoke
Eat a diet high in fruits and vegetables 
Exercise regularly
Maintain a healthy weight
Drink alcohol in moderation
Get adequate sleep
Wash your hands often to avoid infection and cook meats thoroughly
Minimize stress
Many people abide by these guidelines but want an extra push when they feel vulnerable. Here are a list of foods that bolster the immune system. It's a perfect time for eating sweet potatoes. They are pure comfort food and rich in beta-carotene — that, according to WebMD, turns to Vitamin A which eliminates free radicals, supports the immune system and fights aging (not bad for such a yummy whole food).
Kale and Sweet Potato Bowl
In addition to eating more sweet potatoes when I want to support my immune system, I add more leafy greens to my daily diet. Mostly kale and spinach. I've been eating this Kale and Sweet Potato Bowl (see recipe below) every day. I love how healthy it is but I also love the combination of earthy greens, cinnamony potatoes, creamy avocado and tart nutty dressing.
Cinnamon Roasted Sweet Potatoes
Roasting sweet potatoes is easy. Simply cut them into cubes, add EVOO, salt, pepper and cinnamon (optional) and place on a baking sheet for 35 minutes. They come out of the oven like candy and it's tempting to gobble them down right from the pan.
I roast sweet potatoes at least once a week and store them in the fridge to add to salads and nourish bowls like the kale sweet potato bowl. Or, I snack on them plain.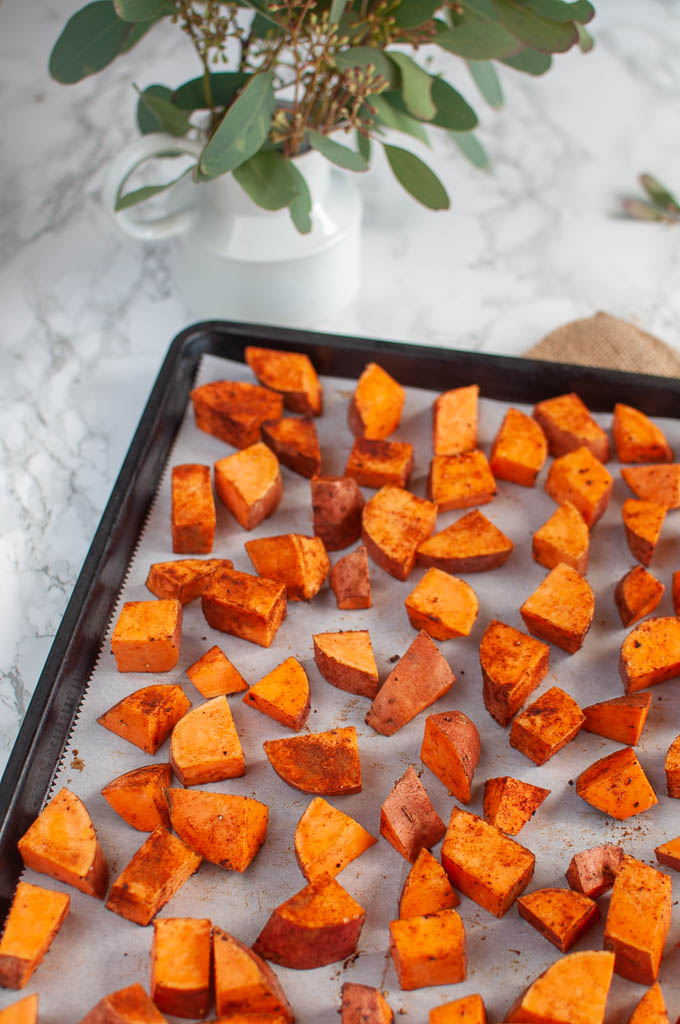 Don't be Afraid of Cooking (Especially When Your Health is at Risk) 
This sounds old fashioned, but cooking is one of the BEST ways to protect your health and immune system. It's tempting to turn to convenience foods and pre-packaged items but so much of this stuff contains toxic oils and chemicals that you want to avoid.  Cooking begets more cooking and preparing whole foods keeps you connected to your health and well being.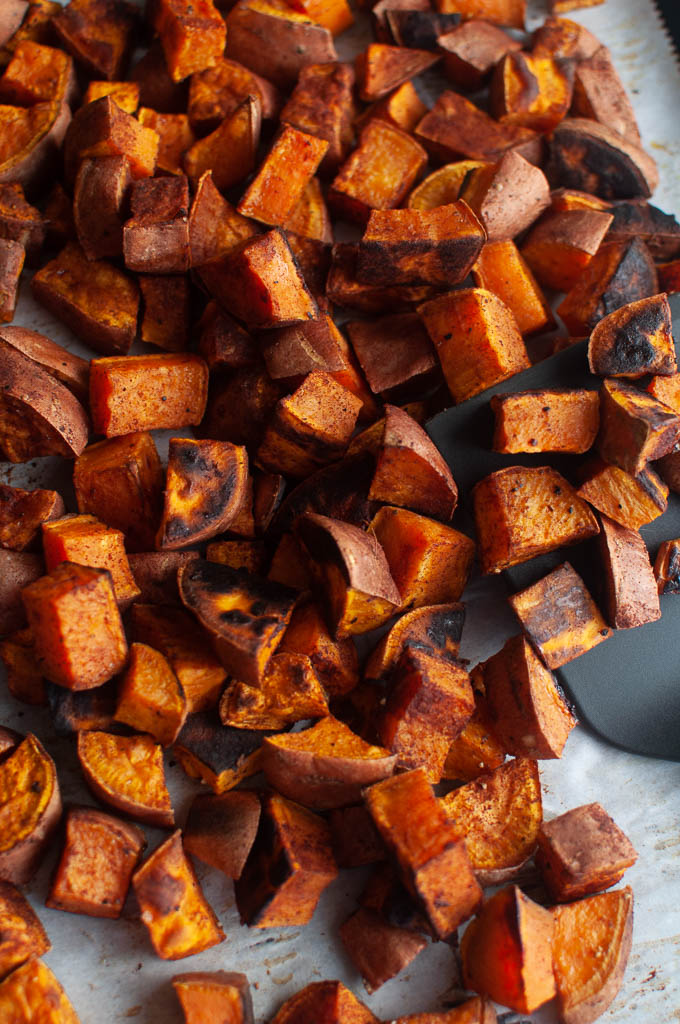 Recipe: Cinnamon Roasted Sweet Potatoes
Cinnamon roasted sweet potatoes taste like a big hug. They are cozy, sweet, creamy and the cinnamon adds a dessert-like quality.
Notes:
Thinner (smaller) potatoes are easier to cut.
Olive oil goes rancid so buy California Olive Oil like this one California Olive Ranch.
To peel or not to peel? I keep the skins on as they add nutritional value but it's personal preference.
For crispy outsides, the potatoes shouldn't touch or they will steam. I use 2 baking sheets.
Adding cinnamon is optional.  But if you are trying to reduce your sugar intake, avoid recipes with added syrup and sugar, the potatoes are sweet enough on their own.
Ingredients:
4 small/medium sweet potatoes cut into cubes
1 tablespoon extra virgin olive oil
Salt and pepper to taste (around 1/2 teaspoon each)
1 tablespoon cinnamon
Directions:
Preheat oven to 400° F.
Line 2 baking sheets with tin foil.
Wash and slice the sweet potatoes into cubes (~1 inch).  Place in a large bowl.
Pour in olive oil. Mix until coated. Add salt, pepper and cinnamon (if using). Mix again until coated.
Arrange cubes on lined baking sheets so the pieces are not touching.  (Think "Tetris skills).
Bake for 30-35 minutes.
Remove and let cool. Cooler cubes don't stick to the tin foil.
Store in airtight container in refrigerator for up to a week.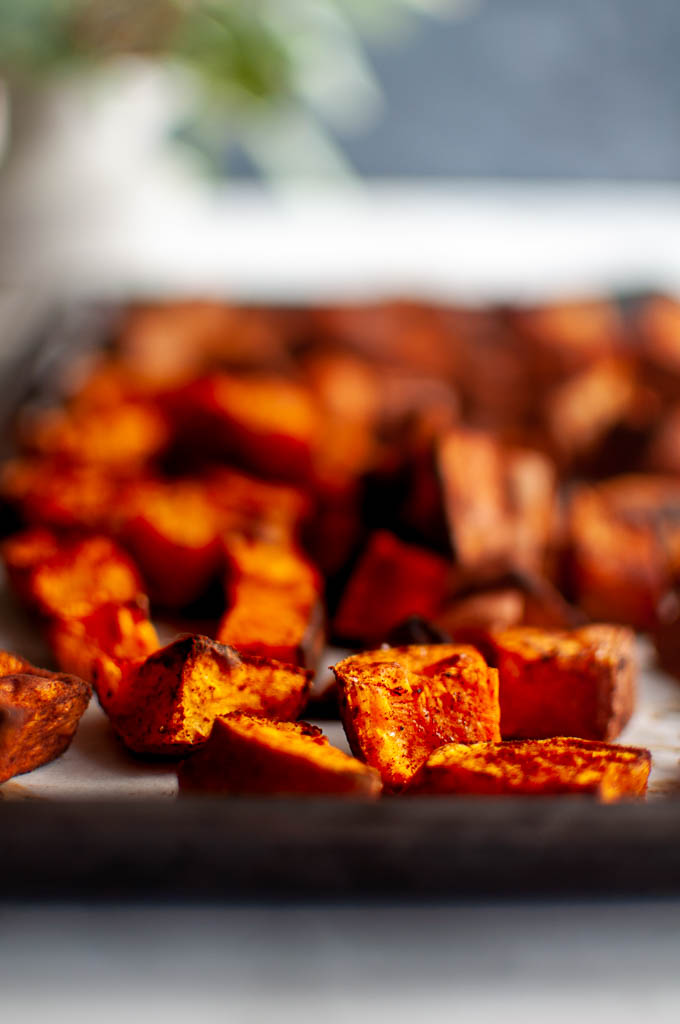 Kale and Sweet Potato Bowl
This nutrient power bowl includes immune boosting sweet potatoes, super-food kale, protein rich brown rice and high fiber avocado. It takes 10 minutes to make (when you have pre-cooked the potatoes, rice and dressing).  Add this Lightened up Tahini Dressing and Braggs liquid Aminos for a flavorful punch. I also love adding this dry pan-fried tofu.
Kale Sweet Potato Bowl (1 serving)
1 bunch of kale stripped from the stalk and torn into bite sized pieces (I like Lacinto Kale)
¼ cup cooked brown rice (that you've pre-made)
¼ cup cinnamon roasted sweet potatoes
A drizzle of Lightened up Tahini Dressing (made in advance)
A drizzle of Braggs liquid Aminos
½ sliced avocado
Directions:
Add a few inches of water to a steamer pot and bring to a boil. Put the kale, rice and sweet potatoes in the colander and steam, covered for 4 minutes. Place in a bowl – add Braggs, Tahini dressing and sliced avocado.