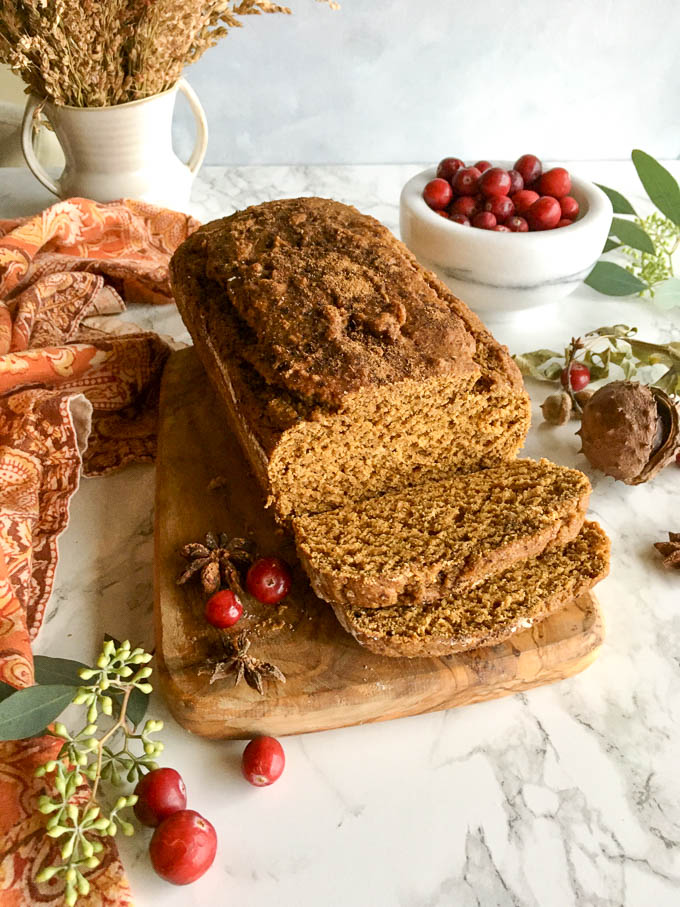 There are a few dishes that I can't live without on Thanksgiving. I love a good stuffing (this year I made a quinoa mushroom stuffing), mashed potatoes (which are rarely made vegan so I don't often get to eat them), cranberry sauce, a salad and I crave a perfectly spiced vegan pumpkin bread.  In the past, my breads end up at the back of the food buffet. But this years spicy pumpkin bread got a prime spot right next to the mashy's. A slice of this warmly spiced bread pulled together all the flavors on my dinner plate and several guests paid high compliments and asked for the recipe.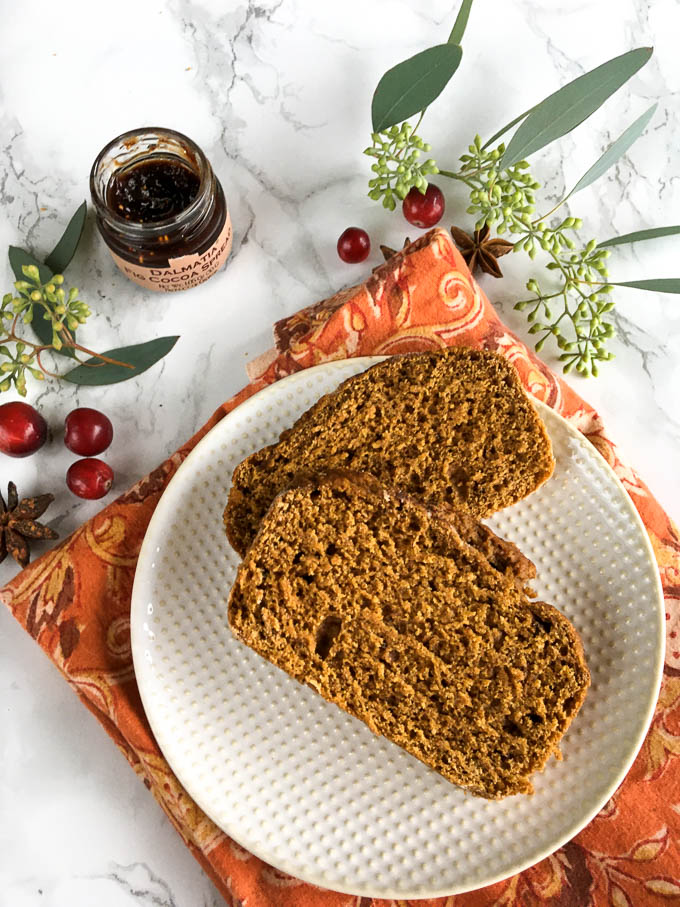 What Makes a Pumpkin Bread So Good?? 
The recipe, BEST VEGAN PUMPKIN BREAD from Brandi Doming of Vegan 8 is quite a claim!! So, I tucked away my doubts and took a leap of faith. Well, this pumpkin bread earns it's title. It turned out delicious and was a great contribution the Thanksgiving feast.
Her clove-rich spice blend elevates this bread to taste like the holidays. Making the spice blend yourself, while not required, yields a more flavorful bread than using a store bought blend. Spelt flour and coconut milk creates a rich fluffy, moist texture that's neither too dry or dense. But don't worry, it doesn't taste like coconut.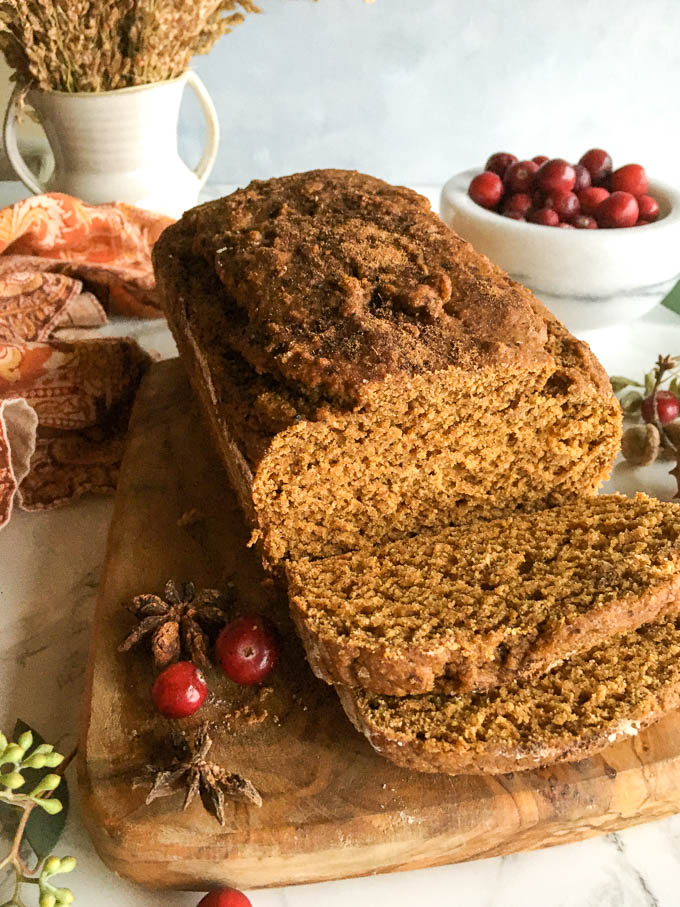 Perfectly Spiced Vegan Pumpkin Bread Recipe
The recipe is vegan so I didn't have to modify a thing. However, Spelt flour is  NOT gluten free (more here) but it produces light and fluffy baked goods so it's is great alternative to white or whole wheat pastry flour.  (For another great Spelt recipe see these delish chocolate chip cookies).
Can you make this cozy bread outside the holidays??? Absolutely!!!! Serve it the afternoon with tea and chia seed jam (Oh She Glows) or sugarless homemade apple butter (Detoxinista).
I followed the recipe to a Tee making sure to blend my own spices.  I even used a mortar and pestle to grind "whole" Allspice which made my kitchen smell heavenly. Before baking, I sprinkled the left over spice mixture on top of the bread for added flavor. Instead of using parchment paper, I coated the bread pan with coconut oil and flour and removed the bread easily once it cooled.
Here is the recipe: I hope you enjoy it as much as I did.
BEST VEGAN PUMPKIN BREAD by Vegan 8 Brandi Doming
You will have leftover pumpkin so I used mine to make these tasty Vegan Pumpkin Chocolate Chip Cookies.