My neighbor Ann is amazing! Despite being in her 80's (and still working part-time as a lawyer) she's my entertainment guru. Whether she's throwing a holiday gala, decadent dinner party, or casual drop-by of wine and nibbles she entertains with grace, charm and elegance. She always sets a beautiful table and serves wonderful food making her fêtes very memorable. At her last dinner party, she served this stunning gem lettuce salad to the oohs and ahhs of all her guests. Not only was this salad well received but not a leaf of lettuce was left. Now, I'm sharing this beautiful salad here.
The Perfect Summer Salad
Summer salads are meant to be light, colorful and complimentary to all things grilled. So this summery gem lettuce salad fits the bill. It's crunchy, with a velvety pop of sweet tomatoes and salty tang of vinaigrette and goes perfectly with grilled vegetables. Plus, these mini Romaine heads are "adorable".
Actually, my husbands been on a Chimichurri  kick (see this recipe from Food and Wine), so he grills flank steak (he's paleo) and I serve this gem of a salad.
Presenting beautiful vegetables is also important because it lures non-veggie lovers to eat more healthy foods. Below are tips to make your dinner parties shine.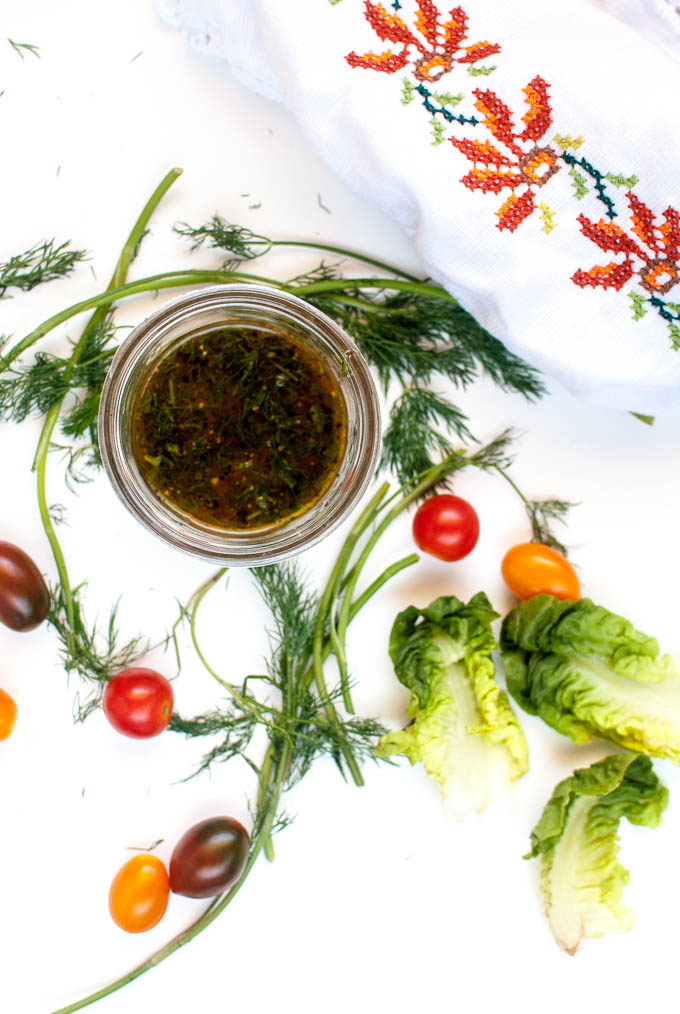 How to Make a Dinner Party Sparkle
Ann goes the extra mile to bring elegance to her gatherings. A fun atmosphere is just as important as good food so tap into your inner Martha Stewart and try out these tips I've learned from her over the years.
Set a Beautiful Table – Don't be tempted to use paper plates and plastic forks when having company. Rather, set a beautiful table. Remember those dishes on your bridal registry? It's more work, but makes guests feel like they are dining at a royal wedding.
Candles and Flowers – Ann picks a color scheme, let's say purple and white, and is sure to have deep purple irises on the table (a statement vase, or several small ones). She also uses lots of candles to create atmosphere. Candles and flowers make the table sparkle. Get creative and decorate with joy!!
Serve Appetizers so they Look Appetizing – Ditch the Costco tubs and torn open bag of chips! Transfer dips and chips to pretty serving dishes alongside festive cocktail napkins. TJ Maxx, Cost Plus or Ikea have great decorative items.
Music – Background music sets the tone. I love the Pandora app. With Pandora, you create a station – like Diana Krall or Cafe del Mar – and the app finds similar music. Play music that's soothing and un-intrusive.  
Turn off the TV!! 
Know about Guests Special Diets – I once sent a date to the hospital because of an undisclosed nut allergy. It was very serious and made me vow to never cook for anyone again. As with allergies, it's important to communicate dietary preferences with hosts too. I was once served a plate of steak and had to explain that I couldn't eat it. It's good to be direct, but I'm so grateful when someone asks.
Make Everyone Feel Welcome – A gracious host/hostess makes everyone feel important so they relax and enjoy themselves.
Summery Gem Lettuce Salad Recipe
With July 4th rapidly approaching, I thought this summery gem lettuce salad would be the perfect dish to bring to a party or serve to your summer guests. Buy the sweetest tomatoes you can find and play around with the dressing. Ann uses a vinaigrette sold at Zinc Cafe, a popular vegetarian eatery in Laguna Beach. I've tried to re-create that dressing here.
Gem lettuce is sold in packs of 6 so 1 package serves 2-4 people. Top with fresh herbs or crumbled feta if you are not vegan.
Ingredients:
1 – 2 packages of gem lettuce rinsed and sliced in half lengthwise (look for it in the pre-packaged lettuce section)
1 package of cherry or grape tomatoes (get the best you can find) washed and sliced lengthwise
Vinaigrette dressing (recipe below)
Make the salad:
Cut and arrange the gem lettuce halves on a large platter cut side up. Now, scatter the tomato halves cut side up on the plate. Before serving, pour on dressing.
Make the vinaigrette:
I usually eye this and adjust to taste so use this as a guide and let your intuition take over. I tend to like a tangy dressing.
Ingredients: 
High quality olive oil (about 3 – 4 tablespoons)
Champagne vinegar (about ¼ cup)
Dash Dijon or honey mustard (about 1 tablespoon)
Splash of Tamari or salt (I like the flavor of Tamari over salt)
Splash of maple syrup (optional)
Sprinkle of dill (fresh is nice), garlic powder, freshly cracked salt and pepper
In a measuring cup add the mustard, Tamari, vinegar, syrup and spices and mix with a fork. Stir in olive oil until the mixture is emulsified. Taste and adjust as needed.
*** I buy Gem lettuce in a 6 pack wrapped in cellophane. Look in the section where the pre-packaged lettuce is.