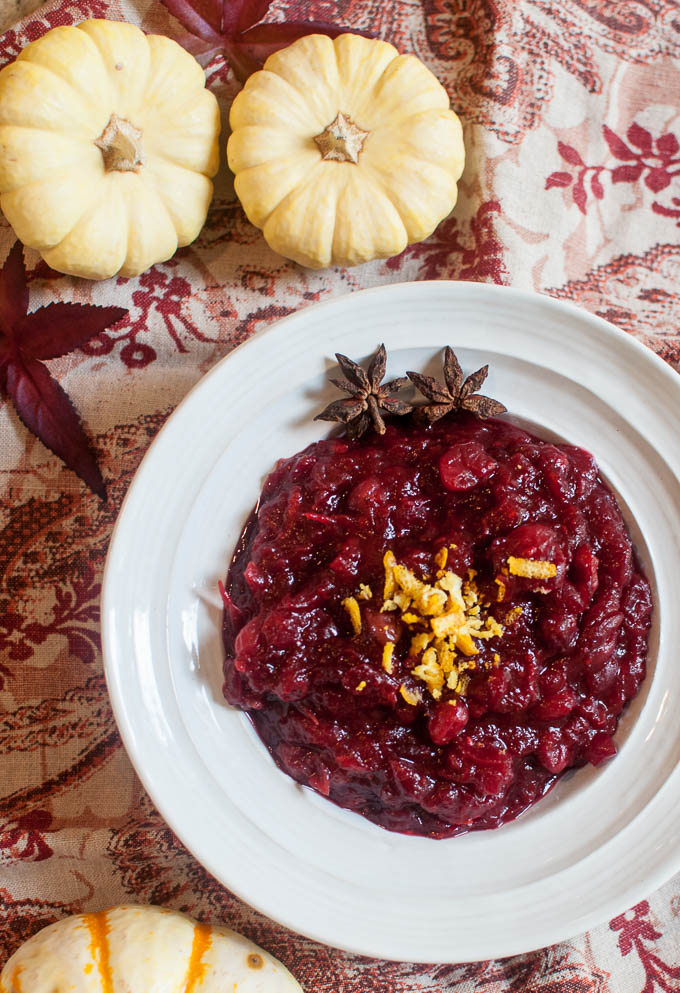 When I was growing up, I only wanted canned cranberry sauce to accompany my mashed potatoes and stuffing. I loved watching it wiggle out of the can keeping the exact same shape. Who even knew it was fruit???? In my case, older IS wiser!! I've learned how much better it is to serve freshly made cranberry sauce on your holiday Thanksgiving or Christmas table!!!
Homemade cranberry sauce tastes far superior to the jellied stuff and it's healthier for you. I know those thick slices have an appeal (trust me) but I love how you can actually taste the "cranberry" in this sauce rather than a sugary gel. It also looks like a bowl of jewels on the table rather than a highly processed substitute. Gorgeous no?

So What's Wrong with the Canned Stuff?
Canned cranberry sauce is sweetened with both high fructose corn syrup (HFCS) AND regular corn syrup.  Some brands use pectin to get that jiggly texture while others use gelatin. This is important to know if you are serving vegetarians or vegans since Gelatin is NOT vegetarian nor vegan. 

Slightly Tart
Being a vegetarian and vegan for so long has cleaned up my palate and taste buds. I steer clear of drowning a dish with dressings, sauces, sweeteners, and salt and prefer preserving the items original flavor with a few subtle enhancements. Cranberries are naturally tart. I used to omit most of the sugar and watched people pucker. This recipe is right in the middle– slightly sweet/slightly tart. It's up to you if you'd like to add more brown sugar, but try scaling it back to retain the tartness.  You may find it balances out the sweetened holiday dishes — candied yams, maple squash, or balsamic Brussels sprouts.
I love this fresh holiday cranberry sauce and feel better knowing it's made with maple syrup and brown sugar, not HFCS or 1 cup of refined sugar.  Personally, I think it beats out any other cranberry sauce (especially canned).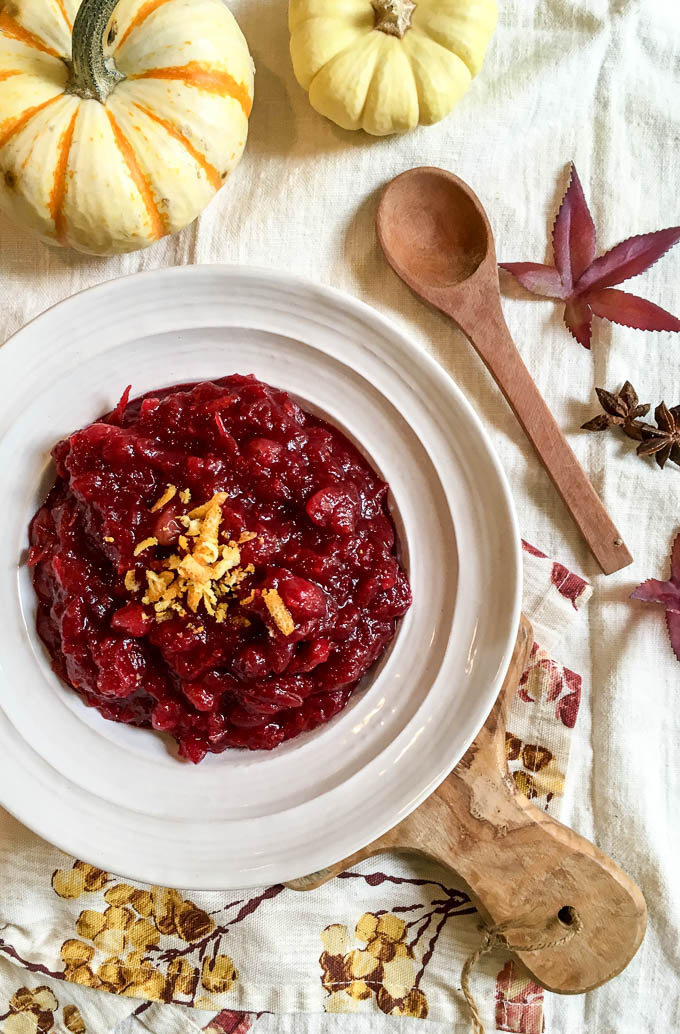 Thanksgiving Ritual
Start a gratitude journal. Each day, write down 10 things you are grateful for and keep it going for a week (or until the end of the year).
Holiday Cranberry Sauce Recipe
This is an ideal recipe to bring if you are going to a holiday dinner. It's easy, quick, forgiving and can be prepared in advance.
If you are feeding a lot of people, double the recipe. If you like a little spice, add 1/4 tsp of ginger, and pinch of cloves.
The flavors meld and intensify as the cranberry sauce cools in the fridge.
I suggest serving this ruby red dish in a pretty white bowl with a pinch of orange zest.
1 bag yields about 2 cups which serves 4-6 people
Ingredients:
1 (12 oz) bag fresh cranberries
1-2 oranges for 1/2 cup freshly squeezed orange juice (zest the skin before you cut it)
1 TBSP fresh orange zest
1/3 cup maple syrup
1 -2 TBSP brown sugar
1/2-1 tsp cinnamon
Directions: 
Rinse the cranberries being sure to pick out any old or crushed ones. Wash and dry the orange and using a planer or grater lightly zest the peel (try to get the outermost orange layer rather than the thicker white part). Cut the orange in half and juice (I use a manual juicer).
Add all ingredients to a medium size saucepan on med/high heat and bring to a boil. The berries will start to foam and pop. Cook at a gentle boil for 15-20 minutes stirring occasionally until the berries stop bursting. Add more brown sugar or cinnamon as needed.
Let cool (sauce will thicken). Store in an airtight container in the refrigerator.
Serving suggestions: Serve in a pretty white bowl sprinkled with a pinch of orange zest.