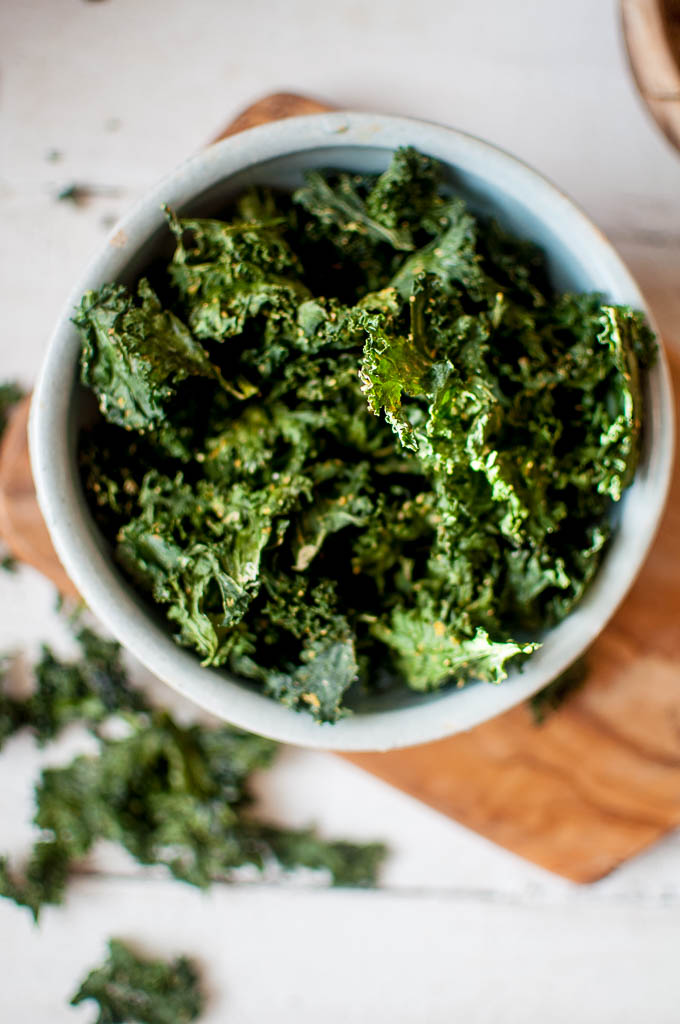 I love kale!!! I always keep two bunches in the fridge at ALL times (you'd think it was a fire extinguisher!!) Kale gets a bad rap because it can taste bitter and tough which is result of not being massaged to perfection. Once you know how to massage kale to tender glory – you will LOVE it. Aside from being a super-food, kale holds up to strong conditions (unlike other greens). For example, add it to soup, and it stays vibrant and green rather than turning into a sad sap, wilty mess the next day. Even dressed up kale salads hold their perk in the fridge. Turns out kale does well in the oven too. Have you tried kale chips? I mean who ever thought to roast leafy greens???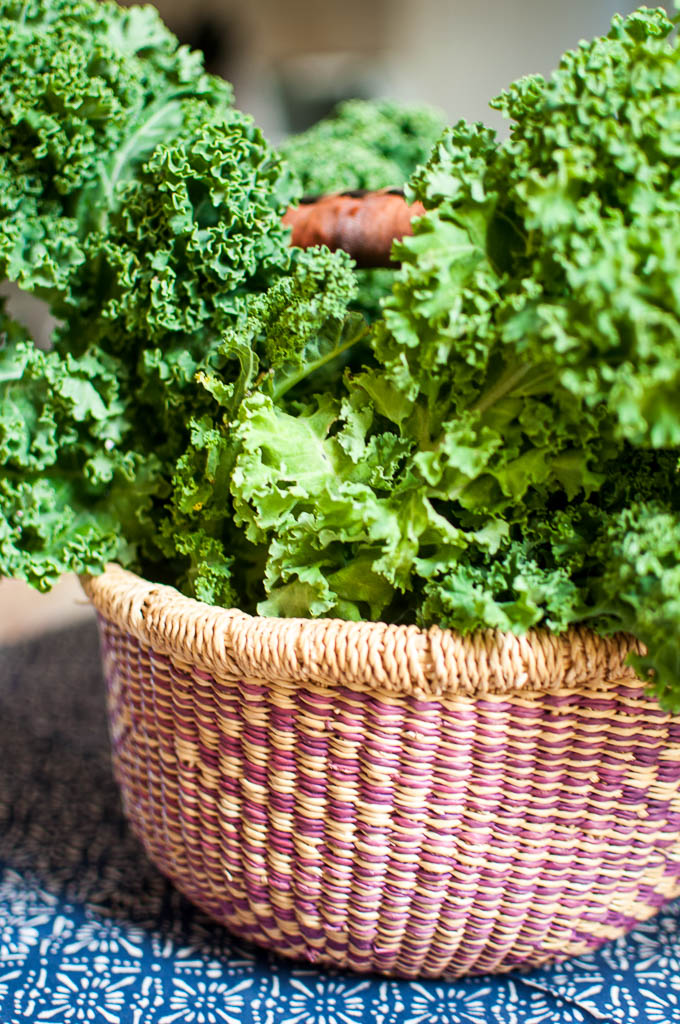 In an effort to get more greens into your life, these fun to eat kale chips may be your ticket. They are crunchy, cheesy with a hint of garlic and salt but mostly, they are fun to eat. The problem is, like any kind of chip, one is never enough. (Actually – a whole bowl isn't always enough). Luckily, kale chips are easy to make. I don't have children, but I imagine they'd be interested in kale chips. Especially since they look like something a wizard would snack on (can't you see Harry Potter noshing these?)
Crunchy Kale Chips
The key to crunchy chips is to dry the kale after washing it. Use a salad spinner or tea towel to thoroughly dry the leaves so they don't "steam" in the oven. Avoid too much oil so they aren't greasy and bake them at a low oven temperature so they don't burn. These aren't thick like potato or corn chips but rather delicate like seaweed (nori) chips. These kale chips melt in your mouth releasing a cheesy, salty flavor that makes them addictive!!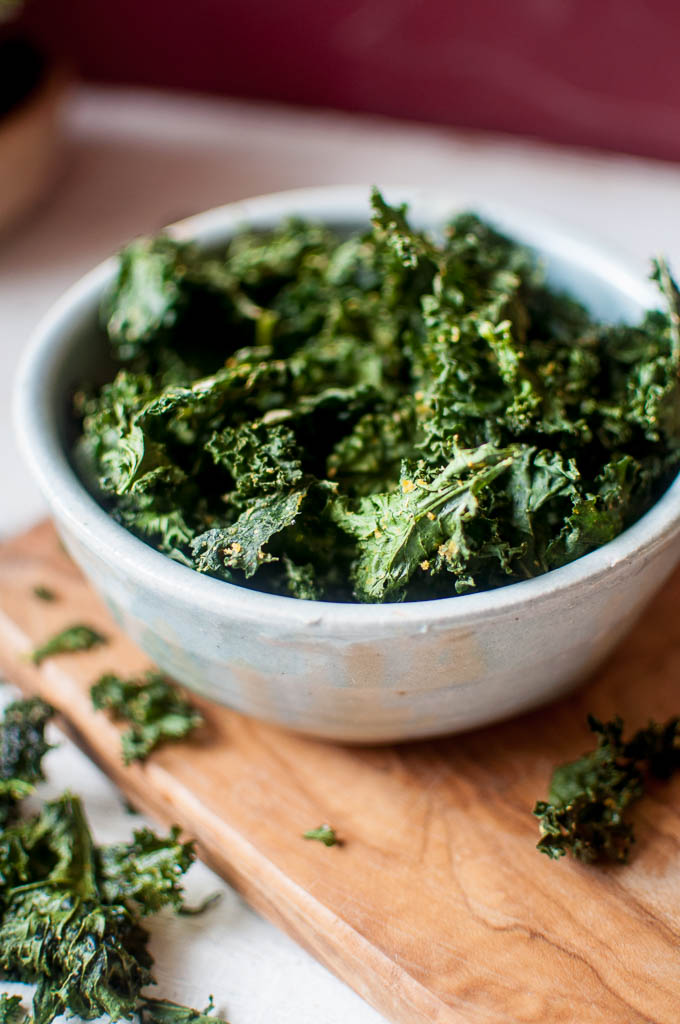 This recipe is lightly adapted from my favorite vegan recipe developer, Angela Liddon at Oh She Glows. She offers great tips on how to make these chips fail proof (see post here). I've made these chips several times and I have to be careful not to eat the raw kale mixture (would make a great salad). This healthy snack is a great way to add more greens into your diet.
Recipe: Easy Kale Chips 
NOTES: The kale shrinks a lot so one large bunch makes a medium size bowl. Drying the kale is important because moist kale  streams rather than crisps.
Ingredients: 
1/2 bunch kale washed, dried, and torn into bite size pieces
1/2 tablespoon olive oil
1.5 tablespoons nutritional yeast (adds cheesy flavor)
1 teaspoon garlic powder (if using garlic salt, omit the added salt)
a few grinds of Himalayan pink salt or 1/2 teaspoon sea salt
Directions:
Heat oven to 275 F and cover 1 or 2 cookie sheets with parchment paper. Wash and de-stem* the kale and tear into bite sized pieces. Use a salad spinner or tea towel to dry the kale leaves and place into a large bowl.
Pour on olive oil and use your hands to lightly coat each piece. Add nutritional yeast, garlic powder, and salt and use hands to mix and coat. Place kale leaves on cookie sheets (using 2 saves time) and spread out so leaves are not overlapping too much (if you don't have two cookie sheets, bake in two batches). Bake for 20-25 minutes (check after 10 min to make sure kale isn't burning). Remove from and let sit for 10-15 minutes to crisp more.
**to de-stem kale, hold the stem with one hand and gently tear down the stalk with the other hand to "unzip" the leaves.
Serve immediately and enjoy!!