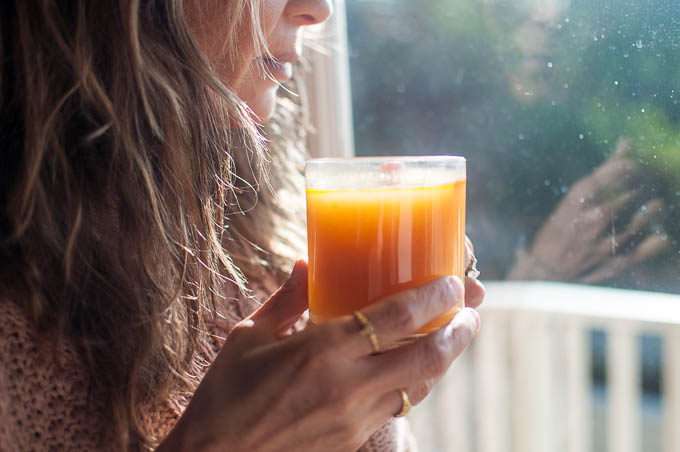 During the holidays, it's pretty easy to increase your sugar intake with all the parties, cocktails, and extra chocolate. You may notice your clothes fitting tighter or heightened sugar cravings…hello Chestnut Praline Chai Latte!!! To keep my weight and sugar cravings in check, I'm fasting one day a week on homemade vege broth. At first I thought fasting a whole day would be unbearable, especially with all the sweet temptations around, but actually, it's not that hard once you get over the mental hurdle of "wanting to eat". In fact, it actually feels good.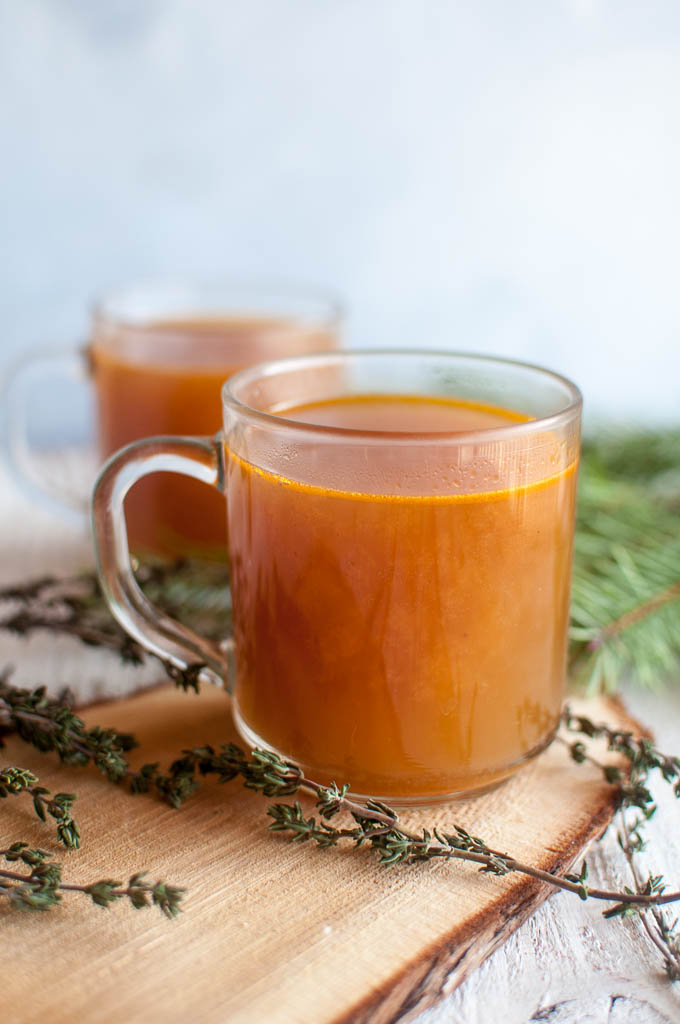 Why Fast you Ask? 
Occasional or intermittent fasting can be healthy for your body. The goal is to allow your insulin levels to rest long enough in burn the fat stored in your cells for energy. According to Dr. Monique Tello of Harvard Medical School, "If we allow the insulin levels to go down far enough and for a long enough time, we burn off our fat." (Read full article on intermittent fasting (IF) here). On the other hand, if you snack throughout the day and keep producing more insulin, the leftover energy gets converted into fat and stored in the cells which can lead to weight gain.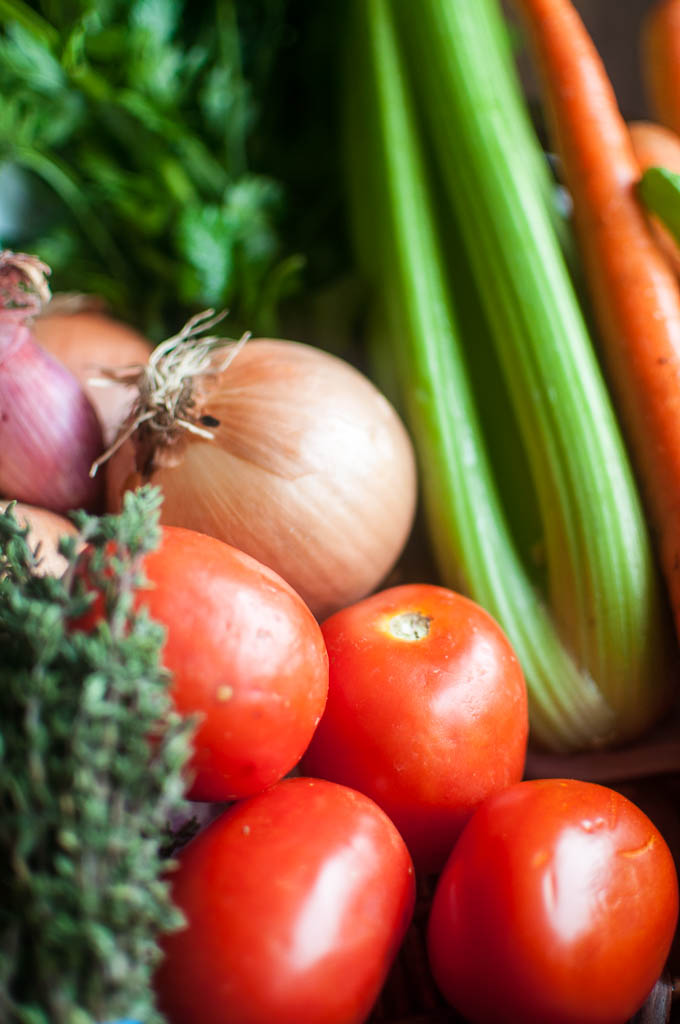 How Difficult is Fasting? 
I love food so the idea of not eating for one day a week freaked me out. But not only is fasting for a day easier than I anticipated, but it also shed light on my current eating habits. For example, I noticed that I tend to snack out of habit and anxiety and that I crave food at mealtimes because it's my routine rather than a true hunger.  Hmmm….interesting…..
It's easy to fall into sneaky eating habits that are less mindful and fasting for a day allows you to observe these habits.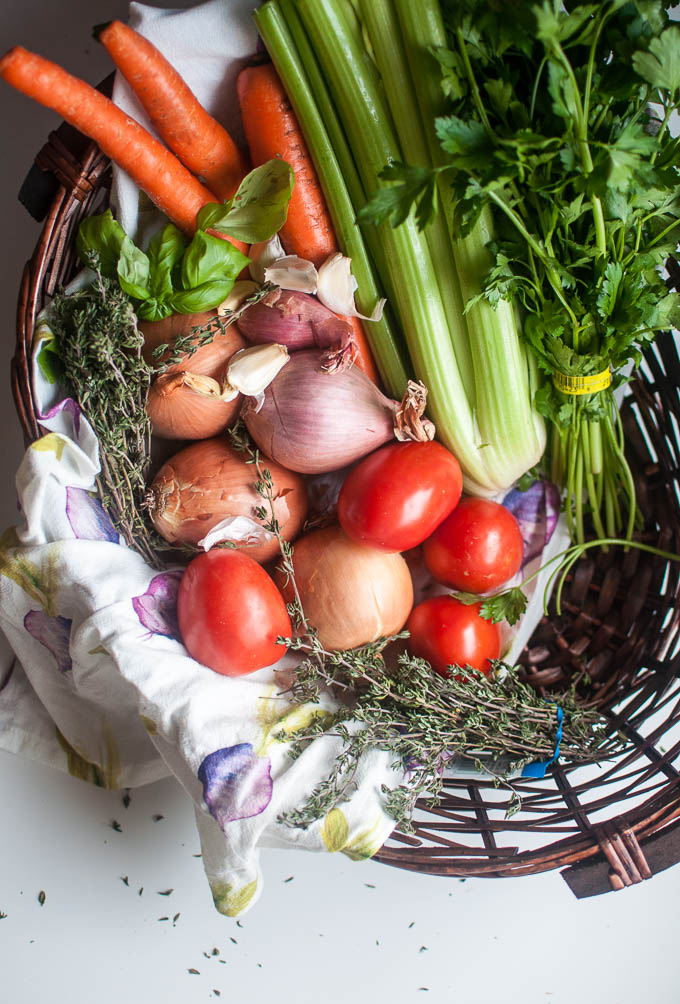 Why Use Vege Broth to Fast?
The benefits of homemade vege broth is that you know it's good for you, low sodium, low sugar, without toxic additives. This broth tastes good so you don't feel deprived or like you're starving yourself. The warm, golden broth is richer than a cup of tea or hot water with lemon (which are also allowed). Avoiding food for a day is difficult, but this homemade vege broth makes it easier.
The Surprise Benefits of Fasting
Increased energy. Fasting can increase your energy since digestion requires a lot of energy.
Improved sleep. Fasting is like a holiday for your digestive system plus you are less likely to have sugar and or caffeine impacting your sleep.
Increased awareness. Fasting allows you to observe your eating habits and how much hunger drives you. This is eye-opening!!
Self-discipline feels good. Any time you do something that requires self-discipline, you automatically feel good. You become more focused, motivated, and guided by a goal. Discipline is a virtue!
It's OK to be Hungry. This is another surprise. We live in a world of instant gratification where we satisfy needs so fast we hardly tolerate discomfort. Fasting, like meditation, helps us experience our senses without being led around them. For example, observing you are hungry doesn't necessarily mean you have to eat. This feels empowering.

How to Start a Vege Broth Fast 
Pick one day a week that you'd like to fast (this can change week to week- no need to be rigid). You can start by doing it once and see how you feel or aim to fast 1 day a week for a month.
Make the broth the day before so it's ready for your fasting day.
Mentally prepare for the fast by setting guidelines – for example: I allow all the homemade vege broth, herbal tea, fresh celery juice and water but my husband includes his morning latte as well.
Try to plan your day so you don't get caught in a meeting with piping hot bagels or a bowl of colorful M&M's.
Let loved ones know you might be cranky.
Listen to your own body.
Drink extra water.

Delicious Homemade Veg Broth
This broth is great on it's own but it can also be used as a base for soups. Read this comprehensive article on the do's and don'ts of making vege broth at Jennifer's Kitchen. This recipe is lightly adapted from her original one but I've made a few changes for personal preferences. For example, I roast the tomatoes for a deeper flavor and add a few shakes of low sodium Tamari.

Homemade Vege Broth Recipe 
This makes enough for a full day fast.
A few tips:
Cut vegetables up fairly small to extract more flavor without the vegetables turning mushy.
Use cold water when adding water to extract the most flavor from the delicate veges.
Do not boil. Simmer barely below a boil to maintain the best flavors.
I like using organic vegetables when possible. They are more flavorful and don't contain harmful pesticides.
Ingredients 
2 med/large onions (or sub sweet onions, leeks, shallots or a combination) finely chopped
2 tablespoons (good quality) olive oil or coconut oil
3 garlic cloves thinly sliced
3-5 ribs of celery finely chopped
2 large or 4 med carrots chopped in thin half moons
4 tomatoes roasted, skins removed and blended
11 cups cold water
2-3 bay leaves
a few springs of fresh thyme
1 cup or more of coarsely chopped parsley
few pinches of salt
Optional add ins
A few tablespoons of Tamari or Braggs Liquid Aminos
1 sheet of Nori seaweed
1 tablespoon nutritional yeast
Directions 
Roast the Tomatoes 
Set oven to Broil and place oven rack closest to the top. Line a cookie sheet with tinfoil and place tomatoes in the oven for 10 minutes. Using tongs turn over and broil for another 5 minutes. Tomatoes will be blackish and blistering. Let cool. Remove skins (they should slip off easily) and puree in a blender.
Make the Broth
In a large pot over medium heat add olive oil and onions and cook until translucent (6 minutes or so). Add the garlic and cook 4 more minutes. Stir in celery and carrot and sauté for another few minutes. Add the tomato puree, bay leaves and cold water. Bring to just below a boil and cook for 1 hour. Avoid stirring.
Add thyme, parsley salt and additional add ins. Simmer below a boil for 20/30 minutes. Taste and adjust. Cool and strain into a large bowl (preferably with a spout). Store in an airtight container in the refrigerator.
Re-heat on the stove top.