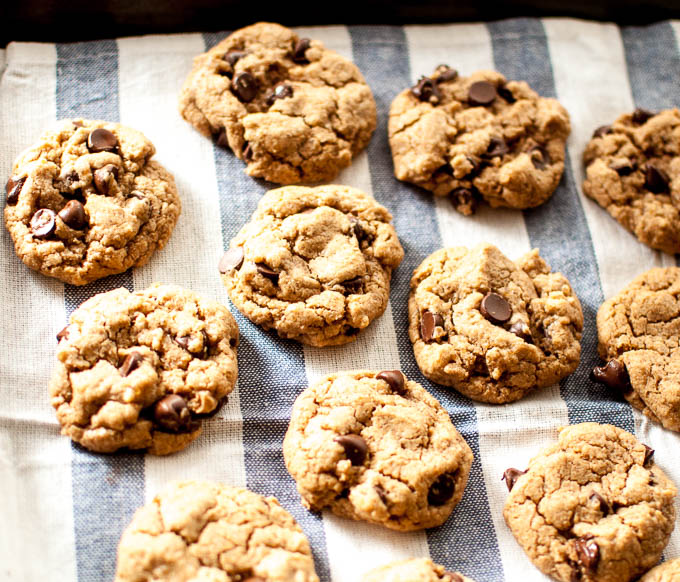 These amazing vegan chocolate chip cookies are for anyone who doesn't bake much. They are fast, easy, and great when you want a warm cookie for dessert or want to bring your non-vegan friends a treat they will enjoy!!! I love the rustic texture of these chocolate chip cookies and believe the Spelt flour gives them a sophisticated flavor.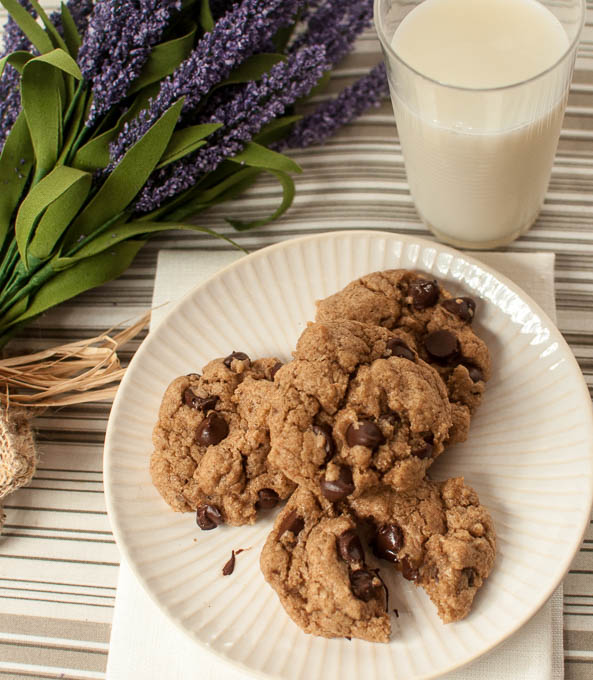 As a vegan, it can be hard to find tasty baked goods. And, we all need a good cookie in our lives. These do not disappoint. They are soft, caramel-y, and chippy!! YUM and Done!!
This recipe is from Dreena Burton at Plant Powered Kitchen. Dreena is a pioneer in the vegan community. She encourages families to be vegan and offers many child friendly recipes.
Recipe: Easy as Pie Vegan Chocolate Chip Cookies:
Make these cookies for skeptical family members and friends. No need to tell them they're vegan!!! Shhhh!!
To keep cookies soft, I reduced cooking time from 11 to 8 1/2 or 9 minutes max. They come out a slightly under cooked.
Makes 8-10 large cookies.
Ingredients:
1 cup (generous) Spelt flour (you can also use Whole Wheat Pastry Flour but the spelt flour has a nice flavor).
1 tsp baking powder
1⁄2 tsp baking soda
1⁄4 cup unrefined sugar (I use sugar in the raw)
1⁄4 tsp sea salt
1⁄3 cup pure maple syrup
1⁄4 tsp Blackstrap molasses
1  tsp pure vanilla extract
Generous 1⁄4 cup canola oil
1⁄3 cup non-dairy chocolate chips (use Enjoy Life Vegan mini chocolate chips) or if you don't have to make these vegan, try the Trader Joes Chocolate Chips).
Directions: 
Preheat oven to 350°F (176°C).
In a large bowl, sift the flour, baking powder, and baking soda. Add the sugar and salt, and stir until well combined.
In a separate bowl, combine the maple syrup, molasses and vanilla. Stir in the oil until well combined.
Add wet to dry mixture along with the chocolate chips, and stir through until just well combined (do not over mix). Place large spoonfuls of the batter on a baking sheet lined with parchment paper and flatten a little.
Bake for 8 1/2 – 9 minutes, until just golden (if you bake for much longer, they will dry out). Let cool on the sheet for 1 minute before transferring to a cooling rack.
Note: If the batter is too heavy and dense when mixing in the wet ingredients, add another 1-2 tsp each of maple syrup and canola oil and work through.
The original recipe is from Dreena Burton Vive Le Vegan.