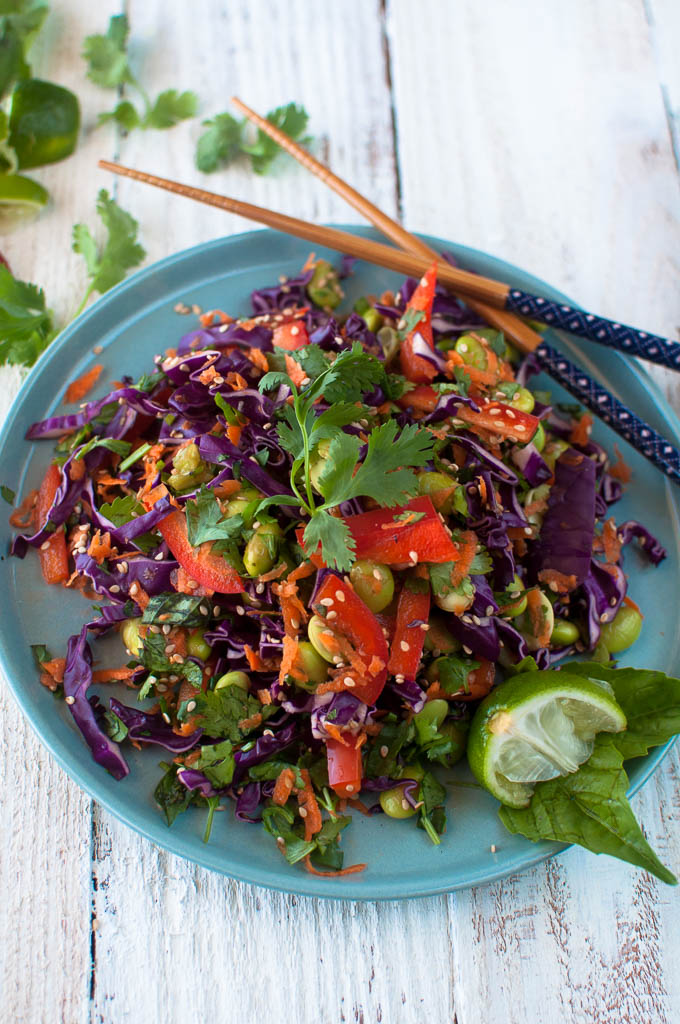 As a vegan, I eat a lot of salad. Not only do I love salad, but I've been making the effort to eat more salad. It's a good way to get raw vegetables into your body and helps maintain a healthy weight. To me, a successful salad is all about the dressing but it's important to make your own. Bottled dressings have a ton of extra calories and unhealthy ingredients. Therefore, I encourage you to make your own. I make a batch of dressing and keep it in the fridge. This way, I can quickly throw together a quick lunch or dinner.
Peanut dressings do not disappoint.  I love peanut sauce. It's half the reason I went to Thailand (only to find out peanut sauce is more Indonesian than Thai). It's delicious but often times includes fish paste which is not vegan/vegetarian. This is another reason to make your own. Close your eyes and imagine a light peanut sauce on steamed broccoli, bok choy or kale. Are you drooling yet?
This salad came together as a last minute dish I wanted to bring to a friend's house for dinner. It's relatively quick to prepare and the colors are beautiful. The biggest compliment I received was when their sweet 2 1/2 year old daughter ate her entire portion. Wow- my heart sang.
Red cabbage is a super food. It's got amazing health benefits, looks beautiful on the plate, and is such a bang for your buck.  It's rich in fiber which makes it good for digestion and fills you up on minimal calories. The flavor is slightly sweet and the crunchy texture means it holds up well as a leftover. It's high in vitamin C, Sulphur ( said to increase joy), has powerful anti-oxidants, and iodine (good for the Thyroid) etc. You get the point.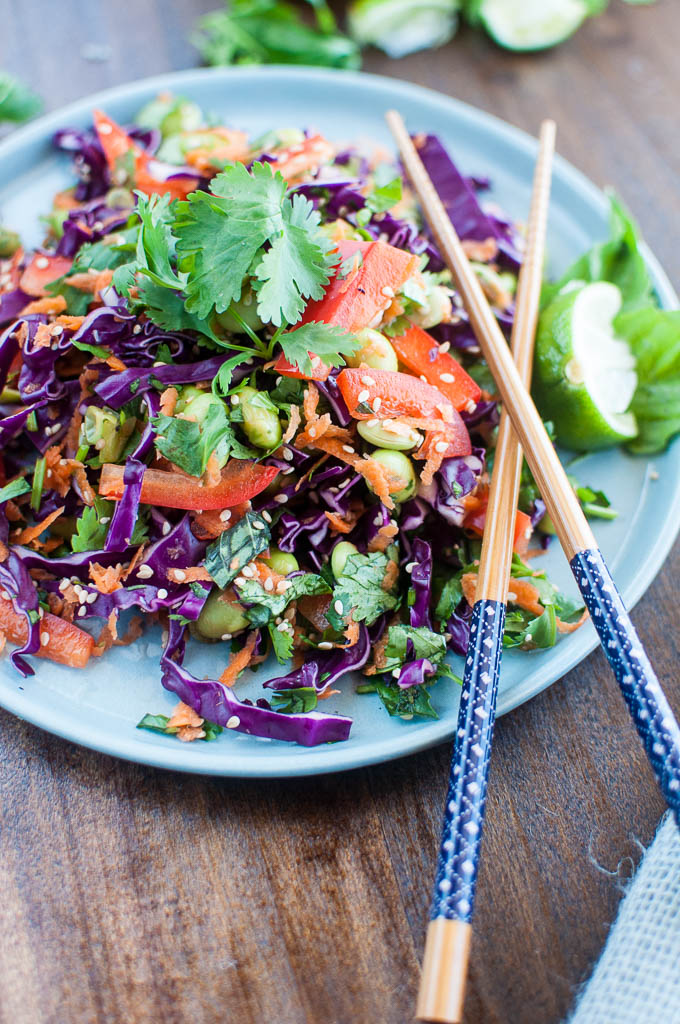 Rad Thai Salad
This makes about 4 generous servings.
Ingredients:
For the Salad:
1 small purple cabbage (peel and discard outer layers)
4-6 grated carrots (I wash but don't peel to retain the nutritional value)
1 red bell pepper (rinsed)
3/4 cup loosely packed washed cilantro
1/4 cup chopped washed basil
1 bag frozen shelled edamame
2 tablespoons sesame seeds
For the Peanut Ginger Dressing: 
1/4 cup organic peanut butter
1/4 cup wine vinegar
1/2 clove of garlic
1 inch (thumb size chunk) grated fresh ginger
1/2 lime juice
2 tablespoons tamari (or other soy sauce)
Splash hot sesame oil (optional)
Pinch of red pepper flakes
2 tablespoons honey (or maple syrup if you are vegan and don't eat honey)
Instructions: 
Fill a large pot with water (4-5 cups) and a sprinkle of salt and bring to a boil. Add frozen edamame and return to a boil. Once boiling, cook for 4 minutes. Then drain and set aside to cool. (Or follow cooking directions on the bag).
To make the dressing, add all ingredients to a blender and blend until smooth.
Cut the cabbage into quarters and remove the thick stem. Take each quarter and cut horizontally to get a shorter chunk (you may need to halve it again). Then thinly slice along shortest part.  The goal here is to keep the slices on the short side (the size of your thumb) so they are easier to eat. Add to a large bowl.
Grate the carrots and add to the bowl.
Cut out the core of red pepper and cut into quarters. Cut each quarter horizontally and thinly slice (again going for short).
Chop cilantro and basil and add to bowl.
Add edamame  and mix well.
Add enough dressing to nicely coat the salad.
Sprinkle with sesame seeds and serve.
Keep any leftovers in a sealed container in the refrigerator. If you can, store the leftover salad and dressing separately and dress before serving.