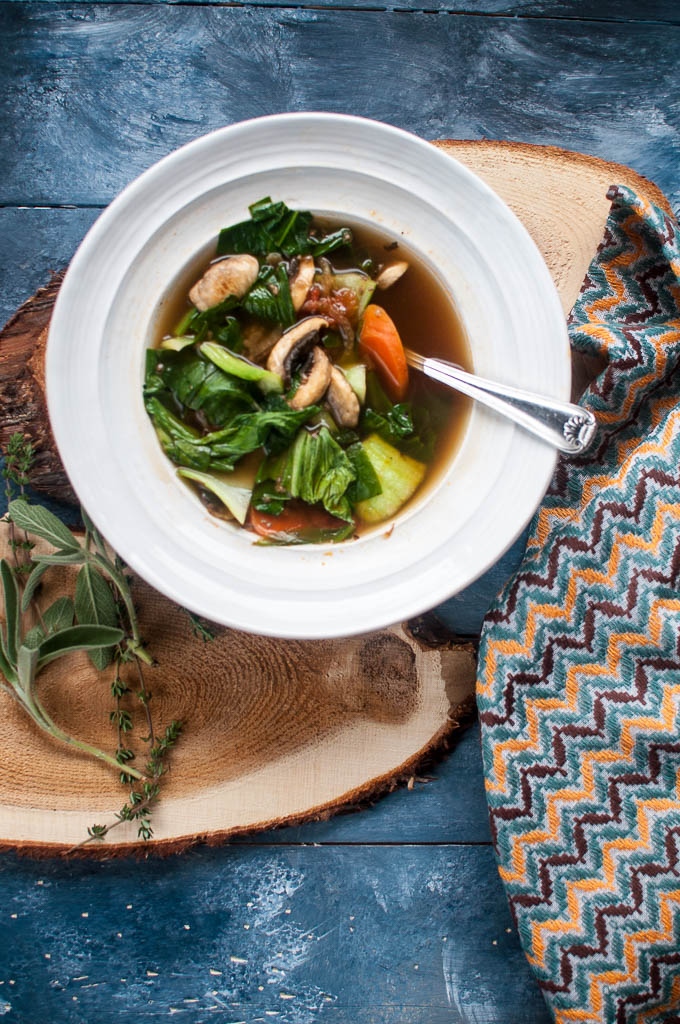 Hot soup is the BEST when you are fighting a cold or flu and this 15 minute vegetable soup soothes the throat, clears the nose, and warms the body. It's light and healthy and only takes a few minutes to prepare. Make it for yourself or a loved one who's feeling under the weather.
Cooking is the LAST thing you want to do when you're ill, but eating fresh healthy food is medicine for your body. This fast, vegan soup is loaded with fresh veges and dark leafy greens and only requires a minimal amount of chopping, sauteing and simmering. It's simple.
I love the lightly cooked spinach in this bowl of goodness. When I'm depleted and run down, I find the iron and vitamin C in Spinach has a"Popeye" effect on my immune system. In fact, The Vegetarian Times explains that cooking spinach helps "you absorb higher levels of vitamins A and E, protein, fiber, zinc, thiamin, calcium, and iron," than eating it raw.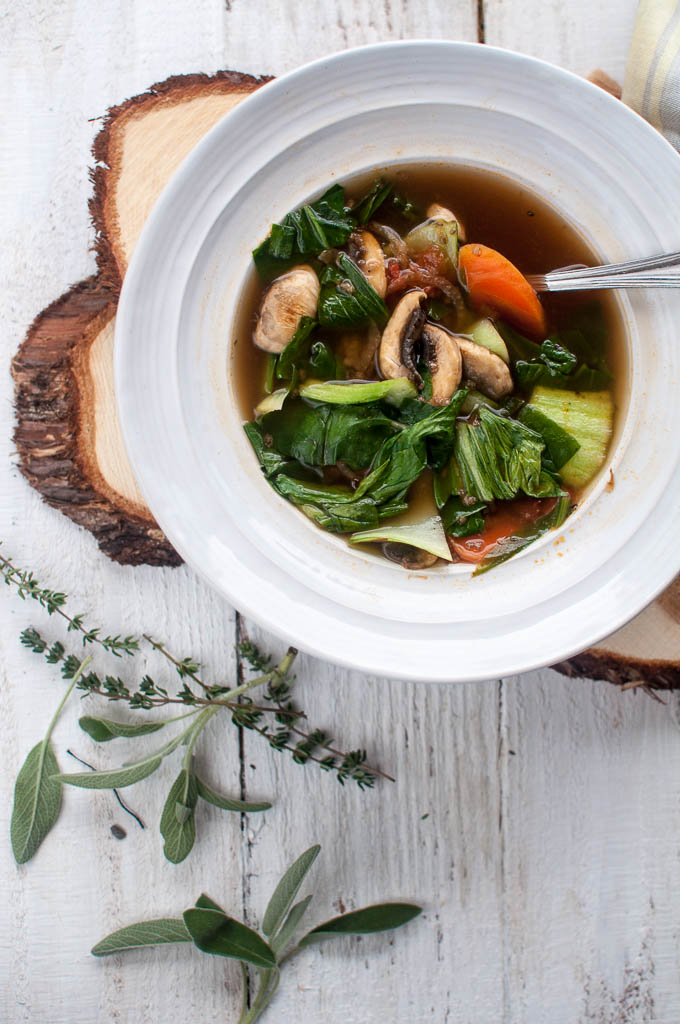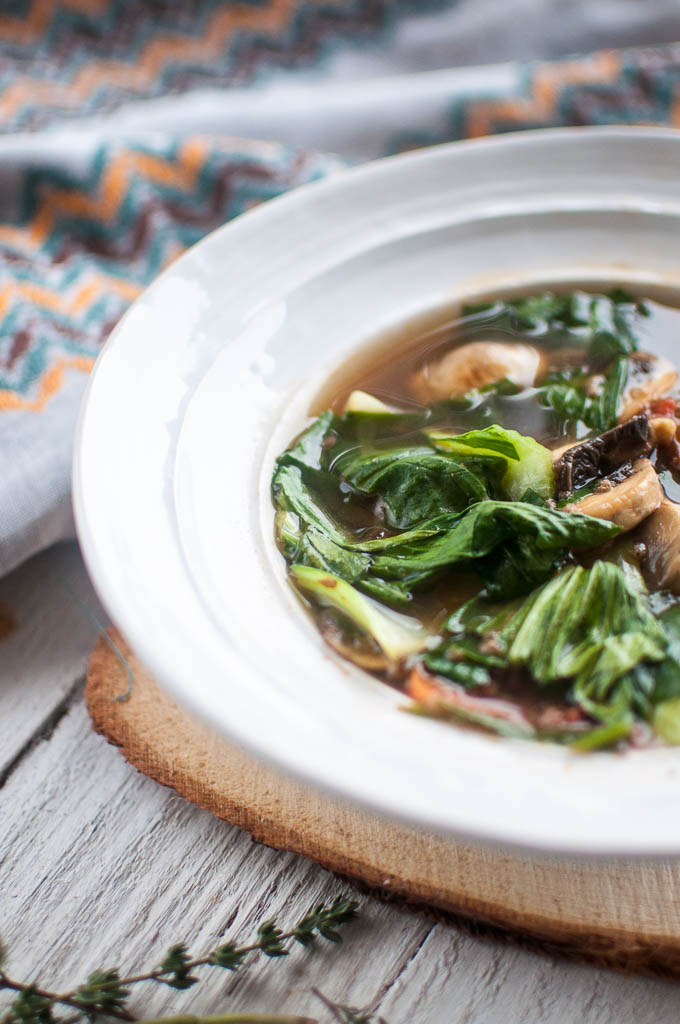 The inspiration for this soup came from a wholesome instant vege broth powder I recently bought at the farmers market from Kawi Foods.  I'm not advertising but it's hard to find a clean vege broth free of harmful ingredients like MSG. I'm pleased by how delicious this vegan, gluten-free, organic vege broth works for soups and seasonings.
I made this for my husband when he started coming down with a cold and he loved it. He said,"it's like love in a bowl".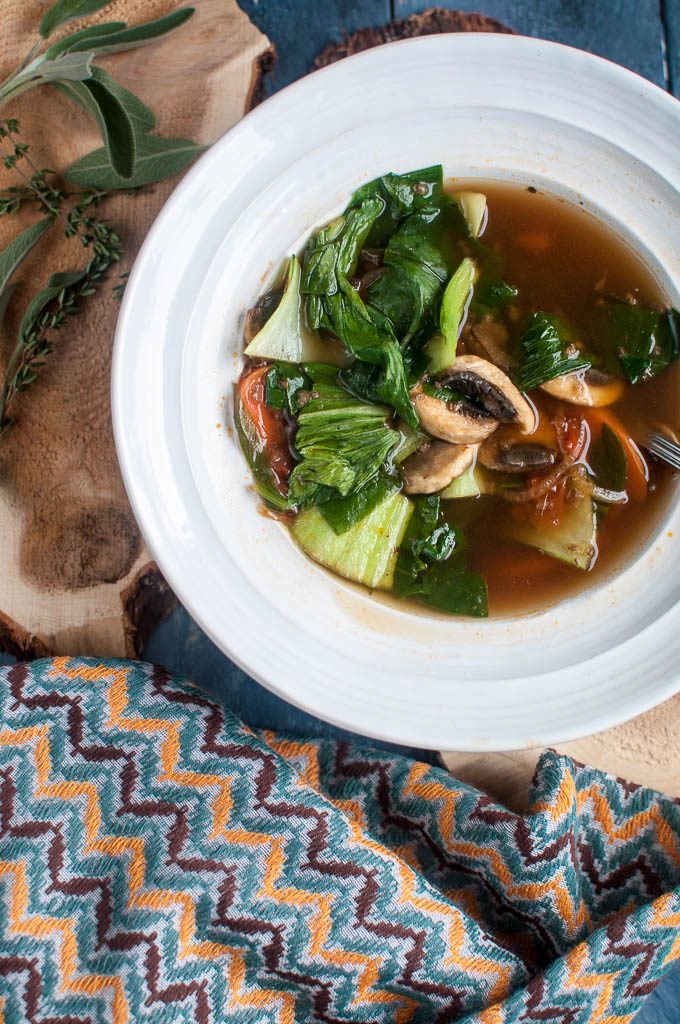 This soup is a great way to get highly nutritious greens so I recommend keeping the spinach and/or bok choy. I also love the mild shallot and added texture and protein from the Chia seeds. If you are not sick, this light and clean soup is wonderful on a chilly, damp day.
Other healing soups for a body in need of self-care are the Golden broth soup or lentil soup for the soul but these take a bit longer to prepare.
15 Minute Vegetable Soup Recipe
Use this 15 minute vegetable soup recipe as a guide knowing you can change the vegetables to your liking. Saute the heartier vegetables first and throw in the delicate greens at the very end.
Makes two full bowls
Ingredients
1 shallot thinly sliced
1 teaspoon olive oil
2 plum tomatoes diced
1 handful (about 6) white mushrooms peeled and sliced
2 celery stalks sliced
2 carrots washed and thinly sliced (optional)
1 bunch of fresh spinach washed and stems removed
1-2 baby bok choy washed and sliced
5 cups water
2 tablespoons Nutri Kik instant vegetable broth (or 1-2 low salt vegetable bouillon cubes)
1 teaspoon tamari (or more to taste)
1 teaspoon Braggs liquid aminos
2 tablespoons chia seeds
freshly ground black pepper to taste (a couple grinds)
Directions:
Put olive oil in a medium size saucepan over medium heat and add the sliced shallot stirring occasionally so it browns but doesn't burn (about 2 minutes).
Add the sliced mushrooms and cook for another 2 minutes. Now put in the tomatoes and celery and saute for another 2 minutes.
Add the water and instant vege broth or bouillon and turn up the heat to bring to a gentle boil.
Once boiling, immediately turn heat to low and lightly simmer the soup for a few minutes adding the tamari and liquid aminos.
Taste your broth and adjust as needed. Once you are happy with your broth, add the carrot, spinach, and bok choy and simmer for another few minutes until the greens lightly wilt but keep their bright color.
Crack some fresh pepper on top and serve in pre-heated bowls***
** I put my bowls in the toaster oven on 250 degrees for 5 minutes. Alternatively, you can pour boiling water in them to heat the ceramic before you serve the soup.