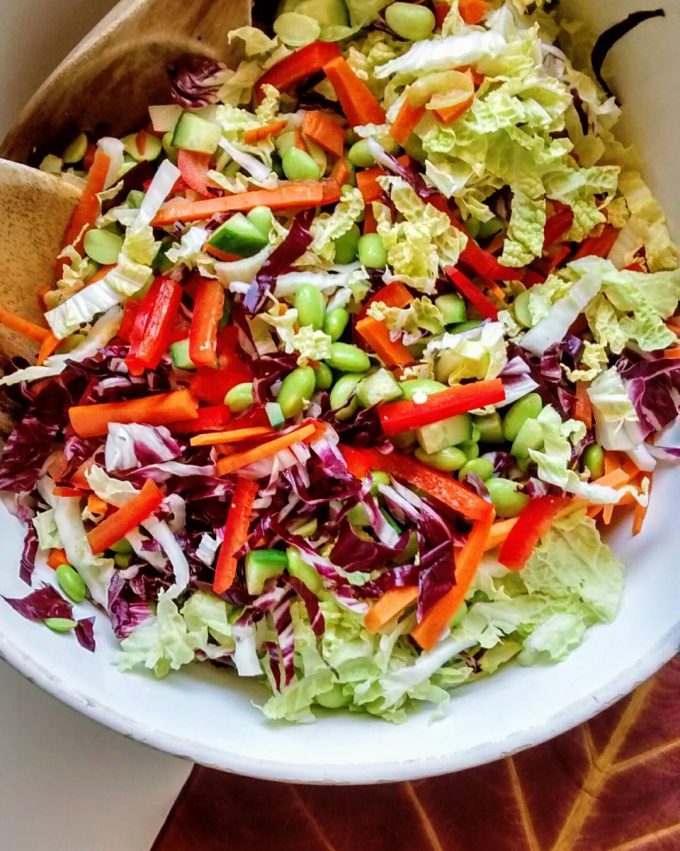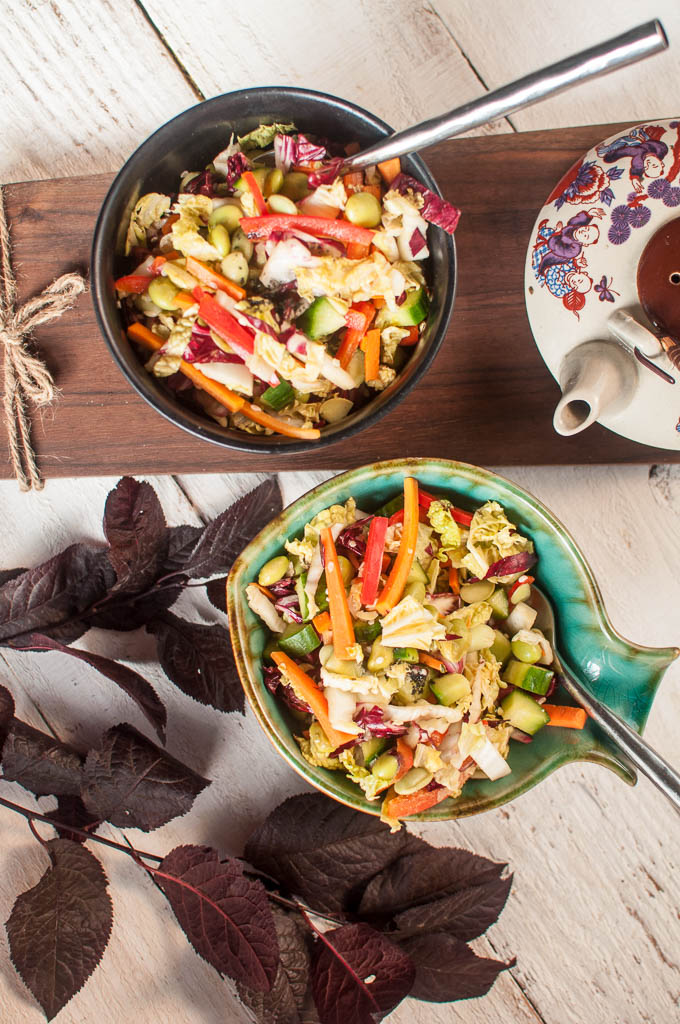 Not far from my home is a healthy Asian bistro that my husband and I have patronized for years. I always order their "Ho-sum" (wholesome) Napa Cabbage Salad with crunchy noodles and an irresistible gingery, tamari-ish "magic" dressing. The dressing is sooooo good that they won't reveal their secret recipe. So, I've contemplated working there to get it. My heart leaps with excitement when the waitress sets the heaping bowl of cabbage, shredded carrots, and tofu in front of me. My chopsticks ready to catch any precious pieces that threaten to tumble off the top. Who knew Napa cabbage could taste so good?
To my devastation, the restaurant closed a year ago after being destroyed by a kitchen fire. While my husband and I patiently wait for them to reopen, I've played around with this Ho-Sum inspired Napa Cabbage Salad and Sweet Tamari Vinaigrette.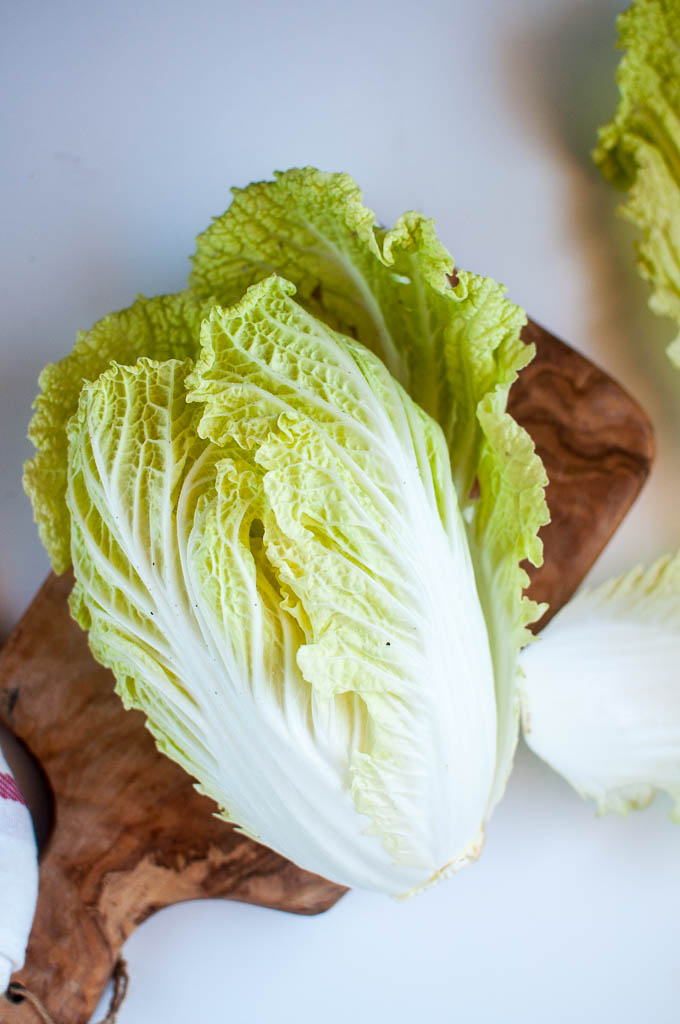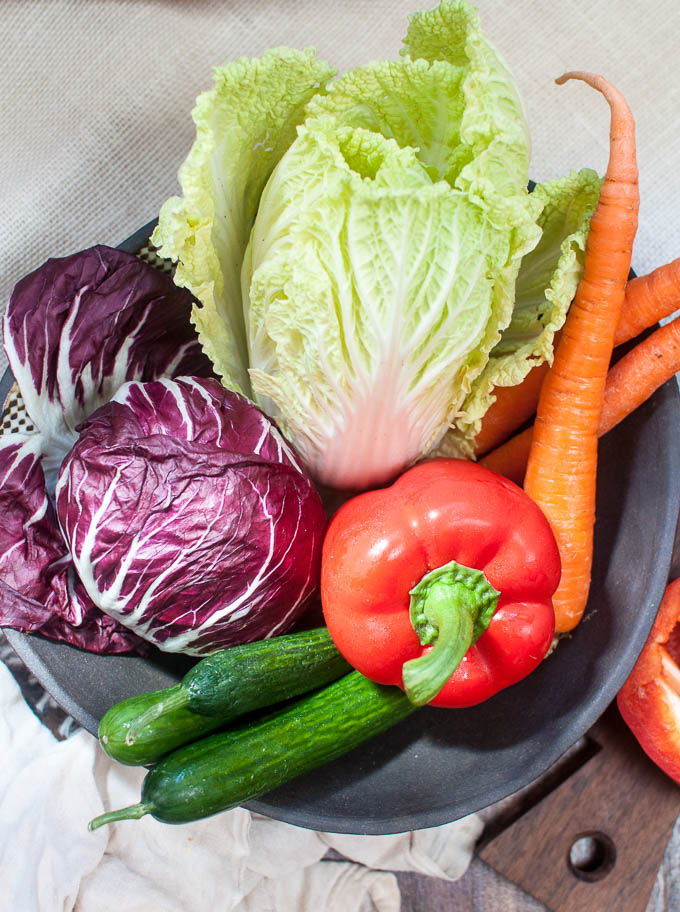 Napa cabbage is a dream vegetable. It's extremely low in calories, highly nutritious and keeps its texture in stir-fries, slaws, soups, stews and salads. It's often fermented for Kimchi – (which is not vegan due to the addition of fish or shrimp sauce, but here is a vegan recipe).
The more I learn about Napa cabbage, the more motivated I am to incorporate into my diet.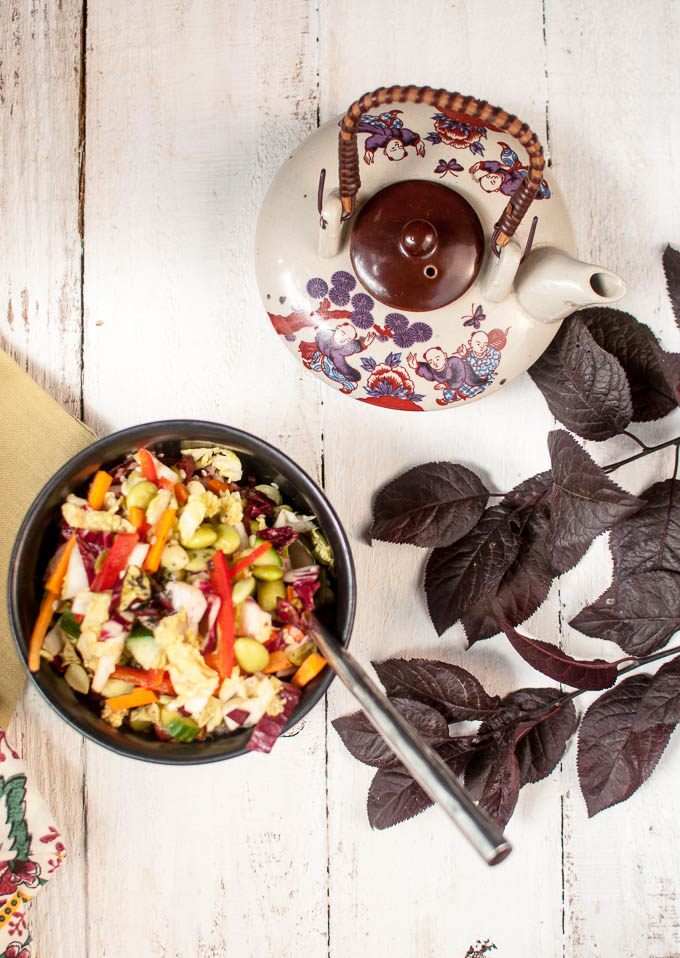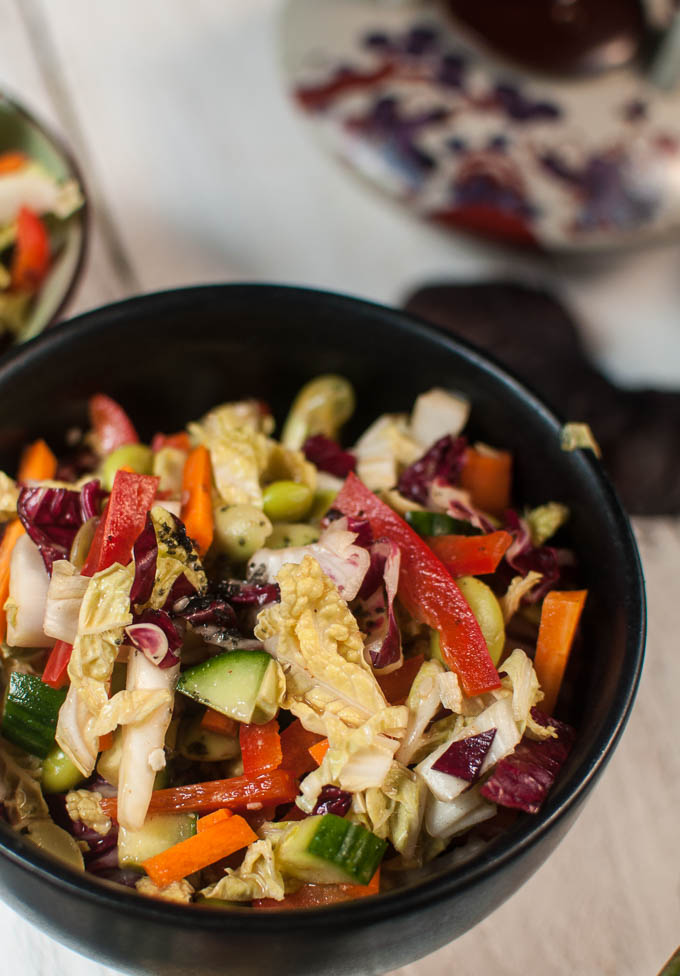 What You Never Knew About Napa Cabbage and Why it Should be on Your Radar 
There is a reason that Napa cabbage is one of the most sought after vegetables in Far East Asia. It's a cruciferous vegetable, like kale, cauliflower, Brussels sprouts, arugula and broccoli, but its flavor is sweeter and milder than the others. Cruciferous vegetables support the immune system and help detoxify the body. According to Dr. Axe, eating them can lower the risk of cancer.
Here are some remarkable facts about Napa cabbage that you may not know:
Napa cabbage is extremely low calories and fits into the "negative calorie vegetable category" along with celery and Bok choy. This means that it burns more calories to digest so it's a great option if you want to lose weight.
It's a major source of Vitamin C: ½ cup has 45% of the RDA.
It's a great source of Vitamin K: ½ cup has 38% of the RDA.
It's high in folates (B9).
Like other green vegetables, Napa cabbage contain essential vitamins and minerals such as: riboflavin, pantothenic acid, and pyridoxine.
It's a good source of electrolytes and potassium which regulates body fluids, heart rate and blood pressure (source; http://www.nutrition-and-you.com/napa-cabbage.html).
All cruciferous vegetables contain sulfur which is associated with a decreased risk of cancer (source).
In Far East Asian regions, the average person eats a pound of cabbage greens a day. Imagine how good that is for you???? So, if you have some catching up to do, this salad is an excellent place to start.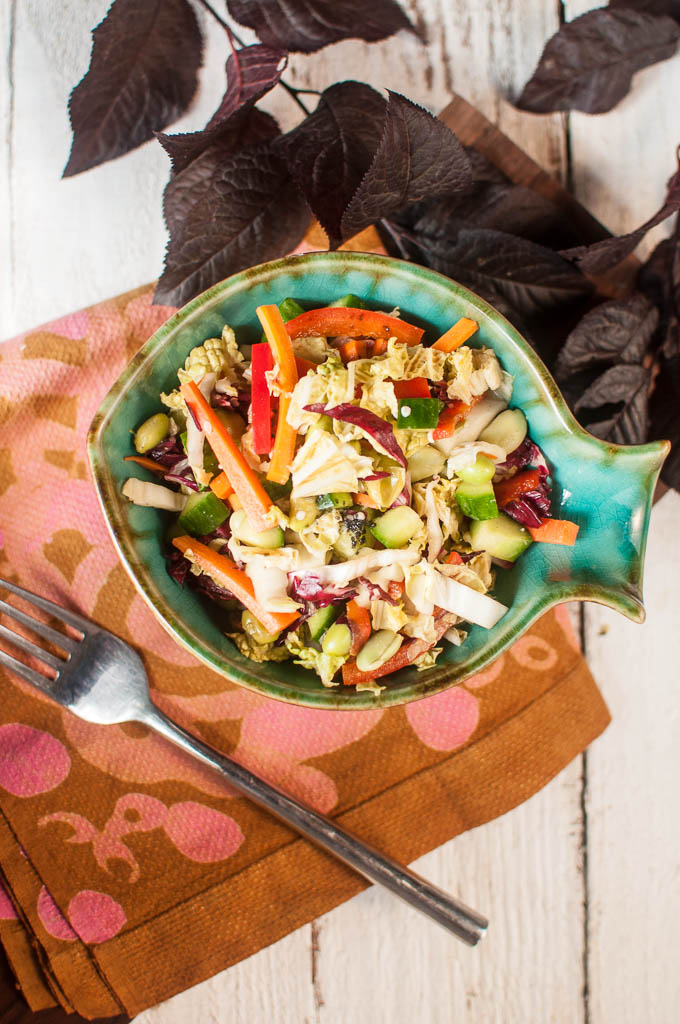 Napa Cabbage Salad with Sweet Tamari Vinaigrette
This Napa Cabbage salad is easy to prepare and comes together quickly. I've bought this salad to dinner parties with non-vegans who loved it. I like to keep a batch on hand for lunches, a quick snack, or adding more greens and protein to my dinner plate.
**If bringing to a party, best to dress it right before serving.
Recipe inspired by Ho-Sum Bistro and Ashley at Blissful Basil.
Makes 1 large bowl (4-6 servings)
Ingredients:
1 head Napa cabbage rinsed, cut into fourths lengthwise and sliced in ½ inch pieces
½ head radicchio washed and core removed. Then cut in quarters and then sliced in ½ inch pieces
4-6 Persian cucumbers washed, ends removed. Cut in quarters lengthwise and then cut into small slices
2 carrots washed, ends removed and grated into bowl
1 red bell pepper washed with core and seeds removed cut in small matchstick pieces
Hemp seeds (about 2 tablespoons)
Salt and pepper to taste
Sesame seeds and or cilantro to garnish (optional)
Optional: Shelled edamame – cook according to package
For the Sweet Tamari Vinaigrette:
1/4 cup rice wine vinegar (I like a combo of equal parts rice wine and sherry vinegar)
One tablespoon each of the following:
Toasted sesame oil
Tamari
Braggs Liquid Aminos
Coconut nectar
Tahini
Make the salad:
If making edamame, prepare that according to package and set aside.
Grate the carrot into a large bowl (this keeps it from flying everywhere). Next, chop the Napa cabbage, radicchio lettuce, and cucumbers and add them to the bowl. Slice the red pepper into small matchsticks and add to salad. Add edamame (if using) and hemp seeds.
Mix the Vinaigrette:
Whisk all ingredients in a bowl until blended. Adjust to your liking (I like it tangy). (If the tahini separates, mix the dressing again before adding it to the salad).
Add the dressing and toss well. Garnish with sesame seeds and/or cilantro.
Store leftovers in an airtight container in the refrigerator for up to 2 days.