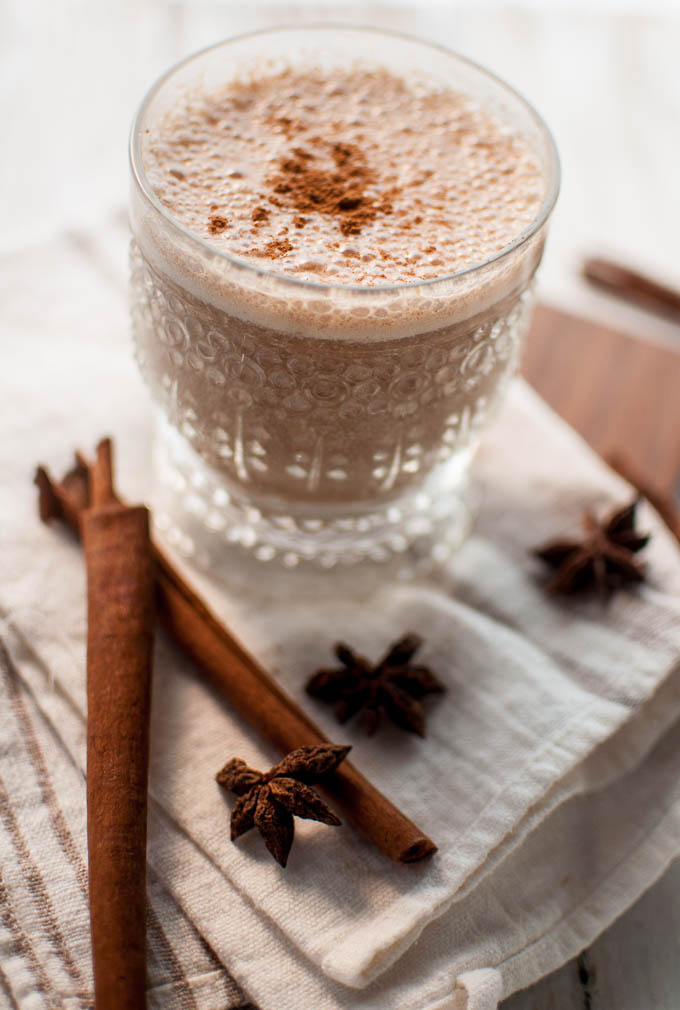 If you love the texture and taste of milkshakes than you will love this healthy, vegan Cinnamon Chai Froth. It's my latest addiction. This light foamy beverage combines sweet coconut water, vanilla almond milk and frozen banana with a ton of cinnamon and other warming spices like cardamom and cayenne. Plus, I snuck in a few hemp seeds for protein and Brewer's yeast for Vitamin B. It's the perfect Fall drink when you're tired of Pumpkin lattes.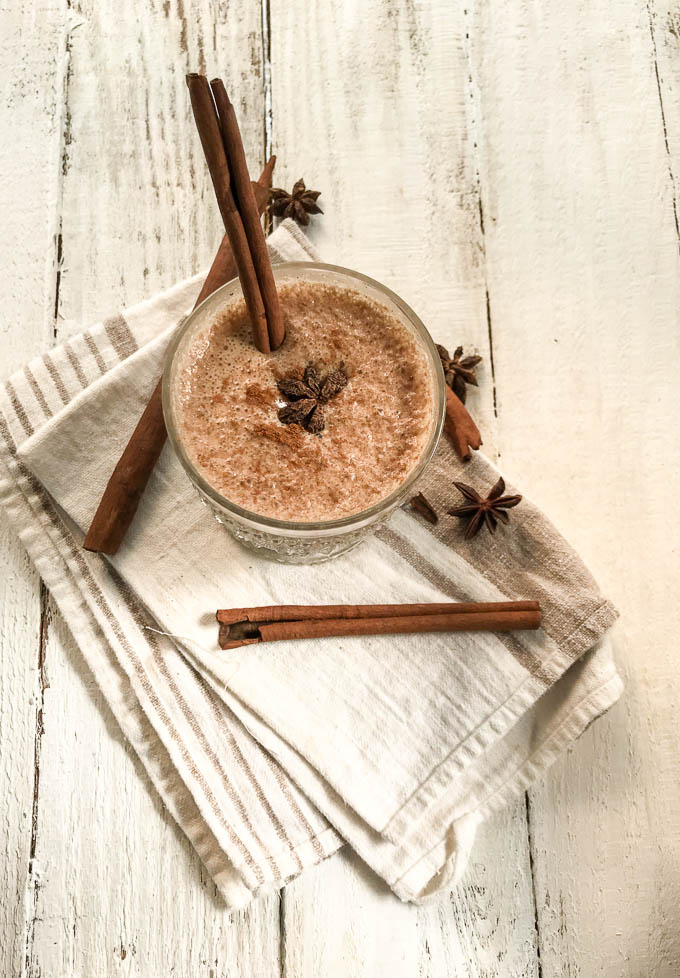 I've always had a thing for thick, frothy drinks. As a young girl, I ordered milkshakes instead of ice cream and poured hot cocoa in a blender so it whipped into an airy froth of chocolate. My friend and I frequently made Häagen-Dazs shakes which we shamelessly consumed with brownies for the ultimate after school snack. By the time college came around,  I was the queen of blended cocktails – mudslides, Oreo cookie drinks, and Kalua Coladas. My blending skills earned me the nickname, "Betty Blender".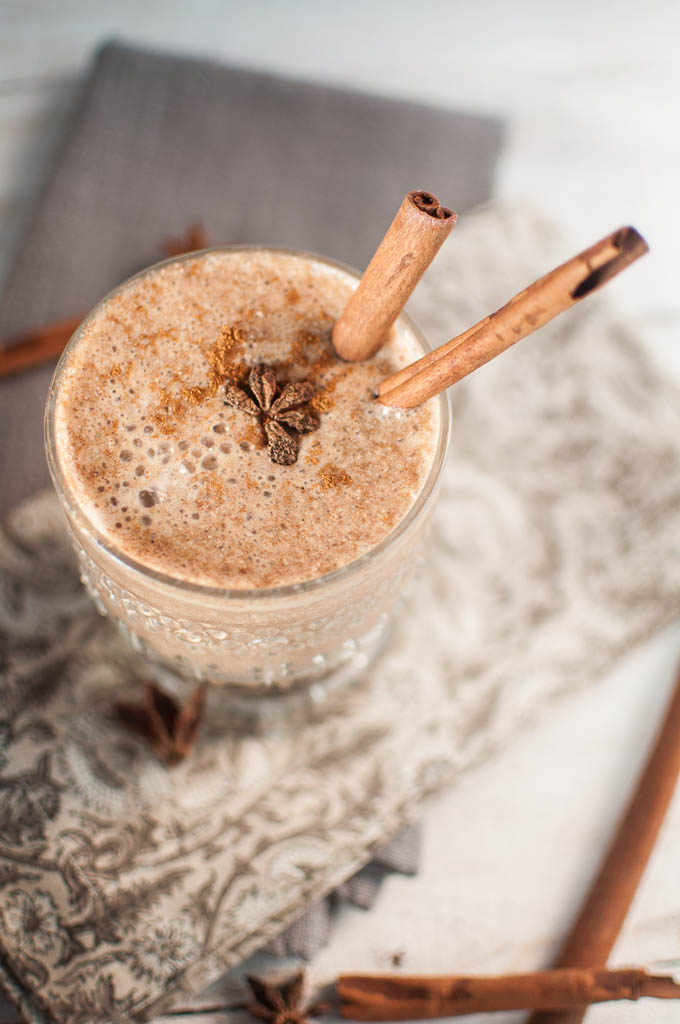 When I changed my diet after college, I gave away my blender and didn't replace it until 2 years ago (almost 20 years later). But once it was back in my hands, Betty blender emerged again and my husband saw a new side of me. This time however, my concoctions include kale instead of vodka, almond milk instead of whole milk, and frozen bananas instead of ice cream.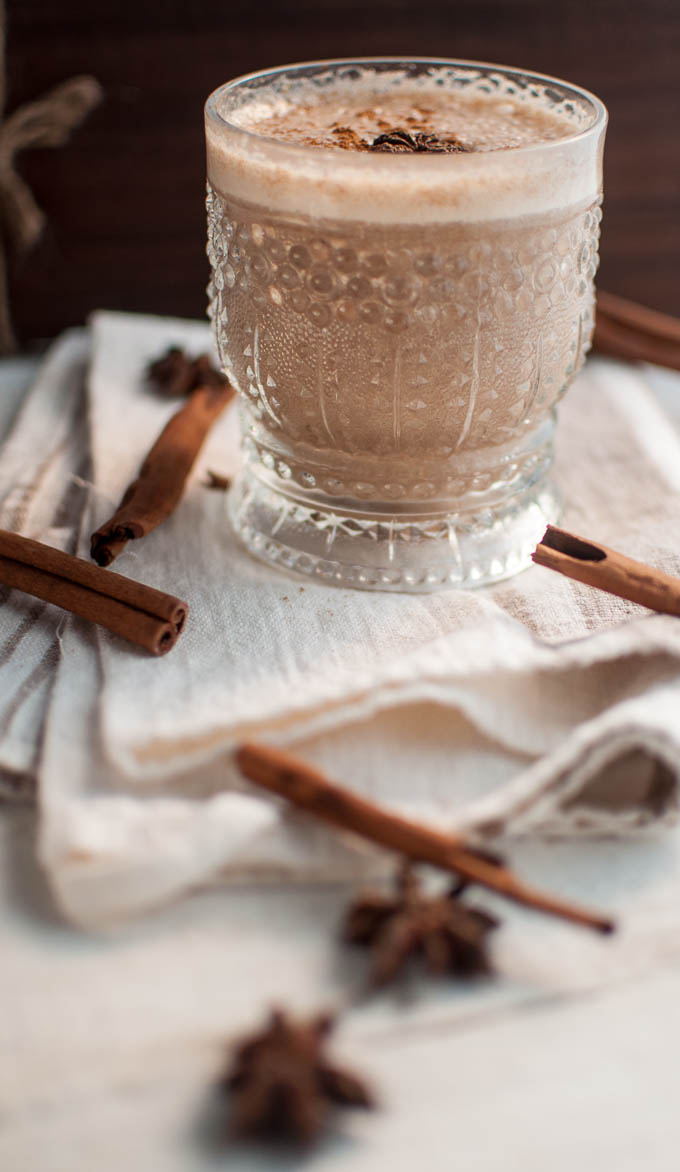 This recipe was inspired by the cinnamon coconut water from The Pressed Juicery I treat myself to after a super sweaty Vinyasa flow class.  The coconut water hydrates me and replenishes my electrolytes so I recover quickly instead of feeling like a zombie the rest of the day. Now, I have another post workout cinnamony drink to enjoy.
This whipped Cinnamon Chai Froth is sweet enough to fend off shake cravings, but healthy enough to drink as an afternoon snack, yummy dessert, or post exercise recovery drink. Check out these beneficial ingredients:
Coconut water (hydration)
Unsweetened almond milk (low calories)
Frozen banana (potassium)
Lots of cinnamon (anti-inflammatory)
Hemp seeds (protein)
Brewer's yeast (vitamin B)
Dates (fiber and iron plus sweetness)
Cardamom and Cayenne for a little kick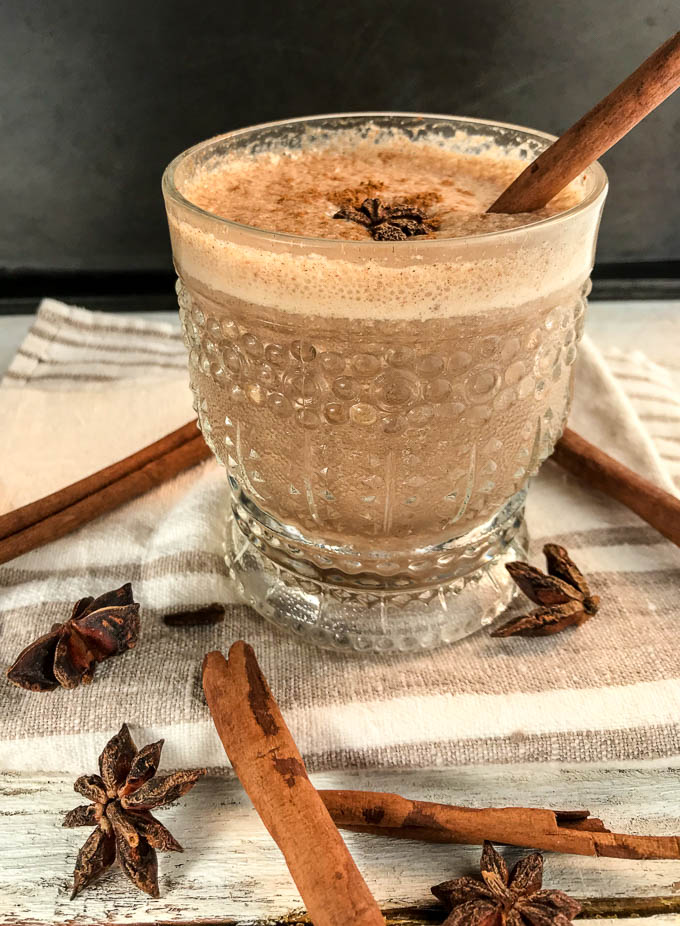 Recipe: Whipped Cinnamon Chai Froth
Makes 2 cups
I always peel bananas, tear them into chunks and freeze them for smoothies and whipped drinks. I prefer the creamy consistency of frozen fruit over adding ice. You can also freeze avocados, mangoes, peaches, and berries but I'm pretty loyal to frozen bananas at the moment. This may sound obvious –  but always peel fruit before freezing it (I made this mistake).
Due to the coconut water, this shake is not as thick as a traditional smoothie. Add ice if you like it more slushy.
Ingredients:
1 cup coconut water (no sugar added)
1 cup unsweetened vanilla almond milk (I like Califia Farms)
1 frozen banana (peel before freeing)
1 pitted Medjool date (put in a cup of warm water to soften)
2 tablespoons raw Hemp seeds
2 tablespoons Brewer's yeast
2 tablespoons cinnamon
Dash of cardamom
Dash of cayenne
Directions:
Put all ingredients into a high speed blender and blend until fully combined. Pour and enjoy. For a thicker shake, add more banana. Pour into your favorite glass and enjoy!